March 2019
By Greg Webb
Forty years ago, the Arms Control Association may have played an embryonic role in the most influential U.S. cultural event to inform Americans of the horrors of nuclear war.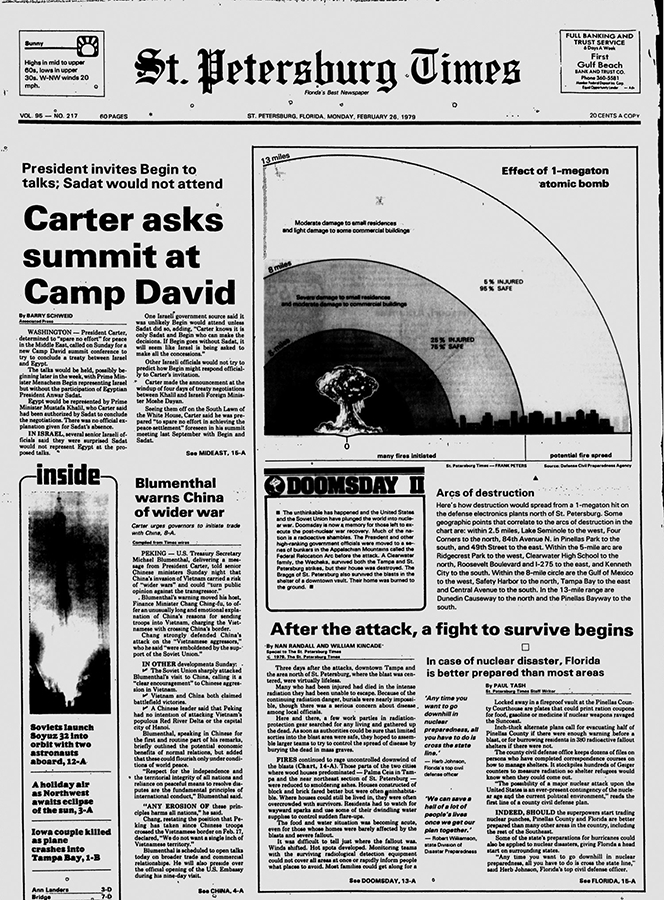 In late 1978, editors at the Florida's St. Petersburg Times newspaper decided to run a large feature on the effects of a nuclear blast. Knowing little about the technical aspects of such an event, they sought guidance.
They found association Executive Director William Kincade, who enlisted freelance journalist Nan Randall to help write a fictional account of a nuclear warhead exploding over St. Petersburg. The four-day article ran in the St. Petersburg Times starting Feb. 25, 1979.
The association was a "tremendous, tremendous help in those pre-internet days," recalled Frank Peters, the newspaper's graphic artist who prepared the article's many color illustrations.
Randall's experience drew the attention of the now-defunct Office of Technology Assessment (OTA), and the federal scientific advisory agency enlisted her to write a similar story for an annex to the May 1979 OTA report "The Effects of Nuclear Weapons."
Soon after, Stanford University physicist Michael Riordan was seeking projects for a small publishing house he managed. He spoke with his university colleague Sidney Drell, an association director from 1978 to 1994, who recommended he look at the OTA report.
Riordan edited and reorganized the report, leading off with Randall's story, and published the book in 1982 to immediate acclaim just as the Nuclear Freeze movement was peaking with millions of supporters protesting the nuclear arms race.
"The book was in response to people wondering about the consequences of President Ronald Reagan's interest in new nuclear weapons," Riordan told Arms Control Today.
It was titled The Day After Midnight.
At the same time, ABC Television was planning a film to illustrate the human consequences of a nuclear conflict. It aired "The Day After" in November 1983, drawing 100 million viewers, then a record audience for a made-for-television movie. The movie boosted public awareness of nuclear war risks to its highest levels, and its legacy continues.
Reflecting back, Riordan said, "I'd like to think there was chain of causation, but I can't prove that."
Unquestionably, depictions of the humanitarian impacts of nuclear weapons use have profoundly affected public perceptions of the risks of nuclear war.