It's still not certain how it happened, the Nuclear War of 1985 ...
DOOMSDAY ■ The chances of a nuclear war breaking out are almost too small to calculate. But many experts can and do think about such a war and its consequences. Of all the assumptions, predictions and fears about a nuclear war between the United States and the Soviet Union, one that has been popularly accepted is that there would be no life after such a war. But nowhere in the mountains of material written about nuclear war is there evidence to back up that assumption. Indeed, if there is any commonly accepted assumption among theorists, scientists, and government officials, it is that life although vastly changed at first will go on. William Hadley Kincade, executive director of the Arms Control Association, and writer Nan Randall have written what that life might be like in such a period. This, again, is not a prediction of nuclear war. Rather, it is a sober examination of the effects of nuclear war, particularly on the Suncoast in the unlikely event that one does occur. Starting today is the first of four parts on life after Doomsday. ■
...Only after some months could anyone begin to sort out the tangled chain of events that led accidentally, but many survivors believe inexorably, from political confrontation to a nuclear exchange between the superpowers. An international investigating team could determine only that officials of both nations felt they were acting under extraordinary pressure in the overheated atmosphere of a prolonged but murky crisis. The crisis had intensified quickly over a period of a few weeks, allowing both time to prepare themselves for war. At the last minute the leadership of the two powers was removed to safe sites, but there was not enough time to evacuate the civilian population of either nation. When "hotline" communications terminated after acrimonious accusations on both sides, each believed it had only 30 minutes or less to decide whether to fire its stationary land-based missiles before they were destroyed in their silos. Thus, investigators concluded, both the United States and Soviet leaders gave the orders almost simultaneously to fire their missiles...
By NAN RANDALL and WILLIAM KINCADE
Special to the St. Petersburg Times
February 25, 1979 (Next)

A second sun dawned Tuesday, Jan. 1, 1985.
A mile and a half across at its center, it burst, not rose, above MacDill Air Force Base in Tampa.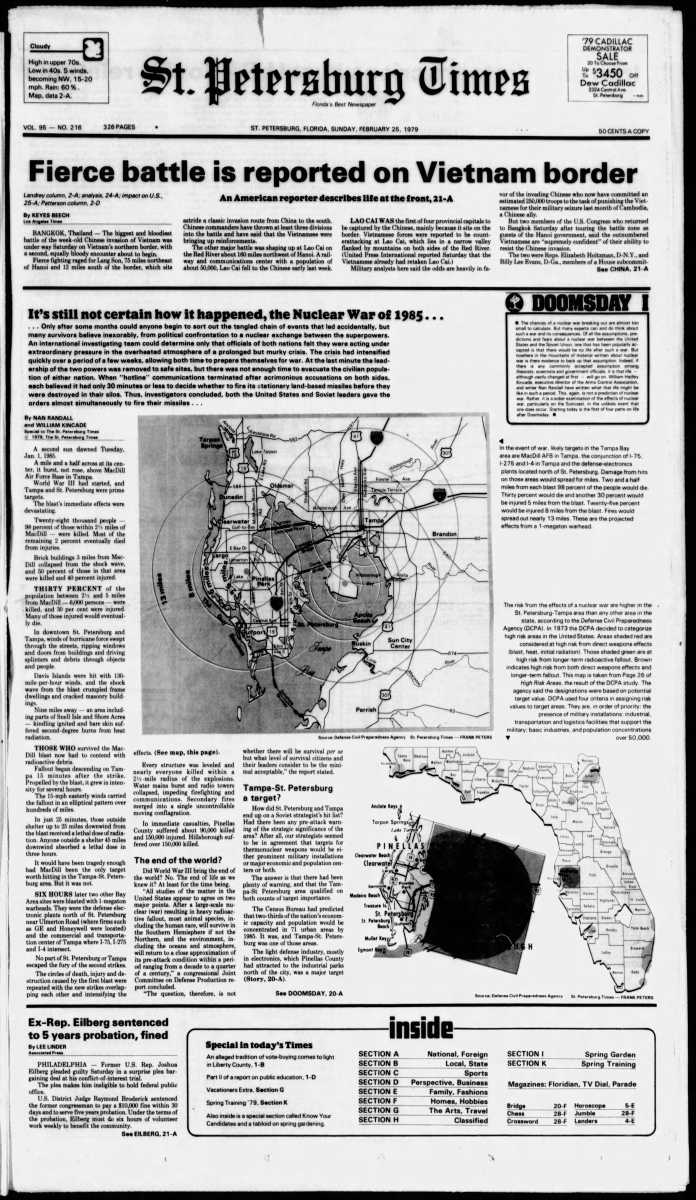 World War III had started, and Tampa and St. Petersburg were prime targets.
The blast's immediate effects were devastating.
Twenty-eight thousand people—98 percent of those within 2 1/2 miles of MacDill—were killed. Most of the remaining 2 percent eventually died from injuries.
Brick buildings 3 miles from MacDill collapsed from the shock wave, and 50 percent of those in that area were killed and 40 percent injured.
THIRTY PERCENT of the population between 2 1/2 and 5 miles from MacDill—6,000 persons—were killed, and 30 percent were injured. Many of those injured would eventually die.
In downtown St. Petersburg and Tampa, winds of hurricane force swept through the streets, ripping windows and doors from buildings and driving splinters and debris through objects and people.
Davis Islands were hit with 130-mile-per-hour winds, and the shock wave from the blast crumpled frame dwellings and cracked masonry buildings.
Nine miles away—an area including parts of Snell Isle and Shore Acres—kindling ignited and bare skin suffered second-degree burns from heat radiation. 
THOSE WHO survived the MacDill blast now had to contend with radioactive debris.
Fallout began descending on Tampa 15 minutes after the strike. Propelled by the blast, it grew in intensity for several hours.
The 15-mph easterly winds carried the fallout in an elliptical pattern over hundreds of miles.
In just 25 minutes, those outside shelter up to 25 miles downwind from the blast received a lethal dose of radiation. Anyone outside a shelter 45 miles downwind absorbed a lethal dose in three hours.
It would have been tragedy enough had MacDill been the only target worth hitting in the Tampa-St. Petersburg area. But it was not.
SIX HOURS later two other Bay Area sites were blasted with 1-megaton warheads. They were the defense electronic plants north of St. Petersburg near Ulmerton Road (where firms such as GE and Honeywell were located) and the commercial and transportation center of Tampa where I-75, I-275 and I-4 intersect.
No part of St. Petersburg or Tampa escaped the fury of the second strikes.
The circles of death, injury, and destruction caused by the first blast were repeated with the new strikes overlapping each other and intensifying the effects. (See map, this page).
Every structure was leveled and nearly everyone killed within a 2 1/2-mile radius of the explosions. Water mains burst and radio towers collapsed, impeding firefighting and communications. Secondary fires merged into a single uncontrollable moving conflagration.
In immediate casualties, Pinellas County suffered about 90,000 killed and 150,000 injured. Hillsborough suffered over 150,000 killed. 
The end of the world?
Did World War III bring the end of the world? No. The end of life as we knew it? At least for the time being.
"All studies of the matter in the United States appear to agree on two major points. After a large-scale nuclear (war) resulting in heavy radioactive fallout, most animal species, including the human race, will survive in the Southern Hemisphere if not the Northern, and the environment, including the oceans and atmosphere, will return to a close approximation of its pre-attack condition within a period ranging from a decade to a quarter of a century," a congressional Joint Committee on Defense Production report concluded.
"The question, therefore, is not whether there will be survival per se but what level of survival citizens and their leaders consider to be the minimal acceptable," the report stated. 
Tampa-St. Petersburg a target?
How did St. Petersburg and Tampa end up on a Soviet strategist's hit list? Had there been any pre-attack warning of the strategic significance of the area? After all, our strategists seemed to be in agreement that targets for thermonuclear weapons would be either prominent military installations or major economic and population centers or both.
The answer is that there had been plenty of warning and that the Tama-St Petersburg area qualified on both counts of target importance.
The Census Bureau had predicted that two-thirds of the nation's economic capacity and population would be concentrated in 71 urban areas by 1985. It was, and Tampa-St. Peters-burg was one of those areas.
The light defense industry, mostly in electronics, which Pinellas County had attracted to the industrial parks north of the city, was a major target.
These manufacturing facilities were critical both to the production of highly sophisticated weapons and the maintenance of a complex, highly specialized economy.
ANOTHER major target was the U.S. Readiness Command at MacDill Air Force Base, the clearinghouse and nerve center for all overseas troop deployments in times of emergency.
A map prepared by the Pentagon's civil defense unit—the Defense Civil Preparedness Agency (DCPA)—had showed the Tampa-St.Petersburg region as at high risk from both blast damage and radioactive fallout in a hypothetical thermonuclear attack aimed at defense installations and industry. The DCPA map (reproduced on 1-A) showed that only two other places in the tri-state area of Georgia, Alabama, and Florida could expect to be as hard hit. These were Huntsville in northern Alabama, site of major missile and aerospace facilities, and Savannah near the Georgia coast, a home-port area for missile-carrying subs. 
Ready for recovery
Federal preparations for coping with the post-attack carnage were actually under way before the nuclear strikes.
A week before, as the possibility of war grew, selected officials from all government agencies were moved to the Federal Relocation Arc. The arc is a series of bunkers hollowed out of the Appalachian Mountains in sites from North Carolina to Pennsylvania during the 1950s and '60s to house officials in an emergency such as the nation was facing.
From their bunkers in the arc and from Federal Regional Centers, officials would assess the attack damage, attempt to marshal federal, state and local resources to aid targeted areas, and begin planning for continued hostilities or national recovery. The attack warning system was brought to a high state of alert and, beginning on the day of attack (so as not to promote panic and confusion prematurely or unnecessarily) taped advice on how to improvise shelter and minimize radiation exposure was beamed over and over from every broadcast outlet in the nation. 
MANY DID not hear the broadcasts, and for others it was of no use.
At the same time, Congress adjourned, planning to re-convene after the attack in some safe haven, if possible. Congressional leaders and others in the line of succession to the presidency, as well as the Supreme Court, were hastily moved to the Federal Relocation Arc the night before the attack, though some refused to go because their wives could not accompany them.
Fearing a national panic if he left Washington during the crisis, the President had stayed in the White House until the firing order was given. Then, within minutes, he was helicoptered to his own mountain bunker. Even most preparedness officials did not know its location.
Once installed in this command post—different from the one sheltering the vice president—he signed an executive order creating the Office of Defense Mobilization, a sort of civilian general staff or super-bureaucracy that would coordinate all relief and recovery efforts after the attack. In subsequent orders—prepared years before, updated periodically, and signed only that day—the President imposed martial law, suspended certain civil rights and many legislative acts, assumed authority to govern by decree, issued orders to confiscate property needed for defense or relief, and gave broad authority to other federal officials for the duration of the national emergency.
Despite these drastic emergency measures, the real test fell on state and local agencies that were to supply the front-line manpower and other resources for the post-attack period. 
'The Wechek family story'
The Wechek family—father, mother 8-year-old son and 10-year-old daughter—escaped immediate death from the blasts. MacDill was far from their Clearwater home.
As soon as he felt the worst of the attack on MacDill was over, Wechek rushed to the elementary school to pick up his children. Back home, he and the family barricaded themselves with food and water in the large walk-in closet in their home's master bedroom and prepared to wait—not knowing for what. Through heavy static, the radio urged citizens to go to fallout shelters. But Wechek and his wife felt they would be safer going it alone in their home, with its freezer full of food.
The Wecheks survived the second, Pinellas County blast—but their house did not.
IT WAS demolished by the shock wave and subsequent wind storms. Wechek was able to pull his family from the heap of collapsed studs, wallboard, and mattresses that had been their closet shelter. Mrs. Wechek had several broken bones and a number of serious cuts. The boy was unconscious but alive. Father and daughter suffered shock and cuts in the blast in escaping from the house.
The Wecheks had been protected from the initial heat radiation by the walls of the house, but some of the debris was smoldering, and in the wreckage of nearby houses fires were already taking hold.
The immediate problem was to avoid fire and smoke inhalation and then to find shelter from the fallout that would soon begin to contaminate Clearwater. 
'The Bragg family story'
Mr. and Mrs. Bragg had lived in the same wood frame house south of downtown St. Petersburg—12 miles from MacDill Air Force Base—for years.
When the radio broadcast the taped warning, they gathered Mrs. Bragg's heart medication and their prized possessions—pictures of children, a piece of heirloom garnet jewelry, and the cat "Mouser"—and walked to a nearby bank, where Mr. Bragg had earlier noticed the yellow and black fallout shelter sign. As a bank it offered a fair degree of blast protection, although the Braggs, like many others, did not realize that most fallout shelters offered little safety against blast or heat effects from nearby nuclear detonations.
They survived the blast at MacDill standing crowded in the bank's vaults with scores of others, mostly bank employees and other elderly citizens like themselves. Forty-five minutes after the blast, the vault's fluorescent lights and air filtration system went off.
The Braggs waited in the bank for three hours. They could see smoke fill the streets outside and occasionally a jabbing flame crossed their line of vision or shouting was heard.
MOST IN the bank thought help was on the way. When no help came, people began to talk of leaving the bank to find help, a safer spot, or find out what was going on. 
The Braggs left the bank in the direction of their home.
It was burned to the ground. Fires smoked all around and moving along the debris-cluttered streets was difficult. A few policemen and citizens had organized parties to help pull victims from damaged structures. They lay moaning or silent in the streets. Sirens could be heard in the distance.
Knowing nowhere else to go, the Braggs trudged back to the bank. There were fewer people there but it was still crowded in the dark, hot, nearly airless vaults. Both felt sick from lack of food, water, and adequate air. A young man with a civil defense armband came into the bank and took the names of those there. After a time, it became evident that he had been unable to find his assigned unit and had nothing to offer but general advice on first aid and the like. Still, the Braggs and their companions fared better than most when the second and third warheads fell that afternoon. 
In the President's bunker
The President and his top advisers left Washington before the attack, although it turned out that the Soviet Union spared the capital so as to have a government with which to negotiate afterwards. The United States similarly spared Moscow. The President and his staff had retreated to a hardened bunker deep under a granite mountain. 
A national security adviser gave the President estimates of attack damage.
"Mr. President, we still do not have a complete or accurate count of the dead or injured or of the economic damage. We may never have. Prewar estimates put possible losses at 50-million to 100-million people. But we have a fairly good estimate of the size of the attack so that we can make projections as to fatalities, injuries and damage to industry," the adviser said.
THE  PRESIDENT asked why accurate casualty figures were not available.
"The reason we will never have a totally accurate tabulation or body count is that the higher number of deaths in many urban areas has caused a severe health hazard potential, especially in southern New England and Southern California, where damage was extremely heavy. Fatalities must be buried in mass graves with layers of earth and lime to guard against the spread of disease. Unfortunately, the potential health hazard is so serious we have not been able to count or identify the dead before burial.
"AS TO THE injured, we are so overburdened and resources are so depleted, we have to concentrate on caring only for those who will clearly benefit from attention. Those who are slightly injured or are probably beyond help have had to be turned away. We are getting our morphine stockpile distributed, by airlift where possible, to help the latter cases.
"In the northern areas, the very cold temperatures and lack of shelter or fuel or power have contributed to many deaths from exposure.
"Deaths from lack of food will increase as the destruction of food stocks in the targeted cities and the lack of transportation have created severe shortages in urban areas. Uncontaminated water is also running scarce, we understand, although in time this problem can be more easily resolved than the lack of foodstuffs. Death from psychological shock and related causes, including suicides, appear to be running very high. This was not anticipated in our nuclear disaster planning," the officer concluded. 
NEXT: Three days after the attacks >>
Doomsday story was over year in making
By JOHN COSTA
St. Petersburg Times Staff Writer
The idea for a story that looked at life after a nuclear exchange is the product of conversation that took place over a year ago.
St. Petersburg Times wire editor Mike Moscardini and I wondered if the United States had plans to cope with the devastation from a nuclear attack.
From the first, it sounded like a great story idea. But there was a nagging fear that there would be little substantive information to base the story on.
Was that ever a misplaced fear!
An arms analyst at the Brookings Institution recommended William Kincade as the man who would know the man or woman who had the credentials to write the story.
WE CONTACTED Kincade in the spring of '78. He liked the story idea so much he decided to write it himself with the aid of Nan Randall.
He also assured us that many responsible scientists and political leaders, both in and out of the government, had studied the subject and that mountains of information were available. We agreed that, while he would write the story, we would secure background material, both to familiarize ourselves with the topic and use as graphics with the eventual story.
We had no idea how large the mountains of information he described were until we contacted government agencies for the background material.
We were inundated. A bibliography would be long to the point of being burdensome. We could use only a small fraction of the charts available.
BETWEEN THE spring of '78 and now, the story was received, rewritten to a small extent, edited and sent back to Kincade to see if he agreed with the changes. He did.
It cannot he emphasized too strongly that Kincade is not predicting a war. No responsible weapons analyst would make such a prediction. Besides, Kincade's specialty is civil defense, not international relations.
It should also be noted that the most conservative statistics were used in calculating effects from such an attack.
The Soviet warheads that strike the United States are 1-megaton in size. The International institute of Strategic Studies publishes each year The Military Balance, the bible of weapons estimates. Fur 1978-79, the institute reports that most of the Soviet warheads now operational are larger than 1-megaton. However, most analysts agree that as the Soviet Union improves its missile accuracy and its ability to place several warheads on one missile, the size of the warheads will decrease. So, for our 1985 scenario, we chose a 1-megaton warhead, knowing that deaths and injuries would certainly he greater if we stayed with the larger, currently operational one.
MANY READERS will note that some of the charts are based on 5-megaton warheads. These were used only where a comparable chart based on a 1-megaton warhead was not available.
A similar approach was taken in computing casualties in Hillsborough and Pinellas. The U.S. Census Tract gives population estimates for both counties for 1985. We were able to calculate how many people will be living within 2 1/2, 5, 8 and 13 miles of the defense-electronics plants north of St. Petersburg in 1985. The same projections could not be made with any certainty for areas around Hillsborough targets, so current population figures were used although the county will be larger by 1985.
National casualties were also calculated conservatively.
The Defense Civil Preparedness Agency estimates that with no civil defense system at all, 80-million Americans would survive a nuclear attack. With the system we have now, 110-million Americans would survive. If all high-risk areas, such as Tampa-St. Petersburg, develop evacuation plans for civilians, as many as 180-million Americans could survive. We assumed some progress in civil defense efforts—an assumption many would disagree with—in projecting about 80-million dead Americans.
Finally, you may be wondering where the Braggs and Wecheks came from. They were families in Pat Frank's Alas, Babylon, the 1959 novel, set in Florida, about the day after the bomb dropped.