November 2018
By Kelsey Davenport
The United States and North Korea agreed in October to intensify negotiations after a months-long impasse following the historic June summit between U.S. President Donald Trump and North Korean leader Kim Jong Un, but disagreements over the timing of sanctions relief may complicate the diplomatic process.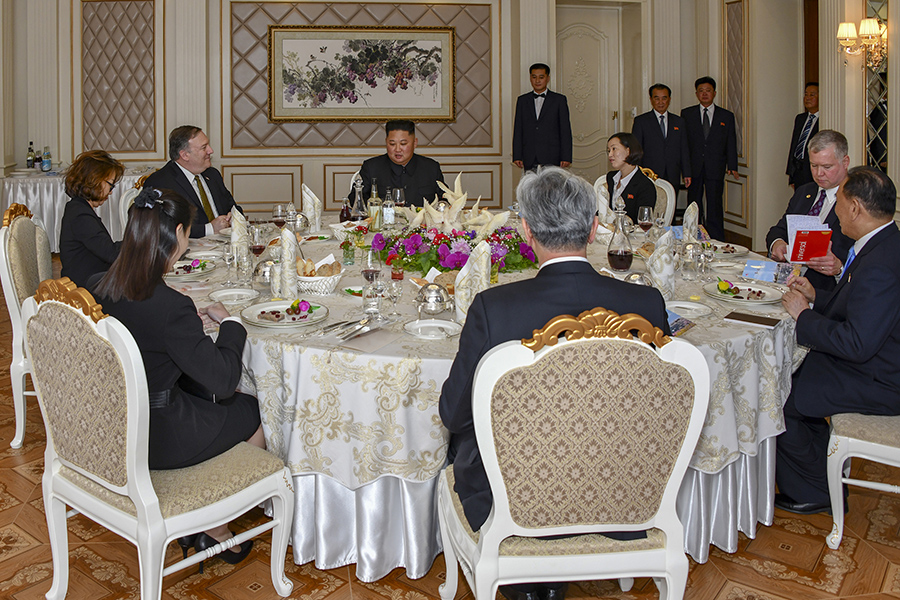 North Korea has sent mixed signals about its potential terms for nuclear-related concessions. After initially pressing for a declaration formally ending the Korean War, which would be a largely symbolic U.S. political concession, Pyongyang is shifting to indicate it wants to receive tangible financial benefits sooner than envisioned by the Trump administration.
North Korea has signaled that its initial moves toward denuclearization, such as dismantling its nuclear test site and a rocket launch facility, should bring relief from tight U.S. and UN economic sanctions. The Trump administration maintains that sanctions should remain intact as a main source of pressure. "The sanctions will stay in place until denuclearization occurs," Trump said in remarks to the UN General Assembly on Sept. 25.
During an Oct. 7 trip to Pyongyang, U.S. Secretary of State Mike Pompeo met with Kim, where the two sides agreed to hold more frequent, higher-level working group meetings. Pompeo told the media on Oct. 9 that he hoped this process would "deliver some good outcomes" at a second Trump-Kim summit.
North Korea's state-run Korean Central News Agency (KCNA) described Kim's meeting with Pompeo as "productive and wonderful" and said that the two discussed detailed "proposals for solving the denuclearization issue and matters of concern of both sides."
The meeting appears to indicate that talks are back on track after faltering over disagreements between North Korea and the United States on the next steps following the Singapore summit. The Trump administration wanted to see North Korea take additional steps toward denuclearization while North Korea emphasized that a declaration ending the Korean War should be the next step. (See ACT, September 2018.)
The stalemate led Trump to cancel Pompeo's scheduled visit to Pyongyang in August. Pompeo indicated in September that Washington's position on pursing a declaration and its willingness to engage in a step-by-step process shifted, helping pave the way for his Oct. 7 visit.
Pompeo confirmed that he discussed the prospect of a second Trump-Kim summit during his visit, but did not provide any details as to the location or timing. U.S. State Department officials have been quoted in the press saying the summit will not take place before early 2019.
Heightened disagreements over the timing of sanctions relief, however, may complicate negotiations going forward.
In initial statements after the June 12 summit, North Korea downplayed its interest in sanctions relief and focused on a peace declaration as the next step that the United States could take to create an environment more conducive to further denuclearization steps. Yet, in recent statements, Pyongyang has criticized the continued U.S. pressure campaign and begun to put more emphasis on the importance of sanctions relief earlier in the process.
A KCNA commentary published on Oct. 20 stated that although Pompeo's visit was a "great achievement," U.S. talk of sustaining sanctions is "heard so much" and "unpleasant to the ear."
The piece urged the United States to "act in the elementary give-and-take principle" and said Americans should stop asserting that pressure is the "main card" in the U.S.-North Korean relationship.
North Korea is not alone in advocating for sanctions relief. Russian and Chinese officials raised the prospect of revisiting UN sanctions in recognition of steps taken by Pyongyang to halt nuclear and long-range missile testing during a Sept. 27 Security Council meeting on North Korea.
When officials from North Korea, Russia, and China met in Moscow on Oct. 9, the trilateral statement issued after the meeting said that "taking notice of the significant, practical steps for denuclearization taken by [North Korea], the three parties reached a consensus on the need for the [UN Security Council] to activate the process of adjusting sanctions upon [North Korea] in time."
The United States has consistently maintained that sanctions will not be lifted until the denuclearization process is complete. It remains unclear if the United States will make any exceptions to allow joint projects between North Korea and South Korea to go forward.
South Korea reaffirmed its commitment to abide by all UN sanctions during the Sept. 27 Security Council meeting, but President Moon Jae-in has also raised the prospect of easing measures if Pyongyang takes steps toward denuclearization rather than waiting until the end of the process to lift restrictions.
After an Oct. 15 meeting with French President Emmanuel Macron in Paris, Moon said that "if North Korea's denuclearization is judged to enter an irreversible phase, its denuclearization should be further facilitated by easing UN sanctions." Moon said on Oct. 19 that the Security Council is the appropriate forum for discussing easing sanctions and humanitarian assistance if North Korea takes the appropriate steps toward "irreversible" denuclearization, but he did not provide any details about what that would constitute.
Moon has clearly stated his interest pursing infrastructure projects to link North and South Korea and resuming operations at Kaesong, a joint development complex, as part of the inter-Korean process. These actions will require sanctions waivers.
It is also unclear what next steps the United States is looking for North Korea to take on denuclearization. The Trump administration asked for a declaration detailing the scope of North Korea's nuclear program after the Singapore summit, but it is unclear if the United States is still pursuing this path.
Moon announced after the inter-Korean summit in Pyongyang in September that North Korea was willing to allow inspectors at the Punggye-ri nuclear test site.
After his meeting with Kim, Pompeo confirmed that North Korea invited inspectors to visit its nuclear test site to confirm that it has been irreversibly dismantled, with the visit to occur "as soon as we get it logistically worked out."
North Korea voluntarily pledged to halt nuclear testing in April and in May demolished with explosives test tunnels at the site. Yet, after initially saying that members of the press and experts could observe the closure, North Korea limited the invitation to select media outlets. As a result, there has been no independent expert confirmation of the extent of North Korea's actions.
Pompeo did not specify if the inspections will be conducted by the United States or a multilateral team or if the group will include representatives of the Comprehensive Test Ban Treaty Organization, which has protocols for conducting on-site inspections after suspected nuclear tests.
North Korea has not provided any details in its public statements regarding expert inspections.
The Pyongyang declaration issued by Kim and Moon said North Korea would dismantle the Yongbyon nuclear complex, which houses the reactor and reprocessing facility that North Korea uses to produce separated plutonium for nuclear weapons and a uranium-enrichment facility, in return for "corresponding measures" by the United States.
Neither South Korea nor North Korea provided much detail on what measures Pyongyang is seeking, and Pompeo did not provide any additional details on the prospects for actions to be taken at Yongbyon after his talks in Pyongyang.