November 2018
By Shervin Taheran
India defied threats of U.S. sanctions by finalizing a $5.4 billion deal to purchase five batteries of the Russian S-400 Triumf anti-aircraft system, following an Oct. 5 summit between Russian President Vladimir Putin and Indian Prime Minister Narendra Modi in New Delhi.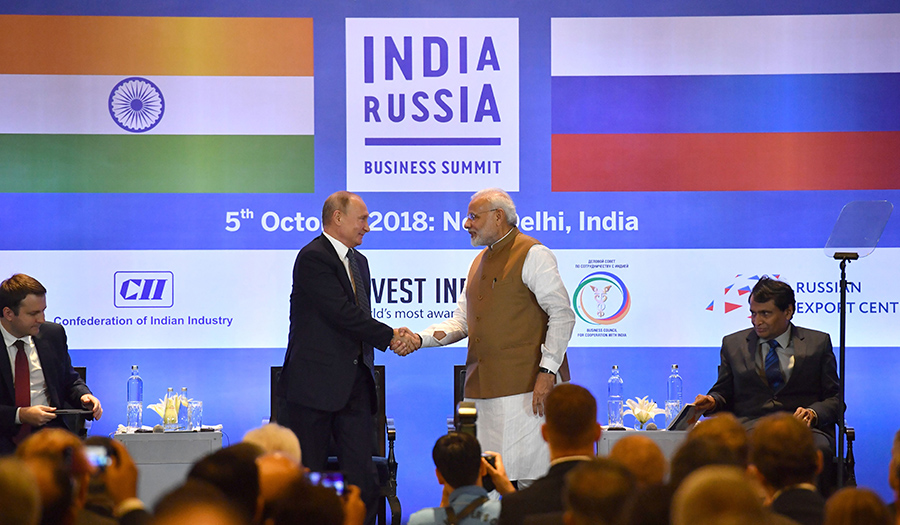 The United States previously said the deal could trigger penalties against India under section 231 of the Countering America's Adversaries Through Sanctions Act (CAATSA), an action that would complicate the Trump administration's efforts to expand U.S. trade and diplomatic relations with India. For that reason, some senior administration officials, such as Defense Secretary Jim Mattis, have argued for granting India a sanctions waiver in this case.
The 2017 law provides for imposition of secondary U.S. sanctions against firms or countries that make a "significant" purchase from sanctioned entities in Russia's defense and intelligence sectors. The S-400 contract is with Rosoboronexport, Russia's main arms export agency, which is the subject of U.S. sanctions.
In September, the United States imposed sanctions on China for purchases of the S-400 system. Another buyer, NATO-ally Turkey, has not been penalized yet, although the United States and other NATO members have raised objections to the purchase because the system is incompatible with NATO's defense architecture. (See ACT, January/February 2018.) China was sanctioned after receiving the weapons system from Russia, and Turkish Defense Minister Hulusi Akar said on Oct. 25 that Turkey will aim to begin installing the Russian air defense systems by October 2019.
A clause in the fiscal year 2019 National Defense Authorization Act (NDAA) allows the president to issue a waiver to CAATSA sanctions. Trump administration officials, before the formal Indian-Russian S-400 agreement, had been vague on the prospects that the president would grant India a waiver. When asked directly on Oct. 11, U.S. President Donald Trump failed to offer a direct answer, but said that India will find out "sooner than you think."
India has repeatedly asserted its desire to retain independence and variety in its national defense resources. Indian Defense Minister Nirmala Sitharaman said at an Oct. 25 conference that Mattis "understood" India's need to purchase the system, following their meeting during a defense ministers conference in Singapore.
The S-400 system is an advanced, mobile, surface-to-air defense system of radars and missiles of different ranges, capable of destroying a variety of targets such as attack aircraft, bombs, and tactical ballistic missiles. Each battery normally consists of eight launchers, 112 missiles, and command and support vehicles.
As a historically nonaligned country, many of India's weapons systems are Russian, but it is also continuing to purchase U.S. weapons and equipment.
Senior U.S. administration officials have noted that they do not want the CAATSA sanctions to alienate strategic allies who may still rely on Russian equipment for historical reasons. In a July 20 letter to the chairman of the Senate Armed Services Committee, Mattis supported the amendment to the 2019 NDAA to provide waivers for allies who are "transitioning to closer ties" with the United States. Waivers can avert "significant unintended consequences" toward U.S. strategic interests, he wrote.
Randall Schriver, assistant secretary of defense for Asian and Pacific security affairs, said on Aug. 29 that, "on CAATSA, Mattis did plea for an exemption for India, but I can't guarantee a waiver will be used for future purposes." The Pentagon would still be significantly concerned if India purchased major new military systems from Russia, he said.
Other countries considering purchasing the S-400 system are Qatar and Saudi Arabia. In June, the French newspaper Le Monde noted a leaked letter by Saudi King Salman to French President Emmanuel Macron threatening "military action" if Qatar is allowed to deploy the S-400 system, which is viewed as a threat to Saudi security.