November 2018
Reviewed by Michael Klare
Army of None: Autonomous Weapons and the Future of War
By Paul Scharre
W.W. Norton, 2018, 436 pp.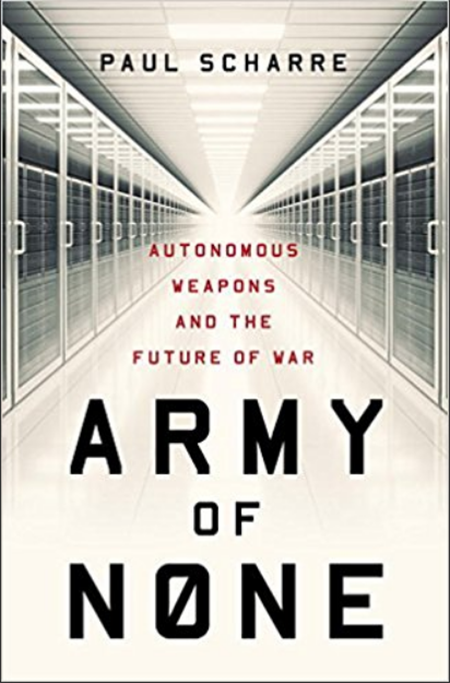 What are the consequences—military, political, moral, and legal—of giving machines the capacity to select targets and destroy them without direct human guidance? This is the profound question Paul Scharre addresses in his informative and thought-provoking book, Army of None: Autonomous Weapons and the Future of War.
The Development Race
Military leaders are keen to increase the role of autonomous weapons systems for the same reason they are likely to embrace any major technological innovation: they anticipate autonomy will offer an advantage in combat. Such systems, it is widely believed, will assist in the identification and elimination of enemy assets, whether personnel or equipment, in high-intensity engagements. "Robots have many battlefield advantages over traditional human-inhabited vehicles," Scharre asserts. Unmanned vehicles "can be made smaller, lighter, faster, and more maneuverable." They can stay on the battlefield longer without rest and "can take more risk, opening up tactical opportunities for dangerous or even suicidal missions without risking [friendly] human lives."
Moral and Legal Dimensions
As Scharre makes very clear, the deployment and use of fully autonomous weapons systems on the battlefield will entail a revolutionary transformation in the conduct of warfare, with machines conceivably being granted the ability to decide on their own to take human life. There is, of course, some uncertainty as to how much autonomy future weapons will be granted and whether they will ever be fully "untethered" from human supervision.
The Risk of Escalation
Most of Scharre's discussion concerns the potential use of lethal autonomous weapons systems on the conventional battlefield, with robot tanks and planes fighting alongside human-occupied combat systems. His principal concern in these settings is that the robots will behave like rogue soldiers, failing to distinguish between civilians and combatants in heavily contested urban battlegrounds or even firing on friendly forces, mistaking them for the enemy. Scharre is also aware of the danger that greater autonomy will further boost the speed of future engagements and reduce human oversight of the fighting, possibly increasing the danger of unintended escalation, including nuclear escalation.
ENDNOTE
1. For a comprehensive summary of these arguments, see Human Rights Watch, Making the Case: The Dangers of Killer Robots and the Need for a Preemptive Ban, December 9, 2016, https://www.hrw.org/report/2016/12/09/making-case/dangers-killer-robots-and-need-preemptive-ban.