May 2018
By Alicia Sanders-Zakre
At least 42 Syrians were killed April 7 by an apparent chemical weapons attack in Douma, spurring a fresh round of international outrage amid continuing diplomatic gridlock at the UN Security Council.
The World Health Organization estimated that 500 people were injured in the attack in what had been the rebel-held city near Damascus. France released an official assessment April 14, concluding "beyond any possible doubt" that a chemical weapons attack occurred and stating that Syrian government forces were responsible for using the banned weapons.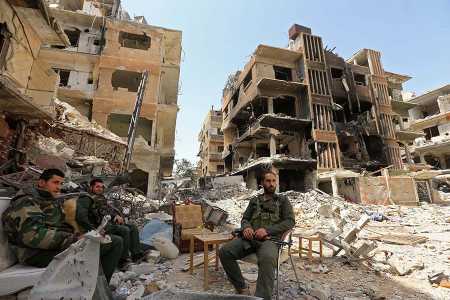 Victims reported the distinct scent of chlorine gas, a banned choking agent. But medical responders reported that victims' symptoms, including frothing at the mouth, were consistent with exposure to a prohibited nerve agent. The United States estimates that Syria has used various types of chemical weapons at least 50 times, U.S. Ambassador Nikki Haley told the UN Security Council on April 13. (See ACT, April 2018.) The Syrian Archive launched a database on April 24 documenting 212 alleged chemical weapons attacks in Syria since 2012.
Although Russia and Syria continued to deny chemical weapons use, calling this latest reported attack "bogus," most of the international community was quick to condemn the attack and call for independent, international investigations.
Members of a fact-finding team, dispatched by the Organisation for the Prohibition of Chemical Weapons (OPCW), arrived April 14 in Damascus, where they were initially told by Syrian and Russian authorities that they could not proceed to Douma due to security issues. U.S. State Department spokeswoman Heather Nauert said on April 19 that the delay was being used by Syrian forces to try to "remove incriminating evidence." The OPCW team was permitted to go to one site in Douma on April 21 and another on April 25.
There is currently no group to independently determine responsibility for chemical weapons attacks, after Russia blocked the UN-OPCW Joint Investigative Mechanism (JIM) from continuing its investigations. (See ACT, November 2017.) Before it was shut down, the JIM found the Assad regime responsible for four chemical weapons attacks and the Islamic State group guilty of two.
The UN Security Council met five times in the week following the Douma attack to discuss the incident and attempt to mandate investigations. Russia introduced three resolutions: one to create a new accountability investigative body whose findings would be subject to UN Security Council approval before release; one to support an OPCW fact-finding mission to Syria that would be restricted to pre-determined sites; and one to condemn the April 13 missile strikes against Syrian chemical weapons facilities conducted by the United States, United Kingdom and France.
None of Russia's resolutions received enough votes to pass, as the United States and other powers rejected the Russian moves as ploys to avoid responsibility for its role in Syria.
Vassily A. Nebenzia, Russia's permanent representative to the United Nations, responded angrily on April 13 to the failure of the Russian resolutions. "We proposed adopting a brief resolution in support of the OPCW inspection mission in Douma that the United States, Britain, and France irresponsibly blocked, thereby demonstrating their lack of interest in an investigation," he said. "The only thing they care about is overthrowing the Syrian government and, more broadly, deterring the Russian Federation."
The United States introduced a resolution on April 10 that would have created an investigative body with a one-year mandate to determine responsibility for chemical weapons use in Syria. Thirteen of the 15 UN Security Council members voted for the U.S. resolution, but it was killed by a Russian veto. "The record will not be kind to one permanent member of this council," Haley told the Security Council on April 10 in response to the veto.
"Unfortunately, Russia has chosen the Assad regime again over the unity of this council. We have said it before that Russia will stop at nothing to shield the Assad regime, and here is our answer," she said.
Haley cited the lack of diplomatic progress on accountability in justifying the decision to take military action. On April 13, France, the UK, and the United States launched more than 100 missiles, striking three Syrian facilities described as associated with its chemical weapons program. One was said to be a research and production facility in the Damascus area, and the other two were storage facilities west of Homs.
The three countries also circulated a resolution April 14 at the Security Council to counter chemical weapons use and address diplomatic and humanitarian concerns, which did not receive an immediate vote.
Given the council gridlock, Olof Skoog, Sweden's permanent UN representative, suggested that UN Secretary-General António Guterres present the council with a proposal to create an investigative body to determine culpability for chemical weapons use in Syria. Forty-seven civil society organizations in an April 13 letter called on Guterres to appoint such a team.