Humanization of Arms Control:
Paving the Way for a World Free of Nuclear Weapons
By Daniel Rietiker, Routledge, 2018, 322 pp.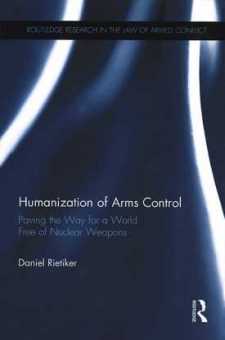 Daniel Rietiker provides a thorough and timely review of humanitarian arms control agreements, with an eye toward the benefit of applying humanitarian values to the field of nuclear arms control as exemplified by the recent Treaty on the Prohibition of Nuclear Weapons.
Rietiker first examines non-nuclear humanitarian arms control agreements: the Chemical Weapons Convention, Ottawa Convention, Oslo Convention, and Arms Trade Treaty. He then turns to existing nuclear treaties, such as the nuclear Nonproliferation Treaty and the Comprehensive Test Ban Treaty, evaluating the role of civil society in their negotiation and implementation. He also reviews the issues of legality of nuclear weapons under human rights law.
Rietiker makes several recommendations to advance disarmament by applying humanitarian principles to nuclear arms control, including reinforcing existing multilateral disarmament forums with more participatory discussions, adopting additional regional disarmament proposals, and providing a legal basis for the imposition of criminal sanctions on perpetrators of nuclear weapons use.
The interplay between humanitarian principles and nuclear arms control is ripe for exploration in light of the newly negotiated prohibition treaty, as well as the growing body of other humanitarian arms control treaties. The book provides a valuable reference for the evolving dynamics in nuclear arms control.—ALICIA SANDERS-ZAKRE
Iran's Nuclear Program: A Study in Proliferation and Rollback
By Farhad Rezaei, Palgrave MacMillan, 2017, 272 pp.
Farhad Rezaei, a research fellow at Center for Iranian Studies in Ankara, presents a history of Iran's nuclear program. He contends that foreign policy makers, intelligence experts, and scholars have failed to understand the internal dynamics underlying Iran's nuclear weapons ambitions.
In his account, Iranian militants and pragmatists, envisioning nuclear weapons as a deterrent, prevailed over then-Supreme Leader Ayatollah Ruhollah Khomeini, who "took the idealistic position that the Quran was not compatible" with weapons of mass destruction. Iran was able to create an illicit supplier network and to "skillfully manipulate" the watchdog International Atomic Energy Agency, he writes. He credits falling oil prices, economic pain from international sanctions, and domestic pressure from "normalizers" such as President Hassan Rouhani with leading to the negotiated rollback known as the Joint Comprehensive Plan of Action.—TERRY ATLAS