May 2017
By Maggie Tennis
During talks April 12 with U.S. Secretary of State Rex Tillerson, Russian Foreign Minister Sergey Lavrov expressed interest in resuming a "pragmatic" dialogue on strategic stability and arms control, although neither diplomat offered any public details about how that may proceed given strains from accumulating grievances.
Tillerson's meeting with Lavrov in Moscow, his first as secretary of state, took place amid tensions over Russian actions in Syria and Ukraine, a U.S. airstrike against Syria government forces after their chemical weapons attack on civilians, and ongoing investigations into what role Russia covertly played in the 2016 U.S. presidential election. Although it is unclear whether an arms control dialogue can proceed unhindered by the discord, Lavrov said that "we hope to resume our contacts on bilateral strategic stability and arms control and that they will take place in a business-like and pragmatic manner with a view to ensuring strict compliance with our agreements."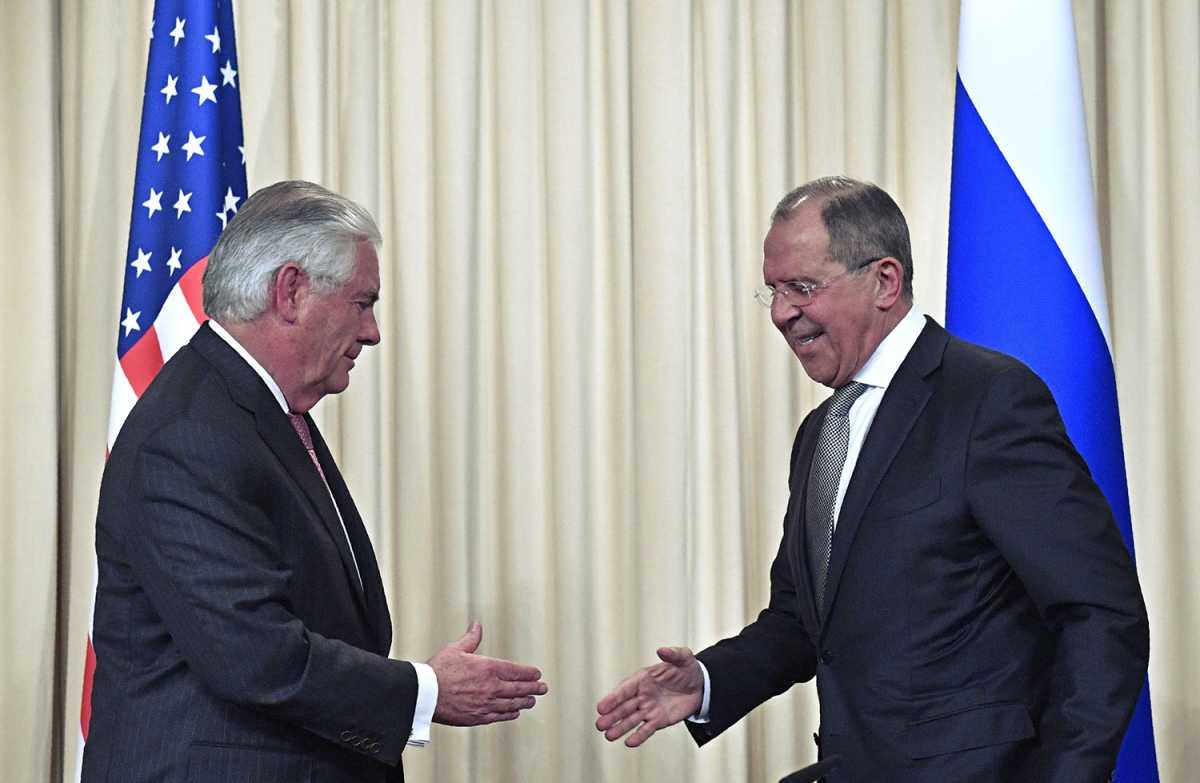 Neither diplomat in public remarks mentioned U.S. allegations that Russia is violating the Intermediate-Range Nuclear Forces (INF) Treaty (see ACT, April 2017) or Russia's objections to U.S. missile defense deployments in Europe. The two countries also appear to disagree on whether to extend the 2010 New Strategic Arms Reduction Treaty (New START) for five years beyond its current February 2021 expiration date, as provided for in the treaty. (See ACT, March 2017.) Russian President Vladimir Putin raised the prospect of the extension during a Jan. 28 phone call with U.S. President Donald Trump, who called the accord a bad deal for the United States, according to a Reuters report.
The two officials agreed that North Korea "has to be denuclearized" and discussed the "constructive role Russia can play in encouraging the regime in North Korea to change its course," Tillerson said. "We have agreed to establish a working group to address smaller issues and make progress toward stabilizing the relationship so that we can then address the more serious problems," he said.
Just how challenging cooperation will be was demonstrated by the recent behavior of both countries. On the eve of the meetings, the Russian Foreign Ministry released a statement condemning U.S. policies and actions in a number of global conflicts. Trump, in an interview that aired April 12, blamed the crisis in Syria on Russian support for Syrian leader Bashar al-Assad.
In a bit of diplomatic one-upmanship, Putin avoided committing in advance to meet with Tillerson, which also demonstrated a different relationship than when he awarded the Order of Friendship medal in 2013 to Tillerson when he was chief executive of Exxon Mobil. Tillerson described his almost two-hour meeting with the Russian leader as "productive."
"I expressed the view that the current state of U.S.-Russia relations is at a low point and there is a low level of trust between our two countries," Tillerson said. "The world's two foremost nuclear powers cannot have this kind of relationship."
In public remarks, Lavrov was more assertive about his government's objectives and grievances than his counterpart. Lavrov cited many "irritants" in the bilateral relationship, in large part blaming Obama administration policies. "I think that if both sides apply a pragmatic approach, this will yield results and it will go to make our relations much more healthy," he said. In contrast to Lavrov, a confident diplomat who has dealt with five U.S. secretaries of state since taking his post in 2004, Tillerson, just six weeks on the job, appeared cautious and kept his language mostly vague and generic. At one point, he cited a need for the two countries to clarify "areas of common objectives" and "sharp difference."
The contrast may reflect more than just Tillerson's diplomatic inexperience because Trump's approach to Russia is unsettled. During the Tillerson-Lavrov meeting, Trump described relations as "at an all-time low," but later tweeted that "things will work out fine between the U.S.A. and Russia."