May 2017
By Kelsey Davenport
The Trump administration completed its review of U.S. policy toward North Korea and will pursue a strategy of increasing pressure and engagement, according to U.S. officials.
The details of the review have not been released, but Susan A. Thornton, acting assistant secretary of state for East Asian and Pacific affairs, told reporters in an April 17 teleconference that there is not a "specific precondition" for talks and that the "focus is on getting some tangible signal from the North Korean regime that it is serious about engaging in talks."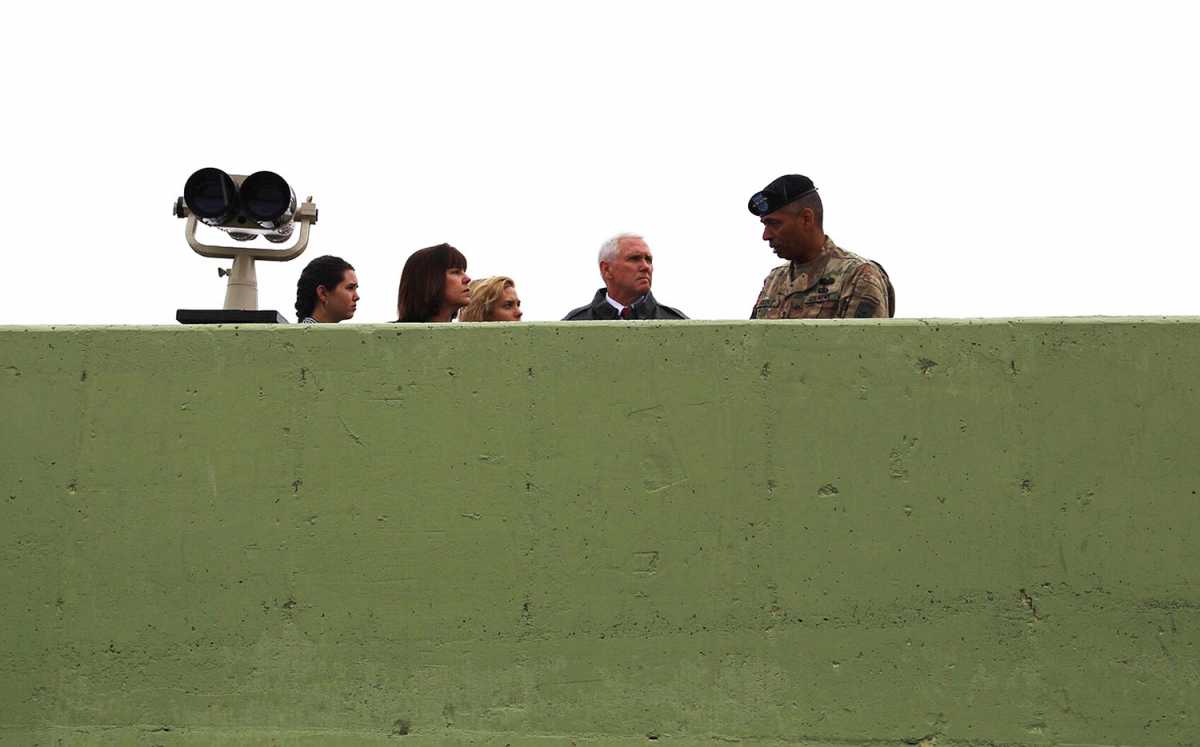 Absent a signal from North Korea, she said, the international community likely will be resolved to "just continue ratcheting up the pressure to try to make it clear that there is no path forward without a discussion of denuclearization."
This policy sounds similar to the Obama administration's approach called "strategic patience," which entailed increasing pressure through sanctions and engaging only once North Korea takes steps toward meeting the denuclearization pledge it made during multilateral negotiations in 2005.
But the Trump administration has injected a degree of uncertainty about U.S. intentions, including a threat of pre-emptive strikes, and Vice President Mike Pence declared during an April 17 reassurance visit to ally South Korea that "the era of strategic patience is over." President Donald Trump faces an important test in light of North Korea's growing stockpile of nuclear weapons materials, its increasing pace of missile development and testing, and the prospect that it soon may test a nuclear-tipped intercontinental missile able to reach the U.S. mainland.
The U.S. policy review comes amid increasing tensions with North Korea and an April 6 meeting between Trump and Chinese President Xi Jinping, during which the two leaders agreed to cooperate more closely on seeking a way to achieve denuclearization of the Korean peninsula.
Trump has made clear that he wants China to persuade North Korean dictator Kim Jong Un to halt nuclear and missile development and to re-engage diplomatically while the United States keeps open "all options," including military action.
The Trump administration gave a false impression in early April that a U.S. Navy carrier strike group led by the USS Carl Vinson—what Trump called "a very powerful armada"—was en route to the Korean region, although in fact the ships were first completing a naval exercise more than 3,000 miles away.
Despite the announcement, North Korea attempted to test a ballistic missile April 16, but it exploded shortly after the launch.
Thornton said that she does not think there is a "realistic expectation" of serious engagement from the international community while North Korea is conducting provocative and illegal activities, such as launching ballistic missiles barred by UN Security Council resolutions.
New Missiles Displayed
Despite Security Council prohibitions, North Korea is continuing to develop and test its ballistic missile capabilities. Pyongyang used its annual April 15 military parade to show off several new ballistic missiles.
Melissa Hanham, a senior research associate in the East Asia Nonproliferation Program at the James Martin Center for Nonproliferation Studies, said in an April 17 interview that the parade was "designed as a show of strength and power" for domestic and international audiences. North Korea's display of short-, medium-, and intercontinental-range missiles also sent the message that "no country is off the hook" as a target for Pyongyang's expanding ballistic missile program, she said.
Hanham noted that, in comparison to past parades, North Korea displayed more solid-fueled missiles, which require "less time to launch and fewer support trucks." Unlike liquid fuel, which can be corrosive, solid fuel can be stored in ballistic missiles, eliminating the time spent fueling at the site of the launch and the need for fuel trucks.
North Korea also used more domestically produced vehicles with treads to transport its missiles, which could signal that Pyongyang is having problems importing wheeled vehicle chassis that it used in the past, she said. The move to domestically produced transport erector launchers for ballistic missiles, however, will allow North Korea to deploy and move more missiles as Pyongyang is no longer restricted by the number of vehicles it can import, Hanham said.
North Korea displayed a domestically manufactured tracked vehicle for transporting and launching a mobile ballistic missile in February. (See ACT, March 2017.)
The use of smaller, tracked vehicles with a sharper turning radius, combined with solid fuel, gives North Korea "more flexibility for moving and storing its ballistic missiles," Hanham said. This, in turn, makes tracking movement using surveillance satellites more difficult due to less distinct imagery, she added.
North Korea also displayed what could be a new intercontinental ballistic missile (ICBM) variant and two canisters on mobile platforms it used in the past to transport ICBMs that Pyongyang has developed but not tested, known as the NK-08 and the KN-14. Hanham said that the new missile looks like a variant of the KN-08.
Canisters can be used to launch ballistic missiles, and North Korea used a canister for the launch of the solid-fueled medium-range Pukguksong-2 earlier this year. (See ACT, March 2017.) Experts caution against reading too much into the new canisters and said that they might not contain new missiles.
Michael Elleman, a missile expert with the International Institute for Strategic Studies, said in an April 17 email to Arms Control Today that "displaying canisters leaves us guessing what, if anything is inside" and whether the canisters are to house an existing ICBM design or if a new design is under development. If the canisters are for a new design, Elleman said, that raises the question of why North Korea would pursue a new model and if it abandoned the KN-08 and KN-14 or is developing several designs in parallel.
Elleman said the idea that the canisters suggest North Korea is developing a solid-fueled ICBM is reasonable as a "long-term goal" but Pyongyang is "at least a decade, if not more, from developing a viable, solid-fueled ICBM."
North Korean leader Kim Jong Un said earlier this year that the country could test an ICBM by the end of the year. If so, Hanham said, the KN-08 is the most likely system because "elements of the missile have already been tested." Any new system designed for the canisters displayed in the parade would need component tests first, she said.