Volume 9, Issue 3, May 2017
President Donald Trump is set to make his first foreign trip as president to the troubled Middle East region. He will meet with King Salman of Saudi Arabia, as well as the members of the Gulf Cooperation Council. The humanitarian crisis in Yemen and the Saudi-led coalition's war there will certainly be key topics. So too will pending U.S. arms sales to Riyadh and Manama that the Obama administration put on hold but the Trump administration is now pushing through Congress.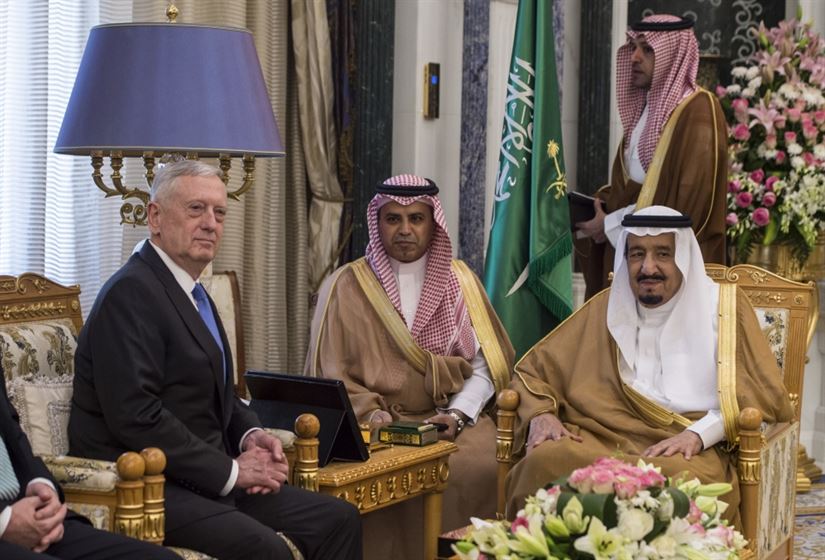 The potentially massive Saudi arms sale, involving precision-guided munitions (PGM) worth hundreds of millions of dollars, was suspended by Obama in December, in part due to independent reports that Saudi forces have repeatedly struck civilian areas, including locations the United States asked be off-limits.
The new Saudi arms deal has not yet been formally notified, but it has been sent to the chairs and ranking members of the Senate Foreign Relations Committee and House Foreign Affairs Committee for review. A multi-billion dollar sale of 19 F-16 fighter jets to Bahrain is in a similar pre-notification status and does not include human rights preconditions that the President Barack Obama administration had mandated. Reports suggest an even larger Saudi arms deal, ranging in value from $100-300 billion, may be in the works and discussed while Trump is in the region.
The Trump administration initiative ignores Saudi Arabia's repeated failure to avoid civilian targets and would compound the growing humanitarian crisis in Yemen that is largely the consequence of the devastating conflict there.
Unfortunately, Secretary of State Rex Tillerson devalued promotion of human rights in an address to his State Department staff on May 3, suggesting that placing an emphasis on others upholding American values "creates obstacles to our ability to advance our national security interests, our economic interests." Senator John McCain (R-Ariz.), among others, has delivered a passionate rebuttal of this argument.
In addition, there are strong national security and legal reasons why these proposed sales are unwise.
A Deteriorating Disaster in Yemen
The Yemeni rebel movement, the Houthi, seized the capital Sanaa in 2014. Since 2015, the United States has backed a Saudi-led coalition fighting nominally on behalf of exiled president Abed Rabbo Mansour Hadi, often providing refueling for war planes and other support. The coalition has retaken portions of Yemen, including Aden, which Hadi ostensibly uses as a base for his government. But many Yemenis still live in areas outside of Hadi's control, including in the capital Sanaa. All sides in the conflict have been implicated for violations of international humanitarian law, including the Saudis who have ignored U.S. "no target" lists and bombed hospitals, civilian areas, and funerals in attacks that may amount to war crimes.
The war has also fueled a humanitarian disaster. After two years of fighting, the United Nations launched an appeal early this year on behalf of 18.8 million people who it found needed assistance in Yemen—more than two-thirds of the country's population. At that time, it warned of a possible famine with 3.3 million people being acutely malnourished.
UN Secretary-General António Guterres painted a chilling picture April 25 of what he called "a tragedy of immense proportions," noting that "On average, a child under the age of five dies of preventable causes in Yemen every ten minutes." Now, Houthi leaders in Sanaa have declared a state of emergency after a cholera outbreak that has killed more than 100 people.
The flow of new weapons to states involved in the conflict will only worsen the humanitarian situation. Ignoring UN findings that a military solution is not possible and pleas to unblock access to ports to help address the "largest humanitarian crisis in the world," the port city of Hodeida is identified as a next target for the Saudi-led coalition. Despite being crippled by earlier strikes and blocked from receiving new cranes for unloading supplies, a significant portion of humanitarian assistance enters the country through the port. An attack there would likely further cut supplies and significantly escalate human suffering.
News of the potential sale of precision-guided munitions as well as an attack on Hodeida have swirled in Congress since at least March, with many members wisely engaging to express concerns about addressing the humanitarian situation, Saudi behavior, and authority for U.S. military action.
Notionally, precision-guided munitions would better enable Saudi forces to avoid civilian casualties, but evidence suggests that munition accuracy is not the primary reason why Saudi forces are hitting civilian targets. During a March 9 Senate Foreign Relations Committee hearing on Yemen, Dafna Rand, a former deputy assistant secretary of state for democracy, human rights, and labor in the Obama administration, testified that despite hopes in 2015 that the Saudi-led coalition would use precision-guided munitions for better targeting, "what we've seen since is not an improvement in the targeting and the issue itself is the target selection."
At that same hearing, Sen. Chris Murphy (D-Conn.) criticized Saudi actions. Sen. Rand Paul (R-Ky.) described as "questionable" Saudi commitment to strictly targeting combatants and legitimate military targets.
The two senators led efforts that won the support of 27 senators in a vote against a $1.1 billion tank deal to Riyadh in September 2016. They also drafted legislation last year to suspend certain munitions sales until the U.S. president certifies that the Saudis show commitment to fighting terrorism and to protecting civilians in Yemen. Last month, they introduced similar legislation on air-to-ground munitions, now as S.J.Res 40, with co-sponsors Richard Durbin (D-Ill.) and Al Franken (D-Minn.), who were joined in May by Tammy Baldwin (D-Wisc.), Jeff Merkley (D-Ore.), and Todd Young (R-Ind.).
In a press release associated with the bill's introduction, Murphy said, "The United States has no business supplying a military that targets civilians or enables terrorist groups to thrive, but that's exactly what we're doing right now in Yemen."
"The Saudis are important partners in the Middle East, but they have continued to disregard our advice when it comes to target selection and civilian protection. We have an obligation to ensure U.S. military support is not being used to kill innocent civilians, and requiring Saudi Arabia to meet these basic conditions should be a no brainer," Murphy added.
Young has also pressed the administration and the Saudis to resolve the humanitarian crisis in Yemen. On May 5, members of the Senate Foreign Relations Committee met with Saudi Minister of Foreign Affairs Adel Al Jubeir. Afterward, Young issued a statement urging "the Saudi government to renounce any intention to conduct a military operation against the port of Hodeidah, redouble efforts to achieve a diplomatic solution, and end any delays to the delivery of humanitarian aid caused by the Saudi-led coalition."
Their efforts followed upon a March 23 letter Marco Rubio (R-Flor.), Todd Young (R-Ind.), Ben Cardin (D-Md.), Ed Markey (D-Mass.), Jeanne Shaheen (D-NH), Chris Murphy (D-Conn.), Cory Booker (D-NJ), Chris Coons (D-Del.), Cory Gardner (R-Colo.), and Jeff Flake (R-Ariz.) sent to Tillerson urging action to address humanitarian crises in four countries, including Yemen. Cardin and Young also introduced a resolution calling for such action.
This week Murphy and Young took the Senate floor May 17 to again highlight the urgency of addressing the crisis in Yemen.
In the House, Reps. Ted Lieu (D-Calif.) and John Conyers (D-Mich.) led 53 members in signing a March 13 letter to Secretary of State Rex Tillerson, urging him to use "diplomatic clout" to open the port of Hodeida. Lieu and Conyers were among a bipartisan group of 64 House members who had asked Obama to withdraw the tank deal last year.
The two representatives were also among a bipartisan group of 31 House members who sent an April 6 letter to Secretary of Defense James Mattis and Tillerson requesting an assessment of Saudi capabilities before any new precision-guided munition sale is approved. In the letter, they argued, "It is in our national security interest–as well as that of our Saudi partners–to ensure that the [Royal Saudi Air Force] has the ability to avoid civilian casualties before the United States sells them any additional air-to-ground munitions."
At a more fundamental level, these members of Congress are challenging the authority for this administration to support the Saudi coalition and possibly engage more directly in the conflict. On April 10, a bipartisan group of 55 representatives, led by Mark Pocan (D-Wis.) and Justin Amash (D-Mich.), sent a letter to Trump and Attorney General Jeff Sessions asking for the legal justification for U.S. involvement in Yemen's war and urging the administration to receive congressional authorization before launching any direct hostilities against the Houthis.
On May 2, they led in sending a follow-up letter from a bipartisan group of 16 representatives to Mattis inviting him to brief Congress of the administration's plans for Yemen. They wrote: "Should the administration remain unresponsive to our repeated inquiries into the nature of U.S. engagement in a potentially catastrophic Saudi attack on Hodeida, we will pursue legislation to explicitly prohibit U.S. involvement in any such an assault."
Such a measure would follow up on a new Authorization of Military Use of Force proposed April 27 by Rep. Adam Schiff (D-Calif.) and nine other Democratic representatives that grants authority to combat the Islamic State, Al-Qaeda and the Afghanistan Taliban—by logic excluding the Houthi, who are not affiliated with these groups.
Upholding the Law, Security, and Rights
Members of Congress identified above are raising the right concerns. Looking just at arms sales, Congress may block agreement to a deal if both houses pass a resolution of disapproval in the first 30 days after being notified of a potential arms sale. Strong opposition is rare because notifications typically happen only after interagency approval and consultations with congressional leaders. In this case, however, opposition is clearly lined up and a messy fight is in the offing if (and when) the Trump administration decides to move forward.
Congress should first look to the law and recognize that the provision of arms is generally prohibited when a country engages in a "consistent pattern of gross violations" of recognized human rights. Until it is satisfied that Saudi behavior can and will improve, it should not authorize new sales to the country.
S.J.Res 40 underscores this point on air-to-ground munitions and deserves Congressional support. That bill, if approved, would impact not only the anticipated precision-guided missile sale but also a $1.3 billion deal that went through Congress in November 2015. For the first and only time, Senate Foreign Relations Committee Chairman Bob Corker (R-Tenn.) and ranking member Ben Cardin (D-Md.) invoked a new authority that requires the State Department to notify Congress at least 30 days prior to the delivery of an arms shipment. Congress should continue to monitor possible delivery of munitions from that deal as it looks ahead to a new notification.
As the Hadi government appears to fracture and evidence mounts of it working alongside Al-Qaeda in the Arabian Peninsula (AQAP), congressional leaders must also ask themselves if supporting that regime and doubling-down on U.S. support for Saudi Arabia's military campaign makes sense for U.S. security goals. It is difficult to see how it does.
Capturing Hodeida will not, as some claim, force the warring parties to the table to negotiate a political settlement. While Iran provides some support, the Houthi are their own masters and practice a form of Shia Islam nearly entirely indigenous to Yemen, but an attack on Hodeida would more likely drive the Houthi closer to Tehran. Furthermore, as long as the United States provides weaponry and assistance to Saudi war-fighting, the Saudis appear to have no incentive to offer a political solution.
In revising U.S. conventional arms transfer policy in January 2014, Obama included the goal of "Ensuring that arms transfers do not contribute to human rights violations or violations of international humanitarian law." The United States is also a signatory to the landmark Arms Trade Treaty (ATT), which requires consideration of whether transferred arms would be used to commit or facilitate serious violations of international humanitarian or human rights law—measures consistent with U.S. law.
The Trump administration has not yet issued a new arms transfer policy or made a compelling case for abandoning the humanitarian principles of U.S. law and policy.
It would be counterproductive, in fact, to abandon these humanitarian concerns because doing so would only encourage other states to supply arms to groups and countries that support abuse and actions counter to U.S. goals. U.S. actions themselves, even if indirectly through the support of others, help to radicalize individuals against Washington when they are seen as targeting civilians.
Applying Same Standards to Bahrain and UAE
Garnering less attention in Congress thus far has been the pending notification to sell F-16s to Bahrain, a Saudi-coalition partner. In considering such a sale in 2016, the Obama administration attached an undisclosed set of preconditions to encourage the Bahraini government to improve its human rights record. Those conditions likely included the release of human-rights activist Nabeel Rajab and other measures to reverse suppression of nonviolent opposition after the forced closure of the al-Wefaq political party.
Those and many other steps have not been taken. Instead, on Friday the United Nations Committee Against Torture warned of continued ill-treatment of detainees and called on Bahraini authorities to release Rajab, who had been held in solitary confinement for more than nine months. Just as a deal to arm Saudi Arabia with offensive weapons would signal that the United States is unconcerned with how a country addresses human rights, so too would a new F-16 sale to the repressive Bahraini regime.
The national security goals are also unclear. F-16s appear to have little relevance in combating AQAP or the Islamic State. Nor do they further efforts that might resolve problematic Iranian activity.
Further complicating the situation, just last week, Congress was notified of a potential $2 billion sale of Patriot missiles to the United Arab Emirates, whose forces are expected to be in the vanguard of any offensive on Hodeida. Even though that sale would not be of "offensive" weapons, serious concerns about detainee abuse should also give Congress pause as to whether to reward Abu Dhabi.
While there are certainly many challenges in the Middle East, agreeing to arms deals with regimes in Riyadh and Manama that have a record of impunity when conducting airstrikes or suppressing their citizenry runs counter to long-standing U.S. principles and goals.
—JEFF ABRAMSON, nonresident senior fellow 
NOTE: This Issue Brief has been updated to reflect the fact that Houthi fighters seized the capital Sanaa in 2014, not 2015.