Remarks by
Daryl G. Kimball
Nuclear Discussion Forum at the Mission of Kazakhstan to the United Nations
October 26, 2021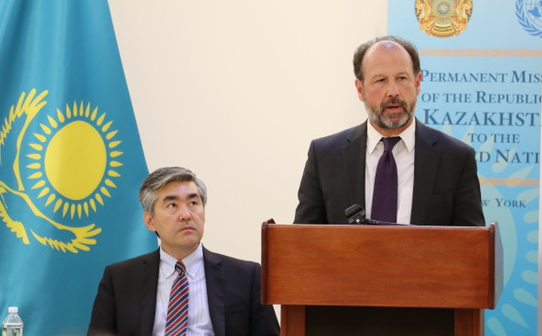 Thank you, Ambassador Ilyassov, for the invitation to speak, and thanks to the Mission of Kazakhstan for bringing us all together to refocus our attention on the pivotal, but delayed, Tenth Nonproliferation Treaty Review Conference January 2-28, 2022.
As we assess what will take to achieve a balanced and successful outcome in 2022, it is important to recollect key experiences, lessons, and commitments from past NPT review cycles.
Twenty-six years ago, as states parties negotiated the terms for the extension of the NPT, the future of the treaty was not assured.
But in 1995, at the treaty's Review and Extension Conference, world leaders and diplomats managed to come together to craft a balanced plan to advance key goals on disarmament and nonproliferation and extend this bedrock agreement to reduce nuclear dangers.
On May 11, 1995, NPT states parties committed to the "complete elimination of nuclear weapons" and specific disarmament actions as part of a balanced package of decisions. Additional specific commitments were made at the 2000 and 2010 review conferences to advance implementation and compliance with all three pillars of the treaty.
The 1995, 2000, and 2010 commitments with few exceptions remain relevant and important, but the disarmament-related commitments remain largely been unfulfilled.
They should now be reaffirmed, updated, and implemented in good faith. These commitments represent a collective determination of how to comply with Article VI. Abandoning or undercutting them would represent a lack of respect for the NPT process and cast doubt on the value of the NPT Review process itself.
Undoubtedly, NPT states parties will need to come together on many key issues at the NPT Review Conference in January, including action strengthening nuclear safeguards and steps toward addressing regional nonproliferation goals, among others.
But the success of this pivotal review conference will, more than anything, hinge on how and whether they can develop an updated, meaningful action plan on disarmament that helps to address the growing disarmament deficit.
The Disarmament Deficit
Since at least 2010, the nuclear disarmament process has been stalled, and the five NPT nuclear-armed states cannot credibly claim they are meeting their NPT Article VI obligations.
Today, tensions among the world's nuclear-armed states are rising; the risk of nuclear use is growing; hundreds of billions of dollars are being spent to replace and upgrade the already bloated arsenals of the world's nine possessors of nuclear weapons; key agreements that have kept nuclear competition in check are in serious jeopardy.
The United States, Russia, China, and the U.K., to varying degrees, are all engaged in a qualitative and quantitative arms race. At the last moment, Presidents Biden and Putin extended the last remaining nuclear arms control treaty, New START, and relaunched a strategic security dialogue that could evolve into nuclear disarmament talks. Progress is possible but is by no means assured.
Meanwhile, China, the United Kingdom, and France remain on the sidelines and are not part of any serious nuclear disarmament discussion or negotiation. The so-called P5 Process, while useful in many ways, is simply not an effective forum to exchange, let alone negotiate, serious disarmament proposals. And there is growing evidence that China is preparing to double or triple the size of its long-range, nuclear-armed ballistic missile force.
Consequently, as we approach the delayed 10th NPT Review Conference, we are once again are at a crossroads in the long-running journey to reduce the threat of nuclear war and eliminate nuclear weapons.
All states must approach the upcoming NPT Review Conference with a sense of urgency, a spirit of cooperation, a willingness to be flexible, and a determination to produce meaningful results that transcend old fault lines, particularly regarding the disarmament "pillar" of the NPT.
To achieve a successful outcome at this NPT Review Conference, states parties must not only reaffirm their past commitments and objectively review recent progress—or lack thereof—on meeting treaty goals and commitments—they must focus on developing an updated, focused action plan on disarmament.
No Excuses
U.S. and Russian leadership on nuclear risk reduction and disarmament has been a key to the success of pivotal NPT Review Conferences in the past. Unfortunately, neither can provide any evidence of progress on disarmament in recent years.
We can expect U.S. and Russian officials to remind us that since the end of the Cold War 40 years ago, their arsenals have declined significantly. While true, nearly all those reductions occurred before 2010.
We can expect the nuclear-armed states will continue to claim that many past NPT commitments on disarmament have been overtaken by events. Some will bemoan the fact that the "environment" for progress on disarmament is challenging and they will each claim they are open to talks on disarmament under the right diplomatic terms.
History shows that progress on disarmament can be achieved during times of tension, and that tensions can be eased, trust can be rebuilt through effective negotiations on nuclear arms control.
In 1979, for instance, during the height of the Cold War, then-Sen. Biden spoke at the Arms Control Association Annual Dinner about "The Necessity of Nuclear Arms Control," noting that "pursuing arms control is not a luxury or a sign of weakness, but an international responsibility and a national necessity."
Some of the nuclear-armed states may continue to oppose any recognition of the fact that since the 2015 NPT Review Conference many of the NPT's non-nuclear member states successfully concluded the 2017 Treaty on the Prohibition of Nuclear Weapons as a contribution to meeting their NPT Article VI obligations.
Some may even resist recognizing the grave health and environmental consequences of nuclear weapons production, testing, and use—otherwise known as catastrophic humanitarian impacts.
Such deflection of responsibility for inaction is unconstructive and irresponsible.
Next Steps on Disarmament
Instead, the five nuclear-armed NPT states should acknowledge the continued validity of their past disarmament commitments and work with other NPT states to develop an updated action plan that sets benchmarks for progress over the next several years.
Notwithstanding tensions between the nuclear-armed states, the conference can and should develop a forward-looking action plan that:
commits NPT states parties to take near-term steps that meaningfully reduce the role and number of nuclear weapons,
seeks to bring all nuclear-armed states into the nuclear disarmament process, and
creates new momentum to put us back on the path toward the common goal of a world without nuclear weapons.
Key elements should be rooted in the 2010 NPT action plan and can be derived from statements and proposals from the NAM, the NAC, the Stockholm Initiative, and the NPDI, as well as the commitments and policies of nuclear-weapon states themselves.
It might include the following measures which might be codified in a joint statement designed to become an element of the final conference document:
a call for the United States and Russia to conclude talks on a New START follow-on agreement or agreements that achieve further, lower limits on strategic and nonstrategic nuclear warheads and delivery systems no later than 2025
a pledge by all the NPT nuclear-armed states to freeze the size of their nuclear arsenals and reduce their fissile stockpiles, as the United States and Russia seek to achieve new agreements to reduce their offensive nuclear arsenals and limit their strategic missile interceptor systems
a call for all five nuclear-armed states to agree to begin to engage in disarmament talks, either bilaterally and/or through a new multilateral format, no later than 2025
reaffirmation by all nuclear-armed states of their de facto nuclear testing moratoria, the negotiation of voluntary nuclear test confidence-building measures to address concerns about compliance pending CTBT entry into force, and action by the eight remaining CTBT holdout states to ratify the treaty before 2025
a call for a halt to the introduction of new types of nuclear weapons and nuclear-armed cruise and hypersonic missiles
a commitment by the nuclear-weapon states to adopt and report on specific policies that reduce the role and salience and risk of use of nuclear weapons, including a phaseout to Cold War-era "launch under attack" postures, which increase the risk of accidental nuclear war
a recognition of the fact that any use of nuclear weapons would produce catastrophic humanitarian consequences and that "a nuclear war cannot be won and must never be fought."
In the absence of coherent and constructive leadership from the nuclear-weapon states, other responsible and concerned NPT states parties need to fill the void and work together for a good outcome.
Sweden, Germany, Kazakhstan, and other states have made some strides toward a common framework on the next steps on nuclear disarmament. Leaders of the humanitarian initiative on nuclear weapons and key members of the Non-Aligned Movement also have a role to play.
We all need to act with the urgency that the threats posed by nuclear weapons demand.
If we are to reduce the nuclear threat and prevent the possible third use of nuclear weapons, we cannot afford to squander the opportunity to act while we still can.