We are grateful for the President's message to attendees at our 50th Anniversary annual meeting and for his steadfast commitment to nuclear arms control, risk reduction, and disarmament.—ARMS CONTROL ASSOCIATION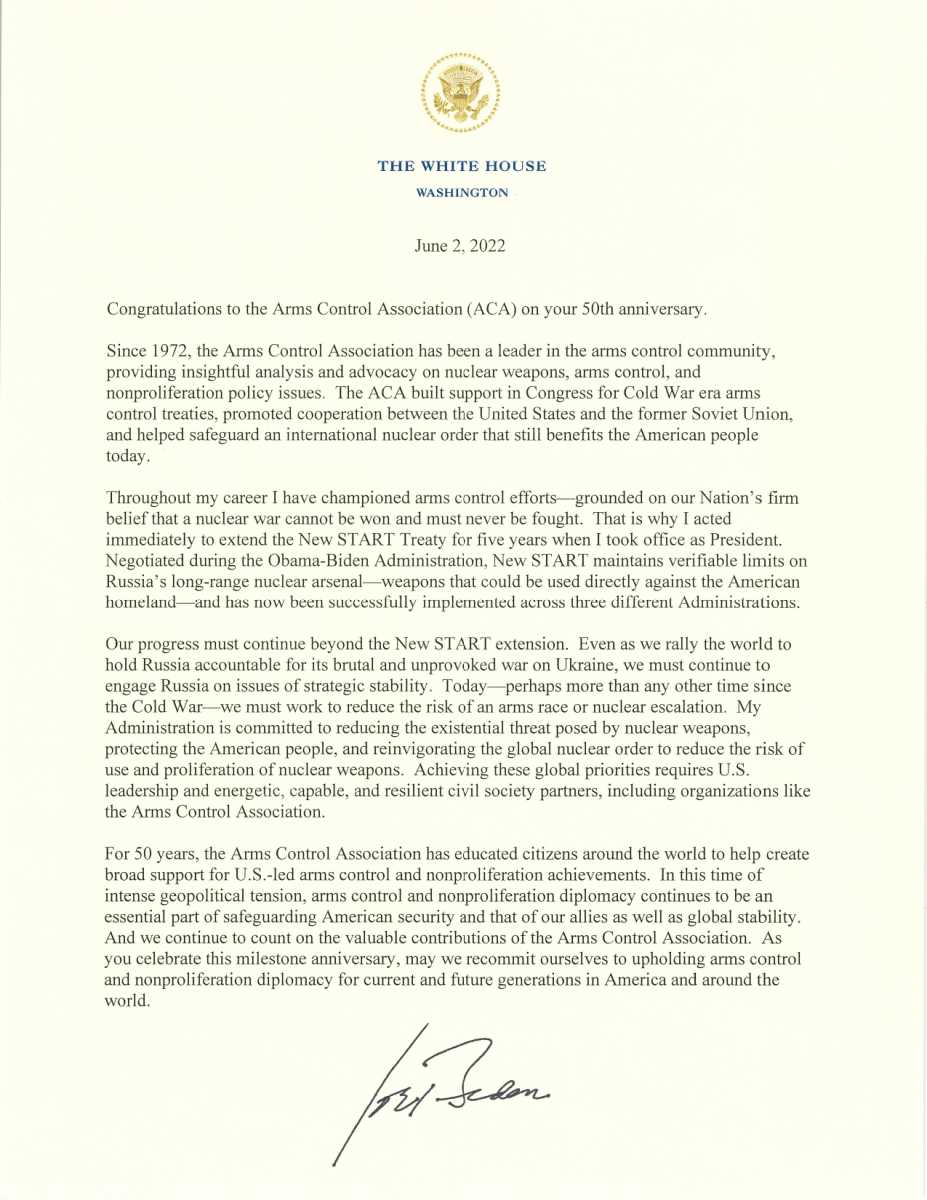 THE WHITE HOUSE 
WASHINGTON
June 2, 2022 

Congratulations to the Arms Control Association (ACA) on your 50th anniversary. 
Since 1972, the Arms Control Association has been a leader in the arms control community, providing insightful analysis and advocacy on nuclear weapons, arms control, and nonproliferation policy issues. The ACA built support in Congress for Cold War era arms control treaties, promoted cooperation between the United States and the former Soviet Union, and helped safeguard an international nuclear order that still benefits the American people today.
Throughout my career I have championed arms control efforts—grounded on our Nation's firm belief that a nuclear war cannot be won and must never be fought. That is why I acted immediately to extend the New START Treaty for five years when I took office as President. Negotiated during the Obama-Biden Administration, New START maintains verifiable limits on Russia's long-range nuclear arsenal—weapons that could be used directly against the American homeland—and has now been successfully implemented across three different Administrations. 
Our progress must continue beyond the New START extension. Even as we rally the world to hold Russia accountable for its brutal and unprovoked war on Ukraine, we must continue to engage Russia on issues of strategic stability. Today—perhaps more than any other time since the Cold War—we must work to reduce the risk of an arms race or nuclear escalation. My Administration is committed to reducing the existential threat posed by nuclear weapons, protecting the American people, and reinvigorating the global nuclear order to reduce the risk of use and proliferation of nuclear weapons. Achieving these global priorities requires U.S. leadership and energetic, capable, and resilient civil society partners, including organizations like the Arms Control Association. 
For 50 years, the Arms Control Association has educated citizens around the world to help create broad support for U.S.-led arms control and nonproliferation achievements. In this time of intense geopolitical tension, arms control and nonproliferation diplomacy continues to be an essential part of safeguarding American security and that of our allies as well as global stability. And we continue to count on the valuable contributions of the Arms Control Association. As you celebrate this milestone anniversary, may we recommit ourselves to upholding arms control and nonproliferation diplomacy for current and future generations in America and around the world. 
Joe Biden