November 2023
By Kelsey Davenport
UN restrictions on Iran's missile program expired in October, but a group of states said they remain committed to countering Iranian missile activities.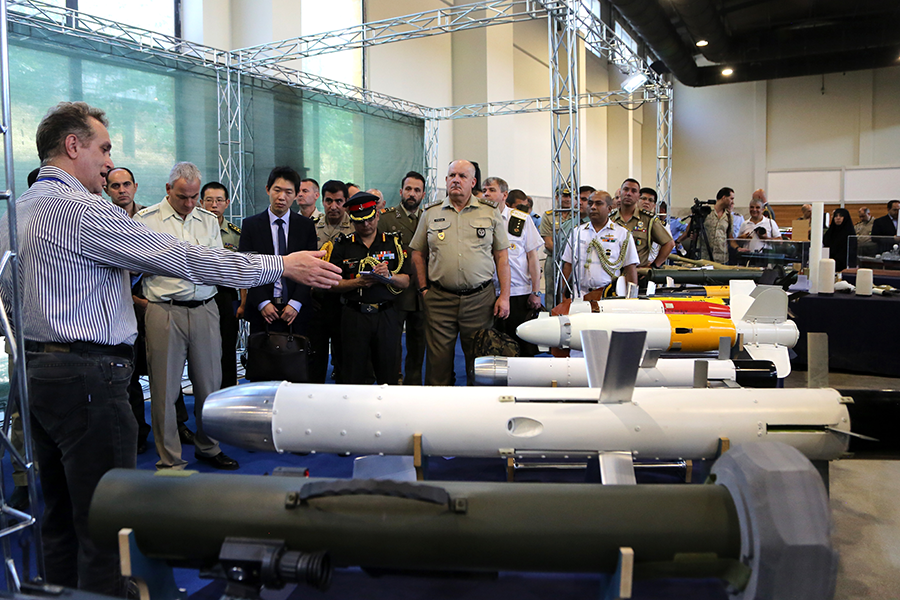 Iran was prohibited from importing and exporting certain missiles, drones, and related technologies without prior UN Security Council approval under Resolution 2231, which endorsed the 2015 nuclear deal known as the Joint Comprehensive Plan of Action (JCPOA).
In response to the expiration of the UN restrictions on Oct. 18, 48 states issued a statement calling Iran's missile program "one of the greatest challenges to international nonproliferation efforts" and said Tehran's transfers of missiles and related technologies "endangers international stability and escalates regional tension."
The statement was coordinated through the Proliferation Security Initiative, a voluntary multilateral effort launched in 2003 to counter the spread of weapons of mass destruction.
The group of states said it is "imperative" for states to "counter Iran's destabilizing ballistic missile-related activities" and committed to "take all necessary measures to prevent the supply, sale or transfer of ballistic missile-related items," including interdicting shipments of those materials.
The UN restrictions likely slowed Iran's exports of missiles and drones, but evidence suggests Iran continued to transfer systems without the required Security Council approval. According to the UN Secretariat, debris from missile systems used by the Houthis in Yemen is consistent with Iranian systems and contains components manufactured after Resolution 2231 entered into effect.
Furthermore, France, Germany, Ukraine, the United Kingdom, and the United States all shared evidence with the UN Secretariat that Iran transferred drones to Russia in violation of the resolution. (See ACT, January/February 2023.) Russia used the systems in its full-scale war against Ukraine. Although Iran admitted to transferring some drones prior to Russia's invasion of Ukraine, Tehran said the systems sold were not covered by Resolution 2231, which focused on nuclear-capable systems.
It is unclear if the expiry of the UN restrictions will lead to an expansion of Iran's trade in missiles and related technologies. U.S. sanctions on Iran's missile program remain in place, and on Oct. 18, the Biden administration sanctioned additional individuals and companies that support Iran's missile program.
The European Council confirmed on Oct. 17 that the European Union would maintain all sanctions on Iran that would have been lifted on Oct. 18 under the JCPOA, including measures covering Iran's missile program.
The UK also retained its sanctions on Iran and announced new measures. In an Oct. 18 statement, the UK Foreign Office described its decision to keep restrictions in place as "a proportionate and legitimate response to Iran's nuclear escalation." It also said that Iran's missile and drone transfers "endanger international stability and escalate regional tension."
The European decision to keep sanctions in place does not come as a surprise. France, Germany, and the UK said in September that the European sanctions would not be lifted. Immediately following that announcement, Iran revoked permission for an International Atomic Energy Agency (IAEA) inspector to travel to Iran to conduct safeguards activities. (See ACT, October 2023.) Tehran does not appear to have taken any additional steps to advance its nuclear program or reduce IAEA access following the formal expiration of the sanctions on Oct. 18.
Russia condemned the EU and the United States for failing to comply with the JCPOA sanctions-lifting requirements. In an Oct. 17 statement, the Russian Foreign Ministry accused the United States and Europe of retaining the sanctions to "settle political scores" with Iran and "demonstrating disdain for international law."
Russia can now purchase drones and missiles from Iran legally, but it is unclear if Tehran will escalate its support for Moscow's war in Ukraine. Iran and Russia discussed the transfer of ballistic missiles in 2022, but U.S. and European warnings appear to have deterred Tehran from transferring those systems. (See ACT, November 2022.)
A significant escalation in military support for Russia could lead France or the UK to snap back the UN sanctions on Iran. Due to a special provision in Resolution 2231, a resolution to reimpose the sanctions on Iran cannot be vetoed. The option to snap back the sanctions does not expire until October 2025. The United States cannot exercise the snapback provision because it is no longer a party to the JCPOA.
If Iran ramps up its sales of missiles and drones, it also could complicate efforts to deescalate tensions with the United States. Iran and the United States took limited steps to ease tensions in September when Iran released five American hostages in exchange for the release of five individuals detained in the United States and access to $6 billion in frozen oil revenues. The money was transferred to banks in Qatar and can be used only to pay for humanitarian goods. (See ACT, October 2023.)
Critics of the swap in the U.S. Congress called for the Biden administration to prevent Iran from accessing those funds after Hamas attacked Israel on Oct. 7.
Tehran provides military support to Hamas, but Iranian Supreme Leader Ali Ayatollah Khamenei denied that his country was involved in planning the attacks. In an Oct. 10 speech, he said that "we defend Palestine and its struggle" but the attacks "are the works of Palestinians themselves."
Israeli and U.S. officials have said there is no evidence of direct Iranian involvement in the Hamas attack. But the resulting regional tensions and Iran's long-standing support for Hamas and Hezbollah, a militant group based in Lebanon, likely will make it more difficult for Tehran and Washington to resume talks over Iran's nuclear program.