November 2023
By Carol Giacomo
U.S. missiles known as ATACMS have arrived in Ukraine and been used with initial success on the battlefield against Russian forces, according to Ukrainian President Volodymyr Zelenskyy.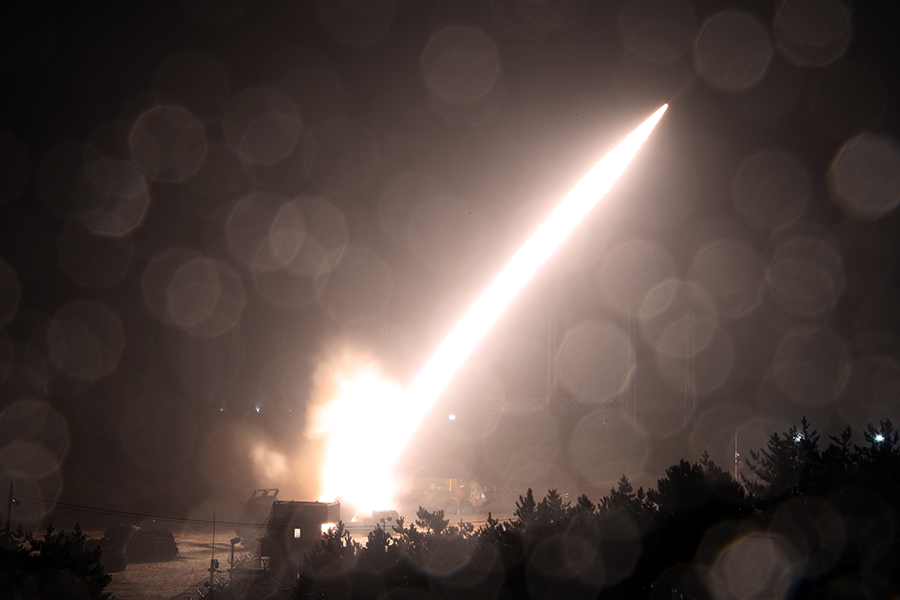 "Our agreements with President [Joe] Biden are being implemented, and very accurately. ATACMS have proven themselves," he said in a video shared on social media on Oct. 17.
Zelenskyy made the comments after Ukrainian strikes on the Berdyansk and Luhansk airfields in Russian-occupied territory.
Ukraine's top military commander, Gen. Valerii Zaluzhnyi, confirmed that the ATACMS (Army Tactical Missile System) missiles were instrumental in the attacks when he posted footage of the launch on his Telegram channel.
The Ukrainian Defense Ministry said that the strikes destroyed nine helicopters, an air-defense launcher, vehicles, and ammunition depots and damaged airstrips.
Russian President Vladimir Putin called the ATACMS decision "another mistake by the United States."
"War is war," he said on Oct. 18, "and, of course, I have said that [ATACMS] pose a threat…. But what counts most is that they are completely unable to drastically change the situation along the line of contact. It's impossible."
For more than a year, Ukrainian officials had pushed the Biden administration to supply long-range ATACMS missiles that can travel nearly 200 miles. They argued that the weapons could alter the course of war, provoked by Russia's full-scale invasion in 2022, by holding at risk high-value targets behind the front lines.
Some U.S. officials were concerned that providing the missiles would cause Putin to escalate the conflict.
U.S. Defense Secretary Lloyd Austin and Chairman of the Joint Chiefs Staff Gen. Mark Milley resisted sending the missiles, arguing that the United States had a limited inventory and needed to ensure they had enough weapons to meet potential emergencies elsewhere in the world, according to Politico on Oct. 17.
The stalemate was resolved when Biden agreed to quietly send Ukraine an older, medium-range ATACMS known as Anti-Personnel/Anti-Materiel missile, Politico reported. The missiles are designed for use with cluster munitions, which carry warheads with hundreds of bomblets, that Biden started sending Ukraine in July.
Cluster munitions are banned under an international treaty to which Russia, Ukraine, and the United States are not members. Although the weapons can be devastating against an adversary, they often lay dormant long after the fighting and cause serious injury to civilians who inadvertently come upon them.
The Biden compromise with Ukraine may not satisfy Congress. House Foreign Affairs Committee Chairman Michael McCaul (R-Tex.) said on Oct. 17 that he was not satisfied by the announced supply of the weapons system. Without the longer-range variant of the weapons, McCaul said that "Congress won't let up pressure on the Biden administration."