October 2023
By Michael T. Klare
The United States is unable to rely exclusively on existing human-operated weapons systems to prevail in a future war with China and will need to field vast numbers of autonomous weapons systems controlled by artificial intelligence (AI) to meet the challenge, according to Deputy Secretary of Defense Kathleen Hicks.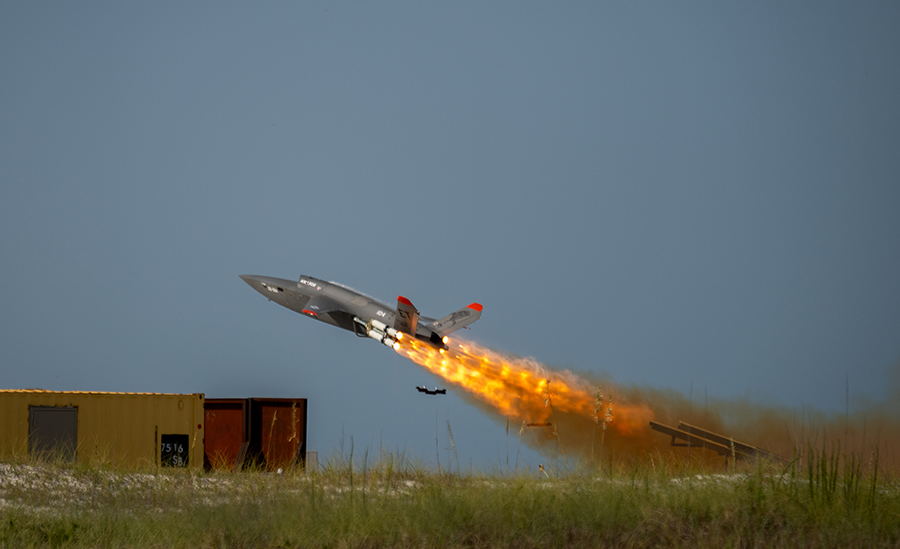 To ensure that sufficient numbers of these platforms, including drone ships, planes, and ground vehicles, will soon be available for battlefield use, Hicks on Aug. 28 announced a new Pentagon initiative, dubbed "Replicator," to field "multiple thousands" of such systems "within the next 18 to 24 months."
"Replicator is meant to help us overcome [China's] biggest advantage, which is mass. More ships. More missiles. More people," she said in a speech to the National Defense Industrial Association. By deploying thousands of autonomous weapons systems, the United States will "counter the [People's Liberation Army's] mass with mass of our own…[with] platforms that are small, smart, cheap, and many," she said.
The new initiative, Hicks explained, represents a shift from the Pentagon's historic emphasis on the acquisition of giant vessels and other major platforms that are "large, exquisite, expensive, and few." Such systems are still needed, but must be augmented by hordes of "attritable," or expendable, autonomous weapons, she said.
Pressed by reporters to provide more details about the new approach, Hicks gave a second speech about Replicator on Sept. 6 at the Defense News conference.
"Let me give you a window into the possibilities of all-domain, attritable autonomy," she began, referring to technology she identified as ADA2. "Imagine distributed pods of self-propelled ADA2 systems afloat…packed with sensors aplenty…. Imagine constellations of ADA2 systems in orbit, flung into space scores at a time…. Imagine flocks of ADA2 systems flying at all sorts of altitudes, doing a range of missions."
Some of these systems, Hicks said, will be designed for surveillance and intelligence gathering alone, and others will be armed in some fashion and designed for combat missions. She cautioned that, at least initially, this would not entail entirely new weapons projects, but rather the acceleration of programs already under development by the various military services.
Of these, the project that is furthest along in development and most likely to be designated a program of record, or established budget item, is the Air Force's "collaborative combat aircraft." Envisioned as a high-performance combat drone with substantial autonomous capabilities, this aircraft is intended to accompany manned aircraft on high-risk missions in contested airspace over or near Chinese or Russian territory.
The Air Force has been testing a project model, the XQ-58A Valkyrie, at Eglin Air Force Base in Florida. Built by Kratos, a San Diego-based maker of unmanned aircraft, the Valkyrie has been flown autonomously in simulated combat missions while under close human supervision. Future tests, scheduled for later this year, will involve increasing degrees of autonomous operation.
The Air Force requested $392 million for development of the collaborative combat aircraft in its fiscal year 2024 budget submission and expects to spend an additional $5.4 billion on its development over the next four years. No plans have yet been announced for serial production of the proposed aircraft, but this is one experimental project that might be accelerated under the Replicator initiative.
Other projects that are likely to receive Pentagon attention are the Navy's plans for procurement of both large and medium-sized unmanned surface vessels. According to the Navy, these vessels will be used to help locate enemy ships and submarines for attack by manned vessels. (See ACT, May 2021.) Development of the vessels has proceeded slowly even though they were deemed a major service priority. Some $757 million was requested for their development during fiscal years 2022-2024, with no funding for procurement of operational vessels.
The slow, steady approach of the Air Force and Navy regarding autonomous weapons systems development and the similar approach being pursued by the Army conflict with Hicks' pledge to field thousands of such devices by 2025. Without congressional approval of billions of dollars in additional spending and the adoption of a more rapid development timeline, industry commentators said it is difficult to imagine how these existing programs can be readied for combat in such a short time.
Many analysts worry that the software needed to drive these proposed autonomous weapons systems is not yet fully developed and, if rushed into use, could lead to catastrophic accidents. Trying to design the software for the collaborative combat aircraft while the aircraft itself has yet to be constructed is "dangerous," said Brett Darcey, vice president of Shield AI, which makes aerial drones. Even when the software is designed, he added, "we must still test it enough to make sure that we trust it" and that it works seamlessly with the drone aircraft. "These things have to arrive at the same time, and we're still years away there."
Such doubts fuel concerns within the arms control and human rights communities that the rapid deployment of autonomous weapons systems, as proposed by Hicks, could lead to the loss of human control over battlefield operations and to unintended attacks on civilians. "You're stepping over a moral line by outsourcing killing to machines, by allowing computer sensors rather than humans to take human life," Mary Wareham of Human Rights Watch told The New York Times on Aug. 27. Her organization is pushing for international limits on autonomous weapons systems.