October 2023
By Kelsey Davenport
North Korean leader Kim Jong Un met with Russian President Vladimir Putin and pledged to support Moscow's war against Ukraine despite U.S. warnings that North Korea will pay a price if it transfers munitions to Russia.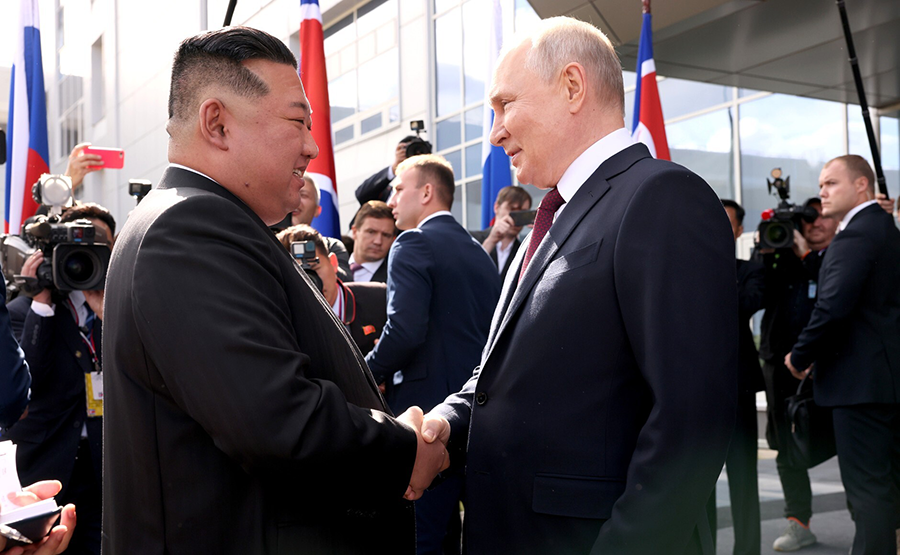 It is not clear if Kim and Putin reached any agreements during their five-hour meeting at a cosmodrome in eastern Russia on Sept. 13. But Russian and North Korean media reported that the leaders called for strengthening cooperation between the two countries and emphasized their shared struggle against what they called imperialist powers.
The state-run Korean Central News Agency (KCNA) said that, during his lunch with Putin, Kim reiterated North Korean support for the Russian war in Ukraine and expressed confidence that Russia will "win a great victory" against hegemonic forces.
The military focus of Kim's itinerary, which included tours of the space port, a naval frigate, and a fighter aircraft production facility, further suggest that the two countries are deepening military ties.
Kim did not say specifically that North Korea will ship munitions to Russia, which would be a violation of UN Security Council resolutions. But Moscow is facing shortages of the munitions it is using against Ukraine, and certain North Korean artillery and rockets are compatible with Russian systems.
In a Sept. 10 interview with CBS, U.S. Vice President Kamala Harris called Putin's decision to meet with Kim an "act of desperation" and said that it would be a "huge mistake" for North Korea to provide arms to Russia.
But U.S. warnings and UN restrictions are unlikely to stop either Moscow or Pyongyang from engaging in illicit weapons and technology transfers, particularly if both sides perceive the cooperation as benefiting their national security interests.
Putin said on Sept. 13 that Russia "complies with all the restrictions," but when asked directly about military support for North Korea's military and space program, he replied that "all questions will be discussed" and that there are "prospects" for cooperation. Russia has purchased drones from Iran in violation of UN Security Council sanctions, a sign that it may be willing to take a similar risk with North Korea. Russian news agency TASS reported that, at the end of Kim's trip, Russia presented North Korea with six surveillance drones, which would violate Security Council restrictions.
A week before Kim's trip, U.S. National Security Advisor Jake Sullivan said the United States has not seen North Korea "actively supply" a large amount of munitions or other military supplies to Russia, but that discussions about military support are "advancing."
Sullivan said in a Sept. 6 press briefing that Russian Foreign Minister Sergei Shoigu's trip to North Korea in July was "in essence" to ask for weapons. Shoigu attended a military parade with Kim and visited several munitions factories. (See ACT, September 2023.)
Sullivan said North Korea will "pay a price" if it provides Russia with weapons to use on the battlefield against Ukraine and that the Biden administration will continue to "look for opportunities to dissuade the North Koreans from taking this step."
Shoigu met again with Kim and other North Korean military officials during their trip to Russia. The KCNA reported that Kim and Shoigu discussed "practical issues" related to strengthening "cooperation and mutual exchange between the armed forces of the two countries" during a meeting in Vladivostok.
Kim's trip came amid efforts by Pyongyang to further advance its nuclear weapons program and develop its struggling space program. Kim's activities in Russia, which included a briefing on Russian space launch vehicles, suggest that Pyongyang is looking for Moscow's assistance with its space program. After visiting the spaceport, North Korean media reported that Kim called Russia a "space power" and said he was pleased to have a more detailed understanding of Russia's capabilities.
In August, North Korea again failed to launch a satellite into orbit using the three-stage Cholima-1 space launch vehicle. Similar to the attempt made in June, the Cholima-1 exploded before delivering a satellite to orbit. (See ACT, July/August 2023.) North Korea announced that a third attempt is planned for October.
Putin suggested that Russia is willing to assist North Korea with its space program, saying that North Korea "shows great interest in space" and Russia has "good expertise" and infrastructure.
It is unclear what specific assistance Russia may be willing to provide. States are prohibited from assisting North Korea's space program under Security Council resolutions because space launch vehicles use technologies applicable to ballistic missiles, but Russia no longer supports tightening sanctions on North Korea as it advances its illegal nuclear and missile programs.
Russia blocked recent efforts at the Security Council to condemn North Korea's illicit activities and strengthen sanctions. (See ACT, July/August 2023.) During Kim's visit to the spaceport, Russian Foreign Minister Sergey Lavrov said his government supported past sanctions during a different geopolitical environment. He accused the United States of refusing to support Security Council resolutions that would meaningfully address tensions on the Korean peninsula.
North Korea is also expanding its nuclear weapons program. Kim oversaw the inauguration of a new "tactical nuclear attack submarine," according to a Sept. 8 statement from the KCNA.
The news agency said that the launch of the Hero Kim Kun Ok submarine represents a "new chapter for bolstering up the naval force" and the country's "steadfast will…to further strengthen the state nuclear deterrence in both quality and quantity."
The Hero Kim Kun Ok is a modified Soviet-era submarine. Photos suggest that North Korea expanded the missile deck, which now includes 10 vertical launch tubes. In an analysis for 38 North, missile expert Vann Van Diepen said that four of the launch tubes appear large enough for submarine-launched ballistic missiles that North Korea tested in the past, the Pukguksong-1 and Pukguksong-3. The smaller tubes likely are intended to hold Hwasal-2 land-attack cruise missiles, he said.
But South Korea expressed doubt over whether the submarine is ready for deployment. In a Sept. 8 statement, the South Korean military said the submarine does not "look capable of normal operation."
Even if the submarine is operational, the Soviet-era diesel design will be noisy and easier to track than more advanced nuclear-armed submarines with nuclear power reactors operated by countries such as the United States.
Although the submarine will be vulnerable, it gives North Korea additional options for deploying nuclear weapons and would be more difficult for South Korea and Japan to defend against.
Hirokazu Matsuno, Japan's chief cabinet secretary, said that the announcement demonstrates that North Korea's military poses a "graver and more imminent threat."
During the submarine inauguration ceremony, Kim said that North Korea plans to remodel additional submarines to carry tactical nuclear weapons.