October 2023
By Kelsey Davenport
Iran slowed its production of highly enriched uranium over the past three months and released five imprisoned Americans as part of a prisoner swap with the United States, but its failure to cooperate with the International Atomic Energy Agency (IAEA) could spoil further efforts to deescalate tensions between Washington and Tehran.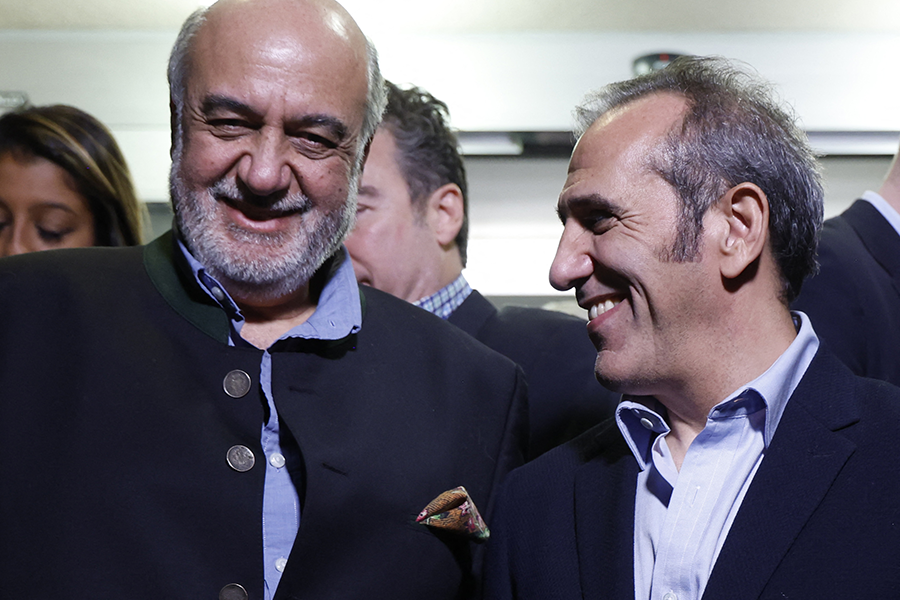 After months of negotiations, Iran released the Americans on Sept. 18 in exchange for five Iranians in U.S. custody and access to $6 billion in frozen assets. The money, which was held in South Korean banks in payment for oil purchased from Iran, was transferred to Qatar. Iran can access the funds through a humanitarian channel to pay for goods exempt from U.S. sanctions, such as food and medicine.
Bret McGurk, U.S. National Security Council adviser for the Middle East and North Africa, told The Washington Post on Sept. 18 that the money will be used to pay the vendors and "no funds
whatsoever are going into Iran." He said the money in Qatar is subject to more restrictions than it was in South Korea.
Prior to the swap, the IAEA reported on Sept. 4 that, over the past two months, Iran decreased its production of uranium enriched to 60 percent uranium-235 by two-thirds when compared to the previous quarter. In addition, Iran blended six kilograms of 60 percent U-235 down to a purity of 20 percent. According to the IAEA report, Iran's stockpile of uranium enriched to 60 percent U-235 is about 121 kilograms.
Uranium enriched to 60 percent U-235 poses a greater proliferation risk because it can quickly be enriched to weapons-grade level, or 90 percent U-235.
Under the 2015 nuclear deal, known as the Joint Comprehensive Plan of Action (JCPOA), Iran was limited to enriching uranium to 3.67 percent U-235, a level suitable for power reactors.
Laura Holgate, U.S. ambassador to the IAEA, noted the reduction in a Sept. 12 statement to the IAEA Board of Governors, but urged Iran "to halt all such production" and said the material has "no credible peaceful purpose."
The United States and Iran discussed capping the stockpile of 60 percent U-235 during indirect talks in Oman in the spring. But neither party announced a specific cap, and those talks appeared to be on hold while the prisoner swap was finalized.
McGurk emphasized that U.S. efforts to free the hostages in Iran "was not linked to nuclear diplomacy," but said that the Biden administration made clear that "diplomacy cannot meaningfully advance if American citizens are being wrongfully detained."
It is unclear if the prisoner swap will open the door to further actions to deescalate tensions over Iran's nuclear program. The reduction in production of 60 percent U-235 may have been intended to send a signal that Iran is committed to taking steps to reduce nuclear risk, but Iranian President Ebrahim Raisi's comments during the UN General Assembly and Tehran's failure to work with the IAEA to enhance monitoring of its nuclear program and implement its safeguards agreement overshadowed the gesture.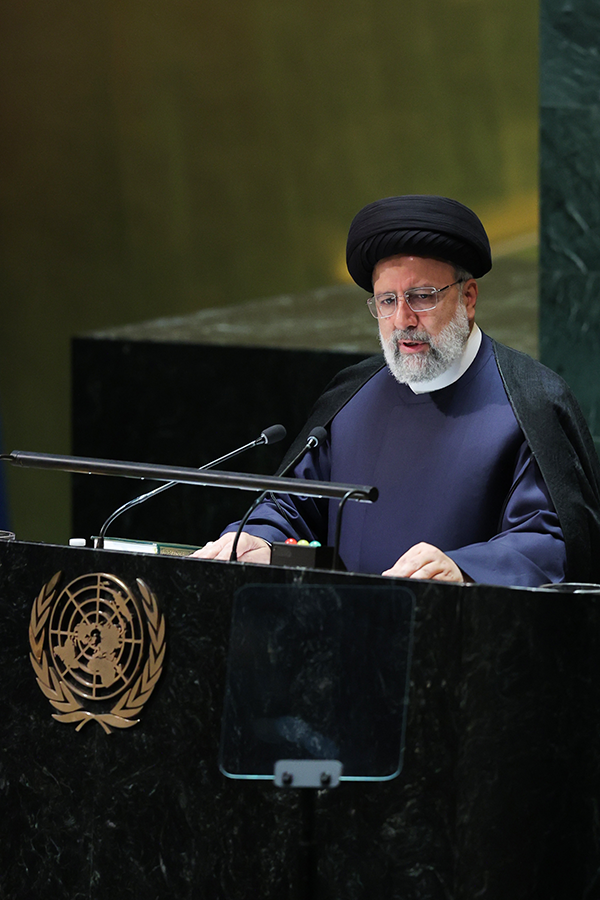 During his address on Sept. 19, Raisi said the United States violated the JCPOA and "must build trust to demonstrate its good intentions and genuine willingness to fulfill its commitments and conclude the path," referring to a restoration of the agreement. Given Iran's nuclear advances and the changing geopolitical landscape, it is unlikely that the Biden administration is interested in restoring the JCPOA at this point.
Raisi called on the United States to "change their course" away from sanctions that "have not yielded the desired results."
He accused the West of interfering in Iranian domestic politics by supporting the protests that broke out last year after Mahsa Amini died in police custody after being beaten for violating the country's dress codes. He suggested that Tehran will take further action to avenge the death of Gen. Qassim Suleimani, who was killed by a U.S. drone strike during a visit to Iraq in 2020.
If Iran does take action against the United States, it would put at risk the fragile steps both sides have taken to mitigate tensions. Similarly, tensions between Iran and the IAEA could spoil efforts to stabilize the current nuclear crisis.
Iran agreed in March to enhance IAEA monitoring of its nuclear program. After modest progress installing surveillance cameras at one centrifuge production facility in early May, IAEA Director-General Rafael Mariano Grossi told the IAEA board on Sept. 11 that there has been "no further progress" in implementing the agreement.
The IAEA report noted that Iran on Aug. 28 rejected the agency's requests to install cameras at another site where centrifuge components are manufactured and to access data recorded from surveillance equipment that operated from February 2021 to June 2022. (See ACT, July/August 2022.) The IAEA has not had access to these locations or surveillance data since February 2021, when Iran reduced IAEA monitoring and inspections. (See ACT, March 2021.) The report said access to the data recordings are "indispensable" to reestablish a "satisfactory understanding" of Iran's inventories of centrifuge components. The IAEA also will need to establish baseline inventories for verifying limits under a restored JCPOA or, more likely, a new nuclear agreement.
Holgate said Iran's cooperation "remains significantly lacking overall."
The report noted that Iran's stockpiles of uranium enriched to 20 percent U-235 and 5 percent U-235 grew over the past quarter and that Iran installed an additional cascade of advanced IR-4 centrifuges at the nuclear enrichment facility at Natanz.
In response to these advances and the lack of cooperation with the agency, France, Germany, and the United Kingdom announced that they would continue to implement sanctions originally set to expire in October under the terms of the 2015 nuclear deal.
In a Sept. 4 statement, they said the decision to maintain "nuclear proliferation-related measures on Iran, as well as arms and missile embargoes" is a "direct response to Iran's consistent and severe non-compliance." Maintaining the sanctions is "fully compliant" with the 2015 nuclear deal, the statement said. The three states also noted their efforts to resolve Iran's breaches through the dispute resolution mechanism set up by the nuclear deal.
In a Sept. 15 statement, the Iranian Foreign Ministry accused the three countries of "malicious intentions" and said the decision to retain sanctions "creates tensions" and violates the JCPOA. Iran defended its decision to breach the JCPOA limits, calling its actions a "completely legal" retaliatory response to the U.S. withdrawal from the nuclear deal.
In apparent retaliation for the European decision to retain sanctions, Tehran informed the IAEA that it would not allow certain agency inspectors to conduct safeguards inspections in Iran. Prior to this announcement, Iran had rejected at least one other inspector.
Under a safeguards agreement, a state can refuse to allow certain inspectors from conducting safeguards, but Grossi suggested that Iran is abusing this right. He condemned Iran's decision in a Sept. 16 statement and said Iran has "effectively removed about one-third of the core group of the agency's most experienced inspectors designated for Iran." Grossi described the decision as an "unnecessary blow to an already strained relationship" between Iran and the agency and said that "shutting out" inspectors affects the agency's verification mandate. He urged Iran to "correct course."