October 2023
By Mohammadreza Giveh
New construction at nuclear test facilities in China, Russia, and the United States has heightened global apprehension that one or more of these nations potentially could resume nuclear testing.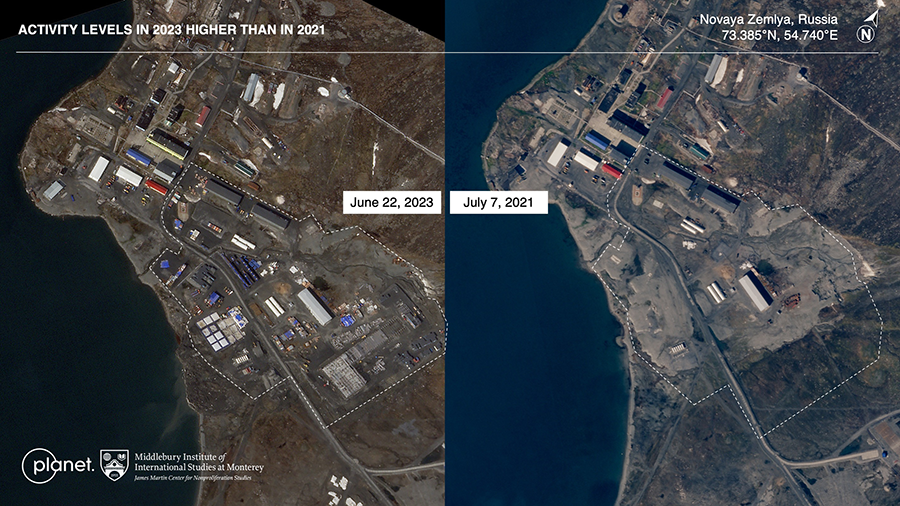 A CNN report on Sep. 22 published satellite images showing increased activity at China's Lop Nur nuclear test site, Russia's Novaya Zemlya nuclear test site, and the U.S. Nevada nuclear test site. The construction activities of concern at these sites include "new tunnels under mountains, new roads and storage facilities, as well as increased vehicle traffic coming in and out of the sites," CNN reported.
"It's very clear that all three countries, Russia, China and the United States have invested a great deal of time, effort and money in not only modernizing their nuclear arsenals, but also in preparing the types of activities
that would be required for a test," commented Retired US Air Force Col. Cedric Leighton, a former intelligence analyst who reviewed the images of the three countries' nuclear sites, according to CNN.
The report came out on the same day as the biennial Conference on Facilitating the Entry into Force of the 1996 Comprehensive Test Ban Treaty (CTBT), which prohibits all nuclear testing but is not yet in force. The final conference declaration called on all states to "refrain from nuclear weapon test explosions or any other nuclear explosions."
Speculation about Russia's potential return to nuclear testing surged earlier this year when Defense Minister Sergei Shoigu visited the Novaya Zemlya site. Shoigu "checked the organization of official activities and the fulfillment of tasks for the purpose of special units and units deployed on the Novaya Zemlya archipelago, including readiness for actions to protect and defend critical facilities," according to a Russian Defense Ministry statement on Aug. 12.
Located in the Arctic, the Novaya Zemlya complex last held a nuclear test in 1990 and now is the venue for "tests of advanced samples of weapons and military equipment," the ministry stated.
On Feb. 21, Russian President Vladimir Putin, along with declaring Russia's suspension of the New Strategic Arms Reduction Treaty, instructed the defense ministry to "make everything ready for Russia to conduct nuclear tests."
"If the United States conducts tests, then we will," Putin said. "No one should have dangerous illusions that global strategic parity can be destroyed."
Further increasing speculation, Kommersant reported on Aug. 3 that Russian officials over the past few months have debated the possibility of withdrawing the country's ratification of the CTBT in order to achieve "complete parity" with the United States.
Dmitry Glukhov, a member of the Russian delegation to the United Nations, played down the notion that Moscow is preparing for a nuclear test mission. In a statement on Aug. 29, which is the International Day Against Nuclear Tests, he criticized the United States for "keeping open the issue of resuming tests and refraining from ratifying the [CTBT]…for this reason for years."
In response, Bonnie Jenkins, U.S. undersecretary of state for arms control and international security, emphasized the Biden administration's concern about "the disturbing nuclear rhetoric from [Russia] over the past year and a half." She reiterated that "the United States has maintained a zero-yield moratorium on nuclear explosive testing and calls on all states possessing nuclear weapons to declare or maintain such a moratorium."
In a speech June 19, National Nuclear Security Administrator Jill Hruby said that "the United States has not conducted a nuclear explosive test since 1992, and the National Nuclear Security Administration has not been directed to prepare for a new test." She also said that her agency is "open to working with others to develop a regime that would allow reciprocal observation with radiation detection equipment at each other's subcritical experiments to allow confirmation that the experiment was consistent with the CTBT."
A similar message was reiterated by the U.S. Energy Department in conversations on the sidelines of an International Atomic Energy Agency meeting in Vienna, Bloomberg reported on Sept. 28. This occurred after the Russian delegation, at the CTBT conference on Sept. 22, reiterated support for the treaty and dismissed criticism that Russia had threatened to resume nuclear testing.
Eight holdout countries—China, Egypt, India, Iran, Israel, North Korea, Pakistan, and the United States—must ratify the CTBT before the treaty can enter into force. At the September conference, none of them announced new positions.