July/August 2023
By Kelsey Davenport
States met in South Korea to celebrate the 20th anniversary of a multilateral initiative aimed at preventing the spread of weapons of mass destruction (WMD) and discuss actions to address new proliferation threats.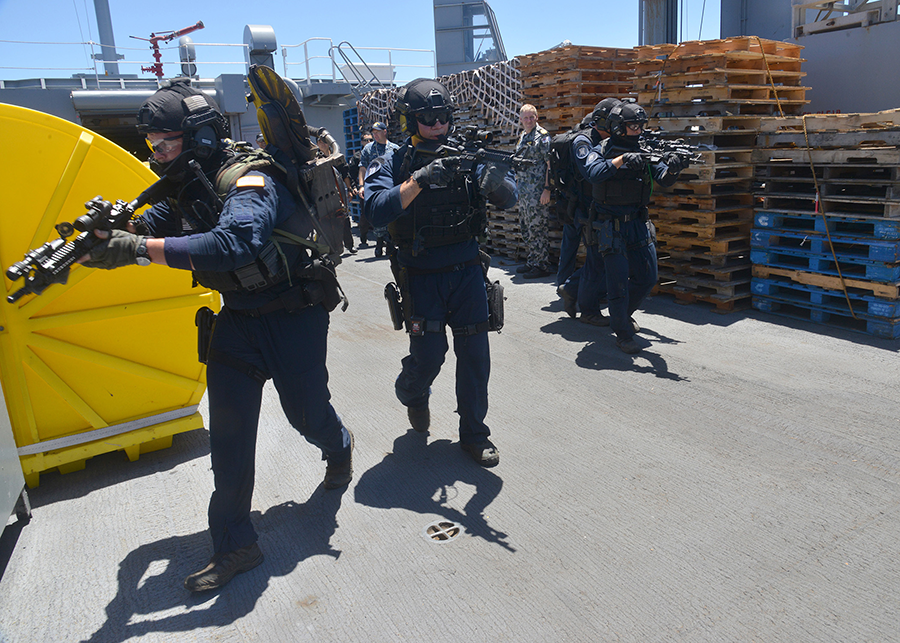 Founded in 2003, the Proliferation Security Initiative (PSI) focuses on disrupting the trafficking of weapons of mass destruction and related materials through information sharing and interdictions. More than 100 states have endorsed the PSI Statement of Interdiction Principles, which includes commitments such as strengthening national legal authorities
to allow for interdictions, interdicting illicit shipments of WMD-related materials, and sharing information about such shipments with other countries. Seventy countries participated in the May 31-June 1 meeting on Jeju Island.
South Korean Vice Foreign Minister Lee Dohoon, who opened the PSI meeting, noted the significant contributions that the initiative has made to countering proliferation over the past two decades. He called attention to North Korea's advancing nuclear and missile programs and said its actions demonstrate why states must commit to maintaining the PSI as an effective tool.
One of the incidents that spurred the United States to work with other countries to establish the PSI involved an illicit North Korean shipment of Scud missiles to Yemen in 2002.
Bonnie Jenkins, U.S. undersecretary of state for arms control and international security, said that the PSI's challenges are twofold. She noted that "long-standing trends" in proliferation "have worsened over time" and that new challenges are emerging. The PSI "must build upon its existing lines of effort while adapting to a rapidly changing strategic and technological environment," she said in remarks on May 30. Jenkins called for PSI states "to undertake dedicated efforts" to address the threats posed by new technologies.
The PSI holds workshops and training activities, including regular exercises in the Mediterranean Ocean and the Asia-Pacific region. This year's annual Asia-Pacific exercise, Eastern Endeavor 23, was held alongside the high-level political meeting and included a multinational ship-boarding demonstration under "cooperative and non-cooperative situations" to build interdiction capacities, according to a description released on June 1 by South Korea.
Ahead of the exercise, the South Korean Defense Ministry described the activity as an opportunity to work with other countries to deter North Korean threats and demonstrate advanced capabilities to counter proliferation.
Jenkins said the Asia-Pacific exercise rotation has proven to be "hugely successful in developing regional partnerships" and urged the PSI to look to "replicate that effort in other regions."
She also said the United States will expand PSI-related outreach efforts in 2024, including to countries in Africa, and encourage new states to endorse the initiative's statement of principles. Africa, she said, is "underrepresented" in the PSI.
At the end of the meeting, participating countries adopted a joint statement committing to strengthen the PSI's training activities and to address new proliferation challenges, such as cryptocurrency financing for WMD efforts and intangible technology transfers.