July/August 2023
By Gabriela Iveliz Rosa Hernández
NATO members will discuss the future of the alliance at a July 10-11 summit in Vilnius, Lithuania, during a tumultuous time in which Russia continues waging war on Ukraine and Ukraine pushes for commitments that it will be welcomed into NATO after the fighting ends.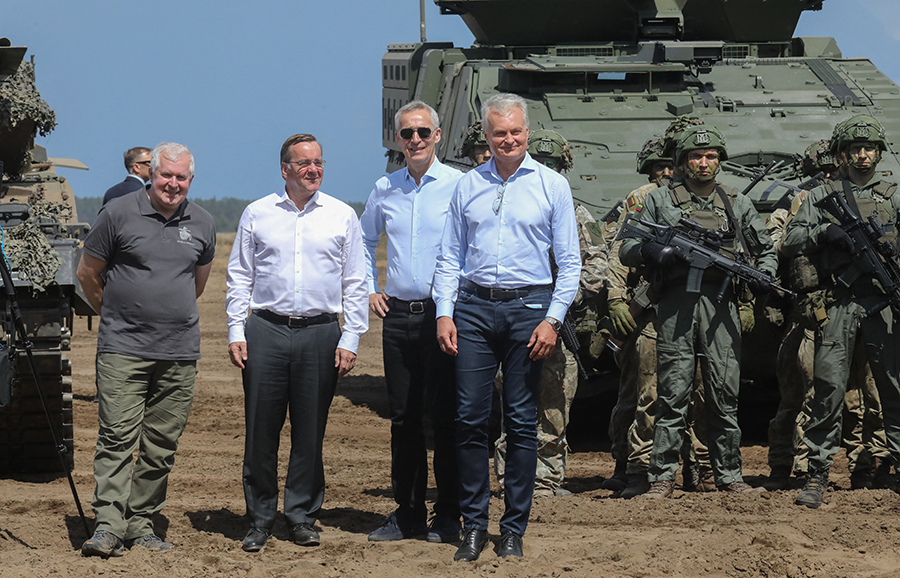 Although NATO members have pledged to continue supporting Ukraine, they differ on its eventual accession to the alliance. "This is not a situation where the entire alliance has agreed language for how to describe Ukraine's membership aspirations, and there's one or two countries that stand outside of that group in opposition," Julianne Smith, U.S. ambassador to NATO, said June 14 during a U.S. State Department briefing from Brussels.
"We are having and we have had a series of conversations where allies are looking at both an array of concrete deliverables and an array of options for describing their membership aspirations," she said.
Compromises under consideration appear designed to suggest that Ukraine is moving closer to NATO membership, but fall short of a commitment by the 31 allies to come to Ukraine's collective defense, as guaranteed under Article 5 of the NATO treaty.
At a June 16 press conference in Brussels, NATO Secretary-General Jens Stoltenberg said, "We are now close to finalizing an agreement to establish the NATO-Ukraine Council, and that will be something different than the Commission, where we 31 allies meet Ukraine."
The commission, established in 1997, has provided a forum for consultation on security issues of common concern, including Russia and its war on Ukraine. Stoltenberg said that, under the council format, "Ukraine will be equal to NATO allies" and have the same rights as they "consult and decide on issues of mutual concern." But the allies would not be sworn to defend Ukraine if it is the victim of another armed attack.
Despite being the biggest military supporter of Ukraine, the United States has been reluctant to endorse Ukraine's early accession to NATO. The Washington Post reported on June 15 that Washington is tentatively backing a plan that would remove barriers to Ukraine's entry without setting a timeline for admission.
Ukrainian President Volodymyr Zelenskyy implored NATO to put Ukraine on a clear path to membership, even threatening to skip the summit if the allies do not send a signal on the matter, according to Politico. "We understand that we will not be in NATO or in any powerful security alliance during this war. But tell me, how many [Ukrainian] lives is one sentence at the Vilnius summit worth?" Zelenskyy told the The Wall Street Journal on June 3.
Stoltenberg said, "At the Vilnius summit and in the preparations for the summit, we're not discussing to issue a formal invitation."
Members of NATO's eastern flank—Bulgaria, the Czech Republic, Estonia, Hungary, Latvia, Lithuania, Poland, Romania, and Slovakia—released a statement on June 6 calling for upgraded ties with Ukraine. "We expect that in Vilnius, we will upgrade our political relations with Ukraine to a new level and launch a new political track that will lead to Ukraine's membership in NATO, once conditions allow," they said, according to Reuters.
French President Emmanuel Macron has expressed support for "something between Israel-style security guarantees and fully-fledged [NATO] membership," according to Politico. Some NATO leaders say support for Ukraine's membership bid will pressure Russia to negotiate an end to the war.
At the summit, the allies will discuss new regional defense plans. "I think we'll look back at the rollout of these new regional plans as, really, a new chapter for the alliance in terms of how it thinks about not just planning but…its command and control, its force structure requirements, its resourcing," Smith said.
A new "defense investment pledge" is also on the agenda. In 2014, the allies promised to strive for a 2 percent goal on national defense spending. "Now, there is…an immediate need, to increase defense spending.… I think more and more allies also agree to the fact that 2 percent should not be some kind of ceiling, but a minimum," Stoltenberg said.
Because NATO is looking now at conventional deployments that would not necessarily be considered under the 1997 NATO-Russia Founding Act, members could be expected to comment on the status of that agreement's future. The act is also an issue on which the allies do not have a unified view. (See ACT, May 2023; July/August 2022.) It states that NATO will not permanently deploy substantial conventional forces, which are typically assumed to mean more than one brigade, in new member states. The act also stipulates that NATO has no intention, reason, or plan to deploy nuclear weapons or nuclear storage sites in the territories of states that joined NATO after the Soviet Union disintegrated.
On June 26, the Lithuanian Ministry of Defense announced that Germany was ready to deploy a permanent brigade of 4,000 troops to Lithuania. The move is contingent on the construction of the necessary infrastructure to accommodate the soldiers and military exercise facilities, according to the German newspaper Der Spiegel.
Plans by Russian President Vladimir Putin and Belarusian President Alexander Lukashenko to move nuclear weapons to Belarus on July 7-8, days before the NATO summit, have prompted discussion about an alliance response. (See ACT, June 2023.) On June 16, NATO noted that it had seen some preparations for the move. "We don't see a reason right now to alter our strategic posture, but this is a live debate and an issue that again we take very seriously, and we will continue to monitor very closely here across the alliance," Smith said.
Meeting on June 13 at the White House, U.S. President Joe Biden and Stoltenberg said they look forward to welcoming Sweden into the alliance. A year ago, NATO formally invited Finland and Sweden to join. (See ACT, July/August 2022.) Since then, Finland has completed its accession, but Turkey and Hungary have yet to ratify Sweden's membership bid.
"The message here coming both from the United States and many other allies is that we very much hope that Sweden will become the 32nd member of the alliance either before or by Vilnius. In our view, Sweden is ready," Smith said.
On June 14, Sen. James Risch (R-Idaho), the ranking member on the Senate Foreign Relations Committee, put a hold on new U.S. arms sales to Hungary until it acts on Sweden's bid.
Despite Stoltenberg's intention to retire as secretary-general in September after serving since 2014, NATO allies agreed on July 4 to extend his mandate for one more year. The decision highlights the allies' failure to achieve consensus on a potential successor. In response, Stoltenberg tweeted, "Honoured by #NATO Allies' decision to extend my term as Secretary General until 1 October 2024."