April 2023
By Shannon Bugos
U.S. President Joe Biden described Russia's suspension of the 2010 New Strategic Arms Reduction Treaty (New START) in February as "a big mistake" while the international community criticized the Kremlin for its "reckless" and "irresponsible" decision.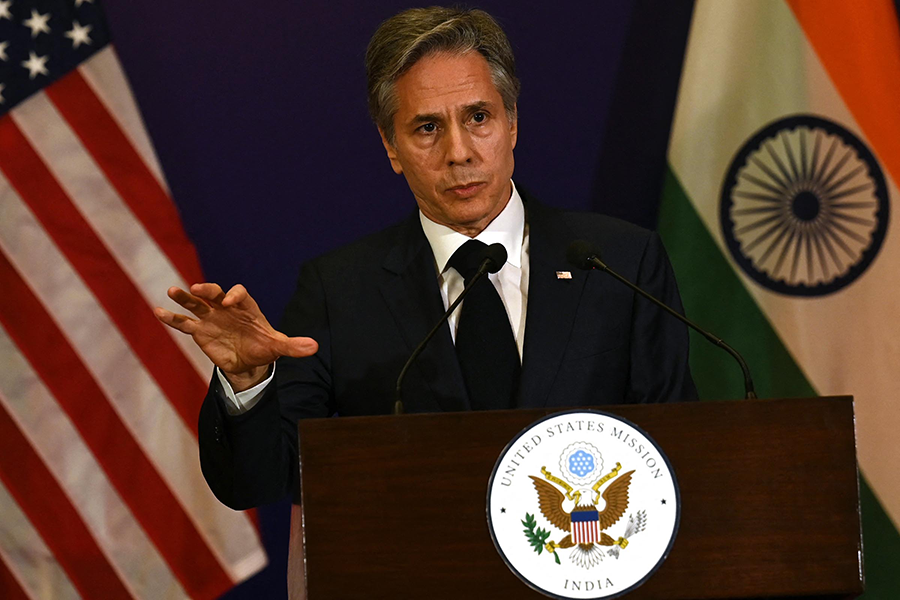 "We're less safe when we walk away from arms control agreements that are very much in both parties' interest and the world's interest," Biden said on Feb. 22. Secretary of State Antony Blinken stated that Washington remains "ready to talk about strategic arms limitations at any time with Russia, irrespective of anything else going on in the world or in our relationship."
Russian President Vladimir Putin announced the unilateral suspension of New START on Feb. 21, although the treaty text does not contain a provision allowing for a suspension. (See ACT, March 2023.) The Russian legislation formalizing Putin's decision, signed into law on Feb. 28, stipulates that only the president can decide if Moscow will return to the agreement.
Since Putin's announcement, the Pentagon has stated multiple times that it continues to see no indication of changes in the Russian strategic forces posture nor any reason for the United States to change its posture. Washington also confirmed on March 28 that Moscow has ceased data exchanges and notifications and that the United States will now withhold disaggregated data on its nuclear arsenal but continue to provide more general public information and notifications.
NATO Secretary-General Jens Stoltenberg acknowledged the dire consequences of Russia's move on Feb. 21, saying that, "with today's decision on New START, [the] full arms control architecture has been dismantled."
As a close ally of Russia, China has refrained from directly criticizing Putin's decision, but still expressed support for the accord. "China notes the differences on compliance between the two countries and hopes the two sides can properly resolve the differences through constructive dialogue and consultation to ensure the treaty's sound implementation," said the Chinese Foreign Ministry in a Feb. 22 statement.
Some members of the U.S. Congress have called for Washington to respond to Moscow's suspension of the treaty by preparing to increase the numbers of deployed U.S. nuclear weapons.
The Biden administration should "accelerate planning in the event Russia breaches New START caps," said House Armed Services Committee Chairman Mike Rogers (R-Ala.) on Feb. 21. "All options must be on the table, including deploying additional nuclear forces and increasing the readiness of our nuclear triad," he said. "We must also accelerate efforts to modernize our nuclear systems."
Other lawmakers, noting Russia's reckless decision, maintained that Russia should return to full compliance as soon as possible.
"The United States and Russia, even throughout some of the most dangerous periods of the Cold War, have consistently placed limits on nuclear weapons in order to increase transparency and predictability and decrease the chances of accidental escalation," stated Rep. Gregory Meeks (D-N.Y.). "By suspending its participation in this treaty, Russia is effectively leaving its strategic nuclear arsenal unchecked and unverified."
Blinken met briefly with Russian Foreign Minister Sergey Lavrov at the Group of 20 (G-20) foreign ministers meeting on March 1–2 in India, marking their first in-person conversation since the full-scale Russian invasion of Ukraine in February 2022. "I urged Russia to reverse its irresponsible decision and return to implementing" New START, Blinken said.
A majority of G-20 states again criticized Russia's behavior in the meeting's outcome document, which included two articles from the G-20 leaders' declaration in November 2022. One of those articles demanded Russia's withdrawal from Ukraine, and the other condemned any threats of nuclear weapons use. (See ACT, December 2022.)
Russian objections over those two articles derailed the official adoption of the leaders' declaration last year. In March, China joined Russia in refusing to agree to those articles in this year's final document.