April 2023
By Ethan Walton and Jeff Abramson
The United States remains the largest and growing exporter of major conventional weapons systems, according to an annual survey by the Stockholm International Peace Research Institute (SIPRI).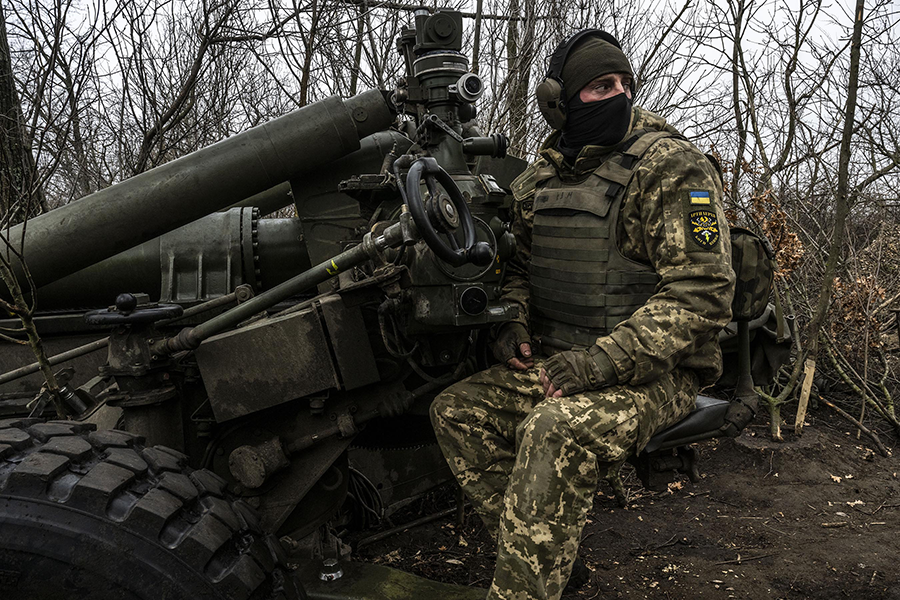 Although the report's authors are cautious in predicting the future, their findings appear to show shifts in the global arms trade, in part driven by the war in Ukraine, that will result in more weapons flowing to Europe and a diminished role for Russia in the coming years.
The United States accounted for 40 percent of all major arms exports during 2018–2022, up from 33 percent during 2013–2017, compared to Russia's 16 percent share, the report said. The report focuses on five-year comparisons and uses its own metrics to standardize values across weapons systems platforms.
Continuing a trend noted in earlier reports, arms imports increased in Europe, rising 47 percent over the period, while global trade declined by roughly 5 percent. Given the many commitments by the United States and countries in the region to replenish weapons stocks that have been transferred to Ukraine, it is logical to expect even higher imports in the future in Europe. (See ACT, April 2022.)
During a Feb. 16 virtual event hosted by the Forum on the Arms Trade, Pieter Wezeman, a co-author of the report, questioned whether Europe should rapidly rearm given that Russia appears less militarily capable than expected "or whether there are other ways to deal with that Russian threat."
Ukraine, which in prior years barely registered on the global arms import trade chart, was the third-largest importer of the weapons systems tracked by SIPRI in 2022. Still, the value of its imports was lower than might be expected as the SIPRI approach emphasizes high-value weapons such as fighter jets, which countries supplying Ukraine largely withheld during the reporting period.
But in mid-March, Poland and Slovakia announced plans to provide MiG fighter aircraft to Ukraine, despite concerns that the transfer would escalate the war. Those same concerns had kept Western countries from providing the fighter jets earlier. Whether significantly more fighter jets, including U.S. and European versions not derived from Russian designs, will also be sent to Ukraine is likely to be one of the most watched issues in the arms trade over the coming months.
Since the start of the full-scale Russian invasion of Ukraine in February 2022, the United States has pledged more than $33 billion in security assistance to Ukraine. U.S. President Joe Biden has indicated repeatedly that Washington will stand by Kyiv, but the topic has become more controversial as the 2024 U.S. presidential campaign heats up. In responses to Fox News released March 13, for example, both former President Donald Trump and potential Republican presidential candidate Gov. Ron DeSantis (Fla.) indicated that they are not as supportive of such assistance to Ukraine.
The war is also expected to keep Russia on a downward arms trade trajectory. Although Russia still accounts globally for the second-largest percentage of major exports, its 16 percent share in 2018 to 2022 is significantly less than the 22 percent in the previous five-year period. A prolonged war in Ukraine will likely force Russia to use its own weapons rather export them. Meanwhile, Washington and its allies are expected to continue pressuring importers to not deal with Moscow, which has relatively few outstanding international orders for weapons systems, according to the report.
India, the world's largest importer of major weapons systems, sustains an evolving relationship with Russia. Over the past five years, it received 31 percent of Russia's global arms exports, but those comprised only 45 percent of India's total imports, down from 64 percent in the previous five years. India has taken a middle stance on the war in Ukraine, rhetorically supporting Ukraine's sovereignty but continuing significant imports of Russian oil.
As New Delhi emphasizes self-reliance in its defense industry and separate ties with the West, its approach and role in the arms trade is changing. France overtook the United States as India's second-largest major weapons systems provider, accounting for 29 percent of imports, including 62 combat aircraft and four submarines. The United States accounted for 11 percent of India's imports. In January, the two countries established a strategic partnership on critical and emerging technologies to collaborate on artificial intelligence, quantum technology, and defense industrial capacities.
Saudi Arabia, the world's second-largest importer, purchased more than three-quarters of its major weapons systems from the United States. Within the Middle East more broadly, the United States provided 54 percent of imported major weapons systems. Whether a new Biden administration conventional arms transfer policy that appears to more highly value human rights will lead to a decline in weapons systems transfers to the region, home to many autocratic regimes, is as yet unclear.
Other recent developments may also dramatically change regional demand for weaponry. On March 10, Iran and Saudi Arabia agreed to reopen diplomatic relations in a deal China helped mediate. A day earlier, The New York Times reported that Saudi Arabia was seeking more U.S. weapons systems and assistance with civilian nuclear capabilities as a price for normalizing relations with Israel. A potentially less tense Middle East could result in fewer weapons systems heading to the region, but there could be an increase in transfers driven by a U.S. desire to limit Chinese and Russian influence and to promote Israeli-Saudi relations.
Over the past five years, Chinese exports have declined from 6.3 percent during 2013–2017 to 5.2 percent during 2018–2022. China was not a significant exporter to the Middle East. It sent 80 percent of its major weapons systems transfers to Asia and Oceania, with more than half going to Pakistan, according to the report.