April 2023
By Kelsey Davenport
North Korea responded to U.S.-South Korean military exercises in March by conducting several missile launches, including of a new sea-launched cruise missile.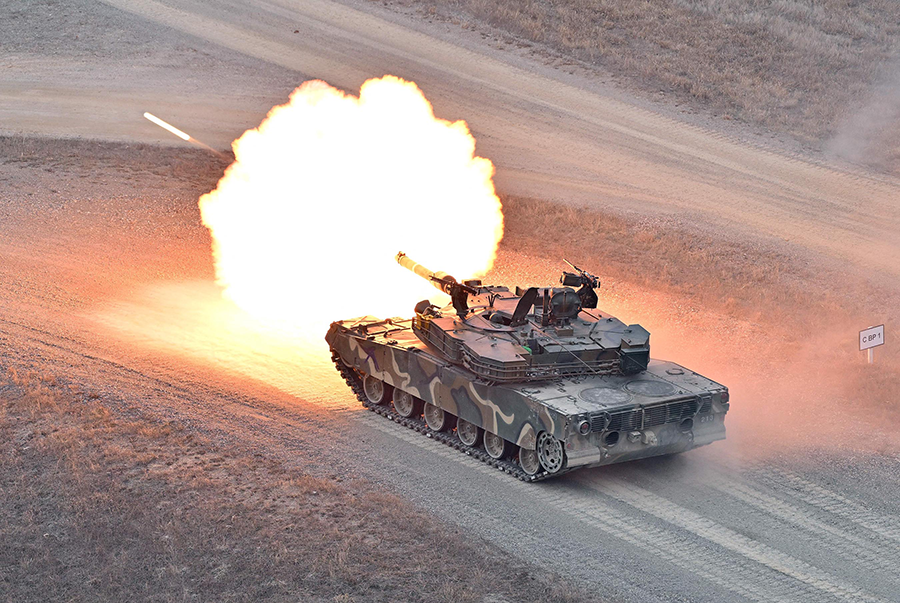 The 11-day U.S.-South Korean exercise, known as Freedom Shield, began on March 13. One objective of the exercise is to ensure readiness to respond to the threat posed by North Korean nuclear and missile programs.
The day before the exercise started, North Korea launched two cruise missiles from a submarine for the first time. North Korea's state-run Korean Central News Agency (KCNA) described the missiles as "strategic" systems and said they demonstrate how the "nuclear war deterrent" operates in "diverse spaces."
Nine days later, North Korea launched multiple cruise missiles as the United States and South Korea conducted large-scale, live-fire exercises as part of Freedom Shield. North Korea suggested that these weapons systems are designed to carry nuclear warheads and can deliver a payload up to about 2,000 kilometers. The South Korean Joint Chiefs of Staff confirmed that the military detected and tracked the missile flights.
Unlike ballistic missiles, which fly on a standard trajectory, cruise missiles can be maneuvered in flight and fly at lower altitudes, making them more difficult to track and intercept.
North Korea also launched the Hwasong-17, the largest intercontinental ballistic missile (ICBM) in its arsenal that it has tested, and several short-range ballistic missiles.
The ICBM was launched on March 16 and was intended to "strike fear" into North Korea's enemies, according to a KCNA statement. The Hwasong-17 is capable of reaching the entire continental United States.
The ICBM launch preceded a meeting between Japanese Prime Minister Fumio Kishida and South Korean President Yoon Suk Yeol in Tokyo where they discussed the North Korean threat to the region and strengthening security ties between their countries.
North Korea is prohibited from launching ballistic missiles under UN Security Council resolutions, but recently has not faced any repercussions from the Security Council for violating those provisions. During a Security Council meeting on March 20, U.S. Ambassador Linda Thomas Greenfield accused Russia and China of obstructing efforts at the Security Council to condemn North Korean missile activities. She said Russia's and China's actions were encouraging North Korea to "launch ballistic missiles with impunity."
The head of U.S. Indo-Pacific Command, Adm. John Aquilino, also criticized China for failing to do more to respond to the growing North Korean missile threat. He said during a March 16 speech in Singapore that it would be "helpful" for China to "dissuade" North Korea from further missile tests. He said Pyongyang's tests are destabilizing, unpredictable, and "not slowing down."
The same day the submarine-launched cruise missiles were tested, North Korean leader Kim Jong Un addressed a meeting of top military leaders and said Pyongyang must respond "powerfully" to the joint exercises. According to the KCNA, the military leaders discussed "important practical steps for making more effective, powerful and offensive use of the war deterrent."
On March 18–19, North Korea conducted exercises that included what the state-run Rodong Sinmun newspaper described as a "tactical drill" to improve the country's "war deterrence and nuclear counterattack capability." The drill was carried out under the "tense situation" created by the deployment of U.S. strategic assets in the region and U.S.-South Korean exercises, which the news release described as a sign that the two countries are readying to invade North Korea.
The release said the North Korean exercises included "a drill for launching [a] tactical ballistic missile tipped with a mock nuclear warhead" and demonstrated that North Korea's nuclear systems are "fast, strict, highly reliable and safe."
In recent speeches, Kim emphasized the importance of North Korea's tactical nuclear weapons and the importance of developing that capability in order to repel an invasion if deterrence fails.
The mayor of Seoul, Oh Se-hoon, addressed the threat posed by North Korea's advancing tactical nuclear weapons capabilities in a March 13 interview with Reuters. He said North Korea "has nearly succeeded in miniaturizing and lightening tactical nuclear weapons." Given these capabilities, South Korea "has come to a point where it is difficult to convince people with the logic that we should refrain from developing nuclear weapons and stick to the cause of denuclearization," he said.
Oh added that there "may be some initial resistance from the international community" at first but the idea of South Korea developing nuclear weapons "will gain more support eventually."
South Korea has walked back comments from Yoon in January suggesting that South Korea may need to develop its own nuclear weapons. (See ACT, March 2023.)