April 2023
The United States accused Russia of unprofessional and unsafe behavior after a Russian Su-27 fighter jet struck the propeller of an unarmed U.S. reconnaissance drone, causing U.S. forces to bring down the system in international waters in the Black Sea.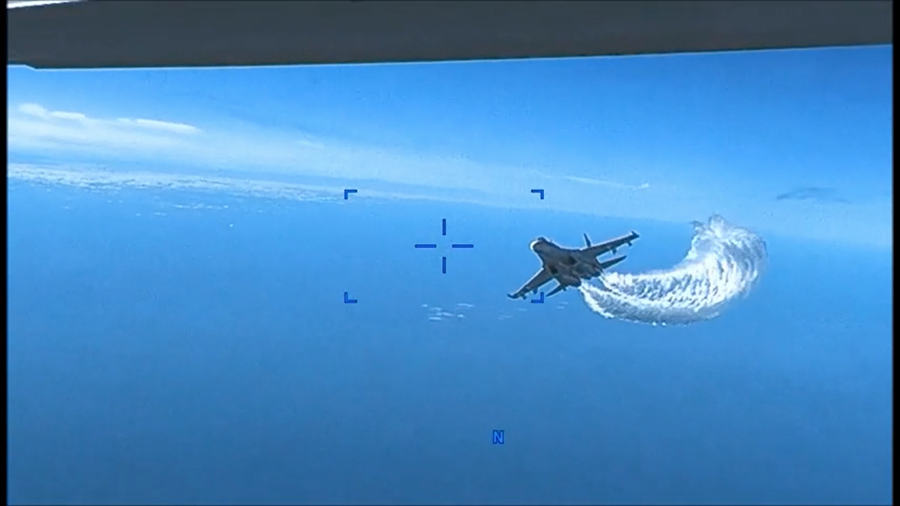 The March 14 incident marked the first time that the two military forces came into direct physical contact since Russia launched its full-scale war on Ukraine in February 2022.
A day later, Air Force Brig. Gen. Pat Ryder, the Pentagon press secretary, announced that Defense Secretary Lloyd Austin spoke to Russian Defense Minister Sergei Shoigu regarding the "unprofessional, dangerous, and reckless behavior" of the Russian air force. Austin "emphasized that the United States will continue to fly and to operate wherever international law allows," Ryder said.
The call was the first between Austin and Shoigu since October. U.S. Joint Chiefs of Staff Chairman Gen. Mark Milley also spoke with his Russian counterpart, Gen. Valery Gerasimov, the Associated Press reported.
According to an unclassified video released by the U.S. Defense Department, two Su-27s dumped fuel on and flew in front of the MQ-9 Reaper drone. News reports quoted a U.S. Air Force official as saying the Russian jets executed 19 close-in passes before one of the jets collided with the drone's rear propeller.
Moscow alleged that the U.S. drone had no transponders and violated the airspace zone Moscow had established for its temporary use for the war in Ukraine. The United States warned of unintended escalation.
"[T]he Russian fighters [that] scrambled to identify the intruder did not use on-board weapons and did not come into contact" with the drone, said Anatoly Antonov, Russian ambassador to the United States. "The unacceptable actions of the United States military in the close proximity to our borders are cause for concern."
Nikolai Patrushev, secretary of the Russian Security Council, claimed on March 15 that the incident was "another confirmation" of direct participation of the United States in the war in Ukraine, according to RIA Novosti.
He suggested that Russia was planning to retrieve the remains of the drone. "I don't know if we can recover them or not, but we will certainly have to do that, and we will deal with it," Patrushev said on Russian television.—GABRIELA IVELIZ ROSA HERNÁNDEZ