March 2023
By Shannon Bugos
The U.S. Defense Department wrapped up one of its hypersonic weapons programs, the Hypersonic Air-Breathing Weapon Concept (HAWC), with a successful final flight test in January. But overall, the Pentagon's accelerated drive for hypersonic capabilities is facing sharp criticism from internal and congressional budget analysts.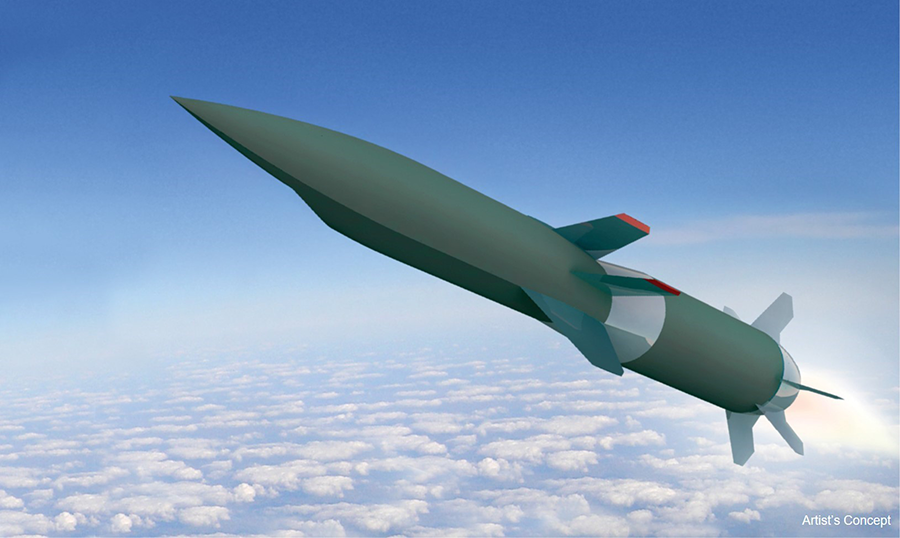 "This month's flight added an exclamation point to the most successful hypersonic air-breathing flight-test program in U.S. history," boasted Walter Price, an Air Force deputy for the HAWC program, on Jan. 30.
The Defense Advanced Research Projects Agency (DARPA) and the Air Force collaborated on the program, which produced two hypersonic air-breathing cruise missile designs that DARPA will continue to mature through the More Opportunities With HAWC program established in fiscal year 2023. (See ACT, June 2022.)
The January test featured the Lockheed Martin-designed missile, which launched from a B-52 bomber and flew at speeds greater than Mach 5 and for more than 300 nautical miles.
But at the same time, the Pentagon's numerous hypersonic weapons programs received sharp criticisms and lackluster reviews.
Nickolas Guertin, the Pentagon's director of operational test and evaluation, faulted the Air Force for testing the Air-Launched Rapid Response Weapon prototype without an approved master test plan or an operational demonstration plan. His Jan. 31 report said that the system has encountered hardware and software problems, leading to delays.
The report also examined the Navy's Conventional Prompt Strike (CPS) program, which Guertin stated has yet to demonstrate an operational capability. The Navy plans to deploy CPS missiles on the Zumwalt-class destroyer in 2025 and the Virginia-class submarine in 2029. Ingalls Shipbuilding won a $10.5 million contract on Jan. 6 to equip the first two destroyers with missile launch tubes.
Meanwhile, the Congressional Budget Office concluded in a Jan. 31 analysis that the hypersonic weapons programs still must overcome significant technological challenges, such as mitigating extreme heat generated at high speeds in the atmosphere. The analysis compared hypersonic missiles to ballistic missiles equipped with maneuverable warheads, finding that hypersonic weapons likely would prove less survivable in a conflict and one-third more expensive to procure and field than ballistic missiles of the same range.
The report concluded that, "Given their cost, hypersonic weapons would provide a niche capability, mainly useful to address threats that were both well-defended and extremely time-sensitive (requiring a strike in 15 minutes to 30 minutes)."
"If time was not a concern, much cheaper cruise missiles could be used. If targets were time-sensitive but were not protected by defenses that effectively intercept incoming ballistic missiles in the middle of their flight, less costly ballistic missiles with maneuverable warheads could be used," the report added.
The United States has accelerated its pursuit of hypersonic weapons systems in recent years to keep pace with China and Russia, according to defense officials. China is believed to have deployed a hypersonic glide vehicle system, the DF-17, in 2020. Russia deployed two capabilities, the Kinzhal hypersonic air-launched ballistic missile and the Avangard hypersonic glide vehicle, in 2017 and 2019, respectively.
The United States is developing only conventional hypersonic systems, while China and Russia are seeking dual-capable systems having conventional and nuclear capabilities.
On Jan. 4, Russian President Vladimir Putin dispatched a Russian frigate armed with a third new hypersonic weapons system, the sea-based Tsirkon cruise missile, on a voyage through the Atlantic Ocean, the Mediterranean Sea, and the Indian Ocean, marking the system's first deployment.
Moscow also purportedly has made recent advancements with other new nuclear weapons delivery systems, such as the nuclear-powered, nuclear-armed torpedo Poseidon.
Russia has built the first set of production torpedoes and will "soon" deliver them to the Belgorod submarine, according to a Jan. 16 report by Tass, a state-owned Russian news agency. The Belgorod first entered service in July 2022. The status of the associated nuclear warheads remains uncertain.