December 2021
By Kelsey Davenport
India successfully tested an intercontinental ballistic missile (ICBM) in an apparent effort to signal advances in its nuclear deterrent to China.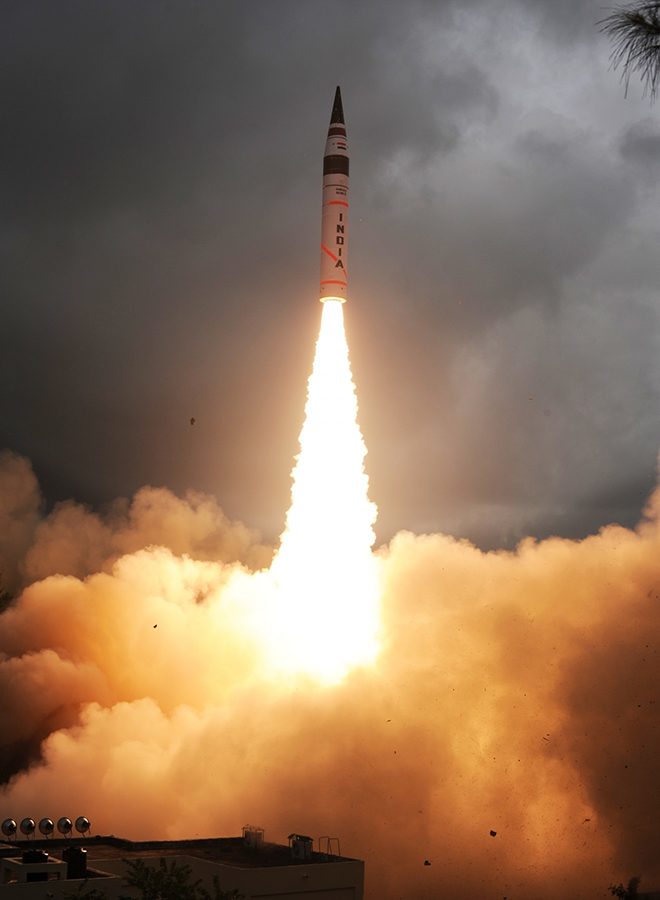 The Agni-5 ballistic missile is capable of striking targets at ranges up to 5,000 kilometers with a "very high degree of accuracy," according to an Oct. 27 statement from the Indian Ministry of Defence. The launch was conducted from India's test site on APJ Abdul Kalam Island.
The missile, a three-stage, solid-fueled system launched from a canister, was last tested in 2018. Although ICBMs are typically defined as having a range of 5,500 kilometers or more, independent assessments put the full range of the Agni-5 at 8,000 kilometers with a 1.5-ton warhead. The solid-fueled, canister-launch configuration makes the Agni-5 more mobile and allows for the system to be fired more quickly.
The Oct. 27 launch differed from five prior tests of the Agni-5 in that the missile was launched in full operational configuration by the military's Strategic Forces Command. This was also the first time that the system was launched at night.
The Defence Ministry statement said the Agni-5 launch was in line with India's policy of "credible minimum deterrence," which means that the country will develop only the nuclear weapons capabilities needed to deter adversaries.
India is already capable of striking the entire territory of its neighboring adversary, Pakistan. New Delhi's pursuit of longer-range systems, such as the Agni-5, and its development of submarine-launched ballistic missiles are oriented at China, which is expanding its own nuclear arsenal and has developed a larger missile force.
Several Indian media outlets quoted unnamed officials as saying that the test was meant to signal India's military capabilities to China as a border dispute between the two countries continues to inflame tensions.
Although the Defence Ministry statement did not directly reference China, spokesperson Lt. Col. Abhinav Navneet tweeted on Oct. 28 that the Agni-5 is "capable of neutralizing targets threatening India's Sovereignty & Territorial Integrity."
China did not respond to the launch, but when India announced plans to test the Agni-5, Chinese Foreign Ministry spokesperson Zhao Lijian said on Sept. 16 that UN Security Council Resolution 1172 "has clear stipulations" regarding India's development of ballistic missiles and that Beijing hopes all parties will make constructive efforts to maintain peace, security, and stability in South Asia.
Resolution 1172 was adopted by the Security Council in 1998 following the nuclear tests by India and Pakistan. The resolution includes nonbinding language calling on the two countries to "cease development of ballistic missiles capable of delivering nuclear weapons."
In addition to developing longer-range systems, India is considering creating a new rocket force to oversee and control the country's missile forces.
Gen. Bipin Rawat, chief of the defense staff, said on Sept. 16 that the rocket force is a part of India's effort to adopt a "whole-of-government approach" to dealing with evolving security challenges. A rocket force would help integrate forces and dual-use infrastructure, he said. Rawat cited China's aggression and its use of Pakistan as a proxy as necessitating the changes. China created its own rocket force in 2016.