September 2018
By Monica Montgomery
Japan has advanced its planned ballistic missile defense system in recent months by launching a new destroyer and securing a contract for the Aegis Ashore system, despite rising costs and reduced tensions with North Korea that could encourage opposition to the plans.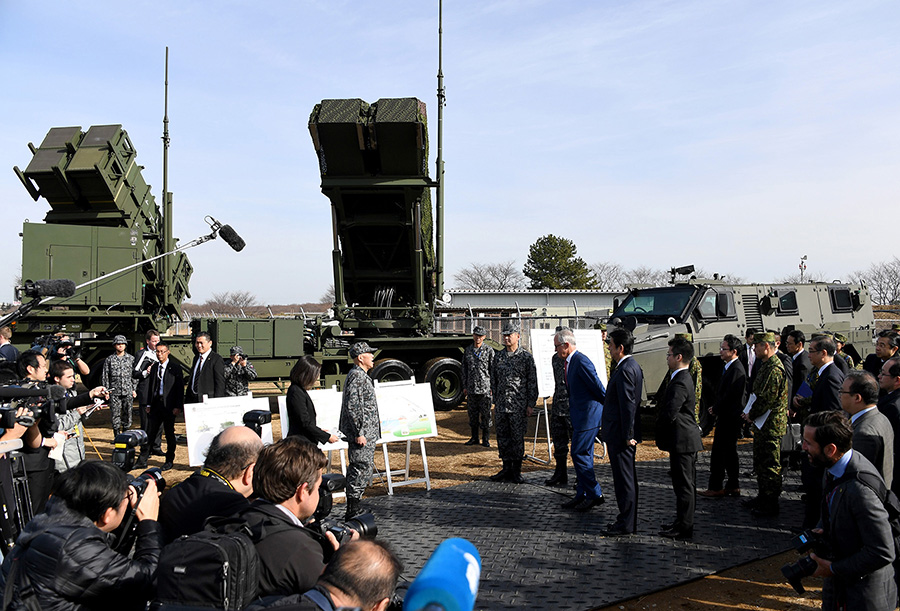 Japan operates a ballistic missile defense system, with Aegis-equipped warships providing the first line of defense against an incoming missile during its midcourse trajectory. Japan's second line of defense is its Patriot Advanced Capability-3 (PAC-3) mobile systems that can be deployed to protect high-value targets, such as military bases and cities, using hit-to-kill interceptors during the terminal phase of an incoming missile's flight path.
The planned expansion includes adding a land-based Aegis system and additional sea-based capabilities.
The Japanese Maritime Self-Defense Force launched the first of two modified Atago-class destroyers on July 30. The warship Maya is equipped with the Aegis Baseline J7 combat system and the Northrop Grumman AN/SPQ-9B radar system.
In addition, Japan operates four Kongo-class destroyers with Aegis missile defense systems and Standard Missile-3 (SM-3) Block IA interceptors. The other modified Atago-class destroyer is to be launched in March 2021, and Japan is planning to have two more Aegis-equipped destroyers, bringing the total fleet of ballistic missile defense destroyers to eight by 2021.
Japan plans to arm all its missile defense warships with SM-3 Block IIA interceptors after testing by the United States and Japan is completed. The new interceptors have a greater range and are designed to intercept missiles traveling at faster speeds. But the Block IIA missile has failed two of three intercept tests, most recently on Jan. 31. (See ACT, March 2018.)
In another development, the Japanese Defense Ministry announced on July 30 that it has chosen the Lockheed Martin Solid State Radar (SSR) for its two Aegis Ashore batteries. These are a new, less powerful variant of Lockheed Martin's Long Range Discrimination Radar, which is being designed for the United States. Japan selected the Lockheed Martin system over Raytheon's Air and Missile Defense Radar, citing the SSR's better overall system performance and lower life-cycle costs.
The decision is seen as risky by some because the Japanese government chose an unproven developmental radar over one with demonstrated operational capability. Additionally, the defense ministry now estimates the system acquisition cost will be $3.6 billion, up from the $2 billion original estimate. The higher cost is attributed to the choice of the SSR system and the SM-3 Block IIA interceptors.
 The Japanese cabinet approved funds for two Aegis Ashore systems in December 2017. Japan's move to beef up its ballistic missile defenses is largely seen as a response to the North Korean threat. Although North Korea currently has a self-imposed moratorium on nuclear and long-range ballistic missile tests as a part of its diplomacy with the Trump administration and South Korea, Pyongyang in recent years conducted multiple tests over the Sea of Japan, with some missiles splashing down in the Japanese exclusive economic zone. But state-run Korean Central News Agency said on Aug. 9 that Japanese Prime Minister Shinzo Abe's ballistic missile defense push while citing a North Korean threat is "no more than [a] reckless military move to attain its sinister political aims."
The Aegis Ashore expansion may also draw criticism from China, which has objected to the deployment of the U.S. Terminal High Altitude Area Defense (THAAD) system in South Korea. Seoul says the system is a response to the North Korean missile threat, but China considers the deployment a provocative move and claims the system could contribute to U.S. detection of Chinese missiles.
With regard to Japan, Chinese Foreign Ministry spokeswoman Hua Chunying said in December 2017 that "due to what happened in history, Japan's moves in the fields of military and security are always followed closely by its Asian neighbors" and that "the missile defense issue should be handled cautiously."
Additionally, Russia conveyed its concern over Japan's planned Aegis Ashore system, calling it an expansion of U.S. missile defenses in the Asia-Pacific region, during in a July 31 meeting between Japanese and Russian defense and foreign ministers.