September 2018
By Kingston Reif
U.S. President Donald Trump and Russian President Vladimir Putin did not reach any specific agreements on resuming an arms control dialogue or addressing the uncertain future of two key arms reduction agreements during their controversial July 16 summit in Helsinki.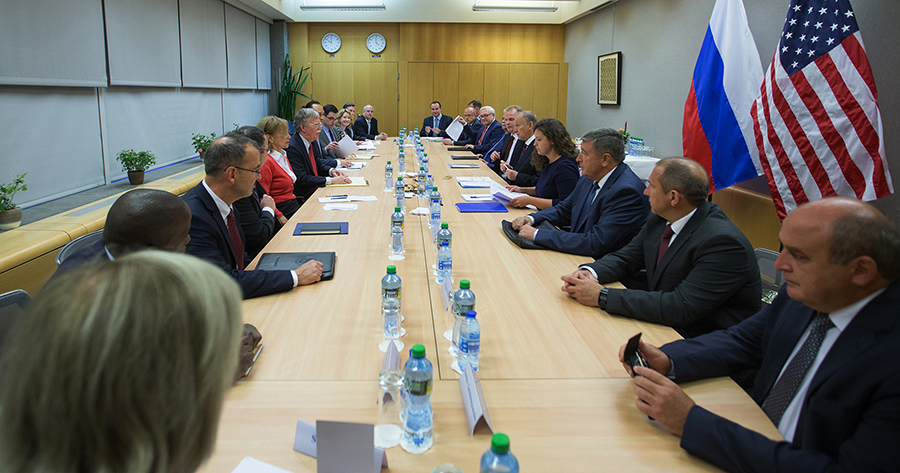 A follow-up meeting between White House national security adviser John Bolton and his Russian counterpart, Nikolai Patrushev, in Geneva on Aug. 23 also did not produce any arms control announcement, despite expectations that they might agree to resume bilateral strategic stability talks. Bolton told reporters afterward that the Trump administration has not decided how to proceed on key matters, including the possible extension of the 2010 New Strategic Arms Reduction Treaty (New START).
Although some meaningful arms control cooperation continues, most notably adherence to the New START-imposed limits on strategic nuclear weapons, there is no ongoing U.S.-Russian dialogue on further nuclear risk reduction steps as both sides act to upgrade their nuclear capabilities.
Putin has previously stated his interest in negotiating the extension of New START, which otherwise expires in February 2021, as well as other arms control subjects. Trump has criticized the treaty, which was negotiated during the Obama administration.
The lack of progress on the arms control agenda, coupled with the Trump administration's evident ambivalence, raises questions about how interested the administration really is in engaging Russia on nuclear risk reduction and whether the two sides will avert a collapse of the teetering bilateral arms control regime.
Since 2014, the United States has accused Russia of testing and deploying ground-launched cruise missiles in violation of the 1987 Intermediate-Range Nuclear Forces (INF) Treaty and is reviewing what the State Department calls defensive options in case Russia's actions "result in the collapse of the treaty." (See ACT, January/February 2018.) Moscow denies it is violating the agreement and instead has accused Washington of breaching the accord.
Both countries are investing massive sums to replace and upgrade their existing nuclear arsenals. In a pre-election address to the Russian Federal Assembly on March 1, Putin boasted about the development of several new nuclear weapons systems, including nuclear-armed hypersonic glide vehicles, globe-circling nuclear-powered cruise missiles, and very long-range nuclear torpedoes for use against U.S. port cities. (See ACT, April 2018.)
In light of these developments, Trump told reporters at the White House in March that he wanted to meet with Putin in large part "to discuss the arms race, which is getting out of control." Trump has characterized the costly nuclear upgrade programs being pursued by both sides as "a very, very bad policy."
Likewise Putin, following his election victory March 18, said that "nobody plans to accelerate an arms race."
In Helsinki, Putin presented the United States with several proposals "to work together further to interact on the disarmament agenda, military, and technical cooperation."
These included beginning discussions about a five-year extension of New START, as allowed by the treaty; reaffirming commitment to the INF Treaty; resuming dialogue on Russian concerns about U.S. missile defense plans and joint efforts to eliminate missile threats; and measures to prevent dangerous military incidents. Russia also proposed to resume strategic stability talks as a forum to discuss those topics and related issues.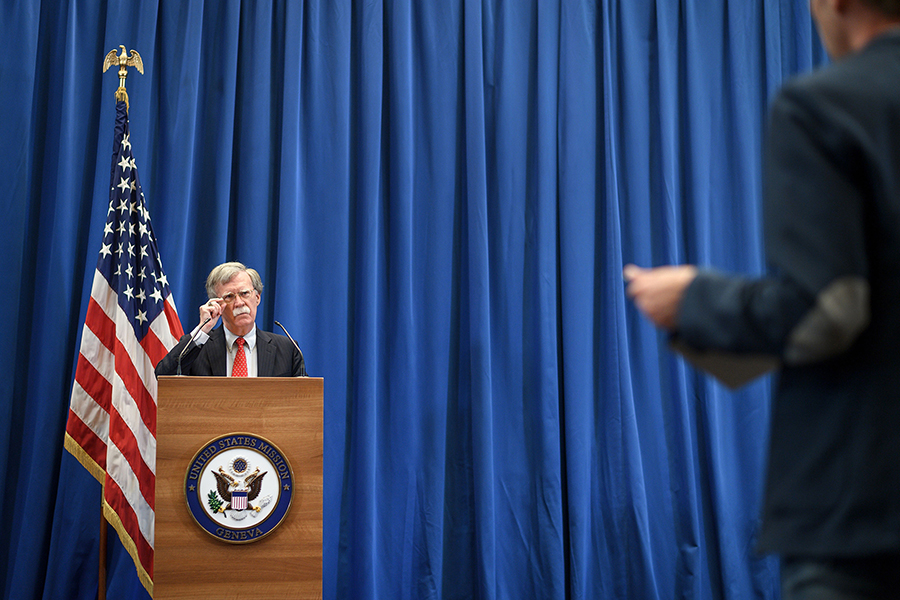 The United States and Russia held a first round of strategic stability talks last September in Helsinki. The specific agenda was not disclosed. (See ACT, October 2017.) A second round of talks was slated for March 7–8 in Vienna, but Russia announced that it would not participate in the talks, citing the U.S. cancellation of bilateral consultations on cybersecurity that had been scheduled to take place in late February in Geneva.
Following the summit, Trump stated that "perhaps the most important issue we discussed at our meeting...was the reduction of nuclear weapons throughout the world."
But Secretary of State Mike Pompeo told the Senate Foreign Relations Committee on July 25 that no specific agreements were reached on arms control in Helsinki and that the administration does not have a position yet on whether to extend New START.
New START remains one of the few bright spots in the strained relationship. Ratified in 2011, the treaty limits the number of deployed strategic warheads to a maximum of 1,550 on each side, a target each met earlier this year and that is far below the tens of thousands during the Cold War. (See ACT, March 2018.)
Although it expires in February 2021, the treaty can be extended by up to five years by agreement by the two presidents, without requiring further action by Congress or the Duma. If New START is allowed to expire and there is not a replacement, there will be no legally binding limits on the world's two largest strategic arsenals for the first time since 1972.
Putin has repeatedly expressed interest in extending the treaty, although Russia has raised concerns about some of the procedures the United States has used to remove nuclear weapons launchers from accountability under the agreement.
The Trump administration has yet to formulate the U.S. position on the treaty. The administration views Russia's concerns about U.S. implementation of the treaty "as being nefarious" and "there is not an administration position on what we're going to do on New START," Wess Mitchell, assistant secretary of state for European and Eurasian affairs, told the Senate Foreign Relations Committee on Aug. 21.
"We'll make that decision at the appropriate time consistent with U.S. national interests," he said.
Likewise, Bolton told reporters after his Patrushev meeting that the administration remains in the "early stages" of an interagency review about whether to extend, replace, or jettison New START or to pursue a different type of approach, such as the 2002 Strategic Offensive Weapons Treaty, which only limited deployed warheads and did not include verification provisions.
Before joining the Trump administration, Bolton was a frequent and vocal critic of New START, castigating the agreement as unilateral disarmament.
In the aftermath of Helsinki, some U.S. officials said the administration was seeking to resume the strategic stability talks. "We would also like to talk more about strategic stability, making sure there are clear understandings between the United States and Russia about these terribly lethal weapons that we both control and talk about the future of nonproliferation," John Rood, undersecretary of defense for policy, said July 20 at the Aspen Security Forum.
Mitchell told senators in August that there "is a line of sight to continuing the process on strategic stability talks" and that there would be more information about timing following Bolton's meeting with Patrushev. It is unclear why Bolton and Patrushev did not agree to resume the talks.