The Nuclear Nonproliferation Treaty at 50:
Strengthening and Reinforcing the Regime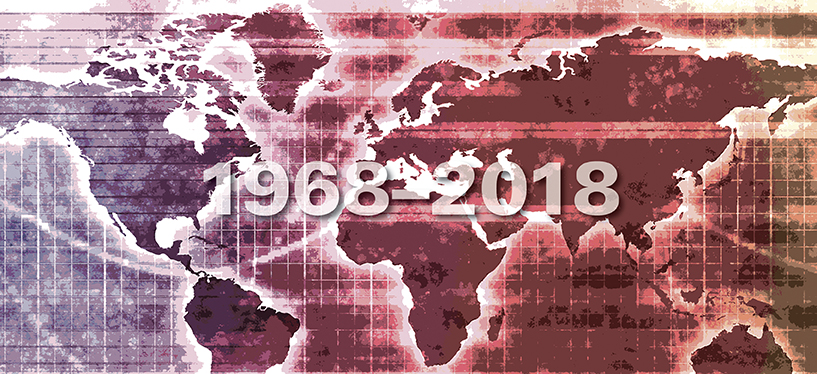 Thursday, April 19, 2018 · 9:00 a.m. to 3:00 p.m.
Carnegie Endowment for International Peace, Root Room
1779 Massachusetts Avenue NW, Washington, DC
THANK YOU TO ALL OF OUR SPEAKERS, PARTICIPANTS, AND ATTENDEES. AUDIO, VIDEO AND TRANSCRIPTS OF EACH SEGMENT IS AVAILABLE BELOW.
As we approach the 50th anniversary of the landmark nuclear Nonproliferation Treaty (NPT), a number of critical decisions are expected to impact the global nonproliferation regime.
The 2018 Arms Control Association Annual Meeting will bring together members and colleagues in the field, journalists, U.S. and international officials, and prominent experts and policymakers to discuss the future of the NPT and today's most important weapons-related security threats.
PROGRAM
9:00 a.m.

Welcome

Daryl G. Kimball, Executive Director
Arms Control Association

9:15 a.m.

Award Presentation

Presentation of the 2017 "Arms Control Persons of the Year" Award
Representatives of the Core Group of Negotiators for the Treaty on the Prohibition of Nuclear Weapons

9:45 a.m.

Keynote Address

"Successes, Challenges, Steps Forward for the NPT Regime"

Jackie O'Halloran Bernstein, Ireland's Director for Disarmament and Nonproliferation, Government of Ireland

10:30 a.m.

Morning Panel

"The Future of the NPT: Initiatives to Strengthen the Regime"

Ambassador Lewis Dunn, former U.S. representative to the 1985 NPT Review Conference

Ambassador Dell Higgie, New Zealand's Permanent Representative to the Conference on Disarmament

Andrea Hall, Senior Director for WMD and Counterproliferation, National Security Council

Moderated by Thomas Countryman, chair of the Arms Control Association board of directors

11:45 a.m.

Buffet Luncheon
 

12:10 p.m.

Lunch Keynote Address

"Resolving the North Korean Nuclear Crisis"

Governor Bill Richardson, former U.S. Secretary of Energy and Ambassador to the United Nations

Moderated by Carol Morello, diplomatic correspondent, The Washington Post

1:15 p.m

Afternoon Panel

"Overcoming the Impasse on U.S. and Russian Arms Control"

Dr. Olga Oliker, Senior Adviser and Director, Russia and Eurasia Program, Center for Strategic and International Studies

Anita Friedt, Acting Assistant Secretary of State for Arms Control, Verification and Compliance, Department of State

Richard Fieldhouse, former Professional Staff Member, Senate Armed Services Committee

Moderated by Kingston Reif, director for disarmament and threat reduction policy, Arms Control Association

Concluding Panel

"Building on the Joint Comprehensive Plan of Action"

Ambassador Laura Holgate, former U.S. Representative to the Vienna Office of the United Nations and the International Atomic Energy Agency

Elizabeth Rosenberg, Senior Fellow and Director of the Energy, Economics and Security Program at the Center for a New American Security.

Moderated by Daryl Kimball, executive director, Arms Control Association

3:00 p.m.

Closing

Thomas Countryman, Chair
Arms Control Association Board of Directors
Our work depends on your support. We thank everyone who attended the meeting, and we greatly appreciate our sponsors for their generous contributions:
Event Sponsors:
William R. "Russ" Colvin
Tables Sponsors:
American Evangelicals for Peace, Culmen International LLC, Deborah Gordon, Religions for Peace & Evangelicals for Social Action, Larry Weiler, Women's Action for New Directions (WAND)
Individual Sponsors:Andrew Weber
Phineas Anderson, Susan Burk, Pedro Cruz, Gregory Govan, Milton Hoenig, Joseph Kerr, Michael Klare, Terri Lodge, Philip Padgett, Markley Roberts
TRANSCRIPT
Welcome
Daryl G. Kimball, Executive Director
Arms Control Association
KIMBALL: Good morning. All right, we're going to get our program started this morning. I am Daryl Kimball. I am the executive director of the Arms Control Association. Welcome to the 2018 Arms Control Association annual meeting.
As most of you know, our members and friends, we're an independent nonpartisan membership organization established in 1971 and we're dedicated to reducing and eliminating the threats post by the world's most dangerous weapons, nuclear, chemical, biological and certain conventional weapons that pose particular risk to civilians. And you can find out more about the Arms Control Association, its history, its on-going work, our Board of Directors' chairman, Thomas Countryman, as well as our resources on all of these different issues in the program that is outside. If you didn't get one, please grab one at the break. We're very pleased to see so many of our members, our friends, colleagues from the diplomatic community and journalists here today. As you can see we have a capacity crowd. I think everyone has been able to find a seat. If you need to find a seat or if you need something, please just check with one of our staff members who are running around the conference here today.
Also, try to keep your lanyard on your neck if you can so that we don't try to throw you out. We have had a number of people asking to come in and we've been at over capacity, so we have had to turn a few people away. We'll be nice about it though.
So, also before we get started, let me just invite you to engage in a conversation on the social media using the #ArmsControl18 and please don't forget to silence your cell phones. And we hope as you engage in social media that you share your thoughts and about the conversation today with our speakers on the issues.
Now, as you can see from the program, I think we have a very high quality and timely set of topics that we're going to cover. We've got a fantastic set of speakers. And with the 50th anniversary of the opening for signature of the nuclear nonproliferation treaty approaching on July 1, we wanted to focus this conference on some of the critical decisions facing the global nuclear nonproliferation and disarmament regime.
And, you know, the—the world of arms control these days doesn't look all that bright, but we have to remember that, in the five decades since the NPT was negotiated, tremendous progress has been achieved to curb the spread of nuclear weapons, reduce stockpiles, prohibit nuclear testing, and create nuclear-weapons-free zones, among other things.
And the work of the original group of NPT negotiators includes Bill Foster, William Foster, who was the Director of the Arms Control Disarmament Agency and later the first chair of the Arms Control Association when it was established, as well as people like Larry Weiler who will be joining us later here today. They have a lot to be proud of and we're honored that Larry Weiler and many of you who have been part of the—the work over the years advancing the NPT are here with us.
Now, there have been lost opportunities to advance the treaty's objectives, new threats have emerged and—and what we'll be talking about today are some of those challenges. Progress on key disarmament steps is stalled. U.S. relations are at an historic low and the future of some key nuclear arms control agreements is in doubt, the U.S. and Russia are not currently engaged in direct talks on strategic stability or further reductions or even the on-going dispute about the Intermediate-Range Nuclear Forces Treaty.
And as we and a number of other prestigious arms control experts and practitioners warned in the statement issued this week, if Presidents Trump and Putin don't agree to extend the New START Treaty by five years, there will be no limits on the world's two largest arsenals since the first time—for the first time since 1972. We'll talk more about that later today.
And, of course, the key nonproliferation breakthrough, the Iran Nuclear Deal of 2015, is in jeopardy because of the Trump administration's threat to withdraw. We'll be talking with that later today. And if Presidents Trump and Moon do not seize upon—Moon Jae-in, do not seize upon the opportunity presented by their summits with Kim Jong Un, then North Korea could further advance its dangerous nuclear and missile programs.
So, you know, what we will be talking about here today are these challenges, but also solutions. And just to end this introduction with a quote from UN Secretary-General Guterres who spoke to the Conference of Disarmament earlier this year. He said, "The challenges are enormous, but history shows that it's been possible to reach agreement on disarmament and arms control even at the most difficult moments. We need to break out of the business of usual approach and come together on some forward-looking initiatives to guard against the further erosion of the global disarmament and nonproliferation architecture.
So today's conference or conversation is designed to foster discussion and creative thinking along these lines. I can't promise you it will be uplifting, but we hope you'll find it stimulating and helpful.
Presentation of the 2017 "Arms Control Persons of the Year" Award
Representatives of the Core Group of Negotiators for the Treaty on the Prohibition of Nuclear Weapons

KIMBALL: We wanted to start today's program on a positive note by recognizing some of the key individuals and governments who have come forward over the past few years with creative and bold initiatives to advance effective measures leading to the elimination of nuclear weapons. Each year, for the past 10 years, the Arms Control Association has tried to raise awareness about the good works of key individuals and institutions who have in various ways taken action to reduce and eliminate weapons-related security risks.
We have our staff and our board nominate several individuals and institutions whose work has been particularly important in the previous year through our arms control person of the year award, not exactly the Nobel Prize–Peace Prize yet, but it is gaining in stature. We have put these nominations forward at the end of the year and then we put it to an online vote, a little bit more democratic perhaps than the Nobel Peace Prize, and the top vote-getter becomes the Arms Control Person or Persons of the Year.
And we're very pleased today to have with us representatives of the seven co-recipients of the 2017 Arms Control Persons of the Year Award, and they are the diplomats in the disarmament delegations of Austria, Brazil, Ireland, Mexico, New Zealand and South Africa and Ambassador Elayne Gomez Whyte of Costa Rica for their efforts to secure the historic 2017 Treaty on the Prohibition of Nuclear Weapons.
And we're very pleased to have some of the principals from the core group of negotiators and representatives of the other disarmament teams with us here today. And so I would like to ask each of them to come up here on stage beginning with George-Wilhelm Gallhofer, Counsellor of the Mission of Austria to the United Nations, Mr. Christian Vargas, Deputy Chief of Mission of the Brazilian Embassy to Washington, if you'd just come on down here, Ireland's Director of Disarmament and Nonproliferation, Ms. Jackie O'Halloran Bernstein who's here with us all the way from Dublin where she tells me the weather is nicer than it is here in Washington, Ambassador Jorge Lomónaco of Mexico, who was Mexico's Disarmament Ambassador and is now the ambassador to the Organization of American States enjoying our weather here in Washington. We also have New Zealand's Ambassador for Disarmament, Dell Higgie and we also have, last but not the least, Ambassador Elayne Whyte Gómez of Costa Rica, President of the Prohibition Treaty for–on Nuclear Weapons.
And I'd also just like to recognize Costa Rica's ambassador to the United States who is here with us for this portion of our meeting despite the fact that your vice president is here in town, very busy day for Costa Rica. Unfortunately, our representative from South Africa was unable to attend due to their preparations for Winnie Mandela's memorial services which are continuing through the next couple of weeks.
And I would just note that we had this past year more than 2,500 individuals from over 90 countries voting in our Arms Control Person of the Year contest, the highest number and the broadest amount of representation in the 10-year history of the contest.
So, Kelly and Shervin will present the awards and we'll try to keep them in order. And then we're going to take a photo.
KIMBALL: Please join me in congratulating them all.
(APPLAUSE)
KIMBALL: Very good. And let me just note also that in a year marked by rising tensions, 2017, between nuclear armed states and the breakdown of other important arms control initiatives, the successful negotiation of the prohibition treaty of nuclear weapons really does stand out as a historic achievement that has changed the conversation about nuclear weapons by refocusing attention on the catastrophic effects of nuclear weapons and nuclear war, and it has reinforced the commitment of the world's nonnuclear weapon state majority to the elimination of nuclear weapons and holds a promise of helping to delegitimize nuclear weapons and strengthen the political and legal norm against their use. So, once again, please join me in congratulating them all.
(APPLAUSE)
And we have about 25 minutes for an informal discussion with our winners, our award recipients about the negotiations and the significance of the treaty. Why don't you all have a seat and we will have a microphone that we'll pass amongst you as we have this discussion.
Great, all right. So, thanks again for–for being here and congratulations. And so we wanted to just take some time, since we have so many of you here with us today, to explore a bit more about the significance of the treaty, the efforts to achieve the treaty through the negotiations which formally took place last year, but the process began much earlier, and about the next steps.
And I wanted to start out by asking Ambassador Lomónaco and maybe George-Wilhelm what you think were some of the key motivating factors for the very pursuit of the prohibition treaty following the 2010 NPT Review Conference. So, maybe Ambassador Lomónaco, you could start out. Thank you.
LOMONACO: Thank you. And I know that you want to keep it short, but I wanted to say how honored I am and how happy I am here to see Tom Countryman who was a colleague and a friend. We often disagreed, but I always respected him. Is it working?
KIMBALL: Yeah, just hold it a little closer.
LOMONACO: Yes. So, it's good to see you, Tom. Well, clearly, the 2010 Review Conference was the first time in which we recognized collectively the humanitarian consequences of a single nuclear detonation and that was the starting point of a major conceptual shift in how we perceive and how we should go about into disarmament. And that was a seed that was planted many years ago that led to the conviction that a prohibition would have to take place before anything else.
KIMBALL: Great, that was wonderfully brief and direct. George-Wilhelm Gallhofer, do you have any other thoughts on the origins of this? Austria, of course, played a key role in organizing the third humanitarian conference in Vienna.
GALLHOFER: Absolutely. I have to say that was a very nice encapsulation. It was that shift away from the sort of purely security-focused approach back to the actual consequences of nuclear weapons, so away from something which is sort of more about the global strategic notion to the actual personal level. I think that coupled with the actual impressive–impressively larger risks that existed and that were inherent in nuclear weapons I think came out very strongly out of the humanitarian conferences and even for some of us who have been dealing with this area, the… the actual findings were much more dramatic, if you like, than any of us thought.
So, that really gave us strong impetus that then led to the further steps including the humanitarian statement and the pledge. You saw how strong that impetus was by just how many countries, you know, no matter where they are today on the TPNW, but you have 159 countries signing up to the humanitarian statement. So, it was really something that was so striking that the largest majority really of the United Nations agreed with that.
KIMBALL: Ambassador Higgie, do you have additional thoughts on this question, on the origins of what led to the negotiation or anyone else on the stage?
HIGGIE: I think the only thing I'd add, Daryl was it was also a reflection of our concern that the international humanitarian law factors weren't properly taken account of in the status quo. We wanted to make it clear our view about the incompatibility of any use of nuclear weapons with IHL and I think that is reinforced and brought out in the treaty.
KIMBALL: All right, anyone else, Jackie Bernstein?
BERNSTEIN: Thank you. Yes, I would just add very briefly that I also think the position taken by the International Committee of the Red Cross was very influential. Particularly their work which showed that there is no existing response capacity that can deal with the aftermath of a nuclear weapons detonation, that was a very powerful finding and I think along, you know, with what the others have said, the work that was done around risk, showing that the risks are far higher than had been thought, that was also very influential for us because that brought it home to us in terms of our own security and just looking at it as a security question that the risks were so high that we did feel that something needed to be done. Thank you.
KIMBALL: All right, Ambassador Whyte Gomez, I wanted to turn to you as the person who shepherded the negotiations in 2017 to tell us what you thought in your view, from your perspective might… the key turning points in the negotiation might have been. And as we just heard, the origins of this go back further, but 2017 was the key year with the two conferences, so your thoughts on some of the key diplomatic turning points in the negotiation.
GOMEZ: Thank you, Daryl. And thank you, for me, this is also an honor to be here and to be sharing this stage with my colleagues with whom we shared very long nights and many concerns and we feel brothers and sisters in blood after this.
I'd also like to mention usually an aspect that we are not usually taking into consideration which is the fact that the international community within the UN system had been able to achieve consensus on two major issues that concern humanity -climate change and also the development agenda, Trust 2030.
I think it was only–it was only natural that the international community was also ready to embark on negotiations to address the other great challenge for humanity which is nuclear weapons. And I think when the conference started and the preparation process started, I felt that I had inherited and had put into my hands a very precious jewel that has been crafted by many delegations and individuals that had a very strong commitment and that had built this very important political movement towards the ban treaty.
Therefore I think it was very… it was fundamental that the conference started with a sense of confidence that we could achieve the objective and the challenge of negotiating and finishing the text by July 7th, because the other perspective of extending the negotiation towards another year was not actually a very realistic future.
So, I think the very first step in creating this confidence was being able to overcome all the procedural aspects that hindered many conferences to start negotiations of substance at the very beginning. I think from my point of view, that is when I felt, okay, we are on the right track.
So, after we were able to agree on this… ––overcome the procedural matters, yet another sense of ownership and confidence and constructive environment was created when we were able to engage very constructively with academia, with scholars and with civil society in general. I think that was a very important factor in combining science, facts, expertise with the very deep conviction that was in all delegations that we had to complete the task.
Needless to say how important it was to have among us the survivors of atomic bombings. When we were looking into their eyes, every single day, we knew that we could not fail. So, I would say those were–the first day of the conference was–was a very important point and of course there were some specific topics that were very difficult to negotiate and I don't want to monopolize on this, but I would say deep conviction, a good combination between science, facts, and constructive energy, ownership and we would say democratization in the process.
KIMBALL: Thank you. I know Ambassador Lomonaco, you had some thoughts about the key turning points in the negotiations.
LOMONACO: Well, you, you know as a diplomat you always… you believe that the day you are living is the most important one. And you can argue that it was the last day or the first day or whatever, but in retrospect, you get a sense of distance. And to me, the turning point was not during the conference. It was the year before, the open-ended working group. By May, the second session in May when we realized that we had the majority to move forward. And that was a turning point in my view because up until then the aspiration of a ban treaty was shared by a handful of delegations. The majority of the NAM [non-aligned movement] countries were not convinced, but they wanted to pursue a prohibition. They were still committed to a comprehensive convention and–and they were not really convinced that the prohibition was the best way.
Then suddenly, for many reasons that I could spend hours explaining, they realized first that the prohibition, that a prohibition was not inconsistent with the comprehensive convention and that a comprehensive convention approach made life much easier to nuclear possessor state because it is such a long-standing, long-term aspiration that it was almost impossible. Therefore by pursuing a comprehensive convention, non-nuclear weapon states were in essence, resigned to wait for many decades while the prohibition was fruit that can be harvested pretty soon. To me, that was a turning point because when you had all the NAM with you, you have the votes, you can move forward.
KIMBALL: Very interesting. Well, I wanted to ask another question that sort of relates to that. The way you're describing it makes the prohibition treaty, in comparison to a comprehensive convention, sound like an interim step. So, the other thing I wanted to ask and maybe Ambassador Higgie, you can start with this is, you know, what as a non-nuclear weapon state that's been involved in the NPT regime for decades, you know, do you see as the main value of the prohibition treaty reducing and eliminating the risks of nuclear weapons and contributing to the realization of the goals of the NPT, the goals and objectives of the NPT itself?
HIGGIE: Well, I do see the prohibition treaty as fully consistent with the NPT, above all of course in advancing Article 6 of the NPT. Maybe you can say that the prohibition treaty isn't fully focused on reducing the risk, but I'd like to make the point that all our countries here are engaged in other issues. We're not all just one dog wonders. We carry on promoting interim measures including specifically, in New Zealand's case as part of the de-alerting group, so we push for a lowered operational status of nuclear weapons and a full range of other, you know, things that advance risk reduction.
But the prohibition treaty does have, I think also a part to play in this in the sense that it helps delegitimize, that helps lower the attractiveness to would be proliferators of nuclear weapons. So, I think it's a facet, but of course, it's the broad spectrum of initiatives we all continue promoting. Not, I have to say, with a huge degree of success in the NPT process itself.
KIMBALL: Well, thank you, and we're going to get into this question further in the panel that will come later this morning that you will be speaking on along with Lew Dunn and Andrea Hall from the National Security Council. Others would like to address that question of how the prohibition treaty contributes to reducing risks and relates to the NPT, anyone else want to or did Dell say everything that needs to be said? Yes, George-Wilhelm.
GALLHOFER: Maybe just one aspect which is, of course, the element of safeguards where if you look at the provisions of the TPNW, we've actually gone beyond the NPT in terms of the safeguard standards that are required. We don't just require CSAs [comprehensive safeguard agreements], we require the standard–the highest standard that if we keep in place the highest standard to be upheld with the TPNW which for most countries is the additional protocol. And we also require joining nuclear possessor states to also have safeguards in place for their nuclear material, so we actually are increasing the nuclear security side as well through the TPNW.
KIMBALL: Great. Now, one question I didn't clue you in on that I would ask–that I wanted to ask and–and maybe this is a question for Ambassador Whyte Gomez and perhaps others is this was an unusual negotiation in that there was substantial participation by non-governmental organizations and experts and you mentioned this just a few minutes ago.
How did that change the dynamics of the–the deliberations and how did it, you know, contribute to the eventual outcome, because we don't see this in other–most other Arms Control and nonproliferation negotiations?
GOMEZ: Well I think it's an expression of this, of a new expression of multilateralism that takes every resource available including the expertise that is out there in academia, in civil society, organizations in general. We as government experts in governments in general, we cannot claim to have every single detail of the knowledge that's out there. I think it was a very good way to complement different knowledge and skills. But I think it was particularly interesting and important for–especially for small countries and small delegations.
They don't have the human resources that can be devoted specifically to one single issue. So, having the resources of so many organizations, of so many experts really helped to empower many delegations that did have a very good contribution in the negotiations. I think it's one way of leveling the playing field in negotiations that can be very difficult and very technical, and that at the same time need to engage every single layer of players.
KIMBALL: Great. Any other thoughts on that question, Ambassador Lomonaco?
LOMONACO: Not on that question, but if I may on the interim qualification that you applied to the treaty. And I think this is a very important discussion that I assume would be addressed by the next panel, but I wanted to leave behind some reflections on that.
Rather than considering it as an interim measure, the way I'd like to think of a world free of nuclear weapons is a puzzle where you have to have different pieces. We have a big one already in place which is the NPT, possibly the most important one. But with the NPT, the world is not free of nuclear weapons. You need additional measures, additional elements to the puzzle.
The prohibition is one additional piece to that puzzle, but it doesn't fulfill in its entirety the whole range of measures that are required. So, we need to keep working and we need to keep adding pieces to that puzzle so that the world is finally free of nuclear weapons. That's the way I see the contribution of the prohibition. It's one big contribution, but it's not an end in itself, it's not the end of the job that we need to do collectively.
KIMBALL: That's an excellent–a better way of putting it, an excellent point. And it just reminds me of how you all dealt with the provision regarding an entity to verify disarmament eventually. You couldn't design it now. That requires the participation of the nuclear-armed states, but there's a framework there and that's yet another step that would have to be pursued.
Well, the last basic question I wanted to ask is, what's next? There is life after the Arms Control Person of the Year Award, you guys have more work to do. There is now–there are a number of signatures, we're approaching I think well over 60 now, maybe more, my number might be off, additional ratifications. But more broadly, what do you all see as the next goals for the supporters of the prohibition treaty on nuclear weapons?
Jackie Bernstein, maybe others want to speak to this.
BERNSTEIN: Thanks very much, Daryl. The getting the signatories and particularly the 50 ratifications that will bring the treaty into force is very much our focus at the moment. We very much want the treaty to come into force as soon as it can so that the meeting of states parties can take place and the institutions of the treaty can, you know, get up and running.
Because as you said, you know, the treaty is a first step and obviously getting it into force, getting the institutions up and running, encouraging as many states as possible to join it, that's very much where our focus is at the moment. Thank you.
KIMBALL: Ambassador Lomonaco, your thoughts on this?
LOMONACO: I do. I'm really concerned about this review cycle of the NPT. Let me tell you why. I think we could expend the next three years are left, two years, two years and a half, one side defending on the treaty, the other side attacking the treaty and do nothing. Or we can acknowledge that we have a treaty and move on and try to find a common agenda in which we can work on.
And as a matter of fact, I'm happy to embrace the agenda that was put forward by the progressive approach group of countries that was presented in the open-ended working group as an alternative to the ban treaty. We always supported that agenda, but not as an alternative. It didn't have to be either/or. Now, we have a treaty. We can work on that agenda if that serves the purpose of moving forward even if that was not necessarily our first priority back then, it can be our priority and it can be a common agenda that we can work on, so that we can keep moving forward rather than stalling behind the blame game and defending and protecting or attacking the treaty.
KIMBALL: All right. Ambassador Higgie, your thoughts on what's next.
HIGGIE: Well, I think Jackie has put it very well and I just add a postscript from New Zealand's perspective, some of my colleagues here, their countries have already ratified the treaty, New Zealand has not yet. My Prime Minister has announced that we will be shortly, so in my country's case, we are doing all our domestic processes in the lead up to securing ratification. So, that's where back home I'm focused on.
KIMBALL: Very good. George-Wilhelm Gallhofer, Austria just did something in this regard?
GALLHOFER: Yes indeed. Our President signed yesterday in our parliament, both chambers ratified unanimously, so now I would just need to count the signatures to the Prime Minister and then we shall be able to deposit it very… this thing very soon, so in the next weeks, I presume.
But just to pick up on I think the–the very good points made previously, I think one–one sort of task also to set ourselves is to also engage with criticism and to sort of show what the intentions and what the functioning of the treaty actually looks like because there's a lot of criticism, of course, going around now also because it's a new treaty and, you know, things have to be understood and prohibitions have to be properly interpreted. So, that's also one task we set ourselves to engage, to discuss and to sort of show how the treaty would work, how it fits in and where it fits in the institutional architecture and to embed it there more strongly.
KIMBALL: Great. Well, we hope to help facilitate high-quality discussion about it so that there could be a better understanding which is one reason why you're with us here today. Mr. Vargas, your views on what's next.
VARGAS: Yes, thank you very much.
KIMBALL: Brazil was amongst I think the first to sign.
VARGAS: Thank you very much, yeah, it's true. Now, first of all, let me just say a word of recognition to our delegation, to our desired delegation. And unfortunately, Ambassador Patriota vote with negotiations couldn't make it. He's in Geneva. He's our ambassador in Geneva. He couldn't make it here. I am here representing Brazil.
In Brazil, as you said, Brazil was the first country to sign–to sign the treaty in New York and President Temer is working hard on having it ratified before the end of the year which is the end of his term. He's already sent it to Congress and committed to having it ratified before the end of the year.
KIMBALL: Wonderful, all right. And I just wanted to give Ambassador Elayne Whyte Gomez the last word on what's next.
GOMEZ: Thank you. I think I would like to build on an expression that you mentioned that there is life after the Arms Control Person of the Year Award and there is life of course after the treaties and negotiation, but most of all, you see countries that I usually mention, we are responsible citizens of the world. We have legal obligations in different regimes. They are part of this puzzle that Ambassador Lomonaco was mentioning, that we have a big puzzle with different components and we all are engaged in making those components of the architecture to work better and to function better to be more effective in the… in complying with the objectives.
So, you will see countries that have put all of our energies into seeing the prohibition treaty become a reality, but you will also see these countries putting all of our energy and all of our efforts to see the rest of the architecture as well, function and be as effective as possible. So, historically, every progress has been achieved by individuals or societies that being aware of, while confronted with their specific challenges have decided to embark on the path of progress by means of increasing research, by means of developing new norms, by means of developing political movements to address each moment important challenges.
This spirit, human spirit was present in this process. This is a group of countries that decided to take into our hands our own responsibility, not wait for the others to come forth but to take our own agency and to take our own responsibility. In here, we have the result as I said and as Ambassador Lomonaco has mentioned, it is part of the overall architecture and we need the overall architecture to be strengthened altogether. Thank you.
KIMBALL: Thank you. That's very eloquent, I can understand better why you were chosen to be the president of the conference. I want to thank all of you for being here and I want to, on behalf of the Arms Control Association and the arms control and disarmament and nonproliferation community, thank you for your past work and your future work. It's an honor to have you all here with us. Please join me once again in congratulating our Arms Control Person of the Year winners.
Morning Keynote Address
"Successes, Challenges, Steps Forward for the NPT Regime"
Jackie O'Halloran Bernstein, Ireland's Director for Disarmament and Nonproliferation, Government of Ireland
KIMBALL: We are very pleased and honored to have with us here Ireland's Director for Disarmament and Nonproliferation, Jackie O'Halloran Bernstein.
As you all know, Ireland has played a leading role in the global disarmament and nonproliferation regime over the years. Ireland was not only one of the key players in the Prohibition Treaty negotiations, but Ireland helped catalyze the work towards the NPT itself with its 1958 UN Resolution proposing to prohibit the further dissemination of nuclear weapons.
So, as I said earlier, we can't take the NPT for granted. And just in the couple of weeks as we heard the representatives of the states parties at NPT are going to gather in Geneva for the Preparatory Committee meeting, the next one for the 2020 review conference.
So, I've asked Jackie to share her views and her government's views on the successes and shortcomings of the NPT over the years, the challenges facing the disarmament and non-proliferation enterprise and the Irish government's recommendations of how we can move forward next.
So, thank you very much for being here.
And then afterwards we'll take a few questions from the audience.
O'HALLORAN BERNSTEIN: Thank you very much, Daryl.
And thank you so much for inviting me here today to speak on behalf of Ireland and also the fellow recipients of the 2017 Arms Control Person of the Year Award.
Distinguished guests, I'm deeply honored that Ireland has been asked on behalf of the delegations of Austria, Brazil, Costa Rica, Mexico, New Zealand and South Africa and our Chairwoman Elayne Whyte Gomez to deliver this keynote address today.
The theme for our meeting, the Nuclear Nonproliferation Treaty at 50, Strengthening and Reinforcing the Regime offers a timely chance for reflection and for dialogue, ahead of the opening next week of the second Preparatory Committee of the NPT's 2020 Review Cycle.
Fifty years on from the opening for signature of the NPT there are indeed many reasons to celebrate, not least the continued salience and importance of the treaty. And now, the addition of a new and exciting legal instrument which will make a strong contribution to the NPT's Article VI, the Treaty on the Prohibition of Nuclear Weapons.
I'd like to thank the Arms Control Association for nominating our group of delegations and Chairperson Elayne Whyte Gomez for the award. And I'd also like to thank those who voted for us for their support and to the mark of trust which they've placed in the treaty, its purposes, and objectives.
I'd also like to mention here the other delegations who participated in what was a remarkably open, collaborative and collegial process with a determination to reach a successful conclusion. I think as indeed our chairperson mentioned that there were many different voices heard at those negotiations, and voices that are not often heard at the United Nations are in multilateral disarmament discussions. In particular, we heard the voices of the hibakusha and of the survivors of nuclear testing.
The treaty which resulted from this process is truly groundbreaking. Not only in its prohibitions on the weapons but also in its acknowledgment of the role of the hibakusha, of its provisions, for its provisions on victim assistance and cooperation and on the environment, and also for including commitments in relation to disarmament education and the full and equal participation of men and women in the work of the treaty.
In 1958, when Ireland's then-foreign minister Frank Aiken introduced to the United Nations the first of the Irish resolutions which would eventually lead to the adoption of the Nonproliferation Treaty 10 years later, the prospect of a world where many actors, states and non-state would eventually acquire the means and the technology to build their own nuclear arsenals was very real.
In that speech which remains as prescient and true today as it was 60 years ago, Frank Aiken speaks of how weapons which are the monopoly of the great powers today become the weapons of smaller powers and revolutionary groups tomorrow.
This speech makes it clear that while abolition of the weapons and permanent disarmament was Ireland's goal, the immediate pragmatic need was to prevent further dissemination of the weapons.
As we assess the NPT at 50, we can I believe agree that the treaty has to a good extent achieved its objectives. Very few states have remained outside the treaty and have gone on to develop nuclear weapons. It is indeed one of the most participated-in UN treaties. The five nuclear weapon states have all joined this and are therefore bound by the commitment contained within its Article VI to nuclear disarmament which remains the core legal obligation binding the nuclear weapon states to disarm.
This is also evidenced by the unequivocal undertaking that they gave in 2000 to accomplish the total abolition of their nuclear weapons.
Additionally, the states of many regions of the world have chosen to be part of nuclear-weapons-free zones in strong demonstration of their commitment to the objective of a world without nuclear weapons. Some of the strongest voices in the room at the TPNW negotiations came from these regions and brought the strength of their convictions and experience to the treaty negotiations.
The NPT itself is a slim treaty, its preamble and 11 articles fitting easily on six A-4 pages. But the international community has built around it a strong framework of supporting institutions. The International Atomic Energy Agency in particular, through predating and independent from the NPT has built up an impressive structure of expertise and an enabling framework to facilitate that use of nuclear technology for peaceful purposes while implementing strict safeguards which prevent diversion to non-peaceful uses.
With the development of supporting export control regimes including the Nuclear SuppliersGroup and the missile technology control regime, states have been successfully assisted in preventing and inhibiting proliferation of nuclear weapons and ballistic missile technology without preventing transfer of technology and materials for peaceful uses. This aspect of the treaty is also an essential one to which states parties need to continue to give careful support and attention.
The NPT has also through the strengthened review process agreed at the 1995 review and extension conference helped to promote and give impetus to many far-reaching agreements and understandings aimed at preventing further proliferation and enabling bilateral nuclear disarmament. The bilateral accords between the Russian Federation and the United States have also been greatly supportive of the NPT aims, with the INF, START and NEW START Treaties contributing to a welcome and significant reduction in the large stockpiles of nuclear warheads which had built up during the Cold War.
Equally the CTBT must also be counted amongst the NPT successes. While it hasn't entered into force, nevertheless the strength of the global norm which has been established against nuclear testing and the development of the CTBTO's international monitoring system has been one of the great achievements of the international community in nuclear disarmament.
Today's award marking the adoption of the treaty on the prohibition of nuclear weapons represents the NPT's latest success story and the first new legal instrument on nuclear disarmament to be adopted in over 20 years, a success story not only because of the groundbreaking content of the treaty but also because of what it entails in terms of progress towards the fulfillment of the NPT's disarmament provisions.
Article VI of the NPT expressly envisaged a separate and complementary treaty on general and complete disarmament under strict and effective international control.
The TPNW is not founded on a grand bargain whereby states agree to give up the possible military advantages and the status attached to being nuclear weapons possessors in exchange for an agreement that the nuclear weapon states will disarm. Instead, the states who adopt the treaty agree to a non-ambiguous and unconditional commitment that they will never under any circumstances develop, test, produce, manufacturer, otherwise acquire, possess or stockpile nuclear weapons or other nuclear explosive devices.
I think Frank Aiken 50 years after the entry into force of the NPT would be pleased that the TPNW finally implements and gives effect to the NPT's disarmament provision. And that almost two-thirds of the UN membership are committed to the complete prohibition and elimination of nuclear weapons, and that this took place from an appreciation of the elevated risk and catastrophic consequences which would result from a nuclear weapons detonation accidental or deliberate.
For the security of all humanity and the future of our fragile planet, our states are making this choice. It is our great hope that in time all others including the nuclear weapons possessor states and their allies will join us.
Frank Aiken was a strong supporter of the idea of the sovereign equality of all states and a firm believer in the equalizing power of the United Nations. He would I think have approved of the inclusive and respectful nature of the deliberations which led to the adoption of the treaty, both in the 2016 open-ended working group so ably chaired by Ambassador Thani of Thailand and also at the TPNW negotiations where Ambassador Whyte Gomez played such a strong role in bringing the deliberations on the treaty to a successful conclusion.
In addition to the TPNW, there have been other welcome advances in disarmament and arms control in recent years, including the entry into force of the Arms Trade Treaty in 2014, the Joint Comprehensive Plan of Action with Iran in 2015, and the agreements at CCW to establish a group of governmental experts to address the challenges raised by autonomy in weapons systems.
These achievements show that the international community, states, and civil society can achieve our goals when we can agree and focus on a common purpose. But huge challenges confront us. Growing urbanization has led to massive increases in civilian casualty rates and damage to civilian infrastructure in our cities from the use of conventional explosive weapons.
The JCPOA negotiated with such effort and attention, and despite careful and positive implementation assessment by the International Atomic Energy Agency, is under threat. The Arms Trade Treaty is experiencing significant challenges in universalization and in implementation while 100 years on from the Battle of Ypres, chemical weapons are again being used both in war and to assassinate despite the universal prohibition on their use.
Meanwhile returning to the NPT and our theme today, nuclear disarmament by the NPT nuclear weapon states has stalled. Bilateral nuclear disarmament between the US and the Russian Federation following the successes of the INF and the New START has halted after the successful outcome of the NPT's 2010 review conference with its ambitious but achievable action plan including an innovative approach to progress on a Middle East free of weapons of mass destruction, the 2015 conference did not agree on outcome. The CTBT despite the successes that I mentioned has still not lived up to its promise of an end to the damage and destruction caused by nuclear testing by entering into force.
Modernization and investment in nuclear arsenals is rising in all nuclear weapon states and efforts to reduce the salience of nuclear weapons in military doctrines and in nuclear alliances has receded. Proliferation threats are increasing with DPRK's nuclear program representing a particular dangerous development. Against this background the norm, I guess the threat of use of nuclear weapons has been seriously eroded. And the world's citizens after decades of postwar—post-Cold War complacency are awakening to the harsh reality that, yes, nuclear weapons do still exist, and that the hands of the Doomsday clock are yet again at two minutes to midnight.
So what to do now? Against this somewhat grim background and against a moment when we have seen disarray and lack of agreement at the United Nations Security Council on an issue in which there should be overwhelming global agreement and abhorrence such as chemical weapons use. It seems Utopian to suggest that NPT states parties should renew their efforts to engage with each other and genuinely find ways forward to overcome the divisions on approaches to nuclear disarmament which have become evident in recent years. But that is exactly what we need to do.
If the NPT could be negotiated and adopted at the height of the Cold War, then a renewed commitment to its implementation and the establishment of dialogue among its states parties is more than possible. I am not going to list here the 13 steps or the actions from the 2010 action plan on which all are agreed. Neither am I going to set out the steps put forward by the proponents of the progressive or step by step approach to nuclear disarmament.
Ireland and the other delegations to the TPNW here present are also all committed to making progress on these measures, and many of our countries have engaged actively in the work to make them happen.
There is, however, one issue on which I do want to speak in more detail and that's the question of the Middle East zone free of weapons of mass destruction and their means of delivery. As we reach the midpoint of the NPT's 2020 review cycle with little or no progress, it is time for serious stocktaking and reassessment of how we can achieve some progress in spite of the challenges and difficulties on this issue. Otherwise, the risk that 2020 review cycle will also fail to agree on an outcome is strong with a resulting strongly negative impact on the treaty.
Ireland has proposed at last year's Preparatory Committee that a dedicated resource should be provided possibly within UNODA who could assist the co-conveners and other interested states and civil society actors to develop creative and innovative proposals and in particular, confidence-building measures which could begin to move the process forward. Trust and confidence are key to the success of any negotiation and this is what we need most of all.
Earlier this month in Ireland, we celebrated another auspicious moment in our history, 20 years of the Good Friday agreement and the success of the Northern Ireland peace process. We look back, we look at the present and we look forward. The agreement has had many challenges. It hasn't always lived up to its promise as a beacon of hope and reconciliation, but it has endured and the hard-earned peace which is represented has lasted in spite of all the difficulties including those that confront it today.
That achievement wasn't built in a few weeks of negotiations is only through the dedication and preparedness to take risks of some leaders–though that wasn't lacking either, and [they] deserve the recognition which we give to the architects of the agreement. But rather, it was built up through decades of work within communities, schools, churches, within labor movements, business associations, political parties, academics, think tanks, working together or as individuals to establish lines of communication, to start a conversation, to build bridges instead of walls.
You have a cup of coffee instead of shouting across the barricades. Mostly it was built by starting conversations and by listening to the other's viewpoint. It was also built by women reacting to the loss and devastation within their communities and determined to end the violence once and for all.
Within the NPT process, we speak often of needing to identify the bridge builders. Those states, groups of states, civil society actors, leaders who can find a way forward to bridge the divisions between those who seek immediate and non-conditioned implementation of the NPT's disarmament provisions and related commitments, and those who believe that while nuclear disarmament is the ultimate goal of the NPT, the conditions are not yet right for it to happen.
Next week with the opening of the second Preparatory Committee, we can all be bridge builders. Those who believe that nuclear disarmament is essential to creating the conditions for a peaceful and secure world, and those who believe we must create a peaceful and secure world before nuclear disarmament can happen.
When speaking of the Good Friday agreement last week and the need for renewed commitment to its implementation and objectives, our deputy Prime Minister Simon Coveney said renewal does not demand perfection. It demands leadership, courage and hard work. For the NPT we also need leadership, courage and hard work. Most of all, we need to begin a dialogue to find what works and what can bring us nearer to the realization of our mutual goal, a world without nuclear weapons and a successful outcome to the 2020 review cycle.
There are already some promising green shoots in the chairman's draft summary from last year's preparatory meeting, including the recognition of gendered impacts of nuclear weapons and the need to increase women's participation in nuclear disarmament forums.
We conclude one of the other nominees for this distinguished award last year, Pope Francis, in his thinking on nuclear disarmament has said that a world without nuclear weapons will not be this world just without nuclear weapons. It will be a different world. For those of us who want that different world, it's time to begin both imagining and creating it.
Thank you.
(APPLAUSE)
KIMBALL: We have a few minutes for some questions from the floor for Jackie O'Halloran Bernstein and before we take a short break before our first panel of the day. So we have microphones (inaudible) so please just raise your hand and identify yourself, ask your question and let's start with (inaudible).
QUESTION: Hi, my name is Phineas Anderson. In terms of the Middle East free zone, what kind of negotiations have you had with Israel because it seems the chance of them coming around to give up their weapons is next to nil.
O'HALLORAN BERNSTEIN: Thank you very much. My understanding is that the co-conveners, you know, they do engage and they try to discuss with all the actors in the region but that there has been no movement effectively since 2015.
And of course, what is agreed in terms of the Middle East free zone is that whatever moves forward has to be with the agreement of all the actors in the region and all states in the region. So that includes, you know, that Israel would engage voluntarily. And that whatever happens has to be inclusive and participatory.
But there has been very little movement since the failure to agree on outcome in 2015. That there have been various, you know, discussions among actors in the region, but apart from the civil society track where there is a little bit of movement and some confidence building going on, my understanding is that, that very little has happened. Thank you.
KIMBALL: (OFF MIKE) There is (inaudible) on the zone Ireland has worked very hard on this. Ambassador (inaudible) Republic of Ireland chaired the sub-group at the (inaudible) and work decisions as government and (inaudible).
Are there questions from the floor (inaudible)?
QUESTION: Yes, my name is Pedro Cruz. And when you mentioned the importance of women's participation, is that because men have failed or because there needs to be a better biological mix?
KIMBALL: Sorry. It's a good question of what a man asks, have we (inaudible)?
O'HALLORAN BERNSTEIN: Thank you very much. This is an issue which is very close to my heart. Ireland has taken a very strong position on the need for greater women's participation in disarmament generally, but in particularly in nuclear disarmament.
And the impetus for this grew in part from the evidence that was presented at the Vienna Humanitarian Conference of the strongly gendered impact of ionizing radiation as between women and men and boy children and girl children. But it's also from, you know, the evidence that came out. I think particularly on—funnily enough from business and economic research after the 2008 crash, that the greater the diversity in your organization or your company, whatever it is, the better outcomes and the better solutions there are to problems.
So, it is that we do feel that disarmament and particularly nuclear disarmament has a huge challenge as regards diversity and this is in terms of gender where the participation has been shown by research done by UNIDIR to lag way behind what it is in other similar negotiation forums. But it's also—coming back to your question, indeed, you know, that it's not that we necessarily think that a man have done a bad job but that we think a more equal and representative participation. And that includes between countries actually.
And I think our president made a really good point earlier in the discussion when she said that the TPNW negotiations allowed a lot of smaller states whose voices are not normally heard to be heard. And this is something we really want for the NPT.
We also want a much better geographical representation of countries, but particularly we're focused on the gender issue at the moment.
KIMBALL: Other questions? Yes, sir, any women like to ask a question?
QUESTION: Hi, I'm Bruce MacDonald. I'm with Johns Hopkins SAIS teaching a nonproliferation course there. And I wanted to compliment you and for your work in disarmament and also Ireland's role. And also with this audience who may not be aware of is your distinguished work with the Druid Theater Company and how wonderful that is, an outstanding theater company in Ireland.
I wanted to ask what you thought might be done to encourage a more positive attitude among publics in the United States and in Russia to take two countries, in particular, to promote a more positive feeling towards arms control. It's, arms control's public persona if you will, it seems to me in some ways it's deteriorated in the last 15 to 20 years. And I wonder if you had any suggestions or advice for us.
O'HALLORAN BERNSTEIN: I do believe that civil society and academia also, you know, good research and think tanks have a huge role to play in bringing arms control more into the consciousness of people and getting greater support for it.
It is a little bit what I said in my speech that it needs to start a lot of different conversations happening at different levels and at individual levels. I believe that Pope Francis' work will in time be hugely influential in the Catholic communities in the United States, because the Vatican stance has changed so radically from one which kind of reluctantly accepted that, you know, you had to keep some weapons for deterrence purposes to now, you know, saying that their possession is wrong.
And I think in time that that will, you know, filter down and will have an effect. I believe there is quite a strong nuclear disarmament community in the US and that I can and the winning of the Nobel Peace Prize should also help with that.
Obviously, in the Russian Federation, it is a difficult issue but I think the focus on the risks particularly is something that could be useful. And that the more work that is done on risk and the more that is disseminated among publics and awareness created. That that is maybe the way to go in public that are more resistant and also of course who may have to lose from nuclear disarmament in terms of the economics of nuclear weapons.
KIMBALL: (OFF-MIKE) I don't know (inaudible) question, just one quick—one note that I wanted to add on the civil society, the (inaudible) association is (inaudible) mission. So, we are reaching out to our colleagues in (inaudible) to try to—how to rate the copy of the statement that on the US launch between Russia crisis on the table outside.
So, it is an important part of it. It's been part of the solution in the past and it needs to be a part.
Other questions from the crowd? We have a couple more. Why don't we go to the very rear, I see a former…
QUESTION: I would like to say a couple of words about where we are today. It seems in reference to what's been mentioned just a few moments ago. What we have a problem in America today is we have no peace party anymore.
We have a conservative Republican tendency to be careful about arms control and we have a democratic party that is opposed to everything that has to do with Russia. That's a fact. And we can ignore those facts to our regret. It seems to me that the real problem today is to develop a constituency for arms control in spite of the problems that we have.
We've been through periods like this before. I've been through periods like this before. And that's the way to overcome it but you've got to have political support for the effort to control nuclear weapons in spite of the conditions that exist in the world today.
I think back 50 years ago when we finally sign the NPT. I didn't think it would last this long as strong as it is. And we are fortunate that we have that but to move forward from that for the other arms control efforts we've got to devote ourselves to developing a renewed constituency for arms control. Most of the people in the Congress of the United States know nothing about arms control because there haven't been negotiations and discussions of negotiations since they came into office. So that's a central part of what we have to do if we're going to be serious.
KIMBALL: Thank you. For those of you who don't know that's Larry Weiler. He helped negotiate the NPT. He is one of our stalwart friends. So, I will let you respond to Larry's wise words but let's take one more question before we take a break and no female questioners are here. All right, we're trying.
We have one here.
(UNKNOWN): I just felt women were put on the spot.
(UNKNOWN): Here, Laura, got it?
QUESTION: Laura Kennedy. I'm happy to say I'm a private citizen although I did spend most of my career working on Russia arms control non-proliferation and so on. So I just had a few thoughts on that.
I really appreciated your views on women and I'm happy to say that not so long ago I participated with some other female arms control non-proliferation talks in a meeting with the women in Congress who are on Armed Services Committee and so on. So things like that are a great opportunity.
I think you said about Russia I think there's a lot of work, the Deep Cuts Commission I think was a great opportunity to get at some of these issues but, of course, these are the professional elites.
I actually started off my career at the US embassy in Moscow participating as a guide in one of our efforts at public diplomacy to try and reach out beyond the capitals where we had a 50-year exchange with Russia, where we would get out and have exhibits all around the country.
Frankly, I think that's something we ought to look at, how do you engage publics, because frankly in Russia there is no equivalence with what we face here. There is none. So let's think about ways we can get beyond capitals and try to engage those publics, that's a huge challenge out there but anyhow thank you for everything you've said today in your work.
O'HALLORAN BERNSTEIN: Thank you. And I'd like to thank Larry Weiler for his contribution which I think is really important. And I think this conversation now and thinking about how to engage publics and that way how to make sure that you have support for your politicians is just so important. And, of course, it's something I have to step back and think about because in Ireland, nuclear disarmament, you know, as a goal, as a global goal, is simply given and it's something that enjoys complete support across all our political spectrum.
But we do take the disarmament education, you know, commitments that are there in the NPT and that are now very much there in the new treaty very seriously. And, you know, we think it's particularly important to reach out to younger people because this complacency has grown up, that nuclear weapons may be are no longer so important.
I do think some recent developments have perhaps changed that perception that our young people are maybe more aware now that actually, no, the 15,000 nukes are all still available to the leaders who want to or feel they need to use them. So that first step has I think been taken in creating a consciousness. And now it's a matter of building on it.
We find—and this is just one throwaway—that using film as a medium is particularly useful for reaching out to younger people. And we have organized some nuclear-themed film festivals and that has been—we found that has given a lot of return in terms of interest. So, that is one idea, but there is definitely a big job of work to be done there and that's another reason why I really look forward to the treaty on the prohibition of nuclear weapons coming into force because it's an actual commitment and that on states to carry out disarmament education activities. And that I think will give disarmament education a huge impetus and push which it needs. Thank you.
KIMBALL: Thank you very much, Jackie O'Halloran Bernstein.
Please join me in thanking her for her contributions and for Ireland's steadfast work on proliferation and disarmament. We are going to take a five-minute break, just five while we do a little bit of a transition to our next panel. So, you do have a brief time but come back in as quickly as possible. Thank you.
Morning Panel
"The Future of the NPT: Initiatives to Strengthen the Regime"
Ambassador Lewis Dunn, former U.S. representative to the 1985 NPT Review Conference
Ambassador Dell Higgie, New Zealand's Permanent Representative to the Conference on Disarmament
Andrea Hall, Senior Director for WMD and Counterproliferation, National Security Council
Moderated by Thomas Countryman, chair of the Arms Control Association board of directors
COUNTRYMAN: My name is Tom Countryman. I've had the honor for the last six months of being the chairman of the board of directors of the Arms Control Association. That's an honor, but it's an even bigger honor to introduce to you three outstanding colleagues from whom I've learned a great deal who have devoted their careers to building national and global security, to fighting against the spread of weapons of mass destruction, to reducing the risks of possession and use of such weapons.
And they're going to speak today in accordance with our theme, the 50th anniversary of the Nuclear Non-Proliferation Treaty, about what we can expect in the coming two years, what are the current measures that can be considered to build on and to strengthen the NPT in its implementation.
So, I introduce them very briefly. They're all very worthy of your attention. We'll start first with Ambassador Lewis Dunn, who led the U.S. delegation at the crucial 1995 NPT Review Conference.
DUNN: Eighty-five.
COUNTRYMAN: Eighty-five. Excuse me.
DUNN: I'm even older than you think.
HALL: Life is crucial.
COUNTRYMAN: I was just a kid then, but OK. Thank you. 1985.
DUNN: Eighty-five.
COUNTRYMAN: Second, we'll hear from Ambassador Dell Higgie, who you already heard a little bit from this morning, and, third, Andrea Hall, who's currently serving at the National Security Council at the senior director for weapons of mass destruction and counterproliferation issues.
So, I think we'll launch right into it. And, Lew, take it away?
DUNN: Thank you, Tom.
I shall very briefly make three points on this panel's topic, The Future of the NPT. My first point, the most important challenge for the future of the NPT is to rebuild habits of cooperation among all NPT parties and to start doing so is to recognize what is at stake. Unless we can succeed in rebuilding habits of cooperation, the outcome at the 2020 NPT Review Conference will be the first back-to-back conference breakdowns in the NPT's history, a breakdown coming 50 years after entry into force 25 years after indefinite extension.
Now, some persons would say, who cares? I say all NPT parties should care because back-to-back breakdowns at that unique point in the NPT's history will weaken the treaty with uncertain political and psychological ripple effects.
Rebuilding habits of cooperation also is vital because there are multiple pathways that could lead to the erosion of the NPT's legitimacy, effectiveness, and support in the years ahead. Yes, some of these pathways are more credible than others. Yes, we have heard warnings before of the NPT in crisis, but taken together, these pathways are a reason for concern. Moreover, let's not forget the security interest of all of today's protagonists would be damaged by erosion of the NPT.
My second point, rebuilding habits of cooperation requires recognizing the realities of the Prohibition Treaty, and in light of those realities, crafting a workable approach to the Prohibition Treaty at the Review Conference. Meaning what? The nuclear weapon state and non-nuclear weapon state opponents of the Prohibition Treaty recognize the reality that a good number of countries judge the Prohibition Treaty as an important step forward and will be prepared to acknowledge that judgment in any 2020 outcome.
Even while also acknowledging at the same time that this judgment is far from shared by all NPT parties. For Prohibition Treaty supporters, don't seek to make the 2020 Review Conference into a referendum on the endorsement of the Prohibition Treaty, a referendum that almost certainly will prove both unavailing and counterproductive.
For all NPT parties, use the Review Conference to help address the realities that led directly to the Prohibition Treaty, legitimate concerns about the nuclear disarmament stalemate and about the risk of use of nuclear weapons. How so? First, the Review Conference should reaffirm the importance of preserving and then revitalizing the U.S. - Russia arms control process and at the same time the importance of putting in place a process of cooperative strategic reassurance between the United States and China. I'll return to this point later.
Second, the Review Conference should have a full discussion of the many proposed actions to reduce the risk of use of nuclear weapons. To what end? One outcome would be for all NPT parties, not least the NPT's nuclear weapons states to reaffirm that recognition as it was once put, that a nuclear war cannot be won and must never be fought.
In addition, the 2020 Review Conference should ask the nuclear weapon states to report back to all NPT parties and the first preparatory committee meeting for 2025 and 2022 should report back to all NPT parties on what actions the nuclear weapon states believe can and should be taken to reduce to an absolute minimum on the risk of use of nuclear weapons.
Don't try again to get the nuclear weapon states to agree to one or another preferred non-nuclear weapon state risk reduction idea, putting the burden on the nuclear weapon states to tell the NPT community what they will commit to do to reduce nuclear risks.
Third, the NPT parties, if we take these realities of the Prohibition Treaty seriously, should engage in a full exchange on the conditions for a resumed and sustained nuclear disarmament progress. And in light of that exchange, identify and commit to specific areas for cooperation to advance those conditions between 2020 and 2025.
Fourth, the Review Conference should debate different visions of a desirable and achievable interim nuclear future for 2045, 100 years after the first and only use of nuclear weapons. Why? Because unless the parties can find a unifying vision to which they can rally in practice and not simply in rhetoric, we've been really good at rallying in rhetoric, today's dangerous polarization will worsen, and it will ultimately call into question the NPT's future.
As some of you know, my own preferred vision is a strategic elimination of nuclear weapons by 2045, not a complete physical elimination, but their elimination as a means of security and statecraft.
Now, briefly, my third point. I want to return to the challenge of avoiding accelerating global nuclear arms competition. For the United States and Russia, the two countries' leaderships need to find a way to step back to ask themselves independently and jointly whether the breakdown of 50 years or sometimes more sometimes less cooperative management of the U.S.-Russia strategic relationship and its replacement by unfettered strategic unilateralism will serve U.S. and Russian security interests replacing cooperative management by strategic unilateralism.
I think there are good reasons to believe that the answer to this question is no. A breakdown will increase nuclear dangers. A breakdown will be economically costly. A breakdown will make it harder to cooperate on other issues and a breakdown will heighten the risk of erosion of the NPT.
For all of these reasons, Putin's Kremlin and Trump's Washington should find a way to ask whether they really want the strategic train wreck both countries are rapidly approaching. At best, this joint assessment would be official, but I think that's hard to see for a variety of reasons. An alternative approach would be for the two presidents to create a greybeard panel of retired very top level civilian officials and military leaders and under greybeards, I include women as well as men, because of my image. My image of the greybeards includes former national security advisors, former secretaries of state and former secretaries of defense. And at least in the United States, there's a whole bunch of high-level women involved.
The two presidents should create this type of a senior review panel to ask this question, do we want a strategic train wreck we're about to have and report back? The answer I think is likely to be, no, we don't want a strategic train wreck and here's how we might get out of it.
But Beijing and Washington also are approaching a strategic turning point. China often is a country never discussed in this. Here, avoiding accelerating global nuclear arms competition requires that the leaderships in Beijing and Washington ask the same question. Do they want this type of growing strategic competition or would their interests be better served by a process of mutual reassurance and restraint? Again, the two leaderships could ask this question officially or you could have some sort of semi-official process which links into a decade-long official dialogue that's occurred.
Let me stop at this point. Thank you.
COUNTRYMAN: Thank you very much.
Yes, Ambassador Higgie?
HIGGIE: Thank you very much, Tom. And good morning, colleagues. Now, Daryl has been quite insistent that this panel should be forward-looking this morning and Lew has certainly complied with his instructions fully. I want to disobey them and just briefly though, just very briefly, and on the basis that we do ignore history at our peril. I want to take a short few backgrounds into the rear vision mirror and revisit the contract, the deal which lies at the heart of the NPT.
Now, of course, to my mind it seems rather fitting to do this at a meeting here in Washington given that it is the United States that has been leading the way in recent times in stressing the need for implementation of a deal to be fair on all the parties and not just to meet the contractual terms favored by some of them.
So, because we've had this treaty for so long now, 50 years, it's easy to overlook just how rare, how very unusual a deal it is. I cannot think of any other multilateral treaty in the security or disarmament domain in which the obligations on states' parties are differentiated by, for instance, a prohibition on one not being a prohibition on all.
Other treaties in this field do reflect the fundamental premise of international law regarding the equality of states by creating obligations which are uniform and fully reciprocal for all states signing on to them. Such examples that come readily to mind include the chemical weapons convention, biological weapons convention, inhumane weapons under the CCW framework, landmines, cluster munitions and so on.
Now, in highlighting the NPT's departure from this norm, I'm not meaning to suggest that the treaty's approach, its grand bargain, is somehow flawed or defective. Absolutely not. I think it was a highly constructive and creative innovation, one which met the needs of the time and which has been fundamental to the treaty's success in building support for non-proliferation over many years.
But I am wanting to make a point that it represents a very rare instance when the basic premise as a matter of international law of the sovereign equality of states has not predominated the terms of a treaty. It was a little surprising that support for the NPT text at the time of its creation was not universal and it certainly did not attract consensus in the votes done in June 1968 either in the UN General Assembly or in the Security Council.
But for many of the 95 states that did vote in favor in the general assembly, in favor of the treaty, a key drawcard, we might even call it something of an equalizer for norm with the weapon states whilst the treaty's disarmament undertaking, its Article 6. It had, of course, been a number of non-nuclear weapon states who it insisted on Article 6 as inclusion in the text in the first place. And undoubtedly for them, it was a sine qua non for the subsequent ratification of it.
I hope that this snapshot of history serves to underline the significance of Article 6 in the very innovative deal struck in the NPT. Equally, the text of the treaty makes it clear that Article 6 cannot be treated as if it were peripheral or subsidiary to other aspects of the treaty. There is no conditionality in the language of Article 6, however much some might now wish there were.
The very real fact that all parties to the treaty can properly be said to derive benefit from it in view of the success it has had in constraining horizontal proliferation and keeping the number of nuclear weapon possessors as low as it currently is, that benefit in no way displaces the obligation to deliver fairly on the core obligations of the deal.
It's probably been clear to everyone here for quite a while that a considerable number of the treaty's membership think that Article 6 is not, in fact, being implemented fairly. Last year's treaty on the prohibition of nuclear weapons is one symptom of recent dissatisfaction. A checklist of implementation of the disarmament-related steps in the 2010 action plan or indeed of the disarmament elements in the 2000 or 1995 Review Conference outcomes would reveal much of the source of that dissatisfaction.
So, from the perspective of a non-nuclear weapon state like New Zealand, the most important systemic challenge I see confronting states-parties to the NPT is how to sustain the treaty's credibility and persuade its members most notably with respect to Article 6 given that this is where implementation is crucially lagging, how to persuade them that they can indeed expect the NPT deal to be delivered upon fairly in keeping with the treaty's object and purpose.
So, what sort of initiatives are able to help meet this challenge? May I start with a negative definition? I think that efforts to repackage the Article 6 bargain, for instance, by seeking to add into its language new conditionalities not present in the text do not improve and probably exacerbate the situation.
Equally, recommendations relating to bridge building, whilst undoubtedly well-meaning, seem mesmerized with process at the expense of substance and they seem bound to leave you in the middle of a river rather than living up to their name and getting you to any destination at all on the other side.
Now, on to a more positive note, we do already have an expansive listing of possibilities from the 2000 and 2010 consensual Review Conference outcome. They list actions relating to reductions in numbers, transparency, reporting, reducing the role of nuclear weapons in strategic doctrine and military planning, lowering the operational status of nuclear weapons and so on. And there's also very clearly important unfinished business on the Middle East WMD free zone.
Surely, there is fertile ground within these consensual documents for initiatives from the nuclear weapon states. That said, it is hard to disagree with the comment and lose excellent paper, which I have thoroughly read and absorbed, Lew, on a practical agenda to reduce nuclear dangers. And you made many of these similar points this morning. And in your paper I know you said at the outset that realistically, dramatic advances are not to be expected right now.
We may not be able to hope for this sort of dramatic developments that can sometimes happen even in unpropitious times, but I would hope that with the 2020 Review Conference soon upon us, policy leaders in the nuclear weapon states will pick up the pace and work seriously through the outcomes of 2000 and 2010 at identifying where I've individually or collectively they can move forward and make progress on implementation of Article 6.
I'm abiding by your recommendation, Lew, that non-nuclear weapon states effectively shouldn't be trying to pick and choose and direct nuclear weapon states. They should decide for themselves, of course, provided they do move forward. So, I'm not going to identify where I see the realistic opportunities for initiatives and forward-moving. I'm going to leave that to the nuclear weapon states. Thank you.
COUNTRYMAN: Before I give a really great colleague, Andrea, the floor, I'll note that she spent many, many, many hours last week dealing with Syrian chemical weapons attacks, so we promised to be kind. She's promised not to fall asleep during her presentation and take it away.
HALL: So, thanks to Tom.
Thanks to the Arms Control Association for having me here. This is an important discussion at an important time. And I am, of course, extremely privileged to be here with you great colleagues on the panel and one fantastic moderator who I've worked with for a long time.
We've had a series of busy weeks in the nonproliferation world and I will note that it shows all the greater relevance to the nonproliferation community today. And will tell you, sitting in the situation room at one point last week waiting to get up on a (inaudible) with foreign partners, one of my colleagues noted anyone looking at our foreign policy would be confused. We appear to be all over the place. So, three weeks ago, all we could deal with was Russia and expelling Russians from the United States in retaliation for their actions.
And last week, all we were worried about is North Korea and then this week it's Syria, so it looks like we're all over the place. And I said we're not all over the place, it's about WMD. It's about proliferation. And so, I think we have a series of challenges across the board that we need to grapple with. This is an important one to discuss today, but this community remains extremely relevant and I think nonproliferation is under threat. And so, I'm glad to be here to have this discussion.
I would say that the White House has recently completed a series of treaty reviews, like all administrations we've gone back through, where the last administration was, try to think through what might be different here. There were a series of documents and reviews that needed to be completed before we got here, obviously the nuclear posture review, the National Security Strategy. And once those were built, we could complete the treaty reviews that we'd already started.
I will also apologize in advance because some of those plan to be rolled out next week at the NPT Prep Com and then in subsequent meetings there. So, there will be some things I'm going to keep a little close for now, but you will very soon see a little bit more of our thinking in the coming weeks.
So, with that, I'd like to offer a few comments on the administration's approach to the NPT including the key objectives that we are looking to advance at next week's Prep Com meeting taking place in Geneva.
So, it's certainly an honor to be asked to provide remarks on the NPT in its 50th year since the NPT was opened for signature. Now as then the NPT remains the cornerstone of the nuclear nonproliferation regime, providing the international legal framework to constrain and deny those who seek to engage in the proliferation of nuclear weapons.
However, the NPT and the broader nuclear nonproliferation regime, as the other proliferation regimes, face acute challenges today. So, as the president states in his letter introducing the National Security Strategy, the world is filled with a wide range of threats that have intensified in recent years. The danger from hostile state and non-state actors who are trying to acquire nuclear, chemical, radiological and biological weapons is increasing despite our best efforts.
North Korea's illicit nuclear and ballistic missile programs are a great threat to global security and pose severe challenges to the nonproliferation regime we hold dear. These programs are also in direct opposition to multiple UN Security Council resolutions. And if we are not effective in our efforts to return North Korea to the nonproliferation regime, additional regional and global threats may emerge.
Iran retains the ability to produce weapons-grade uranium for use in nuclear weapon should they decide to do so. Combined with Iran's ongoing missile program, this situation remains a serious concern for the United States and for the international community.
And as Tom noted, I've spent a lot of time recently focused on the Syrian regime and its unfortunate and historic thwarting of nonproliferation regimes across the board. For this discussion, I'd note that Syria was found in non-compliance with its IAEA obligations in 2011. In the seven years since, the Syrian regime has made no effort to engage the IAEA to remedy its non-compliance or address international concerns despite the clear evidence in front of us.
We should be using our collective leverage to bring these clear violators back into compliance. While they thumb their noses at the nonproliferation architecture we have built threatening regional security, how can we say that the conditions are ripe for the disarmament? We've asked for the help of those across the globe to hold North Korea, Iran, and Syria accountable for their threats to the nonproliferation regime. If states care as much as we do about the viability of the nonproliferation regime, why will they not stand with us in its defense?
These are the real-world security issues that demand from all states parties a real-world response. How can NPT states parties find additional ways to work together to overcome these challenges and why has it been so hard? That I think is the heart of our work over the next two years in the buildup to the 2020 NPT Review Conference. If we can work together on the "here and now," we can shape the future and the important ways we need to make all the elements of the NPT a reality.
We have much in common and we should build on those principles. For our part, the United States remains strongly committed to nuclear nonproliferation. We continue to abide by our obligations under the NPT and we continue active work to strengthen the NPT regime.
The International Atomic Energy Agency and the International Safeguard System are critical partners in this effort, ensuring that there's durable progress on nonproliferation and offering a path to further negotiations and nuclear disarmament.
The straightforward answer to the "how do we work together" question to us is to find and focus on common interests. We continue to welcome partnership with NPT states parties to reestablish the central role of nonproliferation in the NPT. An effective nonproliferation regime is key to establishing the conditions for further progress on disarmament and for expanding access to the peaceful uses of nuclear energy that so many states hold dear.
We continue to welcome partnership with NPT states parties to focus on those real-world security issues I already noted. We were encouraged to see near-universal condemnation of North Korea's nuclear testing and ballistic missile development at the 2017 NPT Prep Com. We will urge all countries to continue the global maximum pressure campaign against North Korea including the full implementation of UN Security Council resolutions until North Korea denuclearizes. If we abandon pressure too early, we risk undermining what is truly a historic opportunity.
We continue to welcome partnership on disarmament, but it must be addressed as a real-world policy problem. International security conditions at the moment are not conducive for further reductions. We all need to think hard about measures that would be most effective in creating those conditions that would be more fitting for nuclear disarmament.
We continue to welcome partnership in promoting the additional protocol as the de facto standard for verifying states are meeting their NPT safeguards obligations. And we continue to welcome partnership in the peaceful uses of nuclear energy under sound nonproliferation conditions.
Look for the United States to discuss each of these priorities in further detail in next week's Prep Com and I'm pleased that our delegation will be led by Assistant Secretary Chris Ford, with whom not too long ago I worked extremely closely.
I'll also make just one mention of what won't work, and that's unrealistic agendas pursued by those focused almost exclusively on single issues such as nuclear disarmament or specific regional concerns. We all have a shared interest in strengthening the treaty and we need to discuss the treaty in all of its aspects.
Finally, I was asked to comment on how we can avoid an acceleration of global nuclear arms competition. The United States remains concerned by the growth of nuclear stockpiles and capabilities by NPT and non-NPT states parties alike. And we continue to encourage all states with nuclear weapons to exercise restraint regarding nuclear and missile capabilities.
We will continue to work to minimize the number of nuclear on states including by maintaining credible U.S.-extended deterrence and assurance. And we will deny terrorist organizations access to nuclear weapons, materials, and expertise and strictly control weapons-usable material related technology and expertise.
Despite the difficult security environment, the United States for its part remains open to engaging in arms control and disarmament talks including with Russia and China that advance U.S., allied, and partner security in a verifiable and enforceable.
And as many of you may know, Russia postponed the second round of strategic stability talks, which we had hoped to have in March. As the world's two largest nuclear powers, we have a special responsibility to maintain a stable, strategic relationship and reduce nuclear risks.
We continue to seek to reestablish the conditions necessary for greater trust with Russia and improve transparency with China as it expands and modernizes its own nuclear forces. One idea for practical step. I would note that not all nuclear possessors have established a moratorium on the production of fissile material. I'd like to encourage all states that have not yet done so to declare and maintain moratoria on the production of fissile material for use in nuclear weapons, which is a key step in nonproliferation.
And, of course, I'd be remiss not to come back to North Korea. We welcome the recent developments indicating North Korea's willingness to engage in talks and denuclearization. Our ongoing pressure campaign is clearly having an impact. And we like to remain hopeful that we will be able to make progress in the upcoming summit.
We have a tremendous opportunity upcoming. We're cautiously, as I said, optimistic that North Korea does understand that there's a different path available. As the president has said, there's a brighter path for North Korea if it chooses denuclearization.
So, I'd leave it there for now. Thank you so much for the opportunity to be here today and I look forward to your questions.
(APPLAUSE)
COUNTRYMAN: Great. Thank you.
So, if the audience will allow me, I'll do one quick question to each of the panelists and then we'll open up the floor.
Since the Middle East nuclear-weapons-free zone has been mentioned a couple of times and since I've wasted—spent—five years of my life on that effort, I would just make a very quick comment which is that the co-conveners never succeeded in convincing the parties, the states of the Middle East, to take ownership of the process. It was one delegated to the co-conveners and there has not been then or now an interest in states taking initiatives anywhere other than at NPT conferences to do something about it to move the process forward.
I confidently predict, and this leads to my question to you, Dell, that if there's not a change in the procedures including the habits of cooperation at the 2020 Review Conference, you will have exactly the same result at the 2015 conference, a breakdown over a single issue that is deliberately held until the final 24 hours of the conference.
So, Lew, what are the actual prospects for accomplishing what you mentioned, which is a different mode of working, a different habit of cooperation between now and 2020?
DUNN: I think, Tom, the prospects for reaching a different mode of working on the nuclear disarmament issues, on the risk reduction issues, on the nonproliferation issues in which the parties try to work together and try to identify where they have common interests and where they can make progress, I think those prospects—I'm an optimist. I think that those prospects are relatively good. I think those prospects are relatively good because I think ultimately the group of parties who are in the NPT will come to the conclusion the way I like to put it. It's not like the movie "Casablanca" in which Rick says to Ilsa at the end of the meeting, "Well, we lost Paris, but we now have Paris and we'll always have Paris."
It's not like we'll always have the NPT. The NPT is something that actually could begin to erode, which will not serve the interest of any of the parties. And I think there's a possibility that you'll have this recognition amongst all the parties that, "Look, we need to work together." And I think there are enough places where they do have common interest.
So, the one area where I do believe there's a common interest amongst the nuclear weapon states and the non-nuclear weapon states is to reduce the risk that these weapons might ever be used again. And to come to some sort of reaffirmation of the fact that you cannot win a nuclear war and it should never be fought, to try to come to some affirmation of "let's come back to ask for some specific measures which could reduce this risk."
It's in the interest of the nuclear weapon states because if nuclear weapons are ever used again, it's quite likely that the nuclear weapon states are going to be the first victims of it, setting aside India and Pakistan. But there are other scenarios which deal with the Russians and the United States, the Chinese and United States, whatever, and I think that applies.
So, on the Middle East issue though, I just can't see a way forward and the question is whether you can find a different way, or the question is whether the group of Arab countries that have pressed this issue so hard decide that they have other interest in the NPT which are more important than bringing the house down over the Middle East issue. So, I remain optimistic that the parties will want to work together.
COUNTRYMAN: Yes. Thank you.
Dell, Lew suggested that while the RevCon has to recognize the reality of the new Prohibition Treaty, it can't become obsessed with debating the Prohibition Treaty in the Review Conference. Do you think that's correct and do you think that feasible? And as part of that, is it possible to restrain the most vigorous advocates of the Prohibition Treaty from injecting this into every part of the discussion?
HIGGIE: I definitely think so, Tom. When Lew said that it will be important that the non-nuclear weapon states, the supporters of the Prohibition Treaty, don't turn the 2020 conference into a referendum on the Prohibition Treaty, I sat back thinking, well, I'm not really nervous and fearful of that at all. I don't think it will happen.
I am rather alarmed that there is a prospect that it is some of the nuclear weapon states or all maybe of the nuclear weapon states who will themselves be so preoccupied with the Prohibition Treaty that they actually overly focused on it.
There's been some suggestion that maybe the nuclear weapon states are still in punishment mode. And if that's the dominant emotion that nuclear weapon states have toward the treaty, and they see the NPT Review Conference process as an opportunity to make clear how angry or vengeful they might be about the Prohibition Treaty, in fact, maybe the greater risk is in their attitude, I think that non-nuclear weapon states, Prohibition Treaty supporters, because we all support the NPT, I think that we will have a very balanced approach. And I don't think that we are going to turn the NPT Review Conference into a discussion opportunity for the Prohibition Treaty.
COUNTRYMAN: Well, thank you.
Andrea, under the pressure of these bright lights, I withdraw my promise to be kind. I'd like to talk for a moment not so much about interests but a little bit about language, about rhetoric. And building on what Dell just said about the focus of some of the nuclear weapon states on the Prohibition Treaty, what I've observed, and perhaps I haven't observed closely enough, is that over the last year it is harder and harder to distinguish between Russian and American rhetoric at international gatherings in critiquing the advocates of the Prohibition Treaty as naïve or counterproductive. That concerns me, and I'm wondering if it will change.
In addition, I think as we look forward to 2020, some who may be familiar with the 2005 RevCon are concerned about the influence of John Bolton, now the National Security Advisor. And I think many of us are also concerned about the fact that the current U.S. statement as you've given it again is about the importance of doing nonproliferation and peaceful uses cooperation now and doing disarmament later, that there is no active U.S. proposal to move forward on disarmament in the coming time. Should we expect that rhetoric to continue? Is there a concern about how that affects U.S. influence with other NPT parties?
HALL: So, not only did you renege on our bargain…
COUNTRYMAN: Yes.
HALL: … at least three questions, so let's see if I get them all in sequence here. On the question of whether the nuclear weapon states are going to be overly focused on the Ban Treaty and the difficulty in distinguishing between U.S. and Russian views, I would say, first of all, you've all been asking for us to find issues of common interest with Russia. But instead of making light of that, I think it shows how strongly the nuclear weapon states feel that the Ban Treaty is not helpful period, and could distract from the NPT itself and then the meetings surrounding the NPT.
I will say that our goal for the Prep Com is not to focus on the Ban Treaty. We would love it if the Ban Treaty didn't come up frankly because we think it's a distraction from the issues we have to grapple with.
And so, I think you will continue to get responses and rhetoric at points from across the nuclear weapon states in response to what they perceive is rhetoric and challenges from those who are challenging back at them. And I do think that you'll continue to see similar views from Russia and the United States on this, although I would hope that the way we deliver those views might be slightly different. But I think we do have a lot of commonality on this topic and not just with Russia but with the other P5 states.
In terms of the 2005 Rev Con and our new National Security Advisor, I will tell you that he is taking on information faster than any human being I've ever seen, straight up. And he is walking back through the issues and very clearly walking through where he last left them last time he was in government and walking back through where we are now and carefully considering where we need to go from here, and that is a very considered conversation.
He's an extremely smart individual with the president's confidence who knows these issues very well. So, I think it's too early to tell what his updated views will be, but I know that he is going through them in an extremely careful and considered manner. He has a lot on his plate. Remember that day one our first meeting was on Syria and CW and that was a very long meeting for the National Security Advisor among others.
And as he enters the White House, we have a lot of high-pressure short fuse issues on his plate and I know that he will turn to this one, he will think about this one and we will soon have a really engaged conversation about how all these issues work together.
I will tell you that he, like those before him, believe that arms control, when in the U.S. interest, remains an important pillar of strategic stability. The question is, given where we are on multiple arms control treaties and Russia's violations, how do we get back to that process. And Russia's unwillingness to actually meet and have strategic stability talks is indefinitely making it harder, but that's not for a lack of interest on the U.S. side of getting there.
In terms of a current statement and rhetoric on peaceful uses now and disarmament later, I think I would make two points. The first is these are both important parts of the nonproliferation treaty and if we don't focus on nuclear material security, on trying to reduce the increasing stockpiles of fissile material in certain countries, reduce the pursuit of destabilizing weapons in those countries, getting to disarmament will be far more difficult not just for us.
But what kind of world do we live in if the P5 disarm and we're left with nuclear arsenals in countries where there are overlaps with terrorism? To me, that's a world far, far more frightening than the one we live in today and one I'm really committed to working hard to protect against.
But I don't see—it's not an "if-then," it's we remain committed to the long-term principle of disarmament, but we have to get to a place where that's a more stable world than it would be today with an armed North Korea, with terrorists having the potential for acquiring the capabilities they would need. We need to keep these weapons out of the hands of those who would use them and that means we have to be pursuing the nonproliferation treaty in all of its aspects at the same because all of those principles are important.
COUNTRYMAN: OK. Thank you, Andrea. I do appreciate sincerely your assurances. Thank you.
We have about 25 minutes for questions from the audience. And so, we have Liz and Ryan and Sidra who have microphones. Why don't we start in the center here with Michael and then we'll go to the back and then come to the front with John.
Yes, Ryan, if you—right behind you.
QUESTION: Thank you. Is this working?
COUNTRYMAN: Yes.
QUESTION: Good. Thank you all for a useful presentation. I came down from teaching today. I canceled my class because I want to come back and bring this material to my students, and I think one of the—a class on American foreign policy. And one question I have is on Iran.
And, Ms. Hall, you mentioned it briefly and I know there are things you can't say, but could you tell me what I could bring back? We're studying the Iranian situation. What do you think is the likelihood of some kind of positive outcome, or is there none or what are the options that you foresee with respect to the Joint Comprehensive Plan of Action?
COUNTRYMAN: OK. Let's gather three questions and give the three of you a chance to gather your thoughts and pick one in the back right there.
And then, Liz, if you give this to Jon.
QUESTION: I'm Yong Sup Han from Korea, South Korean arms controller. I have a problem nowadays in the United States and in the world welcoming the North Korean prodigal son coming from nuclear to denuclearize. And as an older South Korean son who has a face toward denuclearization and if you say denuclearization of North Korea, it failed three times in denuclearization three months ago Korean peninsula and (inaudible) framework and also six-party talks denuclearize. If you look at most Korean interpretation of what denuclearization in the previous three agreements, they all say shut down and freezing and sealing and disabling into shutdown in North Korean newspapers. So, don't use denuclearization again. Please use a verifiable dismantlement of the nuclear weapons of North Korea.
COUNTRYMAN: OK.
QUESTION: Yes.
COUNTRYMAN: Thank you.
Jon, and then we'll go to questions. And if you can pass the microphones to three more people here. Go ahead, Jon.
QUESTION: Jon Wolfsthal at the Nuclear Crisis Group. I'm thrilled to take the mic because I went to quit a job with Lew to take a job at the Arms Control Association after an annual meeting at the ACA so…
DUNN: Welcome back.
QUESTION: I hope my current boss isn't here. I'll get nervous.
Andrea, I want to give you a chance to dust off and practice the talking points on a couple of issues. The one is, if you can today, whether the treaty has established a position in New START and whether we will seek extension. If you can't reveal it today, can you at least tell us whether that will be something that will be rolled out at the NPT one way or another because there's great interest in that particularly given the concern about that Lew described, the prospect of an unbridled unilateral competition?
And the second is maybe to put a finer point on the first question. I think one of the challenges will be for the United States, a desire to ensure that everybody is implementing their obligation broadly defined in the NPT. How do you propose to square that rhetorically with the president's statement that he's prepared to leave the JCPOA even though all the parties are abiding by their obligations? There has to be some coherent explanation for that. I want to give you a chance to try to roll that out and field test it.
COUNTRYMAN: Oh, Andrea, we'll turn to you first to cover in 45 seconds the simple topics, JCPOA, North Korea and New START. And then I'll ask Lew and Dell if they want to add comments. Andrea?
HALL: Yes. So, I don't have any new announcement on JCPOA. The president has committed to work closely with the European allies. We've been engaged in working closely with the European allies to try to fix what he and the administration believed are serious flaws in the agreement as it stands. The president's committed to not ending up in a decade with the same nuclear threat that we were worried about that led the last administration to the agreement.
So, for now, we're continuing to work with the E3 very closely. We're continuing to think about how do we get the assurances we need on Iranian ballistic missiles and Iran's nuclear program longer term. And the president's made very clear that if we can't get to that deal, he's willing to withdraw from the JCPOA and put additional pressure on them to make sure that we've denied Iran all paths to a nuclear weapon and they don't build a ballistic missile program that threatens the United States and our allies.
So, that's where we are. We have a countdown clock. We know how many days we have left until we get to May 12 and we're working really aggressively to make sure that all parties understand that we're serious about making sure that Iran does not pose a threat to the United States now or in the future. So, that's where we are on JCPOA.
On North Korea denuclearization, I've heard that point before, in fact, from folks from the Republic of Korea as well. We will certainly take that under advisement. I will say when you compare the approach now to the approaches in the past negotiation cycles that the president has made it very clear that we won't fall prey to what happened in the past while we gave North Korea carrots to get to those really important steps under verifiable disarmament.
The president has made 100 percent clear in the call to the allies and partners that we have to keep the pressure on North Korea so it cannot take the opportunity of these talks to take advantage of reduced pressure, all right? And so that's the president's very clear mandate to us is to make sure that we're working in the right direction with partners and allies and we have a strong, as you know, very strong work with the partners and allies in the region and beyond to make sure that we can keep that pressure on to support the president's objectives of reducing the threat from North Korea.
On New START extension, right now we have not gotten to a new position on New START extension. We, of course, remain committed to the treaty. We met the central limits and feel very strongly that we met the central limits in February and are willing to continue to talk with Russia about the future of that treaty. But I don't have anything, and they won't next week have anything more to announce on that, because I think we're still waiting to continue engagement with Russia on that.
And then by a great opportunity for rolling out a new policy on camera, which is much appreciated, John.
Yes, yes, yes. I mean, we heard that criticism a lot which is "how does what happens in one treaty space matter for another treaty space," and certainly I understand that criticism and that question. I think what we have are fundamentally different kinds of treaties and I think the disarmament question and debates over the U.S. position there aside, I think the United States has remained firmly committed administration after administration to nonproliferation, right?
I think we are leading in this. I think we are pushing for the signing of the additional protocol which the Ban Treaty doesn't do. We are pushing to ensure that technologies that might lead the proliferation are stemmed and not pursued. I know we get criticism for these things, but a huge part of my job is focused on those very aspects. It's about materials control, nuclear security, all of those things that are critical, building alliances across the globe to make sure that terrorists can't get nuclear weapons, that states don't lose nuclear weapons and states aren't pursuing the nuclear weapons that are destabilizing.
And so, I would say while we clearly have some things to work through at the NPT Prep Com because we do have different opinions with other states party to the treaty, I think our commitment to the elements of that treaty really is unquestioned. It's maybe a question of timing, but I don't think it's a question of commitment.
And I think the longevity of that commitment and demonstration in our current activities supporting it put us in a very different place with the NPT than the JCPOA, which is a recent deal with limited prohibitions on activities that as soon as they can open back up present a new threat to the United States.
And so, I think they're apples and oranges and so I would caution folks to each of those treaties and each of those considerations on their merits. And we're happy to continue to discuss them and why we think they're different, but that would be my answer to you, John.
WOLFSTHAL: Thank you.
COUNTRYMAN: Dell or Lew, any comment on these questions or the answers?
DUNN: I need to comment on Dell's point, if I may.
COUNTRYMAN: Go ahead, please.
DUNN: I think, Dell, that your point that the nuclear weapon states may be the ones that turn 2020 into debate over the Prohibition Treaty is an important point. And I think that that has to be acknowledged as a potential risk. And I think that the inclination to do so probably varies across the NPT nuclear weapon states. And I think it brings us back to the most fundamental questions that I think that particularly the United States and Russia, but not only the United States and Russia, but the United States, Russia, and France, need to ask which is whether it is in their interest in terms of however they define those interests in terms of nonproliferation peaceful uses, whatever, whether it's in their interest to have another breakdown in 2020.
The institutional memory is likely to go down the path of it does not matter if there is another breakdown. All that matters is we go to the Review Conference and we have a full discussion. It doesn't matter if there's no agreement. I wrote those talking points in 1983 and my bet is they're still in a file cabinet somewhere.
HIGGIE: (inaudible).
DUNN: You may. But I think that the officials in these three countries need to ask themselves whether 2020 is going to be fundamentally different than a whole bunch of all these other Review Conferences where it didn't really matter in a fundamental way. I think that's the question that had to be debated internally. And I think 2020 will be different not only because it's 75 years after the use of nuclear weapons, 50 years after the treaty entered into force, 25 years after its indefinite extension and it's after the Prohibition Treaty. There's just a lot of reasons would just suggest that these three countries, in particular, have a much bigger stake in being prepared to bend more and trying to avoid a situation in which everybody gets into a big debate about the Prohibition Treaty. And I think there is a way in which we can all agree to disagree on the Prohibition Treaty. We give its place in history, but we don't make it a central piece. I just wanted to comment, I think you're right.
COUNTRYMAN: Thank you.
Dell, any?
HIGGIE: Yes.
COUNTRYMAN: OK. We're going to do three more questions, one at the back right there. I know there's one behind you, has a mic. No, you're good.
UNKNOWN: We're good. OK.
COUNTRYMAN: Then one here and then right in the center, you're third.
QUESTION: Yes. Jim Slattery. I have a follow-up question for Ms. Hall and JCPOA. I'm just curious. Can you help us understand the thinking of those around the NSC who are advocating for walking away from the JCPOA on two points? One, do they believe doing so will encourage the North Koreans to sign some kind of an agreement to denuclearize the Korean peninsula the day after we walk away from the JCPOA?
And the second part of this question is do these people honestly believe that the day after we walk away from the JCPOA, U.S. and Israeli national security interests are improved? Are we safer the day after we do this or not especially in light of people like Ehud Barak who are now clearly saying that as long as Iran is complying with the JCPOA, Iran is not an existential threat to Israel? So, just if you can provide any insight on that. Thank you.
COUNTRYMAN: Right. Here near the front, please?
QUESTION: Veronica Cartier, I'm in a think tank for nuclear policy. It is the realization of arms race that we're talking about and I would like to press that the confidence for NPT successful is about equal with the NPT crisis. And I would like to bring one issue, as based on the United Nation Disarmament Commission has pledged practical implementation of transparency and confidence-building measures in outer space activities. So, I think outer space activities also have to be included in NPT discussion because of its influences for the arms race and modernization technology. Thank you.
COUNTRYMAN: OK.
QUESTION: I'm Sangmin Lee from the Radio Free Asia. So, I have a question.
COUNTRYMAN: I'm sorry. Who's talking?
QUESTION: Me.
COUNTRYMAN: Oh, OK.
QUESTION: Yes. I'm Sangmin Lee from the Radio Free Asia. I have a question for Ms. Hall. I think you must be busy preparing the summit between North Korea and the U.S. coming maybe June. I have a question about the possibility to withdraw U.S. troops in South Korea as a negotiating card when the summit is held. So, what is your position on the possibility to withdraw the U.S. troops in South Korea as a negotiation deal when you meet those Koreans?
COUNTRYMAN: Yes. Could you repeat the last sentence of the question?
QUESTION: The question is about the position about the possibility of withdrawal of U.S. troops in South Korea as a negotiation deal when President Trump meets President Kim Jong Un.
COUNTRYMAN: OK. And we're going to do a fourth question as you formulate your replies.
QUESTION: I'm Kathy Crandall-Robinson with Tri-Valley CAREs, which is a watchdog group that works around Lawrence Livermore Laboratory. And I want to ask a question about the Comprehensive Nuclear-Test-Ban Treaty and how it relates to the NPT. The treaty is languishing. Is there any hope of progress towards entry into force, is that important to the NPT in 2020? And the reverse case if we see backward steps and a resumption of nuclear testing, more broadly a breakout, how dangerous is that for the NPT?
COUNTRYMAN: OK. So, let's do some answers. One of these questions was very specific and that was the connection of outer space to the NPT. And I wonder while Andrea, as usual, got a lot of these questions, Dell, do you have a view on this or an answer to a very specific technical question?
HIGGIE: Well, outer space issues have been contentious for quite some time now and I'm sure many of you have tracked the discussions and the resolutions on this on the first committee each year. It's also on the agenda for the conference on disarmament even although as we all know, the CD gets nowhere on anything.
I don't see that outer space has been a core element of the discussion in Prep Coms or in Review Conferences. And I guess to be brutally honest, I see the going is difficult and tough enough without bringing in that issue there. Maybe it's just I haven't noticed that it's been under discussion, but it's certainly not been something that I focused on during the preparatory process.
Was that enough on that, Tom?
COUNTRYMAN: I think so. It's a question I've never thought about before. So, yes, thank you for raising it.
Andrea?
HALL: OK. So, I'll start there which is that I, too, haven't thought about it very much in that context and I don't do space policy at the White House so I'm not one to freelance today. But I'll definitely take back your comment to my colleagues who do that and it's worth some thought and discussion beyond I think what I can provide to you today.
In terms of the first two JCPOA-related questions, I think on the first I have to defer for now because when I talk about my—I reported to the Homeland Security advisor and the National Security Advisor, both of which have left in the last little bit and so I'm not going to freelance on what his current positions are, my new boss' current positions are on the first, but I certainly understand and take note of the issue.
On the second on U.S. really interest on whether they're better the day after, I can tell you that the president wouldn't have the position that he will withdraw from the deal on May 12th if we can't close the gaps in it for our security if he was not convinced that our security would be better. What drove him to this decision is his conviction that U.S. security under those circumstances is better outside the deal. And, of course, we talk often with the Israelis about our positions, so I would say, yes, he does believe straight up that our national security interests are better served.
On the DPRK summit, well, I am responsible and contributing the one significant part of the pieces there. It's our North Korea folks who are still building with the administration the context of that summit and so, again, I'm not going to stray off my particular lane in the road.
In CTBT, I'll make some initial comments on would really welcome the views of both Lew and Dell on it. Our position right now is that all states should be having a unilateral moratorium against nuclear testing. I do think if we really felt it was vital to our national interest to test in a limited way, just assure the sustainability and security of our stockpile that was necessary for our nuclear deterrence, that is the situation under which we would consider testing.
But our hope is that all sign up to a moratorium. We believe right now we can get to a stable, secure nuclear deterrent without testing and so that's why we abide by the moratorium and would call on other states to do the same.
I certainly think that if we see a lot of states and especially states not currently nuclear weapon states testing we certainly have an issue. But it's in nobody's interest first or the security of our nuclear deterrent to be questioned. And that is, of course, why our nuclear posture review does include a modernization of the nuclear force to some degree, not increasing in numbers when making sure that it's stable, it's credible and it's able to protect U.S. interests and the interests of our allies to which we provide an extended deterrent as well.
Thoughts on the CTBT front?
COUNTRYMAN: Lew, did you want to comment on CTBT or anything else or Dell?
HIGGIE: I'd like on the CTBT let Lew…
DUNN: No, go ahead, Dell.
HIGGIE: OK. So, I agree completely with what I think is probably the underlying premise of the question that moratoria are all very well and good, but they can be situationally based. And if you really intend upon giving strength to the norm against nuclear testing, there's no substitute I think for the entry in force of the CTBT.
Certainly, New Zealand which has supported this treaty for a long time now, we feel that it gives us an absolutely waterproof position from which to denounce North Korea's activities on testing. I think that it's a little bit harder maybe to denounce what any other country does in terms of testing if you don't yourself commit to the legal requirement not to do so. I hear what Andrea has just said. But we remain a strong advocate for the CTBT.
I heard some comments before we started today about idealism and so I'm going to take off my idealistic hat maybe and be realistic. I don't see the CTBT as entering into force I should say for the foreseeable period ahead, but, hey, what's going to change. I don't see it entering into force for a long, long time because there's no suggestion that any of the seven countries whose ratification we have to hit before it can become operational, I don't see anything.
I wish I heard differently from one of them, but that's, let's not say it's dead. I mean, the international monetary system is up and running and working very effectively and for all I can tell, people remain committed to funding it, but I don't think. I'm sad to say it, I don't see much prospect of the treaty's entry into force although I think it is the best and only durable way for really ensuring the universal norm against nuclear testing.
COUNTRYMAN: Lew, any brief comment?
OK. We need to wrap it up. I'm going to throw one more question at you, Andrea, which you're not obligated to answer now because we have…
HIGGIE: (inaudible).
COUNTRYMAN: No, no, no.
HALL: Thank you, Dell.
COUNTRYMAN: It is not a rhetorical...
(Off-mike)
COUNTRYMAN: … not a rhetorical question and we have this afternoon Anita Friedt so feel free to force her to answer the question.
HALL: Sounds like a great proposition.
COUNTRYMAN: But the question is, I like the phrase "verifiable and enforceable arms control agreements." Which arms control agreements does the United States government consider to be enforceable upon the United States?
HALL: So, I think you're right that Anita is well-placed. To the woman who tries to answer that question, I encourage you to answer the question.
COUNTRYMAN: All right. I think her staff is going to prepare her. You want to do the logistics of next steps. Let's thank our panel.
Lunch Keynote Address
"Resolving the North Korean Nuclear Crisis"
Governor Bill Richardson, former U.S. Secretary of Energy and Ambassador to the United Nations
Moderated by Carol Morello, diplomatic correspondent, The Washington Post
COUNTRYMAN: I have the very great honor today to introduce the person on the program who has the longest title. This is Congressman Ambassador Secretary Governor Bill Richardson. I'm very happy that I had the opportunity to work directly for Ambassador Bill Richardson when he came to New York in January of 1997. And I remember very well that the first time I got to write a memo for him and take notes for him for this brand new ambassador was an evening meeting we had with the brand new Prime Minister of Israel, Bibi Netanyahu. And one day I'll release those notes.
What I learned from Bill Richardson in the rather short time I worked for him but in following his career ever after as he met with such desirables as Mabuto Sese Seko or Kim Jong-il is that straight talk will get you a long way, whether you're talking to voters or diplomats or dictators or your own employees. And we asked him here today for some straight talk about the situation with North Korea. And after he's done he'll sit down with another fine friend, Carol Morello of The Washington Post, for a conversation about North Korea.
Governor, it's your turn.
(APPLAUSE)
RICHARDSON: I noticed that Tom Countryman didn't mention my very brief presidential run. Joe Biden was in the race, too, and frequently I see him and he's always commenting on my weight or my unruly hair. And I said, "Joe, in Iowa, I beat you in Iowa." And he says, "But I'm vice-president."
Anyway, I want to just thank the Arms Control Association and Daryl and Carol and all of you. This is a very sophisticated audience, so I'm going to try to hopefully be very factual, straight talk. Tom Countryman, I remember a young guy, he was the chief political officer. All the women were after him. He was a substantive political guy on the Security Council and he was enormously effective and he's had a great career, but I hadn't seen him since.
I also want to introduce Mickey Bergman, who runs my foundation, the Richardson Center. He's one of the last people besides the CIA director to be in North Korea, so Mickey Bergman.
I want to just put out some absolutes as much as I know because the situation in North Korea, the summit is so fluid, so many things are happening every tweet, every five minutes, every day. And I was talking to Carol about this, the pace is dizzying. But here's what. the take that I have and I'm only going to go for about 10 minutes and then Carol and I will have a dialogue and maybe some questions from you.
One, the summit President Trump… I was going to say Kim Dae-jung. I remember Kim Dae-jung, Sunshine Policy. And one of the first things I want to say is that enormous credit needs to go to the government of South Korea for this summit. for President Moon for I think a mood… I know President Trump takes a lot of credit. I told Daryl I wasn't going to be very partisan and I won't, because the only Democrats here are myself and that guy in the kitchen. No, I'm kidding.
But I'd like to say that that is one very strong reason why these developments are so positive, President Moon, the Olympics, soft power. I remember the days in China, ping-pong diplomacy. That's absolute number one.
Number two, the summit. The president meeting with the North Korean leader, good, important, impressive, but with a lot of risks. And if the summit doesn't succeed, the problem is going to be not a return to the status quo where there was enormous tension, but probably worse.
Now, my concern is that we, the United States, be prepared, that the president be prepared. I worry sometimes that he's not very prepared. The North Koreans I've negotiated with, I've been there eight times, they're disciplined, they're prepared, they are very inflexible, they are unpredictable, they're very formal. When you negotiate with them, as you know with many policy-makers here, they have their talking points. They vent. They're hostile. They want you to listen to them, to show respect then you respond back and then maybe you make a deal with them on a detainee, on an issue relating to food on the sidelines. It's always informal. They never make it at the negotiating table.
But the idea of North Korea negotiating, their idea is not a quid pro quo. For us, the quid pro quo, compromise. For the North Koreans, they feel that they have the divine right, call to personality. The father, Kim Il-sung, Kim Jong-il, the leader today, what they say is sacrosanct. Their idea of a concession is they'll wait a few months until you arrive to their position. That's their idea of a concession. And the danger with this summit is that somehow denuclearization means different things to both countries and that is the danger. That is the danger.
The worry that I have to some here in D.C., the denuclearization of the Korean peninsula makes Kim handing over his missile systems, his nuclear weapons, allowing inspections to check that the regime is keeping its word. To the North Koreans, it means mutual steps to get rid of nuclear weapons including making sure requiring the U.S. to take down the nuclear umbrella with South Korea and Japan. The danger of this summit is unrealistic expectations. They are not going to hand the keys to their kingdom.
I believe nonetheless when it was announced, and I got denounced by some of my Democratic friends, I thought the president was taking a gamble, but it was the correct gamble. I had looked at the Korean peninsula the last few years, things couldn't be worse. Missiles, nuclear weapons pointing at South Korea, artillery, conventional weapons. So I felt that was a risk worth taking.
But now we need to be prepared and I think the signs are good. I am for this summit. I am for this meeting that the CIA director had with the North Korean leader. The CIA is back. They came in, no one detected Pompeo, did all this like the old Nixon days where he went… I see Congressman Slattery. We served in Congress together. But if we all recall, Henry Kissinger went to Beijing. Nobody knew he was there, from Pakistan. I don't know how Pompeo got there, but that's good. The CIA is doing things right again.
So I want to not go much longer except to say this. It seems that there's a new channel between the United States and North Korea. It's the intelligence channel. It's not the State Department. I regret that. I'm a big State Department diplomat person. The New York channel has served a good purpose with the Otto Warmbier case, the detainees. But it seems at the higher level the Intel people are the ones with Pompeo that have been talking about the summit, about human rights issues, so that's a change.
What else from this summit that I see? One, Kim Jong Un is in charge. I don't know if he has a nuclear negotiator. When we were working on North Korea, there was a guy named Kim Gae Geun, very, very strong guy. He was a nuclear person. Kim Jong-il deferred to him. With Kim Jong Un, he's the guy it seems. He I think having this meeting with Pompeo has paved the way for, I believe, a positive summit.
Everybody here understands politics. President Trump has invested an awful lot in this summit, so has Kim Jong Un. The summit has to produce some results. I think what we need to do is have the expectations manageable.
I'll conclude with what I think are some of the realistic expectations, one, the return of the three Americans. I think that'll be a deliverable that would happen at the summit. Two, possibly something that's a very important cause for me, the remains of our soldiers from the Korean War. I brought seven remains back as an envoy for President Bush in 2007. There are a lot of families out there that want to see these remains come home. Hopefully, some South Korean North Korean family reunification human rights movements that are doable and I hope that happens.
Then on the nuclear side, I think we've got to set up a process, a process of negotiation that I saw a timeline of 2020, I think that may be a bit unrealistic, but some kind of a process that involves a freeze, a curtailing of nuclear weapons, of missiles. And North Koreans are going to want some kind of end to the armistice or an end of the armistice or want to have sanctions reduced, lifted.
I think sanctions have been working and I give credit to China. You know, everybody says China is not serious. I think they're serious this time. I don't know why, we have a lot of China experts here, but I think they have been serious.
I will also conclude with something that I am not sure of. I think Kim-Jong-un has an end game. I don't know what it is. I think he is a rational actor that has been underestimated. I mean, look, I worry about the Gulag, the human rights violations, the starving people. But I think in the end he wants something of acceptability in the international community and he always… whenever I went to North Korea they'd say, "We want to negotiate with you, with the United States. We're the big guys in the region." I said, "Well, what about China? What about…" "Oh, no, no, we're the major powers." They got that. That's why it's so important for this summit to succeed.
Anyway, Daryl, have I gone too long?
(APPLAUSE)
RICHARDSON: That means yes, right? OK. All right. Thank you, all, very much.
MORELLO: Governor, thank you very much. So much has happened recently. It's kind of hard to know where to begin, but let me ask a little bit about what has changed. Kim met with Mike Pompeo over Easter. Pompeo only a year ago was sort of hinting at regime change. Now, the South Koreans are saying that North Koreans are willing to accept the U.S. military presence on the peninsula contrary to all their public statements before. It seems like a remarkable turnaround, so on both parts really.
So I want to ask you, given how far advanced the North Korean weapons program is, what has changed that this all would be happening now? Is it showing that the combination of hard-hitting sanctions and bellicose rhetoric was effective? Did that play a role? Why is this all happening now instead of a couple of years ago?
RICHARDSON: The first thing, Carol, that I want to just state about North Korea is you've got be very, very careful on what they mean when they say something, in other words, the details. I saw this report that says that the U.S. can keep a military presence of some kind. Well, what does that mean? Like military exercises, troops? I mean, there's always some flexibility that they've thrown out. They're very good at PR. I mean, they're very volatile. But you have to question exactly what they mean.
So what has changed? Well, I mentioned before I think the sanctions have been working. They have been working because I think it's 90 percent of all commerce goes into North Korea through China and I think China has been enforcing the border. When you cut and restrict coal and oil and foodstuffs and fish and North Korean workers that bring money in from China to North Korea, I think the sanctions have been biting.
Again, Kim Jong Un, what does he care the most about, staying in power like any politician. You stay in power. He doesn't want to get knocked off and he worries that somebody will try to knock him off, his regime, his family, his siege mentality that I think he has. So that has changed.
But then my last point is China I think has been moving in the right direction on the sanctions because they don't want a nuclear South Korea or a nuclear Japan, which has been threatened because of the intensive activity of North Korea's missile activities.
And I will close with another issue and that is that I think in the end Kim Jong Un is not like his father. With his father and his people, you could make a deal. "OK, you got to release this American, I want an American president to come and take him out." Jimmy Carter came, Bill Clinton came, James Clapper. And if it's a very low-level situation, Bill Richardson will go and I got a couple out that way.
But Kim Jong Un, I don't think he's a deal-maker, a rug-merchant type. I think there's something out there that he wants an end game and I don't know what it is totally. It could be a Marshall Plan. He may ask for a marshall, but you think that was expensive eventually in a deal. He might ask for just an end of sanctions, the armistice he'll ask for, a promise, a security promise. I don't know. I'm rambling.
MORELLO: Well, it seemed like only yesterday he was being characterized as an evil lunatic and now we get the impression that they are being eminently at least in their talks with the South Koreans. Do you get a sense there at some point where the rubber meets the road and there's going to be something they will ask for that the United States will be totally unable to give?
RICHARDSON: It's very possible. I think the summit of the South Koreans and the North Koreans is going to be very important because the South Koreans will be able to gauge what the North Koreans really want because of their enormous cultural ties and their proximity and their ability to sniff out what is the real agenda here.
So this is why I know that our people, and I'm not an insider with Trump, I don't think I am, but I have talked to White House people, the administration, I talk to the North Koreans more than I do the Trump administration, the North Korea, the channel in New York on humanitarian issues. I'm not into the remains, on what Mickey does with the detainees. So I believe, Carol, that that summit is going to give us a very strong indication.
And the only worry is I love the South Koreans, but sometimes they're a little optimistic about results. And I want them to… and Tom Countryman had a very valuable trip to South Korea recently. You may want to ask him his impressions. But I just think that unrealistic expectations of what both sides are going to do is my biggest worry.
And then I'm going to say something nice about the president. I think the risk that he's taking is the correct one. But I worry with his tweets, I worry with his flying off the handle, seat off the pants. In a way, Pompeo has reassured me with this visit that maybe there'll be structure. I don't know where they're going to meet.
I'm betting. Let me tell you what I'm betting on two sites, me, and I know nothing. One, I'm betting on Geneva, right? That's one. The second bet is one of the Russian islands. If Kim Jong Un doesn't take airplanes, he goes on this big rail truck, big rail car and he may end up in Russia, one of those little islands there. Actually, that's Mickey's idea.
MORELLO: Well, you mentioned you were concerned about preparations for the summit, how President Trump would have to prepare. What should the National Security team at the White House be doing to prepare him for this? Really should they, and is there a chance that we will see the three American detainees released before he sits down?
RICHARDSON: I don't think they'll be released before. I think they'll be released at the summit. The National Security Council, I've dealt with them on this issue, they had a very good guy as the deputy who I was working with, talking to anyway, named General Ricky Waddell. I read somewhere that they fired him. I don't know if that's the case.
Ricky, I read it. I didn't say this. But he was very competent. They've got a guy named Pottinger there that seems to know what he's doing. And the young woman that spoke to you, is she still here?
She is, OK. So at the State Department is what worries me and Countryman knows this. I love the State Department, but our diplomats were depleted when Tillerson was there. We have no ambassador in South Korea. By the way, Victor Cha would have been really good, really good. That guy knows everything and his Korean ancestry and knows diplomacy, nuclear stuff. I don't know what happened.
But the NSC has to be the coordinator. It's always been that, Carol, but this may be different with Pompeo. What I hope Pompeo does is he goes to State and relies on diplomats and not on his spies that he brings from CIA. Nothing wrong with being a spy, but my hope is that he gets respected and brings the State Department, our diplomats back because they're very demoralized right now.
MORELLO: You mentioned that you are a little concerned that if these talks fail it will be worse. So I wanted to ask you given that last night President Trump said he hopes they will be fruitful or he's just going to cancel them or walk away, what would fruitful look like and what would worse look like?
RICHARDSON: All right, what does fruitful look like? One, get the detainees back. Two, get some remains back. Three, a ban on chemical weapons to Syria. Four, nuclear and missile export bans or freezes. That's very important.
On the missile side, verification so that there's a freeze on their technology so Americans don't worry about a missile coming into the mainland, some way that we can reassure the Guams, Alaskas that they're going to be OK.
On the nuclear side, DI says they have 60 nuclear weapons. They've said it publicly. I always thought they had about 20. Are they going to curb their use? I hope so. Limit their use, freeze, end them, destroy them? I don't think so. So those are the achievables. The negative is for the president to throw a tantrum and leave and nothing is done. I don't think that will happen. A lot is riding in the success of this summit for the president for the Russia reason, domestic reasons, the investigation stuff. It's got to be a success.
And people have said to me also… I know John Bolton. He was ambassador to the UN like I was. And they said, "Oh, no, we're really worried. I mean, Bolton's going to… he wants to bomb them." I said, "Relax." Bolton has to ensure as National Security Council. His first job is that this summit be a success as a staff member. He can't inject. This has to be a success.
And there's something about Pompeo that is… I've never met him, I've never met him, that is intriguing. I mean, if he was first in his class at WestPoint, he's a Tea Party guy. I don't like that at all. But there's something intriguing. I love this penetration into North Korea, this summit thing. It's like the old days, Carol, Kissinger and going in the…
MORELLO: Yes, I remember those, unfortunately.
President Moon said this evening that the North Koreans are basically seeking an end to hostile policies and guarantees of security. How do you think U.S. policy on North Korea should evolve? And what does it mean to guarantee security to one of the, if not the, most repressive governments mankind has ever known?
RICHARDSON: Well, they've always wanted, the North Koreans, an end, the 1953 armistice where technically they feel we're still at war and so they want an end to that. They want to document. But what is also important to them there is part of that armistice involves our troops in South Korea. So I think there's some room there where there can be some… I don't want our troops to leave South Korea, that shouldn't happen, but maybe exercises, maybe some kind of military realignment that protects both sides, protects South Korea. We've got 30,000 troops there. I want our troops protected. I want the 25 million South Koreans in the Seoul area protected.
And in Japan, too, I mean, Japan, we've got 50,000 troops. I mean, Abe came to Mar-a-Lago because of several reasons. One, he was mad about the steel tariffs. Two, he feels that the South Koreans have made him not look too good. South Korea did this deal with the summit. They kind of felt that they were outside, Japan, but they're a great ally.
And I'm a free-trader, I'm for the TPP. Now, the president wants to get back in, but then he was… I was doing a TV show, now he says, no, he doesn't want to go in. I mean, like every day he's something different. That's my worry on the summit that the president somehow is going to say something like, "Oh, I'm going to walk out of the summit if it isn't good." This after Pompeo is received by Kim Jong Un. If I'm Kim Jong Un I'm saying, "Wait a minute, I thought things are going good. He wants to pull out before we start." Things like that, Asians, North Koreans, they want to save face. It's very important. You've got to be careful.
ELLO: You didn't really go into China. What kind of role will China and President Xi play?
RICHARDSON: Look, I've been one of those in the past that have said, oh, Chinese sanctions, they're not serious, they don't want to do it, they like the turmoil that North Korea causes us. But when North Korea started shooting those missiles so incessantly and South Korea and Japan started talking about maybe going nuclear, I think that changed China's mind. And maybe the president's pressure on China has helped. I mean, I'll give him credit for that.
So I think, Carol, the sanctions, I was at the UN, they're very carefully constructed at the UN. They involve foodstuffs, they involve oil exports, they involve coal, they involve North Korean workers, the hackers. Maybe that's the way we stop the hackers in China from North Korea so they don't hack our movies and many other things. So I think China can play an important role.
Will China be the site of the summit? I don't think so, but it's possible. The six-party talks, maybe bring them back. I'm not sure about Russia. I don't know if I would trust Russia to be part of the regime that enforces not just the sanctions but the verification. I don't know, Russian's up to a lot of no good stuff and it concerns me because they're a very important country.
MORELLO: You gave a pretty vivid description of what it's like negotiating with the North Koreans as one of the few Americans who's ever had that experience. I mean, how do you get around the hostility and how is that different than dealing with other countries, other adversaries? And is the United States prepared to deal with the kinds of traps that that may present?
RICHARDSON: I've negotiated with the North Koreans, with the Taliban, with Sadam Hussein, on prisoners, with Sudan, Al-Bashir. President Clinton, once he was asked at a press conference, "Well, why do you send Richardson to do some of these?" and Clinton said, "Well, bad people like him."
So, Countryman, you remember he said that? He said that. I said he could have said it a little differently. But, yes, they differ. Carol, it's like negotiating with inflexibility, with diplomats, politicians that feel they're being driven by a deity by Kim Jong Un, by the father, by destiny.
Most North Koreans don't leave the country. They get program television that tells them America's terrible. They have the Pueblo incident that happened, I don't know, 100 years ago. They show it every night as a defeat of America. They have this beautiful, they're calling Mexico Telenovelas, of flowery North Korean love and romance and then the deity, the leader. They're programmed and so they don't see the way we westerners do, quid pro quos. They don't see that so you have to find ways to influence them.
When I was involved my first time in North Korea with bringing back two American pilots, one that perished, they're very sensitive to bad press. They're very sensitive to… they follow every news item of getting bad press, keeping, doing detainees. This is why I get involved with political prisoners, hostages and the families say, "Should we publicize that we want American pressure to bring our kids back?" I say, "Yes, do it because it works." This is where most diplomats disagree with me, but I think that's important.
MORELLO: What do you think the summit should lead up to? What kind of framework do you see? You mentioned 2020, you seemed to be thinking at least two years of talks, maybe even that's optimistic. But what kind of framework should be established to work through the nitty-gritty details?
RICHARDSON: A framework led by the U.S. State Department. What does that mean? Secretary of State, if he gets confirmed. I think he will be confirmed, especially with this trip. If I were in the Senate, I would vote for him because I think we need leadership right now at this very critical juncture with North Korea.
What kind of framework? A negotiating process led… I think it has to be at a high level, led by the Secretary of State, not a special envoy, one that involves South Korea, one that involves China, one that involves Japan, I'm not sure about Russia, but a framework that leads to more talks, a process. And set a timeline and maybe you don't make that timeline. I think 2020 is a little too soon. I notice that it I think coincides with the election, doesn't it?
MORELLO: Yes, it does.
RICHARDSON: But here I want the president to succeed. I want our country to succeed in this summit, but I have my worries. But the framework, I mean, what I don't want is like, OK, president walks out because he says, "They're not going to denuclearize like this afternoon." Well, they're not going to do that. But I think the Pompeos, the experts at the State Department, we should name an ambassador to South Korea like tomorrow, or we should bring Victor Cha back or send Countryman there. We need that. We need that anchor. We need that anchor right now.
So, Carol, one other thing. I always felt, you know how in dictatorships the military is considered to the right of leader. They're the ones that are the hardliners. I think the North Korean military, they are more positive towards negotiations than you think. When we dealt with them on remains, they were flexible. Of course, they'd get foreign exchange for the remains, but they were… I think that is an unused option, that maybe our military leadership should be part of the negotiating team to talk to the North Korean leadership, their military.
And I think who calls the shots? Kim Jong Un through his security people, not military, not like guards. But he's got a security apparatus that seems to have been, security intelligence apparatus that seems to have been the channel with Pompeo and our intelligence people that have been talking to the North Koreans about this summit and many other issues.
MORELLO: In the past agreements have fallen apart over the issues of verification, do you have any sense of what kind of verification regime could be come up with that they could come up with that would be acceptable enough to the United States to feel we're monitoring it yet not so intrusive that the North Koreans wouldn't accept it? Is that realistic to think that we can even trust them?
RICHARDSON: The North Koreans are going to cheat. They cheated in the 1994 agreement, the framework. They enriched uranium after eight years although I say it was worth the agreement because for eight years they didn't have nuclear weapons. They started cheating and they did. They did it with Pakistan and they brought technology in. You got to watch them.
And one of the problems with that agreed framework is it didn't have strong verification. There was verification on the Yongbyon facility, but they've got other sites where they have a lot of this activity. So I think it's got to be IAEA inspectors. They're really good, as tough as they have on the Iran agreement. The verification on the Iran agreement by the IAEA is well done and Iran has been complying.
By the way, I think it'd be a mistake if we got out of the Iran deal as much as Iran is obnoxiously acting on Yemen, on Syria, on American prisoners, on terrorism. I think the North Koreans are going to notice that. And the timing I think we have to decide.
Slattery, when do we have to decide? May 6 or May 12?
MORELLO: May 12.
RICHARDSON: May 12. The summit being early June/May, the president, I think he has the ability to delay it for four months. This is a typical politician ploy. We like to delay. I would urge the president to delay for four months. This could not be a deal breaker, but it could be. I mean, if I'm the North Koreans and I say, "Well, President Obama signed this and now a new president takes it off. What if they do this with an agreement we have with the U.S.?" So I don't see the logic there, but I hope we retain it or postpone the nuclear. It will affect North Korean thinking in my view.
MORELLO: You keep in touch with the North Koreans, so what are you hearing from them on what their expectations are of this?
RICHARDSON: Well, I think they're… my sense and maybe I'll have Mickey say something, we saw not too long ago, I think they're excited about this. I'm talking about the only people I talk to or in New York, Carol. I mean, we don't let them travel anywhere the UN mission. I think there's a positive sense. They always wanted to deal with us, with the United States. Even when I was in government, they would always agree to see us, to see me in New York. You'd have to almost always by a mistake, but we did that. It's supposed to be funny. I guess not.
Countryman, they don't like to pay for it, do they? Or you want a cup of coffee or forgot (inaudible). No, they don't even say that. OK.
MORELLO: You seem to be suggesting that this is part of a long, long plan that the North Koreans have had that it's not just taking advantage of circumstances but this is they've almost been plotting this scenario aloud for a while, do you think?
RICHARDSON: Carol, yesterday I came here for I'm a member of a board called The World Resources Institute. It's an environmental board. And I know we've got a lot of very important people here: diplomats, journalist, business leaders and they were talking about five-year strategic plan for The World Resources Institute. I'm not big on strategic plans because I got to deal… when I was in government politics, a crisis every week. And I like President George W Bush when he said the vision thing, a strategic plan and things change.
So did Kim Jong Un have a strategic plan? I don't think so. I think what happened is this, in my view. One, he's achieved almost all he wants technologically on the missiles and nuclear, well, almost all. So negotiate when you have your strongest leverage.
Number two, I think he genuinely is afraid of being knocked off. Look what he did to his brother who was, I think, being groomed by the Chinese and others to take over. He's petrified of losing power. This is what dictators do.
And then, thirdly, if you look at the North Korean budget, most of the money has been gone into the military. Maybe he wants something to happen with his economy and that's where he looks to the west, easing of sanctions, loans, the agreed framework, we proceeded with nuclear reactors, with food. Maybe there's a grant (ph).
So is it planned? No. And, again, I'm going to give credit to South Korea. You guys in South Korea jumpstarted the process through the Olympics and then the summit of your own and then the summit that you pave the way for the United States to have for North Korea because I knew it wasn't our grand plan for this meeting to happen. So I know I interviewed with some South Korean journalists earlier, my hats off to South Korea.
MORELLO: Well, thank you. I think there may be some questions out in the audience.
(Off-mike)
RICHARDSON: Was that all right?
MORELLO: That was great. That was great.
RICHARDSON: Oh, sure?
QUESTION: Thank you very much. Benjamin (ph) (inaudible), State Department official. You referred to the increased nuclear capability of North Korea and actually, Kim Jong Un has said explicitly that they've achieved their goals and they've gone as far as they need to. So in terms of what has changed, certainly this increased capability which poses a considerable threat to us is one thing that changed.
But even more importantly is what has changed on the U.S., side realizing the threat and the danger our position has changed. And we're now engaging in a serious negotiation including on the end of the armistice and so on, which could lead to a significant agreement in the interest of the U.S., an agreement that if a Democrat had negotiated he would have been shouted down as a traitor or perhaps negotiating one of the worst treaties possible. Thank you. Please comment.
RICHARDSON: Well, I'm glad the State Department has a very strong spokesman here. And, look, I don't disagree with you. By the way, we have a great arms control negotiator here, Mr. Weiler, Jacob Weiler (ph). He negotiated with John Quincy Adams. No, I'm kidding. It was Eisenhower. It was Eisenhower I believe. I hope we can get the North Koreans to… I know the Arms Control Association… to sign the NPT. Sign it, but then observe it. That's the worry.
Look, but the only area that I might disagree with your point is there's no question their missiles can probably hit the continental United States. The issue is can they do it with a nuclear warhead? I'm not sure that they're there yet, but they're very close. Do you agree?
(Off-mike)
RICHARDSON: Yes. So but still what is that, a year away? I believe right now North Korea felt because of the push from South Korea, the events. President Trump likes to take credit, "Oh, it's because I called him a little rocket man and we put pressure on him and fire and fury." No. I think there was a concerted agenda from the North Korean, the South Koreans pushed the process and I think the president is looking, like any president, for dramatic legacy achievements. That's the way this president is and that's also a worry, that he's going to fly off the handle and get mad and just that's a serious worry that I have.
I want some real diplomacy there and maybe Pompeo can do this. I don't know. If somebody knows Pompeo, I'd certainly welcome a perspective on him, he seems to be very smart. And I commend him for getting over there and the CIA, probably an unmarked plane with his trench coat.
(Off-mike)
UNKNOWN: We have one at the back.
(Off-mike)
UNKNOWN: Ask some questions and then we'll take this one over here.
QUESTION: I have two questions, but very short. My name is Heather Timmons and I'm from Quartz. What happens if Pompeo isn't confirmed is my first question. Does it matter? And, secondly, you talked about Abe being sideline before the Mar-a-Lago visit. It seems like the Pompeo trip really overshadowed anything Abe was doing there. We keep jokingly calling it the Mar-a-Lago surprise, you show up thinking or talk about one thing and then something else happens. How important is it to get Japan's help, cooperation? Do we need to be doing something else there? Thank you.
RICHARDSON: OK. I will answer, but where are you? Where did you speak from? I thought I'm either going blind and deaf. OK. So Japan did feel… I believe Japan felt slighted because most of the action was South Korea and Abe didn't know about the summit and et cetera, et cetera. The steel and aluminum tariffs, timing-wise, you're a politician, you want to take care of your politics. He didn't like that especially since he and the president seem to have a very warm personal relationship.
Japan is key. It's probably our top ally along with South Korea and Asia, our friend. So I think this visit to Mar-a-Lago was good. Did Pompeo overshadow? I don't think so. I mean, Pompeo's visit was in Easter. I think the president got confused. He said it just happened last week. Well, Easter was some time ago.
So I think the politics, the foreign policy, South Korea's gotten a lot of credit. The South Koreans have consulted with us. There's positive movement. I think Japan's visit has been good for the United States, good for Japan. Overshadow, no. This trip, I'm going to tell you again, I think was necessary, positive. It sets a framework for discussion. It sets possibly an agenda. Leaders communicate, get to trust each other.
My hope is that the summit of the president and the North Koreans just establish some trust to develop a process that might lead to denuclearization. I voice my doubt, but that's what it's all about. And I'm going to maybe… you're going to have another question.
(Off-mike)
RICHARDSON: OK.
(Off-mike)
QUESTION: Galen Carey with the National Association of Evangelicals. You mentioned in passing the Gulags (ph) and so I guess my question is if there's some kind of progress on the security front, does that make it more or less likely that the human rights situation would improve because for many of us, we're grateful that we're not going to be bombed perhaps, but we're also deeply concerned about people that are locked away in prison.
RICHARDSON: Yes. I mean, that has to be our priority and I worry that this administration has not given human rights a priority it deserves in the Middle East, across the world, Duterte, Philippines. I'm not going to get into countries. So I would like to see as part of an agreement maybe phase two of an agreement. I think the first one has to be nuclear and some of these humanitarian issues like the prisoners and the remains and the family reunification. But phase two of the dialogue should be human rights and the Gulag and maybe in return, the North Koreans are going to ask for something, I'm telling you, not just military issues. I think they're going to ask. I think if you think the martial plan was big in those days, I don't remember it, I'm not that old, that they're going to ask for something.
But, yes, I think if you look at most of the people imprisoned by North Korea, they're evangelicals, Americans and that should end. I mean, there should be some visiting human rights agreements that involve people. And maybe your movement, your church can be very much a part of that.
COUNTRYMAN: Wonderful. Governor Richardson, thank you very much.
Carol Morello from The Washington Post, we really appreciate your coming with us to help lead this conversation with the governor.
MORELLO: Thank you for having me.
COUNTRYMAN: Please join me in thanking Governor Richardson for his insights.
(APPLAUSE)
Afternoon Panel
"Overcoming the Impasse on U.S. and Russian Arms Control"
Dr. Olga Oliker, Senior Adviser and Director, Russia and Eurasia Program, Center for Strategic and International Studies
Anita Friedt, Acting Assistant Secretary of State for Arms Control, Verification and Compliance, Department of State
Richard Fieldhouse, former Professional Staff Member, Senate Armed Services Committee
Moderated by Kingston Reif, director for disarmament and threat reduction policy, Arms Control Association
REIF: Good afternoon to everyone and welcome to our panel this afternoon that will examine and assess the impasse on U.S. and Russian arms control and what might be done to overcome it.
My name is Kingston Reif and I'm the director for disarmament and threat reduction policy here at the Arms Control Association. And as everyone in the room knows, key pillars of the U.S.-Russia nuclear arms control architecture like the bilateral relationship more broadly are under siege. Arms control may not be dead, but it is certainly wounded.
For example, since 2014, the United States has accused Russia of testing and deploying ground-launched cruise missiles in violation of the 1987 Intermediate Range Nuclear Forces Treaty. Moscow denies that it is violating the treaty and instead has accused Washington of breaching the accord. And while both sides appear to be faithfully implementing the 2010 New Strategic Arms Reduction Treaty, it really will expire in 2021 unless extended.
The Trump administration's Nuclear Posture Review, published in February, gives relatively short shrift to arms control. It did not commit to an extension of New START, though it is our understanding that the administration will soon begin an interagency review of the pros and cons of extending the agreement.
The situation took another concerning turn last month after Russian President Vladimir Putin boasted about his country's development of several new-generation nuclear weapon systems, including hypersonic weapons, and Moscow announced that it was postponing scheduled talks with Washington scheduled to take place in March on strategic stability.
Putin described the rationale for the weapons largely in terms of the U.S. withdrawal from the 1972 Anti-Ballistic Missile Treaty in 2002 and concern about U.S. missile defense systems. The impending release of the Trump administration's forthcoming Missile Defense Review, which appears poised to expand the U.S. missile defense footprint, will no doubt add to Russia's concerns.
Meanwhile, U.S. President Donald Trump told reporters at the White House following a March 28th phone call with Putin that "We'll probably be meeting in the not too distant future to discuss the arms race which is getting out of control." However, serious planning for such a meeting does not appear to be underway.
The tensions that I've just described prompted a diverse group of experts and former government officials to urge Washington and Moscow, in the tradition of past successful cooperation under difficult circumstances to reduce nuclear dangers, to discuss and pursue effective steps to reduce nuclear tensions, and to avoid a renewed nuclear arms race.
The statement was organized by members of a 21-member German-Russian-U.S. Deep Cuts Commission, which was established in 2013 to develop proposals to overcome obstacles to sensible arms control agreements and further reductions in U.S. and Russian stockpiles and you can find a copy of that statement outside the room here.
Here at the Arms Control Association, we've been grappling with these difficult problems and attempting to identify potential solutions primarily through our engagement with the Deep Cuts Commission which we have helped to direct.
And today, we are happy to continue this engagement and fortunate to be joined by three outstanding panelists. To my immediate right, we have Anita Friedt who has been acting assistant secretary of state at the Bureau of Arms Control Verification and Compliance since January of this year.
To Anita's right, we have Dr. Olga Oliker who is a senior adviser and director of the Russia and Eurasia Program at the Center for Strategic and International Studies here in Washington.
And at the very far right, we have Richard Fieldhouse who is the President of Insight Strategies, an independent consulting company and a former long-time staffer on the Senate Armed Services Committee.
You can read their full bios in the program if you'd like more information and our speakers will each provide about eight minutes of opening remarks which should leave plenty of time for questions from the audience.
And with that, Anita?
FRIEDT: Thank you. Thank you very much, Kingston. Thank you for the introduction and thank you very much to the Arms Control Association for hosting this discussion; it really is very timely as you pointed out in your intro remarks and obviously very important.
Overcoming the impasse between the U.S. and Russia in arms control is obviously critical to maintaining strategic stability and in building trust in the relationship down the road, something which we definitely need to get back to, I will say.
So, I will focus my remarks on three areas here. One of my favorites, of course, is the New START Treaty, where we currently stand.
Next, I want to talk about our integrated strategy, the administration's integrated strategy on the compliance, returning Russia to compliance with the Intermediate-range Nuclear Forces Treaty, the INF Treaty.
And then finally, I want to address working strategic stability talks, where we look forward to discussing our arms control relationship with Russia, and hopefully in the very near future. So, those are my kickoff remarks and then obviously I look forward to everybody's questions in the discussion here.
But, OK, before going on here, I want to make a couple of notes, namely first, the State Department recently just last week submitted the 2018 Annual Compliance report to Congress. As some of you insiders and well, obviously experts know, this is an annual "fun" report; it's a lot of "fun" from my bureau–fun in quotes–since we lead this effort.
In this report, the department highlights several unclassified findings. The report as many of you might know has a classified and an unclassified section. Obviously, we will only talk about the unclassified section here.
But the unclassified findings include compliance concerns and violations regarding Russia which are, I mean, really one of the key issues that complicate or have led to the impasse between the U.S. and Russia in arms control. The United States takes compliance with its obligations very seriously.
As I mentioned, my bureau, the Bureau of Arms Control Verification and Compliance, places a special priority on the report but also priority on promoting and coordinating effective verification and compliance analysis of all arms control and nonproliferation agreements to which the U.S. is a party.
This is an enormous report and an enormous amount of interagency work goes into putting out this report every year. We usually begin in the summer and the due date is April 15th. Yes. Yes, I don't know if somebody obviously enjoyed setting that as the date. We did not, by the way, get a reprieve as the IRS team and we submitted it to the Hill on Friday, so ahead of time.
Secondly, there are a lot on the compliance report, or not just the compliance report, but there are a large number of fact sheets and press releases on all treaties that are available on our bureau's, the State Department webpage, and we certainly encourage colleagues to make use of that.
Given compliance concerns and violations detailed in the compliance report, we have grave concerns that Russia is taking apart, brick by brick, agreements which preserve the post-Cold War period of security and stability for the entire world. And that really is a problem and I think we all agree that is problem.
The erosion of trust caused by Russian non-compliance with existing international agreements and repeated refusal to engage constructively to remedy these actions has costs associated with it. And these were very much factors as the administration concluded the National Security Strategy, the National Defense Strategy, and the Nuclear Posture Review.
Now, obviously, I've seen my Russian colleague here; I don't see him right now, but I saw him on the way in, obviously, the Russian side has their own version there and believes it is in compliance and there are reasons behind this, but it is a problem and we need to fix it. Cooperative engagement with Russia even on arms control issues which have typically been insulated from the ups and downs in the bilateral relationship becomes more and more difficult in this current environment.
More recently, we had to use--not more recently but just obviously yesterday, we just had talks at the OPCW about use of Russian military grade nerve agents in the United Kingdom that resulted in serious injury to three people. The Salisbury, the UK incident, is further evidence that Russia has not fully declared its chemical weapons production, its chemical weapons development, or its chemical weapons stockpiles.
At the same time, as former Secretary Tillerson said in Paris this past January, Russia ultimately bears responsibility for the brutal targeting of countless Syrians with chemical weapons. By shielding the Assad regime and failing to stop the use of chemical weapons in Syria, Russia has breached its commitment to the United States as a framework guarantor.
Moscow has betrayed its obligations to resolving the overall crisis, the United Nations Security Council Resolution 2218, its commitment to the chemical weapons convention and guaranteeing the end of the Syrian regime's chemical weapons use.
Nevertheless, we continue to view our discussions with Russia on these issues as important, very important, not just to prevent a crisis from occurring or escalating, but also to maintain a level of transparency and predictability to prevent unwanted and unnecessary arms racing. Dialogue continues, which is a good thing.
We continue to raise and discuss issues related to New START, and this is obviously separate, but New START and INF regularly both at the technical level and at higher political levels. And let me just stop here and comment, we often see we have to return to dialogue or the U.S. and Russia are not talking at all.
There is the perception sometimes that there is no discussion; there are only accusations in the press and elsewhere, but dialogue is continuing. It's obviously difficult and very much complicated by the issues I just raised, but we do have dialogue and it is continuing.
The New START Treaty. Regarding New START, it continues to provide for a degree of transparency and parity for deployed strategic forces and has facilitated predictable, pragmatic interaction since its entry into force in 2011. And I can't, I mean, you can continue to say the New START Treaty implementation is going well and we want to keep it that way. It is extremely important and that is very much a positive.
I would stress to this group the enormous amount of time and energy that goes into the implementation and verification of an agreement like New START. It really is hard work. Making the treaty work requires dedicated service from the arms control policymakers, to the military services, to the folks working 24/7 at the Nuclear Risk Reduction Center, also in our bureau. Here I can mark that the NRRC, fondly referred to as the "narc," the Nuclear Risk Reduction Center, just celebrated its 30th anniversary earlier this month. And then also with our colleagues from the Defense Threat Reduction Agency.
The regime, the New START regime, includes 18 on-site inspections annually for each party, data exchanges to account for the status and makeup of each country's nuclear forces, and exhibitions of new types of strategic offensive arms. Just last month, we exchanged our 15,000th treaty notification.
So, I think many of you may be familiar or have heard this, but it really is, it's quite commendable and I think it speaks to the importance of the transparency and predictability, the importance of the treaty. As I said, the United States and Russia, we are complying–we're both complying with our New START obligations, which include meeting the treaty's central limits in advance, both of us met the treaty limits in advance of the February 5th, 2018 deadline.
Both the U.S. and Russia have stated we remain committed to implementing the New START Treaty. We look to ensure that our implementation of the treaty continues smoothly as we address more problematic areas in the arms control relationship. And I can say that we've just concluded the Bilateral Consultative Committee meeting in Geneva just today. This is the implementation commission for the New START Treaty. So, again, two weeks of solid, very hard work.
The INF Treaty. Here is a less good story. The INF Treaty is an example of where future arms control cooperation with Russia has been placed at risk. The U.S. remains committed to preserving the INF Treaty and is seeking Russia's return to full and verifiable compliance.
As I think you've seen, the administration's strategy to this point has yielded a few important results. First, U.S. leadership and concentrated outreach to allies, the North Atlantic Council, thanks to the outreach–in December, the North Atlantic Council, the NAC at NATO made a strong statement regarding its concerns with Russia's INF compliance, the importance of the treaty to Euro-Atlantic security, and the need for Russia to resolve these concerns in a substantial and transparent way. That remains the United States' position as well.
We've continued our diplomatic engagement with Russia, including by convening Special Verification Commission, which is the implementation mechanism for the INF Treaty. There was one in December of 2017, the last one. Just prior to this meeting, Russia publicly confirmed the existence of the ground-launched cruise missile which we assess to be in violation of Russia's obligation not to produce, possess, or flight-test a ground-launched cruise missile with ranges between 500 and 5,500 kilometers.
So, that was a step forward, recognition that we've actually named the or had the designator of the offending missile, the 9M729, and Russia publicly confirmed it. So, at least, we have something to talk about, more to talk about now. Having finally acknowledged this though, Russia denies that the missile is capable of the range that we have pointed out.
The administration, I mean, our point here is to find ways, to seek ways, to increase military and economic costs on Russia. Why? To increase Russia's incentive for diplomatic resolution to the violation.
So, the Department of Defense has begun treaty-compliant research and development of a conventionally-armed system or systems that, if pursued, could be inconsistent with the treaty's prohibitions. We've also identified two Russian entities, Novator and Titan, and they were added to the Department of Commerce's entity list for creating, regarding export control issues.
So, thank you, Kingston. Going along—two minutes here left, so I can race forward.
But the point here is, what we are trying to do, is to incentivize Russia to come back to actually engage in conversation, in diplomatic discussion to resolve this issue.
So, lastly, let me finish with strategic stability and I can quickly up-to-date you on where we stand here. As you may be aware, we had talks, the second round of strategic stability talks scheduled for March of this year, tentatively scheduled. Unfortunately, Russia postponed the second round. At this point though, we believe as the two largest nuclear powers, we have a special responsibility to maintain strategic stability and reduce nuclear risks, and the United States for its part is very much interested in rescheduling these talks and I think Undersecretary Shannon has mentioned this both publicly and privately and we continue to do this.
I can stop here. But on strategic stability, to make a long story short, I mean, we've worked for a long time to schedule the first round of meetings which finally took place in September of 2017 in Helsinki and we had a very good start, I mean, very good start to discussions laying out the concerns. And we are anxious to get back to the second round.
Obviously, there are numerous world events that are literally, I don't like, maybe shouldn't use the term "exploding," but on a daily basis, right and left. And so that has also been one of the challenges in all honesty of getting the next round of talks back on the table, but we certainly look forward to that.
Let me stop there.
REIF: Thank you very much, Anita.
Dr. Oliker?
OLIKER: So, thank you, Kingston.
Thanks to the Arms Control Association for convening this conversation. I want to echo Anita's comments about how important this is.
I'm going to start off by talking a little bit about Russian incentives for arms control. I'm not Russian. I'm American so I can't speak for the Russian Federation. But I do study how Russia looks at these issues. So, if there are representatives of the Russian government in the room, I'm sure they will correct me if I get some of this wrong.
So, from a strategic perspective, from a domestic politics perspective, from a budgetary perspective, I would argue that Russia has tremendous incentives to pursue arms control with the United States. And that while there are also disincentives, the incentives outweigh them. Unfortunately, anybody who's studied history knows that countries don't always act in their own best interests. And that is part of the reason I'm not terribly optimistic about the future of arms control right now.
So Russia, and the Soviet Union before it, pursued arms control for all the right reasons: Because the arms race was dangerous. Because it was a way to constrain U.S. systems and capabilities that they worried about. Because it kept Russia's own costs down and well, it constrained its own defense sector, too.
It meant that arms control made it possible for Moscow to build a force it could afford while maintaining deterrence against the United States and maintaining its status as America's equal, as a nuclear superpower. It gave the Kremlin a voice in how the United States built and deployed its forces and it provided a forum in which Russia could articulate its preferences and concerns even if it wasn't always going to get what it wanted.
Now, I'd say those incentives haven't really changed for Russia. It's still concerned about a lot of different U.S. capabilities, nuclear and conventional, which it worries weaken its deterrent among other things. New technologies may advantage or disadvantage Russia but, in some cases, they certainly disadvantage it.
Russia has a global strategy of increasing its influence around the world in a time of strategic shift and maintaining nuclear parity with the United States strikes me as a pretty important component of that. It also has a stagnating economy which is badly in need of reform, which means that increased defense and security spending comes at a cost to other priorities and could be very dangerous if not constrained.
But if Russia doesn't think that arms control is going to help it get these things that arms control has traditionally gotten, there is little reason for Moscow to pursue new agreements and it might make it less enthusiastic about staying in or getting into compliance with the old ones. Moreover, if Moscow doesn't feel it has a partner in the United States that's willing to come to the table and make compromises even as Russia itself will have to make compromises, then we don't see much of a future.
Now, I would argue that Russia and the United States share the blame for the current situation. From the start, the arms control framework was a whole bigger than the sum of its parts, right? The SALT arms reduction arrangements wouldn't have happened without the ABM Treaty that accompanied them.
And as time went on, it was past agreements that made new agreements possible, so you built on the whole and that's what made it effective, that these things were inexorably linked, nuclear arms control and conventional capability technology limits went hand on hand. So, it's not surprising that the Russians responded poorly to the U.S. decision to withdraw, legally and following all of the rules, from the ABM treaty back in 2002. And it's also not surprising that that led Russia to stop implementing START II, since just as ABM and SALT went hand in hand, ABM and START, which was the successor, went hand in hand.
So, I think it's worth remembering that Russia has generally avoided formally withdrawing from the treaties that remain. It suspended implementation of CFE and then it stopped participating in related decision-making but didn't actually leave the treaty. I'd argue that a decade ago what it was trying to do was force some changes to the treaty. It didn't want it gone; it wanted it amended.
The INF violations which Anita talked about are a different matter. Whatever led Russia to be in violation of the treaty, though, the impasse at getting it back into compliance from the U.S. perspective raises real questions on whether Moscow can be trusted to comply with old or new treaties. And the chemical weapons issues that Anita also raised fall into this category as well. It doesn't create incentives for the United States to come to the table.
And aside from that, it doesn't look to me like the United States is all that interested at coming to the table for things kind of beyond getting everything back to where they were. Aside from Donald Trump's initial brush off of Vladimir Putin's question about New START renewal, we now have rhetoric in the Nuclear Posture Review that seems to view escalation as something that can be managed, which is framed around the narrative that Russia has a different strategy for nuclear use than the one Russia says it has. And it really does raise a discussion that the United States is looking to build new weapons, not shrink the arsenal further.
So, one could argue that it's a negotiating stance, but from Russia's perspective it doesn't look like the United States is that interested. And then, of course, there are always the concerns that have been around a long time–U.S. missile defense plans, which I think we'll hear about, precision weapons… The United States has been very consistent saying these things aren't coming to the table, that there aren't going to be conversations about this. So, insofar as these are the things that the Russians want to limit, it creates a disincentive going forward.
But this said, everyone starts negotiations from fairly maximal positions; you don't give everything away before you get there. But in an atmosphere like the one we have now of tension spiraling, I think we're in danger of kind of: staking out our claims will stop the conversation before it starts. And even as I would argue that overall Russia has some real incentives, there are many people in Russia who don't think that it does.
Just as there are people in the United States that think arms control is a threat to U.S. interests and benefits Russia, there are people in Russia who see arms control as historically benefiting the United States and hurting Russia. And in the atmosphere of tension that's spiraling, neither side is particularly inclined to do favors for the other.
So, these are all the reasons I'm not terribly optimistic. At the same time, when I look at the strategic balance, I see a lot of things to talk about. I don't think the INF impasse is irresolvable. Look, there are voices in the U.S. and Russia that say the treaty is out of date and inappropriate to modern times. It's a valid view. It's an interesting conversation to have. We should have it.
Outright violations present a real problem. They raise those questions whether Russia can be trusted with new treaties but it could be resolved if everyone comes to the table, talks it through, and agrees to measures that let–don't force anyone to say "gosh, golly I was wrong, you were right," but let everybody walk away and say "I understand your concerns and here is how I am going to assuage them."
From the strategic arsenal standpoint, both countries have built arsenals that can exceed New START limits easily if they feel like it. The upload potential Russia has long complained about the U.S. having is now something it has as well. How worried are we about this? How much concern do we have about whether we can tell that uploads are going on? How long it takes to put new tubes into submarines or more warheads on a system, it's an interesting conversation.
Also an interesting conversation is the one to be had about new technologies, new capabilities, how they're deployed, how they're built, whether they should be limited.
Now, we have some positive indications from both parties. I think some of the Nuclear Posture Review language indicates a willingness to talk. The idea that some of the U.S. developments, particularly a new sea-launched cruise missile, is part of a negotiation with Russia. I think that suggests that when one wants a negotiation, strange as it may seem, I think that Vladimir Putin's March 1st speech with its menagerie of weapons, there are silver linings here as well.
First, all of the stuff was not couched as "we're going to attack you"; it was couched as second strike overcoming missile defense as a retaliation. I'm not quite sure what a second strike on Florida accomplishes but, again, I'm not privy to Russian targeting strategy. But I think the other thing that's positive is that Vladimir Putin followed this up with an interview where he did say that these systems could be subject to limitations. That suggests that an interest in talks remain.
My other point of optimism is that we've had impasses before. Arms control has been comparatively resilient in terms of stress, but it hasn't been fully resilient and sometimes it's been resilient in creative ways. Back in 1979, Jimmy Carter withdrew, after SALT II was signed, Jimmy Carter then withdrew it from congressional consideration because there was no way Congress was going to get that treaty through.
And you know what? I'm sure you guys do know what, everybody abided by it anyway. And that is a sign, I mean, that suggests that in times of difficulty, there are creative ways to get these things moving. But in order to get them moving, you need diplomacy, you need skill, and you need patience.
And patience, I think, is going to be particularly hard because negotiations do, they go back and forth, and the other guy doesn't do what you want them to do immediately. And so far, both Moscow and Washington's response in general when things don't go smoothly is to see it as escalatory. So, in that environment, it's really hard to sustain much optimism.
I'll stop there.
REIF: Thank you, Dr. Oliker.
Richard?
FIELDHOUSE: Thanks, Kingston.
I'll briefly describe the relationship between arms control and missile defense between the U.S. and Russia and then look at the resulting prospects for future arms reductions between the nations. Time won't permit me to go into many details so maybe we can take up any additional items in the Q&A period.
I'd like to start with the historical sort of context. There's a long history, many of you involved in it, of the challenging relationship between arms control and missile defense going back at least 50 years between the U.S. and the Soviet Union and now Russia. The ABM Treaty itself was a recognition that unlimited missile defenses would spur offensive missile build-ups and that limiting missile defenses could permit limits on offensive missiles.
The Reykjavik Summit actually proposed an agreement to eliminate offensive ballistic missiles and it collapsed because of a disagreement on whether United States would stop its research and development on missile defense, the Strategic Defense Initiative. New START, remarkably in my view, faced a lot of Republican opposition in the Senate for matters related to missile defense. And the remarkable part of that is, the treaty had no limitations on missile defense; it was a non-issue that became a serious obstacle to Senate approval of the consent ratification.
So, I want to turn to a policy context now that is to my view highly relevant even though a little past its expiration date in terms of the publication. This is 2009 report of the Perry-Schlesinger Commission on U.S. Strategic Posture. This was a bipartisan effort led by former Secretary of Defense Bill Perry, former Secretary of everything Jim Schlesinger, I'm not sure he didn't–he wasn't a cabinet member in any agency.
But it was a really focused bipartisan effort put together by Congress required in law and they looked at all U.S. strategic posture and did findings and recommendations. And one of the really unknown aspects of this was that they included a very brief but very solid chapter on missile defense and U.S. missile defense posture, sort of overlooked.
And in that report, they noted that U.S. missile defense development for the previous decade had been guided by two principles. One, protecting against limited strikes, and two, taking into account the legitimate concerns of Russia and China about strategic stability. And they said these were main, good guiding principles and explained their reasoning by saying, "Defense is sufficient to sow doubt in Moscow or Beijing about the viability of their deterrence and could lead them to take actions that increase the threat to the United States and its allies and friends."
And then they provided some recommendations on development and the appropriate deployment of missile defenses, again, emphasizing against regional sort of nuclear aggressors and including limited strikes on the homeland. But they also made a recommendation which I think is key and I'm going to quote it verbatim. It was, "While the missile threats posed by regional aggressors are countered, the United States should ensure that its actions do not lead Russia or China to take actions that increase the threat to the United States and its allies and friends."
I think that's a really critical bit of wisdom that we need to keep in mind here. Although the Trump administration has concluded that the main security challenge to the United States is long-term strategic competition with Russia and with China, it has so far continued to follow those guiding principles laid you by the Perry-Schlesinger Commission.
We're pursuing homeland missile defense against North Korea and Iran which doesn't have the capability, and we have a variety of regional missile defenses. These include the European Phased Adaptive Approach to protect NATO against Iranian missiles, and it includes cooperation with Japan and South Korea in defending against North Korean missiles.
My view is that although these systems, U.S. and allied systems, do not pose a threat to Russia or China in terms of their strategic capability, both nations have clearly expressed very significant concerns it's a major irritant between the United States and Russia and has been a major problem on arms control and other security matters.
And as a number of senior government officials have been saying recently, our adversaries of nations are making a lot of investments in missile, offensive missile programs that are designed to complicate or negate our missile defenses. And this, of course, is the point that President Putin made rather emphatically with videos in his March 1 speech.
So, even though U.S. missile defenses—our efforts are still limited in scope and capability, they have already contributed to a change in the strategic equation with Russia and China. If the U.S. were to change its missile defense policy and pursue ballistic missile defense of the homeland against Russia or China, leaving aside whether that is technically feasible or affordable, it would increase the likelihood of that Perry-Schlesinger concern happening, that Russia and China would take actions that would increase the threat to the United States.
I don't believe that either Russia or China will permit the United States to negate its strategic deterrent no more than we would do so for them; none of these countries is going to let this happen. So, what does all this mean for the future of arms control with the U.S. and Russia? Given the starkly different and opposing U.S. and Russian views on missile defense and the current situation in security matters vis-a-vis North Korea, U.S. defenses against them and leaving aside all the other controversial issues between the United States and Russia, it's hard for me to see any likelihood of future U.S.-Russian arms reductions under the current circumstances.
I hope I'm wrong. I like to be an optimist, but I don't have much room for optimism right now. One can always hope for what I'll call the "Trump effect" which is a Republican president not expected to do something bold on arms control, you know, suddenly surprising—as I think North Korea is going to be the first chance to see whether that's possible.
So, despite my pessimism on future U.S.-Russian reductions, I–I want to emphasize that I think it is critical that the United States pursue very vigorously strategic stability with Russia. We are–we are both pursuing things that are making each other worry. We're not talking much about it. I know Anita said that there are–there is discussion going on, but it needs to be more robust, it needs to be focused on strategic stability, avoiding miscalculation, misunderstanding. We've got military forces in Syria, both sides using military force there. That's dangerous. There're a lot of things going on that are really risky.
And strategic stability, I would argue, is absolutely fundamental in the deepest national security interest of both nations. We do not want war. So, this leads me to two very brief conclusions. One is that in keeping with the Perry-Schlesinger Commission Report, the U.S., in pursuing its missile defenses, I would say the U.S. legislative and executive branches need to consider carefully whether any proposed action would lead Russia or China to take an action that would increase the threat to us. That has to be a fundamental calculation about what we do and what we don't do.
And secondly, and I don't think this is a difference in position between the administration, again, I think we need to be pursuing strategic stability with the Russians very vigorously. You know, we did this all through the Cold War no matter how bad things got. We should be doing it now. It's not a favor to Russia. It's not a reward to Russia, it is simply a basic means to try to increase our security and reduce the risks to both sides in the world at a time when there are increasing risks to peace and security. So that's where I'll leave it. Thank you.
REIF: Great, thank you very much, Richard. Thank you for all three of our speakers although none of them appeared particularly optimistic about the way forward. Before opening it up to all of you for your questions, I just wanted to ask Anita a few questions related to the New START Treaty and the future of the treaty.
Deputy Assistant Secretary of Defense Rob Soofer, at a Senate Arms Services Committee hearing last week, I believe it was, stated that the administration would soon begin an inter-agency conversation about the pros and cons of extending New START. I was wondering if you could comment on that, if there's any timeline for that review and how long the administration anticipates that taking.
Dr. Oliker mentioned this, but the New START Treaty also provides for a discussion on emerging strategic offensive arms and possible limitation. We mentioned the March 1st speech, several of the strategic-range delivery systems that President Putin described. Does the Trump administration believe that those systems ought to be limited by the New START Treaty, and if so, does it plan to take that up with Russia in the context of the bilateral consultative commission?
And then finally, I would just be interested in your views on when the New START Treaty expires in 2021, if there's nothing to replace it, what are the implications for strategic stability between United States and Russia if there are no verifiable limits on the world's largest two strategic nuclear arsenals? So, I'd just like to get some of Anita's thoughts on those questions and then I will open up the floor to all of you.
FRIEDT: Well, briefly, on extension, which is a hot topic across the board, the president–lots of people have commented on it, but I'll just say–but to Rob's point, I mean his testimony last week, yes, I mean, we are always doing interagency reviews on many things as you know, and it depends on how long they take, but that is a question that we're looking at in terms. But again, as I mentioned, and this is where verification and compliance with arms control agreements really counts because that has to be–that's obviously a factor that one would take into consideration, extension of New START, what does that mean in terms of, you know, Russia is or is not in terms of coming back into compliance with the INF treaty. So, we are reviewing it. There is no timeline, but it's - there is no schedule.
And from my perspective, there should be no schedule. I think I've heard lots of people say, "We have to do it and we have to do it right now and if we do it, extend the treaty, like, everything will be fine." It won't. That wouldn't–that wouldn't really necessarily help things, I would argue. We have until 2021 and I think we should look at it very carefully.
And in terms of where we are in terms of enforceable, verifiable arms control in compliance with treaties… So then let me answer your second or your last question here, what happens if we don't extend it and we don't have a treaty that has importance? As I address, the numerous–and the inspections and the rigorous transparency regime–that makes the relationship, the nuclear relationship, very predictable.
That is a problem because then we will have less insight, less greater reliance on NTM, there'll be less insight in the actual–the inspections. I can't emphasize how important the mutual inspections are because it's an opportunity to actually look at in terms of both public statements, diplomatic statements, but also NTM, National Technical Means. It's an opportunity to verify that and have a face-to-face look at this and look at it. It is very important.
And then the whole issue of President Putin's yes, infamous March 1st speech and the fun–I'll call them "fun"–things that he revealed, many of which we have been looking at. Yes, I mean that is an opportunity. The treaty calls for looking at new types, new kinds, there is an opportunity to discuss them. We have not done so yet, but we certainly could look at that and take that up.
REIF: Great, thank you very much. Questions, and I think I will follow my predecessors in taking–taking three at a time. First, I believe I see you, Rachel, you there with your hand up in the back and we'll take–we'll take three in there.
OSWALD: Hi. Thank you for a great panel. This question is for anybody who wants to answer it, but the State Department perspective would be appreciated as well. So, it sounds to me like I've been hearing more comments in public from–from senior military officials about how the INF Treaty is constraining the United States when it comes to China. I think this came up at a confirmation hearing in the Senate earlier this week for the PACOM commander.
So, I'm not sure it's just Russia that–that feels like INF is outdated. Can anybody talk to the U.S. perspective about how INF is possibly constraining them in ways they don't like toward Asia?
REIF: And just very quickly, who are you?
OSWALD: Apologies, Rachel Oswald, reporter with Congressional Quarterly.
REIF: Right, thank you. Yes, right here.
THIELMANN: Greg Thielmann, ACA board. Anita, I was happy to hear you mention the agreement on the designation of the–of the system we alleged to be a violation, the 9M729. It seems to me that changed the argument completely from "What are you talking about?" to "No, you're wrong about the capabilities."
So, my first question there is, why did it take us three years to provide the designated system? The second question is, now that we have a parallel situation with the most serious Russian charge being the Mk-41 launcher of our–of our ballistic missiles that Boeing proudly boasts is the same system that launched the Tomahawk cruise missile which is basically the identical to the Griffin land attack cruise missile banned under the INF Treaty.
Why is the U.S. not inviting the Russians in to look–to inspect the Mk-41, putting pressure on them to let us in to inspect the 9M729?
REIF: Done? OK, your time. Right.
COUNTRYMAN: Anita, thank you for continuing to work on these very difficult issues. I remain more calm because you remain on the job. I appreciate that.
FRIEDT: Well, thank you.
COUNTRYMAN: Earlier, I asked Andrea Hall a question which she helpfully volunteered to have you answer, and that is, which arms control agreements does the United States believe to be enforceable upon the United States? Everybody loves the phrase "enforceable and verifiable," but it seems to me when the White House says it that the U.S. will do the enforcing on other states but there is no need to have an enforcement mechanism for U.S. compliance, and if that's the case, what state is going to agree to anything with the United States?
So which agreements are enforceable upon the U.S.?
REIF: Anita, several of those were directed at you.
FRIEDT: Oh, okay, how about it.
REIF: Why don't you start and then we can go on down the line to see if there are comments from the other panelists as well.
FRIEDT: Okay yeah, no, please weigh in especially on all of them, on the INF. But the PACOM commander, well he is going to be our U.S. Ambassador designate to Australia. I know yes, he has commented on INF treaty constraining the military. Sure, the reality is everybody–I mean we would like to take a look since Russia is–especially since Russia is not abiding by the INF treaty, I mean there are certainly, if the treaty is not going to be valid and why can't we look at the same things? But I don't know.
I would say there are many of these treaties were outdated. I don't think the INF Treaty is outdated, but Russia obviously does. That's one of the–Russia raised the INF Treaty being outdated during the–during the Bush 43, during the Bush administration in I think it was 2005 or 2006, so at that time, we said we would be happy to take a look at it, discuss it, that certainly is an option, we can discuss any number of variants in what to do with the INF Treaty once we get to a real discussion. That's the real point. We have to have a real discussion with the Russians on that.
And that's–I also have the same answer for–for you, Greg, yes, having the 9M729 has helped–has been a small–I mean it's great game changer when you go from nothing to something, it's a great, great game changer. So, it is a progress, but why did it take so long? Well you worked–you worked in the intelligence community, you worked in the U.S. government, sometimes things take longer than they need to.
But it is an opportunity and yeah–and once we have real negotiations, discussions with the Russians now that we have something, maybe we can get to the point where we can talk about the Mk-41. We can talk more concretely about the 9M729. We can talk perhaps–we can even talk about transparency, but we haven't gotten to that point. So those are all–all issues that we can certainly consider.
And then Tom, you always–always have the clever, clever questions, cleverly worded questions. I mean I'll try–yeah, are you talking about our compliance report? I mean we–yes, the United States has–I mean each country has to look at the–the treaties that they are party to and assess not only your own country's compliance, but other countries' compliance and compliance and verification, I mean compliance is really a big factor in terms of military planning. That's another good point here, I mean to the INF concerns about the PACOM. If you have a country that's not abiding by its–by its arms control obligations and is violating the INF Treaty, that's a military planning consideration.
COUNTRYMAN: I like the word "compliance," the word that the administration reintroduced….
FRIEDT: Oh enforcement.
COUNTRYMAN: … is "enforcement."
FRIEDT: Okay.
COUNTRYMAN: (Inaudible) what it means to say (inaudible).
FRIEDT: Okay, well this–I mean we have to have enforcement measures to deter future violations and we're not talking about military enforcement. I think there was an article at some point talking about military enforcement. That is absolutely not what we are talking about. We're talking about what does it take to–to–to make sure that countries comply with these arms control agreements, that violators face consequences. So, there is obviously international law–where is Mallory when I need her, my lawyer.
But no, there are obviously international legal means that we can take, and we can enforce it as well.
REIF: And Rachel, oops, sorry, go ahead, any other comments from–
FIELDHOUSE: Tom, if I can just jump in on this, I think the term "enforcement" is a very unfortunate term to bring it to the arms control debate, because unless you are going to go war and occupy a country and, you know, that's been the discussion, how do you enforce arms control? You don't enforce it. You monitor, you verify, you know, you do all the things you can do to make sure compliance is happening and if it's not, then you work everything you can to make it happen.
I just think it's an unfortunate term to bring it to that debate, so I–I second your point exactly.
OLIKER: Well, the one thing you can do is incorporate in treaties what happens if somebody is violating.
FRIEDT: Right.
OLIKER: And that's, you know, that's not enforcement, but it is–it kind of–it lays out for all parties what can happen if you break out. And I think that's a valid thing to consider doing.
FRIEDT: Good point, Richard. It is interesting, but it was used actually after this article appeared in the debate on enforcement team out in NPR, we did a look and it was actually in the 2010–it was in previous–it's been in our compliance reports. It's been–I think it was in the 2010 NPR. So, it is a term that we have used. It's not just in this administration.
But it's perhaps not the–not the best. I will take that on board.
REIF: And I will just say, Rachel, really quickly in response to–to your question about INF Treaty in China. General Paul Selva, the Vice Chairman of Joint Chiefs of Staff was asked, I can't remember if it was a House or a Senate hearing last year about the military utility of INF-range systems in the Asia Pacific. And General Selva's response was that United States PACOM DOD can meet the requirement that it has and target what needs to target using treaty compliance air and sea launched systems. I just wanted to make that point. Other questions. Right here in front.
FRY: Thank you all. Very interesting, you used two phrases if I may, I'm paraphrasing now, Russia taking apart brick by brick of the Cold War deals and the other one was the dialog continues. What's interesting, this is not isolated to the present administration, this has been going on for a while, the question I ask is, why does it continue?
I mean the underpinning with–with the Ukraine dynamic, if you will, and all the underlying factors that this is just a continuing ratcheting up of something that's been going on for a while. And also, I mean you're not at DEFCON whatever-the-level-is with this situation, what do you think will change that dynamic?
REIF: And can you just quickly identify yourself?
FRY: Oh, I'm sorry, Bob Fry.
REIF: Okay, thank you. I saw a hand on the way back? Yes, right here by the door coming, great.
MACDONALD: Hi. I'm Bruce MacDonald, and a question. First a comment, Richard, I appreciate your comments about the strategic posture review commission, report language on missile defense, as senior staff there, I had a hand in working with a couple of other people on drafting that. And I was–I was ready for the roof to fall in with controversy about it and fortunately it was accepted without much debate.
But I think that the point of the–the language is as true today as it was then. And thanks for acknowledging it.
My question goes to, I guess, primarily to Anita, but not just–and that is my sense, I could be wrong on this–is that what Russia was looking for was almost any kind of restraint on–on missile defense and it's puzzled me that the United States has been unwilling to agree to any limits. I mean I understand the political realities, but I think if Russia–if we offered, you know, 200 interceptors, the original ABM treaty, they would have jumped for joy in order to have just some kind of a limit. And yet we have–right now, there are no limits at all and even though we would have no plans maybe to deploy anywhere remotely near a very–a higher level of interceptors, we still are steadfast in not doing that. And we have to–it costs us diplomatically. It costs us in terms of–of opportunity cost. If we were to agree to any kind of a limit, we could probably get some significant concession from the Russians back on an issue that we care a lot about.
So, we're holding onto a limitation that, if we don't plan to build anything like that, a higher number doesn't do us any good. And I just wanted to–is there any prospect in which there would be some kind of a restraint on missile defense, and do people take into account the fact that, were we to agree to something like that, we might get something important to us back and return? It wouldn't just be us giving something up.
REIF: Thanks, Bruce. One more question if there's someone out there that can take? Right here, yeah, sure.
UNKNOWN: Right behind you, sir.
LARRY WEILER: I'd like to comment on the–the–the last observation. And for those who are new in this business, never forget what the big bugaboo has been about arms control. It's been the American withdrawal from the ABM treaty. That was a very significant factor and it was two countries who said to each other, "We are in this together," and to do that they wrote language that said, "We agree that we will not build a defense for the territory of our–we will not build a defense for our–the land of our country," words to that effect.
And that was a fundamental decision that we got the hawks and the doves to agree to, and we withdrew from it. And the Russians have since then said, "You can't trust the Americans," and they have a very valid point. It was regarded as a fundamental basis for international security. And we withdrew at a time when Russia was in turmoil. As soon as they became weak, we withdrew. And Bush didn't–Bush Two didn't know what the hell he was doing, and he listened to a bunch of hawks in his Vice President's office and that's how we got out of it.
And the American public didn't react to it, and since then we have been living with that, and that's fundamental to what the Russians think about it and what other people should think about us. So, keep in mind the fundamental nature of the American withdrawal from the ABM Treaty.
Obama tried to fudge the issue and was reasonably successful by restating what our missiles were for, but now we are faced with a prospect that we may be in an elimination of that moderating aspect of what Obama did. But keep in mind the fundamental nature of the ABM Treaty that we withdrew from.
REIF: Thanks, Larry. Yes. So, several questions on the table, I think we're going to end with that round. So, I'll have you respond to questions, any final comments you might have. Why don't we start with you, Richard, and we'll come back down.
FIELDHOUSE: So a couple of things. Bruce, to your question about limitations on missile defense–not representing the administration of course, this is a personal view–but having lived through an awful lot of this when I was in the Senate and we all have since then, the administrations both–since we withdrew from the ABM treaty, all the administrations have–have taken the view that because they don't know what's coming next with North Korea, with Iran, not Russia and China, but these other countries, they are not interested in placing limits on our missile defenses.
And the–the second half of that thought is it's very clear where Congress has been on the issue. I mentioned the–the difficulty with the New START treaty, that was an awful lot about missile defenses and insisting there would be no limits on missile defenses, period, or the treaty doesn't go through. That was a lot of the discussion.
And so, Congress has been very active in making the point particularly during the Obama administration because there were a lot of concerns that the administration was going to–remember the hot mic issue and the administration was going to cut a secret deal, or such thoughts. And so, the irony of this is, is that the U.S. sort of concern is not in Russian or Chinese ballistic missiles. We obviously are concerned, but we deal with that, as General Hyten from Strategic Command said, by using deterrence and other military means, but our missile defenses really are focused on North Korea and Iran both nationally and regionally, and the United States has made the point, no legally binding limits on missile defenses. That's been a standard platform for the Obama administration, all of them.
And it seems to me that the way forward that might be useful and lend itself to strategic stability is trying to–to really engage in what I'll call transparency, predictability, sort of having a dialog where we make clear, look, here's what we're planning to do, etc. Now, that may or may not be acceptable to this administration. I think it makes sense as a proposition to try to have clarity and predictability and transparency as the sort of achievable thing.
REIF: Thanks, Richard. Dr. Oliker?
OLIKER: There's something religious about missile defense, right? I mean it's–I would argue it's faith-based regardless of which side you're on. The United States is building systems where there's not a lot of evidence that they work even against the threats that the United States has them being built for, moreover it's not clear if those threats are going to emerge in the ways that the United States says that they will. So, you can understand why the Russians are confused.
From the Russian perspective, you can't convince them of that, you know, because to the Russians it doesn't work either. And American defense industry isn't going to say this stuff isn't going to work the way we say it will. And, you know, you end up in this weird set of conversations where we say, "Don't worry about it, it can't threaten your deterrent because it just doesn't have that capacity," and they say, "Yeah, but it could if it develops enough." And you say, "Have you looked at the physics?" And they say, "Yeah, but you guys are saying it can do X, Y and Z, so surely it can do A, B, and C too," and you keep having this conversation.
And I do think saying "no legally binding limits" creates a real problem. It keeps us away from the table. And making unilateral commitments won't do the trick, you know, saying we'll just do this. If I were Russia, I wouldn't be comfortable with that, and I certainly wouldn't come to the table offering anything else up. I might be able to do it as a gesture of good faith, dah-dah-dah-dah-dah, that could be helpful, but they are not going to give us anything for it, I don't think.
I would also, you know, come to the question of, "Why keep talking to the Russians despite all the problems, why should the Russians keep talking to us after we withdrew from ABM?" I would say the same incentives apply. We don't care as much about parity. We do care about limiting certain Russian capabilities. We do care about limiting our own defense industry. Sorry, we do. And we also care about verification. We care about understanding what their capabilities are–which, absent some of this verification–will be a whole lot harder.
If anything, you know, I would say, it would be nice for both sides to get more transparency. For instance, on this INF issue that was raised earlier, we can see what the other guys are doing, we'll feel a little bit better about it. So that–I mean there are really good reasons to push this forward, and we are also in a political situation which makes it really hard.
REIF: Last word.
FRIEDT: I totally agree with both Olga and Richard on–on all the points and I like the–the–the religious point about missile defense. There is no question missile defense is a religion, period. And that speaks to, I mean, to your point about the ABM treaty and the Russian sensitivity about our getting out of it, even though as Olga pointed out in the beginning, we did so in a fully transparent, legal way, and the treaty had withdrawal provisions and we faithfully abided by those and we got out.
But it obviously it has colored the Russians and it has colored the dynamic ever since then. And there are so many domestic, I mean, Russian domestic issues–and I'm not going to address it. Olga addressed some of the Russian issues and certainly I look forward. And the Russians do have some real concerns about the treaties, with the CFEs certainly. INF, I mean all of these treaties, one could argue they could be updated, but the question is how does Russia do it?
For example, we have important things that got in the way of many efforts in terms of dialog. This also gets to missile defense. We had a very good dialog for years in the Obama administration about missile defense transparency, we were on the road to do something very positive to get an agreement. Then we had Russians invade Crimea. No–it didn't help. In fact, it cut off our discussions again.
But let me just end on this. I am very much an optimist. As I have said in many forums, one has to be an optimist in dealing with these issues. I firmly believe there is a way forward and I do think, "Why does the United States–why do we need dialog?" Because the United States is committed to arms control. Because we are–even more importantly, we are committed to strategic stability with Russia. We have been pursuing strategic stability with Russia–and with the Soviet Union–for decades. It is in our mutual interest and dialog is the answer to the question. We have dialog, we need more.
UNKNOWN: And they're still (inaudible).
FRIEDT: They are, it's not as good as we would like. We both–but it's there, absolutely.
REIF: Well, thank you, Anita Friedt, for ending on a more positive note. These are very difficult processes and challenges that the Arms Control Association will continue to work away at. And thank you to all of you for your engagement and continued support for that effort. And finally, let me thank all of our speakers. Thank you.
(APPLAUSE)
Concluding Panel
"Building on the Joint Comprehensive Plan of Action"
Ambassador Laura Holgate, former U.S. Representative to the Vienna Office of the United Nations and the International Atomic Energy Agency
Elizabeth Rosenberg, Senior Fellow and Director of the Energy, Economics and Security Program at the Center for a New American Security.
Moderated by Daryl Kimball, executive director, Arms Control Association
KIMBALL: We have left for the last part of the agenda perhaps one of the more difficult issues that the Arms Control and Nonproliferation regime is facing, the future of the Joint Comprehensive Plan of Action.
And we're going to discuss for about 45 minutes its nature, what it does and its future as this decision by President Trump in the coming weeks approaches. So as most of you recognize, the Joint Comprehensive Plan of Action which was concluded two years ago has been blocking Iran's pathways to nuclear weapons.
The IAEA has confirmed in 10 reports, Iran is complying with its commitments. Yet, President Donald Trump has in the view of the Arms Control Association manufactured a crisis that threatens the future of this agreement.
So back in January, he announced that, he threatened not to extend U.S. sanctions waivers after May 12th, which is the next deadline unless Washington's European partners – France, Germany, and the U.K. in particular and Congress take steps to fix what Trump thinks are the flaws in the deal.
And so, now, the E3 states are working with the State Department, specifically Brian Hook, a holdover from the Rex Tillerson State Department to explore ways in which to augment and fortify the JCPOA.
And the May 12 deadline may not be the final deadline. That is just the date by which the sanctions are supposed to be—the sanctions waivers are supposed to be extended. It still may take some time for the Trump administration to decide to re-impose sanctions if they don't get whatever they are looking for from the E3.
So we're going to explore these issues in greater depth with two people who are very familiar as policy professionals and practitioners. And we're very pleased to have Laura Holgate and Liz Rosenberg with us.
And as your program notes, Ambassador Laura Holgate is a senior fellow at the Belfer Center for Science and International Affairs at Harvard. She is also just rejoined the Nuclear Threat Initiative where she was before.
I don't know, Laura, what your new title is. What is your new title?
HOLGATE: As of Monday, I will be vice president for material security and minimization.
KIMBALL: So vice…
HOLGATE: The wonkiest title ever.
KIMBALL: So we'll just call you…
HOLGATE: Even among my titles.
KIMBALL: So we'll just call you Vice President Holgate. Would that…
HOLGATE: Yes. You may call me that.
KIMBALL: All right, Vice President Holgate. She's also been—after she did a few things at the White House over the past several years including the Nuclear Security Summit process, she was the U.S. representative to the United Nation's International Organizations, including the IAEA in Vienna, so she got to see firsthand the work of the IAEA and the IAEA board in monitoring compliance with Iran's obligations.
And Liz Rosenberg is a Senior Fellow and Director of the Energy, Economics and Security Program at the Center for a New American Security. And from 2009 to 2013, she was a senior advisor at Department of Treasury, working on sanctions, issue related to Iran and other problem states.
And we at the Arms Control Association, Kelsey Davenport our Nonproliferation Policy Director and I lean on Liz many times to help understand the sanction side of the nonproliferation puzzle.
And so it's very good to have Liz here because we'll be exploring some of the details of how this post-May 12 period may play out. So with that, I wanted to start by asking Laura about—based on your experience at the NSC, the mission in Vienna, what do we need to remember about where Iran was in 2012, 2013 before the interim agreement that was struck that then led to the Joint Comprehensive Plan of Action, theoretically how close was Iran to getting enough fissile material for a weapon? In other words why is the JCPOA important?
HOLGATE: Great starting question. When the negotiating process with Iran was begun the assessment was that Iran was two or three months from being able to create enough fissile material to use to make a weapon.
Now, the experts in the room know that there are a lot of other steps between having the material, being able to weaponize it, being able to miniaturize it, being able to put it on the frontend of a missile, having a missile that works.
I mean there are a lot of other steps past that but those—the time lines for those are almost impossible to gauge. What you can gauge is how long does it take to make fissile material and in the quantities that are relevant for nuclear weapons.
And so the judgment was as of 2013 that that was two to three months. And that was just too close for comfort, because as important as the technical capacity was for Iran and I'll say a little bit more about that in a minute was the Iranian intention.
And I think even by—by 2013, it was well understood that Iran was not racing to a bomb. Iran was—had built a steadily ambiguous program, a program that had some pieces that were explicitly hidden from the IAEA, other pieces that were not. That their goal was to be close enough—to be able sprint for a bomb if they made the decision to go to that weapon, move from an ambiguous peaceful program to an intentionally weapons program.
And that is an important thing to understand, that they had not yet made that decision as of 2013. Now—but what they did have was a fair amount of what we would call high-assay of low-enriched uranium.
So, uranium in the 19 percent range of enrichment and for again in this audience I can talk about things like the hockey sticker when it comes to SWU inputs, in other words it takes a lot more work to make 19 percent highly enriched – 19 percent enriched uranium than it does to go from 19 percent to 20 percent.
So that's where your sprint comes in. Yes, from 19 percent to 90 percent. That's where the sprint comes in, is you're pretty close. It's not linear. So having that much material that was already close to being weapons usable was already problematic.
They also had 2,000 centrifuges spinning at two different enrichment locations in Natanz and Fordow. They were in the process of building the Iraq heavy water reactor, which was masquerading as a research reactor, but it was essentially a plutonium production reactor.
And so that would have been a second type of material that they could have used in a bomb. And they had ambitions were in the early stages of developing a reprocessing capability which would have been needed to extract the plutonium from the spent fuel from that Iraq reactor.
So they had multiple different paths to achieving the kind of material that they would have needed to make a weapon if they had—if and when the leadership of the country decided that they really needed a weapon. But they had not made that decision yet.
KIMBALL: But, Laura, I understand that this is the worst deal ever. And that it really didn't…
HOLGATE: I don't.
KIMBALL: So that's where it was. What does the JCPOA do to curb those capabilities? Where are we today as a result of the JCPOA?
HOLGATE: So there were a lot of things that needed to happen before the JCPOA actually started to take effect and some of those were creating some irreversible depletions of those capabilities that Iran had initially.
First of all was to remove all of the high-assay LEU, so that no longer had a starting point. Second was to limit any amounts of LEU that they could have in, to 3.67 percent, so that's a significant—that requires in a significant amount of work to go from that low-enrichment level to a 90 percent enrichment that you would need to make a weapon. And when you only have three kilograms of it and even if you were to start with that three kilograms of the 3.6, try to enrich it up to being a meaningful quantity from a weapons point of view, you wouldn't get—you wouldn't have enough.
So that's two, both the quantity and the quality of enriched uranium were importantly limited. The centrifuges were dismantled from 20,000 to 6,000 and were put under very tight surveillance, not just the ones that were spinning but also the places that centrifuge parts were manufactured. The places for centrifuge R&D was going and so on.
The Iraq reactor was disabled. I learned the word calandria as a result of this process and that if it is essentially as a reactor vessel. It was filled with cement, permanently disabled and damaged.
The heavy water was removed from the country, the excess heavy water and then limited to only a certain amount that they can have. Heavy water is not something that you can use to make weapons usable material directly but it is important for the operation of the kind of reactor that they were originally designing the Iraq reactor to be.
The spent fuel that had been already been generated or that will be generated in the future associated with that reactor has to be removed. And then the most intrusive verification regime ever developed was applied.
Not only the additional protocol which is the kind of top level of IAEA safeguards that were applied to over a 100 countries globally, Iran agreed to accept that level on a provisional basis pending ultimate ratification of the additional protocol, but then there was a whole bunch of other stuff that the IAEA is confirming about Iran's behavior that is not part of what normally happens, of heavy water limits, centrifuge parks, uranium mining, uranium conversion activities, the manufacturer of centrifuges.
And then there is even this procurement channel that is not an IAEA aspect, but it's a UN aspect that it is a way to provide international supervision on any potentially dual use equipment or materials that might be going into Iran.
And so, there is an extensive mechanism here. And that has done has given everyone confidence, well, maybe not everyone, it gives confidence that two to three month period that we had before the JCPOA is now a one-year period, that it would take Iran a year between decision to sprint towards a weapons program. Kick out the inspectors, reactivate facilities and so on.
It would take them a year to manufacture enough weapons usable nuclear material to make a weapon. And so that's a year in which a whole range of activities all across the spectrum from demarches to kinetic could be employed, were those to be, determined to be the right answers.
But the other thing that it did, it didn't just buy us a year of time to deal with an Iranian weapons decision, it gave us 10 years to—and 10 years at a minimum and many much longer for other pieces of the puzzle to try to change the reality of the politics in the region.
And the Iran deal was never sold as being the final end to an Iran nuclear weapons program. What it did was it bought time to change what might motivate the Iranians to choose to take a step towards a weapons program.
And to use this time which now is down to being seven and eight years instead of the 10 years we had to really improve the politics in the Middle East that a weapons decision would be a response to.
And so I think, frankly, both the previous and the current administration have not spent that time well, looking at the broader challenges of the politics in the region.
KIMBALL: Well, so let's—let me just ask you about that a little bit because one of the flaws that President Trump outlined back in January 12 is his criticism that the JCPOA expires. There are sunset provisions that will end and that will then allow the Iranians to sprint to the bomb.
So, how do we address that problem? As you said, I mean, the JCPOA was never sold as the permanent solution for the potential for an Iranian nuclear weapons program, but given the realities that we have in the Middle East, which are difficult, how can we in concept in an ideal world build on the deal?
In other words, what would a smart approach be to build upon the core elements of the JCPOA with Iran directly or maybe regionally? What are your thoughts?
HOLGATE: Well, first of all, it's important to understand there are several critical aspects of the JCPOA that are permanent, that are indefinite that last or are not time limited anyway. One is the additional protocol as Director General Yukiya Amano of the International Atomic Energy Agency has said, there is no country that has successfully created a covert weapons program while under the application of the additional protocol rules. So that's already a high standard there.
Iran also reiterated in its—in the JCPOA the pledge that it had already undertaken in the NPT never to develop a weapons program. That lasts forever and then it has an international legally binding treaty basis because it was simply a restatement of a commitment they had already made.
There are other aspects that are at the much more technical level that have a much longer timeframe. And then as you cascade, I mean we've all seen the waterfall charts of the timelines of what pieces expire when. I'm not going to recreate those from memory, but certainly it doesn't all end at 10 years.
Much of it lasts forever, much of it lasts longer. And the rational thing to think about is as you approach those dates with a solid track record, either a solid track record of implementation and verification and compliance which is what we have until now or concerns about verification and compliance. Then when you get to year eight or nine is the time to start talking about what do we need to do differently if this agreement is going to continue.
And you also have to base it on the political context at the time. What is the broader political environment in the Middle East. What are these threats or perceived threats to which Iran's weapons decisions or ambivalence decisions might be responding. But to try to jump from year two or three of implementation to already thinking about what are you going to change in year 10 is vastly premature.
KIMBALL: Yes. Okay. So one other question for you and then I'm going to switch to some questions about the future of the agreement and bring Liz into the conversation. But you are working at the White House on these issues. You're part of the meetings and the discussions backstopping the talks that Wendy Sherman and others led, and then you were at the IAEA, looking at how the agency was working this.
Now, Donald Trump and his team says that the mechanisms for inspections that the JCPOA allows for, including the additional protocol and the other measures, that's not enough. And we need to have a more robust inspection authority when we get the Europeans to agree with us.
What's your reaction to that? What does the agency itself say about whether it needs more inspection authority, whether there has been resistance that is preventing them from verifying Iranian compliance?
HOLGATE: Well, first of all, I'm going to set your characterization straight a little bit because there are too many people here in the room who know I had nothing to do with the Iran deal until I went to Vienna.
KIMBALL: Okay. All right.
HOLGATE: So I was not part of that backstopping team. But I did see it on the ground in Vienna that work directly with the IAEA safeguards teams, the close cooperation that those teams had with the experts on my team in the U.S. mission there. The reach-back capability we had to the U.S. national laboratories to answer technical questions that were coming from the safeguards community within the secretary and at the IAEA.
And I have to say, to see the level of professionalism from a technical point of view, from a judgment point of view, from the safeguards team, all the way up to DG Amano on this issue was quite impressive.
They were always responsive issues that the U.S. brought forward. We tried to be as quickly and as quickly responsive to any technical questions that they brought forward and there was a real transparency of—on the implementation process while respecting appropriately the safeguards confidentiality of certain types of information that the safeguards inspectors would have had access to inside Iran.
So, it was never raised by—in any of those conversations from the safeguards community inside Iran or inside the IAEAs as oh, gee, we wish we could do this or if only we had this information we would be able to say this with more certainty or anything like that.
We invented some new technology for them. The famous enrichment level monitoring contraption.
KIMBALL: Online Enrichment Monitor.
HOLGATE: Yes, OLEM. I'm out of practice talking about it. The online enrichment monitoring device which actually derive from an old—from a U.S.-Russian gizmo that had been invented in connection with HEU purchase agreement and the blend down of the 500 metric tons of Russian highly-enriched uranium.
So we did have a little bit of an interesting moment of a U.S.-Russian technology being now applied in a third country environment, which is pretty cool, and kudos to the Oakridge folks who were the ones who were able to make that extrapolation.
And the JCPOA also provides some mechanical capacity over and above the traditional safeguards in terms of creating a snapback arrangement to bolster the ability—bolster the additional protocols ability to have the IAEA inspectors visit any site at which they had a concern, and so whereas that exist for any additional protocol, if the host country chooses to draw out that conversation then there's a potential that it could last too long to be useful. For the purposes of the Iran deal, there's a very specific time limited decision-making process if in fact the IAEA does not get adequately quickly satisfaction from Iran that actually creates automatic snapback of sanctions, so a pretty heavy hammer should Iran challenge the IAEA rights under the EP.
The IAEA has not asked to see military facilities because they have had no concern about that. Iran has not refused any particular visits to any military facilities in association with the JCPOA. So, I think those are two important facts to be sure that are registered.
KIMBALL: So I want to bring Liz into the conversation. I want to ask both of you the same question to get your reactions. As I mentioned there is this May 12th sanctions waiver extension deadline, the E3 parties and the Trump administration are negotiating on ways to for a lack of a better way of putting it, augment the JCPOA outside of the nuclear provisions.
And as we understand it, it's been reported this is kind of a three-part negotiation on Iran's ballistic missile activities which fall outside the JCPOA itself, on the regional behavior of Iran and how the U.S. and Europe might cooperate and on the so-called sunset provisions, some of the elements in the JCPOA that relate to nuclear that might expire, what do they do together.
So in essence, what do you expect might come out of this? What can come out of it? And what needs to be avoided over the coming weeks. It's a very open question. I don't know, Liz, you might want to start and Laura can jump in.
ROSENBERG: Okay. Thank you. And thanks for the opportunity to be here with you and to have this conversation. So what comes out of this conversation, well, there is a set of things that have already come out of it and then they come out of it, pursuant to further discussions at the State Department led by Brian Hook is to having with counterparts in the E3 political directors and their deputies.
And also those same—the E3 are having conversations with members of Congress and communities of jurisdiction or who are clearly stakeholders on this issue. That's not part of a formal U.S. administration E3 process seeking a statement, a joint statement or a joint piece of paper or a joint press conference, any of those things are possible that the goal is to try and bring together in some slightly more formalized way, the United States and the E3 to—with an agreement about how to address these three things.
So interestingly, I think that the—it appears that the U.S. position, what the U.S. administration was asking for a permanent E3 when it comes to ballistic missiles and regional activity, maybe less than what the E3 was willing to do. So, cross that off the list. There is an ample opportunity to get to yes there when it comes to those particular people having a conversation.
KIMBALL: And when we're talking about ballistic missile behavior, we're talking about ballistic missile transfers from Iran to other parties, right? I mean just to be more specific.
ROSENBERG: There are two sets of concerns, obviously, the expansion of their arsenal and technology, equipment, procurement agents, absolutely and then as well as proliferating that technology to other interested customers. Right, so all of that is there. And Europe has at the level of EU as well as individual member states have a long history of interest and concern on this issue.
They have plenty of their own sanctions on Iran related to ballistic missiles that exist now in the era of JCPOA. So there's a lot of opportunity for them to do more their—I understand that the really difficult part is how do we get to an agreement on the sunset issue and to make it particularly challenging, there's couple of factors here, a couple of considerations. One is that the U.S. administration, I think what they are looking for is the word sanctions. An intent to—for Europe to use sanctions if—and you can offer the technical lingo to fill this out, but my understanding is if Iran steps out of the bounds that begin to expire after the expiration date. That's a simple vernacular I've tried to use in this.
But you can amplify that. And the challenge here is that I think some of the European counterparts are allergic to using those words. That's very uncomfortable. And to get into a place where there is—the interpretation on the European side is if you go so far is to say that that will happen or there is an intent for that to happen, that is broadly perceived there to be rewriting the agreement and that's just a no-no.
It's too political uncomfortable and there is not—and furthermore, I think they take very seriously the challenge of committing their future governments to this obligation, which I think is much more lightly undertaken here in the United States.
Anyway, then there is the other challenge which is what the White House ultimately says about any agreement that the State Department manages to get to with the E3 counterparts and whether notwithstanding the fact that the E3 and the State Department may come to agreement on these issues including the sunset issue, whether that will be palatable and sufficient for the president and that's something that no one can answer, period.
So that, of course, is quite a disincentive for Europeans to exert a lot of effort and political capital including getting to an uncomfortable place with some of their own domestic constituencies on these issue and viewing that, other European states have thrown up barriers and difficulties to adoption at the EU level of new measures to advance these particular concerns in the form of sanctions at the EU.
So that makes it more difficult too. I do perceive that in the last week or two there has been a doubling down of effort on the part of the Europeans to try and work with the Americans, also indirectly with the U.S. Congress, a set of important pacesetters or policy shapers on the hill to try very hard to come to a set of agreements which no one has guarantees will ultimately succeed with the president, but nevertheless, people are working very hard on these three issues.
KIMBALL: So, Laura, what do you think can be accomplished? What should be avoided, perhaps avoided by our European partners who are trying to uphold this agreement?
HOLGATE: I think a good faith showing as they are doing I think that's the critical part of it. I completely agree with Liz, we don't know—nobody knows where the goal posts are or whether they will move, even when they've been stated, whether they will stay where they have been put.
And so it incredibly complicates the effort. And I worry very much. I mean this is more in—Liz's bailiwick, but that the kinds of secondary sanctions and other things that might start to happen if we can't find a common perspective will bust open what has been to me a remarkable durable common perspective, not just with the U.S. and the Europeans but with China and Russia as well.
KIMBALL: Yes.
HOLGATE: And so, if we mess with that, that really starts to tear away at the coherence of—that we saw when Iran was kind of challenging the boundaries in the 2016 timeframe of the agreement, and where they faced an impenetrable wall of opprobrium from the other members of the P5+1. If we start—if the U.S. and Europe start to come apart a little bit, then I worry very much about the ability to keep a common perspective against any future efforts of Iran to test boundaries or worse yet, go past them.
KIMBALL: And I will just note, just this morning there was a very significant statement that came out from Europe, 500, French, German, U.K., parliamentarians issuing a call I think directed to the U.S. Congress, urging them to do what they can to ensure that the United States does not violate the JCPOA, stays in the agreement.
And a couple of days ago, EU High Representative Federica Mogherini making a very clear statement that the EU will follow through and uphold the JCPOA and defend the JCPOA. But still, there are only certain number of things that can be done.
And so, I wanted to turn to Liz to the question of what will happen if we—if what we expect does happen, which is that President Trump fails to extend the sanctions waivers, that would have to happen on the 12th of May or maybe earlier.
Would that put the U.S. in technical violation of the JCPOA from a legal perspective? What are your thoughts? And what would the international reaction be at that point and particularly perhaps your thoughts about Iran and, Laura, if you want to talk about this too? Because—what is today? The 19th, okay. This is just two weeks away.
Your thoughts.
ROSENBERG: Well, when you put it like that. So as a purely legal matter, if the president comes up to May 12 and hasn't rolled over and by the way this is a delegated authority, it wouldn't be him who signs the thing anyway. But obviously it's so significant politically that he has to approve that this should happen. If the administration does not renew the set of 120-day waivers offering a set of relief from sanctions to an array of non-U.S. companies, then technically, all of that activity that had been permitted is no longer permitted, which means if you continue to do it, it's a violation of these sanctions.
And there is civil and criminal liability associated with that. So, there are some people who are peddling the notion that it's not illegal until it's enforced, which is sort of like saying it's not illegal to speed unless the cop comes and pulls you over.
So, it's still illegal as a legal matter. Now, I will offer that if that particular scenario happens, so when we get to May 12 and the sanctions waivers, those waivers are not rolled over, it will be incredibly confusing legally to an array, to the whole world that might actually be interested and in complying with U.S. law and staying on the right side of the U.S. for purposes of using the dollar in the U.S. economy, which basically describes just about everyone in that 80 percent of global trade transactions are conducted in the dollar. And I don't have to explain the significance to you all, but so that sets up a situation where there is lots of—there is lots of liability. The administration will have to explain whether that shall be effectuated, shall go into effect in 180 days.
And there are a number of 180-day markers that probably indicate that would be a reasonable default. There is a piece of guidance that the Obama administration put out in January, 2016 that said, it was a long Q&A about all of the things—questions about how these sanctions are rolled off as part of the JCPOA and planted them there way at the end is a question.
Well, what happens if sanctions are re-imposed? And it says there'll be an 180-day period where these wind up. And so, if you have—many kinds of contracts that are in practice, you can continue and execute the contract and then you got to get out, et cetera.
The Trump administration doesn't have to be bound by that. They doesn't have to be a 180 days and some of the sanctions that would—these 120-day ones that are tied to that May 12th deadline. They are energy sanctions, so they bear relevance to Iran's ability to sell its petroleum. And they created, when they were in force, the requirement for six remaining significant purchasers of Iranian oil to significantly reduce their amount of petroleum purchases every 180 days.
So there's another 180-day marker, that might mean that after a 180 days after May 12th these purchasers of Iranian oil would have to show themselves to be significantly reducing it, et cetera. You see where I'm going. There are a lot of questions about who this applies to because in 2012, Europe wasn't purchasing Iranian oil, now they are.
KIMBALL: Now they are, yes.
ROSENBERG: So, yes, you take—so, the short of this is, yes, the U.S. would be in violation come May 12th. And I think political counterparts of the United States and independent observers and lawyers of the world over will point that out.
KIMBALL: And it will also start having a real world effect on the trade investment that is going on.
ROSENBERG: Yes.
KIMBALL: And will contribute to Iran's argument which is becoming more and more valid that the United States is taking actions that are contrary to its obligations to relieve it of the sanctions. And so, Laura, let me just come back to you about—I mean, this is a speculative question, but I think it's important one to consider given where all this is headed is Iran has these latent capabilities that were pulled back, decreased because of the JCPOA.
What kinds of things might the Iranians do if this keeps going in this direction? Just real quick what might we look forward to if we don't find a way out of this dead-end?
HOLGATE: Well, just like with U.S. policy, there have been a number of different Iranian policies stated in public. And some have said that—some Iranian voices have said that they will continue to comply with the JCPOA focusing on the Europeans and Chinese and Russians continued observance of that.
I don't know what that means regarding secondary sanctions. But there is at least that statement. More recently, there has been a statement that they will not continue to comply. They themselves would feel unbound, unlimited by the constraints of the JCPOA if the U.S. pulls out, irrespective of what any of the other parties do.
And then there have also been statements that they will return—they can return as quickly—they will return as quickly as they possibly can to the level of capacity or even more that they had for either the uranium path or the plutonium path to the bomb.
Again, some of these constraints were permanent, but there are workarounds if they are not under the supervision and verification implications of the JCPOA. And so that's where the one year comes in. So we have a year to prepare.
And it all goes back to what is Iran's intent. If they were not yet intent on making a weapon in 2013, if they validated that lack of intent in the text, in the actions associated with the JCPOA, does the U.S. departure change their calculation about that intent?
Do they decide that now, that the U.S. is no longer using diplomacy to try to achieve the U.S. goals that next ratchet is not just through sanctions but to something kinetic? Do they decide that that is the trigger that will actually cause them to cross that path that they have not crossed in the last 15 or more years? So…
ROSENBERG: Can I just respond?
HOLGATE: Yes.
ROSENBERG: So just to add a little more. It's obviously not the U.S. and Iran whose race is it to double down on the threat. When several weeks back, we heard from his Deputy Foreign Minister of Iran say we're going to move towards a nuclear weapons capacity. We heard the same thing said by the Saudis.
HOLGATE: Right.
ROSENBERG: So it's not just two actors here. We're watching for the potential to escalate and that's probably just the beginning of the universe of actors who are planning to make mischief in the scenario where the U.S. and European allies are divided.
HOLGATE: Absolutely.
ROSENBERG: And where there's a much more uncertain perspective on nuclear arms control globally.
HOLGATE: Absolutely.
ROSENBERG: And also as a security measure in the Middle East.
HOLGATE: Now, I think that's just right.
KIMBALL: Yes.
HOLGATE: If anyone who is worried about Saudis' interest in nuclear weapons, the best possible thing you can do is preserve the JCPOA and that it—at least delays and creates some opportunities to adjust Iran's path towards a bomb, so…
KIMBALL: Right. And that's an argument that Kingston Reif and I and Kelsey have been making in connection with the coming Congressional debate on the proposed Saudi 123 Agreement.
Well, before I get to the next question about what we can do about the situation? What the Europeans can do? I mean, we just commented, to bring this conversation very briefly back to the beginning of the day and the discussion about the NPT and the future of the NPT and the upcoming PrepCom on the 2020 Review Conference.
I think it's fair to say—I think I'm channeling Ambassador Higgie, the threat to the NPT if—is not the ban treaty, the threat to the NPT is the possibility that the North Korean nuclear problem continues to get further out of hand.
And if this fix to the nonproliferation regime, which is the JCPOA is removed, we're opening Pandora's Box in the Middle East. I mean it's pretty clear and obvious. And so, I hope this is something that in Geneva that is raised by a number of delegations because we need to connect these dots.
So, let me just come back to Liz, and I'm going to ask a question I don't know the answer to. I don't know—I think she's got a better chance of answering this question. It's sort of answerable, but if we head towards in this direction, what kinds of measures can our European allies, the E3 and the EU 28 as a whole and maybe the Chinese and the Russians take in order to sustain the trade and investment that would be necessary to persuade the Iranians that staying in this deal is worthwhile. And that's what Laura was referring to.
So, I mean, what particular legal, financial mechanisms are possible? And…
ROSENBERG: Yes. I don't have great answer for you. So, realistically, I don't think there's much viability for Europeans as the EU on a national level to create a protected channel or a white channel with Iran to try and safeguard some commercial activity and payment from U.S. sanctions.
The same thing with the other attempts that—revising their blocking legislation which would safeguard or prevent companies that are legal persons in the EU from abiding by non-national sanctions, well, I will just say U.S. law.
And the reason why is that any company of reasonable size, so even a regional European company wants access to use the dollar in even if they don't plan on having U.S. commercial counterparts and they want to be able to avail themselves of U.S. technology, which is ubiquitous from everything from human resources software, applications to industrial process software.
I mean the universe is very broad here as well as U.S. natural persons like any of you who might offer them counsel, legal counsels, strategic advice. I mean all of that is not permitted if you're on the wrong end of the sanctions and enforcement actions.
So, no reasonable company wants to be made the test case of this, even if their government want to stand up because they are very frustrated legitimately at being bullied by the United States and asked to capitulate on strongly-held domestic issues which, by the way, might cause them their political mandate and viability in standing where they are in Europe.
But nevertheless, the only such white channels that have existed have been within the boundaries of sanctions programs, so and tie this to Iran sanctions in 2012 on, those years in their worldwide channels for permitted purchases of Iranian oil and certain South Korean and Japanese and Indian bank.
And after a great struggle and tedious legal work it does occur when doing things like trying to deliver aid money to aid workers in Syria, et cetera, but this only comes with the blessing of the regulators and enforcement officers in the United States.
So I cannot see that happening, so unfortunately, my take away from that is it is even more important to try every last chance to keep this deal in place because that future looks like the only people who will continue to do business are people interested in violating the sanctions intentionally or circumventing them in some way or pushing China faster towards a non-U.S. because they can't really do this in Europe, but China could with the volume and liquidity and available bank funds.
And they've done it before and were sanctioned for under the Iran's sanctions regime to create a kind of carve out, a bank that will only do our own business, for example, to permit Chinese or other entities to be able to do that in violation of U.S. sanctions.
KIMBALL: Okay. Well, I told you at the beginning of the day, this was not going to necessarily be an uplifting conference by the time we were done. And those little tins unfortunately have mints in them. They don't have (inaudible), so we can make you instantly happy.
But I want to give you folks a chance to ask a couple of questions. We're running short on time. Raise your hands. I want to encourage people who've not asked a question before in the middle, Ryan (ph).
If—there is this gentleman with a mustache, who I know is very knowledgeable about Ed Levine. These issues.
(UNKNOWN): (inaudible).
KIMBALL: All right, Ryan (?), to him, please.
(OFF-MIKE)
KIMBALL: (inaudible) oh my goodness. You've shaved it okay. Ed? Your question.
QUESTION: Edward Levine, Center for Arms Control and Non-Proliferation. I just wonder in the event that the agreement falls apart or is perceived to be falling apart, what is to prevent Russia from repatriating the enriched uranium to Iran?
KIMBALL: Laura, real quick.
HOLGATE: Okay. Nothing.
QUESTION: And how would that affect the timelines for a sprint?
HOLGATE: It would certainly shrink them significantly, whether Russia really has an incentive to do that is a different question, but there is nothing as long as it goes—is kind of safeguards activity within Iran that's okay.
KIMBALL: And I would just add as we go—Mallory do you want to take the next question please?
I mean one other thing to think about is Russia has since JCPOA began lining up agreements with Iran for the construction of Russian reactors and the supply of Russian fuel to Iran, which would obviate the need, the economic need for Iran to read, constitute an enrichment, domestic enrichment program.
So it's very much in Russia's financial interest, not to mention the security interest to keep the deal in place because they're not going to—Iran is not going to need the Russian fuel if they can produce their own.
Mallory Stewart, your question.
QUESTION: Thank you. I apologize in advance for a little bit of a leading question, but it's to Ambassador Holgate. Given your experience internationally with disagreement and with other countries' reactions to it, and given the talk this morning about the DPRK watching every move that happens with the JCPOA, more broadly do you see any lasting and long-term effects to the U.S.'s credibility as an entity that can engage in political commitments that have been important throughout the history of arms control.
Moving forward, right? In terms of some of our most important agreements, political agreements have been nonbinding and how can countries take us seriously if from administration to administration we give up that capacity to allow for continuity?
HOLGATE: Well, I just even in 2016, when I was in Vienna, I was hearing from my ambassadorial counterparts of concern about the uncertainty that might come along with the change of U.S. administration and what that would mean for their ability to have confidence in my successor who by the way is among those ambassadors that has not yet been able to take up post.
So we have an extremely capable charge d'affaires but we have no ambassador in the IAEA to be sitting with counterparts, with the DG, having the kind of conversations that it takes an ambassador to have about what to expect, how to mitigate the fall out—sorry, the damage.
And…
KIMBALL: (inaudible) work for this.
HOLGATE: So, I think both very tactically in terms of the next few months in Vienna and especially in the NPT space when we have a whole bunch of challenging conversations coming up there.
How can, in fact, the U.S. be taken seriously when there is no problem with the performance against the agreement. That is the biggest concern. When the U.S. has problems, I mean there's been a lot of debate about the INF treaty, but we can say what our problem is with it.
This is—it's a fully functioning complied with agreement by our relevant parties, and even then we can't be trusted to stick with it. And that I think significantly under binds our credibility as a partner, as a leader, as a champion of norms that have been bipartisan since their very origins.
ROSENBERG: We will be remised if we didn't just note that and I think we can all agree this is actually is just the tip of the iceberg. What we ought to—and in fact, let's not miss the forest for the trees. The broad concern is that the U.S. and its traditional closest security allies risk losing little what shred is left of credibility and trust on an array of economic and security issues that they—there's entire global, legal, political, strategic framework built around close cooperation of these on an array topics. And that's the bigger cost we must bear in mind.
KIMBALL: All right. Well, that's going to be—have to be where we end this conversation on the future and challenges on the Joint Comprehensive Plan of Action. I want to thank you both for giving us a hard dose of reality, laying out the issues.
The Arm Controls Association continues to work with Liz and Laura and many other colleagues in this room to try to encourage the White House and others to see the light on this. And we will continue to turn out our analysis and our information with the leadership of Kelsey Davenport, our nonproliferation policy director and others.
But we're about to close our meeting today. And before I turn it over to Tom Countryman who's going to give us some closing remarks, let's applaud for Elizabeth and Laura.
Closing
Thomas Countryman,Chair
Arms Control Association Board of Directors

COUNTRYMAN: So briefly, a couple of logistical points, several thank-yous and a couple of personal comments. First, logistically, we intend to have both audio and video of today's event posted on our website by the end of the day today.
We should have a transcript of today's event available online at our website next week. I encourage you to use your computer skills, mine are strictly 20th century, but I manage, to share either the entire event or the parts that you found most interesting with the people that you know want to learn about these issues.
A number of thank-yous. We always, every year have this event at the Carnegie Endowment for International Peace. We want to thank them for their extraordinary support, great conference services and beautiful facility.
We want to thank those who have sponsored this event, either by sponsoring a table or by making an extra donation to enable us to put on this event. I want to thank all of our speakers today and to start with those who receive the Arms Control Person of the Year Award.
You are not just governments' partners, you are our partners as well in the NGO community. And I think your accomplishment over the last year that we recognized today shows what can occur at the intersection of realism and idealism if you believe in it with enough, I mean a hell of a lot of hard work. So, thank you for joining us today for this.
(APPLAUSE)
COUNTRYMAN: And I want to thank all the other speakers who participated; in particular, those from the U.S. government, Andrea Hall and Anita Friedt, even as I get concerned about some of the policy statements of this administration.
I mean it when I say that I'm reassured to know that some of the best, most experienced minds in U.S. government are still hard at work on these issues with the same dedication. And I want to thank as well, of course, all of those who continue to work on these issues at NGOs and other institutions around Washington.
Let me thank also the staff team that put this event together, especially our program and policy associate that's been managing the conference, Shervin Taheran.
(APPLAUSE)
COUNTRYMAN: Our Communications Director, Tony Fleming.
(APPLAUSE)
COUNTRYMAN: I hope you have all noticed how beautiful the Arms Control Today magazine is as it has entered into the 21st century as well and the man responsible is Allen Harris.
(APPLAUSE)
COUNTRYMAN: And all the policy team, our interns—Kelly, Ryan, Matt; our volunteers—Liz and Sidra. Let me say a word about Daryl Kimball. To run this organization, you need a manager. You need a communicator. You need an analyst. You need a leader. And you need a visionary.
And Daryl has fulfilled those five roles for just one salary. For more than 15 years—
(APPLAUSE)
COUNTRYMAN: —and we try to thank him at least once a year.
KIMBALL: It's all it takes, Tom.
COUNTRYMAN: Let me say why I'm up here. On the occasion of my timely retirement last year—okay, it was unexpectedly timely—I decided that I wanted to, number one, be retired, be a little bit lazy. But number two, when I wasn't being lazy, to associate myself with the work of the Arms Control Association. I made that choice because throughout my time as assistant secretary, I saw the quality and the practicality of the analysis that they made about the issues we were grappling with and the timeliness of the work that they were doing.
And so, when I came out of government and started working with ACA, I was surprised, and it confirmed my decision, to learn that this is a fairly small NGO by Washington standards. This is not big, either in budget or in the amount of staff that we have.
And so, I was doubly astounded by the quality and quantity of work that they put out under Daryl's leadership. And it reinforced my determination to do what I can to help. As I got into it, I think I began a new learning process for myself a year ago.
How does a non-governmental organization work with other non-governmental organizations? How does a non-governmental organization work with a non-organized government?
(LAUGHTER)
COUNTRYMAN: And that issue I think has passed us. But the necessity remains to essentially wear trifocal glasses in this work. As Daryl just mentioned, the number of issues that are confronting us at once—issues on which we still have the capability to share information, analysis, and recommendations with the U.S government—are I think unprecedented. And they go far beyond the nuclear field, of course.
Issues on which we still have the capability to share information, analysis, and recommendations with the U.S government are I think unprecedented. And they go far beyond the nuclear field, of course.
And we've got to have that short-term "What is today's hot issue?" vision. We also have to be ready for how political circumstances change. Are we ready to work in a new political environment in the United States whether it's after 2018 or 2020 or sometime in the future?
Are we thinking about the opportunities ahead? And finally, do we have a very long-term vision about the inevitable technological change in the security field and whether we have the capability to make wise choices?
I think we have a fantastic team that is able to keep their eyes at three different focal lengths simultaneously. And so, and you knew I was leading up to this—I encourage your support. I welcome your support for the ACA.
I know that most of the people in this room already are a member. I hope that you would consider making additional contributions. If you're not a member, this is a great time to sign up. Those same wonderful interns and staff are still here to help you do that.
It is a bargain. It starts at just $25 a year in order to be the best-informed person on your block on all WMD issues. So, if you would like to sign up or if you're not sure about the status of your membership or you want to increase your commitment, come see Shervin.
So, thank you once again. We're united in a determination to make the world a safer place. The theme of today's meeting, the Nuclear Nonproliferation Treaty and the realization of all of its goals and commitments are what unite us.
I look forward to being in touch with all of you.
Thanks.
(APPLAUSE)
END