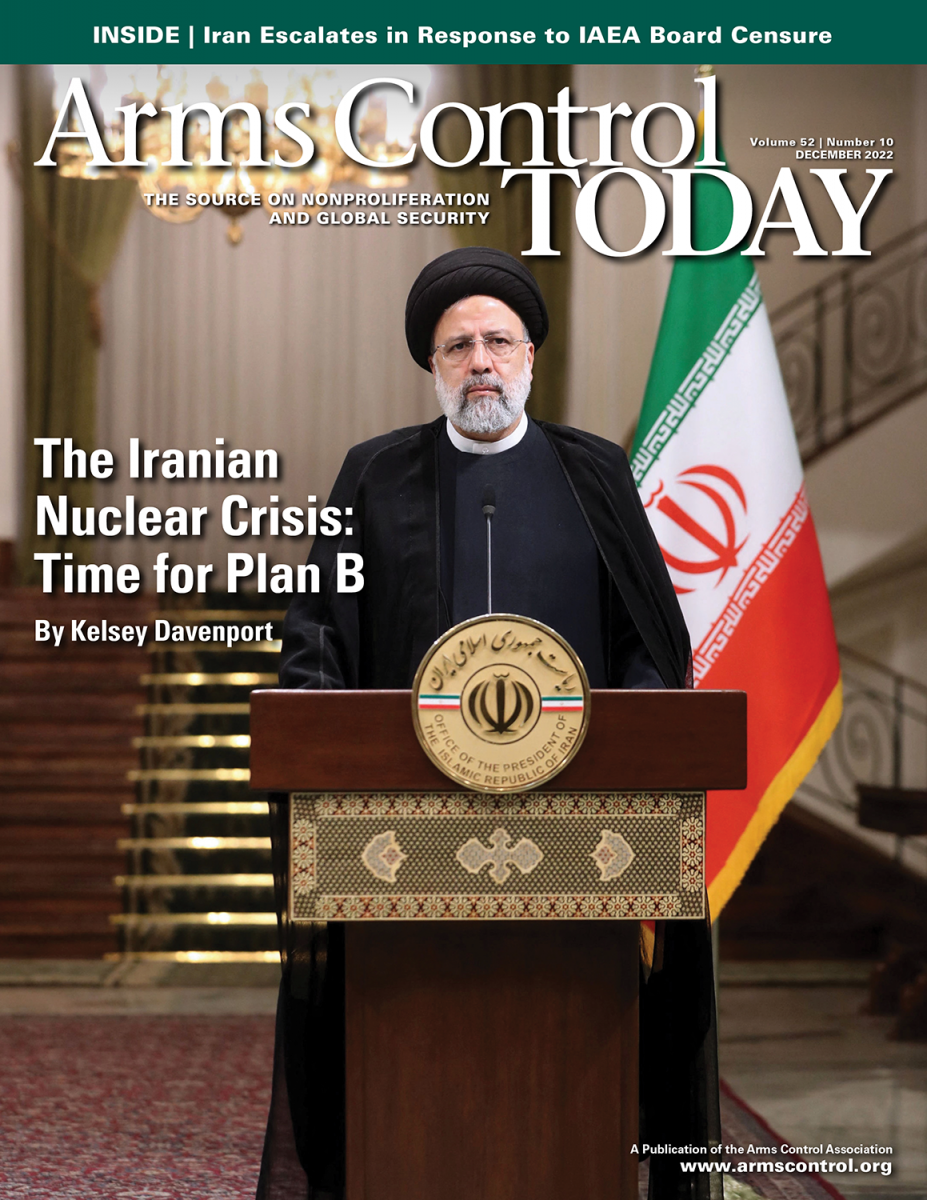 Our monthly journal, Arms Control Today, provides in-depth news and analysis on nuclear, chemical, biological, and conventional weapons-related security challenges. 
Please note the following changes to our subscription rates and policies for 2023 below.
Subscriptions are for a one-year term (10 issues) and do not automatically renew. Subscriptions include access to our digital archive of past issues (1996 to 2023). All prices include shipping. The Arms Control Association is a U.S. 501(c)3 nonprofit organization; no taxes are charged on subscriptions.
SUBSCRIPTION RATES
Domestic Professional Subscription (U.S. only, Print + Online): $130.00
International Professional Subscription (Print + Online) $150.00
Domestic and International Digital Subscription (Online only): $50.00
(We no longer offer a discount on agency-managed subscriptions.)
PAYMENT METHODS
Subscriptions placed by agencies may be paid by credit card or check. (Contact us by email to [email protected] if you require bank wire transfer instead.) Orders may be submitted using the following methods:
Complete and submit an order form with credit card information by email to 

[email protected]

Fax the completed order form to (202) 463-8273 with credit card details
Complete and return an order form with a check or credit card details to:
Arms Control Association, 1200 18th Street NW, Suite #1175, Washington, DC 20036
CLAIMS POLICY
Subscribers may place claims for undelivered issues. The ACA is not responsible for replacing issues that have arrived damaged. Due to postal irregularities, U.S. domestic claims must wait eight weeks after publication and international claims must wait 12 weeks after publication before claims are considered.

Agencies receiving issues on behalf of end users are responsible for delivery to the end user. Issues that have been shipped to the agency will not be replaced without payment for the replacement issues and shipping. Repeated claims for subscriptions delivered to the end user may, at ACA's discretion, instead be delivered to the agency or to a U.S. domestic address for pass-through delivery to the end user. If more than two consecutive issues are claimed in a row, we retain the right to charge for postage and/or replacement costs.

REPLACEMENT ISSUES
Replacement issues may be purchased by contacting [email protected]org and requesting an invoice for the specific issue(s) and shipping costs. Tracking may be available for an additional cost.

SUBSCRIPTION FAQs
Rolling annual subscriptions: Subscriptions are processed on a rolling basis and cover one year, which includes 10 issues (the January/February and July/August issues are combined).
Renewals: We do not automatically renew subscriptions. You will receive an email notification to renew your subscription as your expiration date approaches.
Cancellation/refund policy: Cancellations are accepted but refunds are not offered.
Online access: All subscribers can access their online accounts at armscontrol.org/mysubscription. Online access is granted by username and password combinations; access via IP addresses is not provided.
Subscriptions are for institutions (e.g. libraries, embassies) or individuals who do not wish to become a member but want to read Arms Control Today. Memberships are for individual supporters.
If you have any questions, please email [email protected] or call +1 (202) 463-8270 ext 105.