September 2023
By Shannon Bugos
Russia said that it still has not received a formal written arms control proposal from the United States, after U.S. National Security Advisor Jake Sullivan offered in June for the two countries to hold nuclear risk reduction and arms control talks without preconditions.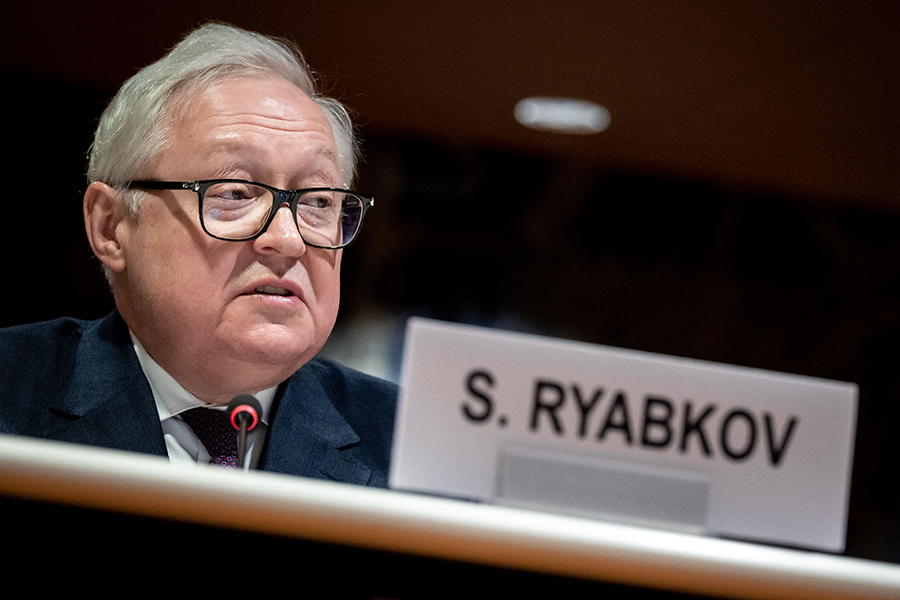 "No, we have not received a written proposal," Russian Deputy Foreign Minister Sergei Ryabkov told reporters on July 21. He noted that Moscow "was very clearly aware" of Sullivan's address outlining the Biden administration's broader arms control strategy and found it lacking. (See ACT, July/August 2023.)
A U.S. national security spokesperson told Reuters on July 26 that the Biden administration "privately" conveyed the proposal to Russia, but declined to elaborate on when the communication took place or what the proposal contained.
The United States "remains open to discussing nuclear risks and the future of arms control with Russia," the spokesperson stated. "Unfortunately, the Russian side appears not to share this willingness."
The same day, the U.S. State Department released its annual assessment to Congress on the 2010 New Strategic Arms Reduction Treaty (New START). The report said the treaty continues to enhance U.S. national security despite a dispute with Russia that has halted treaty activities, such as on-site inspections of nuclear weapons-related facilities and daily notifications on the status and the location of treaty-accountable items. (See ACT, April and July/August 2023.)
"The United States continues to assess that there is not a strategic imbalance between the United States and the Russian Federation that endangers the national security interests of the United States, and to assess that the Russian Federation's violations of the treaty do not currently threaten the national security interests of the United States," the report concluded.
The State Department also determined that, as of July 1, Russia "has not engaged in significant activity" above New START's central limits of 1,550 strategic nuclear warheads deployed on 700 delivery vehicles.
Meanwhile, U.S. President Joe Biden warned Russian President Vladimir Putin against using nuclear weapons in the war on Ukraine. "Don't go there," Biden said on July 13. "I don't think there's any real prospect—you never know, but—of Putin using nuclear weapons," he continued, noting that other countries such as China have warned Putin as well.
The Financial Times reported on July 5 that, during his March visit to Russia, Chinese President Xi Jinping warned Putin against nuclear weapons use. The Kremlin denied the report.
Nonetheless, heightened concerns about Russia employing nuclear weapons against Ukraine persist as Russia purports to transfer tactical nuclear weapons to Belarus. In June, Putin announced that Belarus received the first batch of Russian nuclear warheads. Moscow has declined to disclose how many warheads it plans to send to Minsk.
Russia has said that Putin will retain control over the use of the weapons, but Belarusian President Alexander  Lukashenko claimed on July 6 that "control is carried out perfectly, jointly by Belarusians and Russians."
"If Russia ever decided to use nuclear weapons, I am sure that it would consult with its closest ally—with us," he said. In a June address, Lukashenko described the deployment of Russian tactical nuclear weapons as "my firmest initiative," but assured that "we will never have to use them while they are here."
U.S. National Security Council spokesperson John Kirby told reporters on June 26 that the United States continues to see "no indication that there's any intent to use nuclear weapons inside Ukraine."
Western governments and nuclear experts are debating whether Russia in fact has deployed tactical nuclear weapons to Belarus.
U.S. Defense Intelligence Agency senior officials told CNN on July 21 that they have "no reason to doubt" the deployment. They acknowledged that the weapons, which would be placed in storage rather than forward deployed, are tricky for the intelligence community to track.
UK Defense Secretary Ben Wallace told CNN on July 21 that the United Kingdom has "seen signs of this [transfer] progressing," adding that Putin "doesn't always lie."
But a few weeks prior, Western officials speaking anonymously told CNN that Belarus does not appear to have the proper infrastructure for housing the weapons, an assessment shared by Hans Kristensen and Matt Korda of the Federation of American Scientists.
"Our observations and analyses show no clear observable indicators of construction of the facilities we expect would be needed to support transport and deployment of Russian nuclear weapons into Belarus," they wrote in a June 30 blog post. "We are underwhelmed by the lack of visual evidence."
In late June, a one-day mutiny by the Wagner Group, a Russian paramilitary group heavily involved in the invasion of Ukraine, also sparked worries over the custody and security of Russian nuclear weapons, as the group moved within 100 miles during its march to Moscow of two sites that have stored nuclear weapons.
The head of Ukrainian intelligence, Kyrylo Budanov, told Reuters in a July 11 interview that Wagner forces reached the Voronezh-45 facility and planned to acquire small Soviet-era nuclear weapons.
But the U.S. National Security Council said that it could not corroborate the report. Reuters also could not independently verify the claim.
Nuclear experts were skeptical that Wagner aimed to obtain Russian nuclear weapons. Korda said it would be "virtually impossible for a non-state actor" to undermine Russian nuclear security.
In addition, operationalizing the weapons would prove difficult for Wagner, said Olga Oliker of the International Crisis Group. "Russian weapons and facilities are under solid control, and there's no evidence that Wagner or anyone else is looking to capture them.... Not only would they be tremendously difficult to gain use of, there's no real logic for doing so. "