April 2022
By Carol Giacomo
What North Korea claimed was a highly successful test of its newest, most powerful intercontinental ballistic missile (ICBM) may be exaggerated or made up, according to news reports.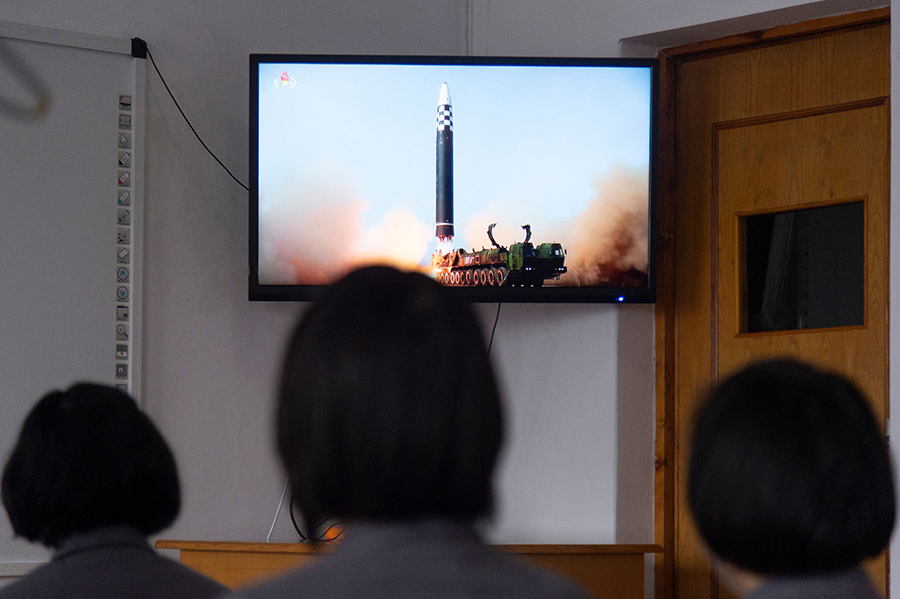 North Korean state media initially described the test on March 24 as an "unprecedented miracle" launch of the country's Hwasong-17 ICBM, which experts believe is designed to carry multiple nuclear warheads. The missile's altitude was clocked at 3,852 miles, with Japan and South Korea confirming that the launch flew higher and longer than any previous North Korean test.
The news raised tensions between North Korea and the United States, which is immersed in helping Ukraine defend against a Russian invasion. "This launch is a brazen violation of multiple UN Security Council resolutions and needlessly raises tensions and risks destabilizing the security situation in the region," spokesperson Jen Psaki said in a March 24 statement.
"The door has not closed on diplomacy, but Pyongyang must immediately cease its destabilizing actions," she said.
But on March 28, U.S. and South Korean officials were reviewing these findings after independent analysts using satellite imagery, weather forecasts, and state media footage raised questions about North Korea's claims, according to The Washington Post.
Colin Zwirko, a senior analyst at the North Korea monitoring website NK News, who first revealed the discrepancies, wrote that "North Korea's version of events is misleading at best, and possibly a complete fabrication of a successful Hwasong-17 test at worst."
He reported that new data raises the possibility that North Korea is trying to "pass off a Hwasong-17 test launch that ended in failure in skies over Pyongyang on March 16 as the missile launched on March 24. That would mean that North Korea is hiding video and details of the long-range missile it fired on March 24," which landed 150 kilometers off the Japanese coast.
The suspected ballistic missile that was tested on March 16 appeared to have exploded in midair. North Korea released no details about that launch.
South Korean officials who have looked at the data now also believe that the missile launched on March 24 may be different from the Hwasong-17. The Washington Post quoted an anonymous U.S. official as saying the missile appeared to be a modified version of the older, smaller Hwasong-15, which was the last ICBM tested by North Korea, in 2017.
But Japanese officials stood by their initial assessment, with Chief Cabinet Secretary Hirokazu Matsuno saying on March 28 that "the government believes that the missile fired was a new ICBM-class ballistic missile, and there is no change in our analysis at this time."
What is undeniable is that North Korean leader Kim Jong Un remains determined to keep advancing his country's nuclear program and field a nuclear weapon on an ICBM that can hit the United States.
In 2018, Kim unilaterally declared a moratorium on nuclear and long-range missile tests. At the time, he was engaged in diplomatic initiatives with the United States and South Korea.
U.S. President Joe Biden has expressed a willingness to engage with North Korea, but pushed to tighten sanctions on Pyongyang and has not sought to woo Kim as his predecessor did.
Analysts say Kim is feeling ignored as the United States is consumed with the Russian war in Ukraine and deeply involved in competing with and deterring China.
North Korea has conducted 13 ballistic missile launches this year, including two launches that were also of ICBM systems, according to U.S. officials.