Body:
Volume 8, Issue 3, July 13, 2016
The raging civil war in Syria, the conflict in eastern Ukraine, the ongoing fighting in Yemen have led to massive civilian casualties. The belligerents target civilian population centers and use certain types of weapons, including cluster munitions, that indiscriminately harm civilians. The situation has led many responsible policy makers to call for adjustments in U.S. policy that would reduce access to these weapons—which the United States has not used this decade—and to hold those who would use them accountable.
In June, the U.S. House of Representatives narrowly voted down an amendment to the fiscal year 2017 defense appropriations act that would have barred the use of funds to authorize or transfer cluster munitions to Saudi Arabia. The congressional action came after Foreign Policy reported just before the Memorial Day holiday that the Obama administration had suspended such transfers, following evidence of civilian casualties from cluster munitions attacks in Yemen. These actions again drew cluster munitions into the U.S. public spotlight, highlighting both the stigma on these weapons and controversy over U.S. military support for Riyadh's ongoing war in Yemen.
As the end of the Obama administration approaches, it is time for the United States to put in place a policy that would permanently cease transfers of cluster munitions, move fully toward ratifying the international treaty banning these weapons, and exercise greater responsibility for arms deals with Saudi Arabia and other states that fail to adequately guard against civilian casualties in conflict.
Weapons No Longer Used by the United States
Cluster munitions are bombs, rockets, and artillery shells that disperse explosive submunitions over wide areas. Many submunitions fail to detonate as designed, leaving explosive remnants that later injure or kill civilians. In the 20th century, the United States was a leading user, manufacturer, and provider of the weapons, directly using cluster munitions in at least a dozen countries and supplying them to some 30 more. In Laos alone Washington still spends millions of dollars a year—with much more needed—to assist in the cleanup of cluster munitions it dropped more than 40 years ago.
Despite official policy that cluster munitions have military utility, the reality is that Washington is no longer using the weapons. The United States last used them in significant numbers in Afghanistan (2001-2002) and Iraq (2003) and evidence shows that Washington employed as many as five Tomahawk cruise missiles armed with cluster munitions during a December 2009 strike in Yemen. Perhaps due to stigma or the use of other weapons (such as armed drones) no evidence exists of U.S. use of cluster munitions in this decade.
According to the Cluster Munition Monitor, the United States last budgeted funds for U.S. production of new cluster munitions in 2007, but has since sold them to India, Saudi Arabia, South Korea, Taiwan, and the United Arab Emirates. 
U.S. Cluster Munitions Policy Essentially Unchanged Under Obama
In a questionnaire for Arms Control Today in 2008, then presidential candidate Barack Obama recognized U.S. "forces have been moving away from using cluster munitions and anti-personnel landmines ourselves," and said "these trends can be accelerated." 
The Obama administration made significant progress on landmines in 2014 by setting U.S. policy to eventually accede to the Mine Ban Treaty and prohibiting U.S. antipersonnel landmines except on the Korean Peninsula. The Korea exception must be overcome, however, before the United States can fully comply with the ban on antipersonnel mines.
The administration has not however changed its general approach on cluster munitions. The United States continues to follow a 2008 policy that bars the transfer of cluster munitions that fail to operate as intended more than 1 percent of the time, resulting in unexploded ordnance. Until 2018 the policy only allows U.S. use of weapons not meeting that criteria if approved by a combatant commander. After 2018, the United States will no longer use, manufacture, or transfer cluster munitions that fail to meet the 1 percent or less unexploded ordnance standard.
The stigma against cluster munitions has grown considerably since the 2008 policy was announced by then-Secretary of Defense Robert Gates. In recent years, senior U.S. officials have criticized others for using cluster munitions in Syria, Ukraine, and elsewhere. Washington has voted in favor of UN General Assembly resolutions expressing outrage at the continued use of cluster munitions in Syria, most recently in December 2015. It has also supported UN Security Council resolutions and called on the OSCE to investigate and report cluster munitions use allegations. 
Today, the 2008 Convention on Cluster Munitions, which bans the weapons, has 100 states-parties and an additional 19 signatories. Twenty-one of NATO's 28 members are states-parties to the treaty, including Canada, France, and the United Kingdom. So too are traditional U.S. military allies such as Australia and Japan. U.S.-led efforts to negotiate a new protocol on cluster munitions at the Convention on Conventional Weapons failed in 2011. This leaves the 2008 ban treaty as the sole international instrument dedicated to addressing the suffering caused by cluster munitions.
Yet Washington stubbornly continues to ignore the treaty. It abstained on a nonbinding UN General Assembly resolution on the convention in December. Unlike its allies and the majority of the world's nations, it does not participate in any meetings associated with the Convention on Cluster Munitions.
Recent Use by Saudi-led Coalition Highlights Need for New Thinking
In March 2015, a Saudi-led coalition of countries began an air campaign against Houthi forces in Yemen, seeking to return former president Abd Rabbuh Mansour Hadi to power in Sanaa. Almost immediately after the coalition began its airstrikes, reports emerged about the use of American-made cluster munitions, including in civilian areas in contravention of U.S. imposed end-use conditions. Many of the cluster munitions used in Yemen were supplied in the 20th century. 
However, the more modern CBU-105 Sensor Fuzed Weapons manufactured by Textron, the only cluster munitions that meet U.S. export criteria, where also discovered and reported by Human Rights Watch field researchers. They have documented multiple examples of submunitions or "skeet" from a BLU-108 canister failing to disperse or detonate. The failure of these last cluster munitions and their misuse should lead policymakers to permanently end U.S. transfers of cluster munitions. 
More broadly, the Saudi-led coalition's actions and as well as those of the Houthi have resulted in thousands of civilian deaths and contributed to massive suffering and displacement. Saudi actions, including use of cluster munitions, have been widely condemned and are leading to growing censure of arms sales to Riyadh. On Feb. 25, the European Parliament approved a nonbinding resolution finding that European supplies of weapons to Saudi Arabia violate EU arms transfer rules and seeking an embargo on such transfers due to Saudi behavior in the humanitarian crisis in Yemen. 
On March 18, Zeid Ra'ad Al Hussein, UN high commissioner for human rights, more widely addressed the conflict and said: "It would appear to be the case that the distinction between legitimate military targets and civilian ones—which are protected under international law—is at best woefully inadequate…. And at worst, we are possibly looking at the commission of international crimes by members of the [Saudi-led] Coalition." Civil rights groups in late June called for Saudi Arabia to be removed from the UN Human Rights Council.
Deservedly, Washington's arms sales to Riyadh are drawing more scrutiny. The United States has long been a top weapons supplier to Saudi Arabia, a country that is the leading developing world arms purchaser (according to a recent Congressional Research Service report), and one which increased its arms imports by 275 percent during 2011-2015 as compared to the previous five years (according to the Stockholm International Peace Research Institute-SIPRI). 
In April, Sens. Chris Murphy (D-Conn.) and Rand Paul (R-Ky.) proposed legislation that would require that U.S. sales of weapons to Saudi Arabia be subject to a certification process guaranteeing that the Saudis are targeting terrorists and not civilians in Yemen. 
In their review of a November 2015 notification of a potential $1.3 billion sale of advanced air-to-ground weapons to Riyadh, Senate Foreign Relations Committee Chairman Bob Corker (R-Tenn.) and ranking member Ben Cardin (D-Md.) invoked a new authority that requires the State Department to notify Congress at least 30 days prior to the delivery of an arms shipment. Such pre-delivery notifications, which were written into the Arms Export Control Act in December 2014 with the Middle East in mind, have not been invoked previously.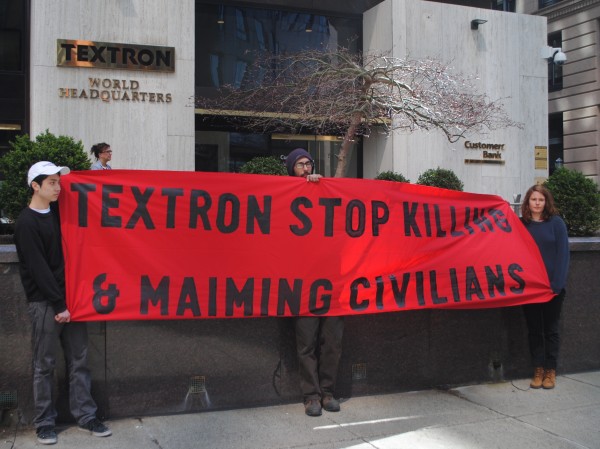 In March 2015, the U.S. wing of the Cluster Munition Coalition requested that President Obama review the 2008 policy, including the exception allowing for cluster munitions that may result in less than one percent unexploded ordnance, and commit the United States to accede to the Convention on Cluster Munitions.
More recently, attention has been focused on the manufacturer itself, Textron, via public protests outside its facilities in Massachusetts and Rhode Island denouncing its production of cluster munitions after reports of civilian harm from the Saudi Arabia-led coalition's use of these weapons. American banks and financial institutions have also been listed in the "Hall of Shame" by the global Stop Explosive Investments campaign and its June 2016 report detailing institutions that fund companies producing cluster munitions.
Given how out of step U.S. policy on cluster munitions now stands, with the U.S. allowing export of weapons it no longer uses and which its allies condemn, now is the time to end transfers and more seriously consider accession to the Convention on Cluster Munitions. At the same time, the president and Congress can take steps to be much more circumspect in their arms transfers to Saudi Arabia, refusing to allow new supplies until the country shows more responsibility in its military activities to protect civilians and live up to international humanitarian and human rights law.
—JEFF ABRAMSON, non-resident senior fellow with the Arms Control Association, and program manager of Landmine and Cluster Munition Monitor for the International Campaign to Ban Landmines-Cluster Munition Coalition