Tillerson, Mogherini Meet Ahead of Key JCPOA Deadlines
EU foreign policy chief Federica Mogherini reiterated to U.S. Secretary of State Rex Tillerson that the EU would work with the United States to address shared issues related to Iran, "on the basis of continued U.S. implementation of the nuclear deal" and outside of the agreement itself.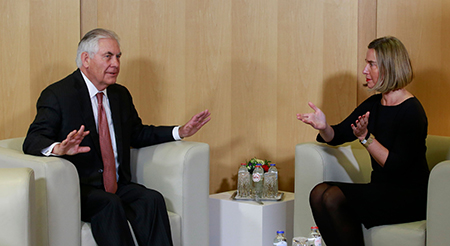 Mogherini and Tillerson discussed the nuclear deal between Iran and the P5+1 (China, France, Germany, Russia, the United Kingdom and the United States) during a Dec. 5 bilateral meeting in Brussels.
Mogherini reaffirmed the EU's position that continued implementation of the nuclear deal, known as the Joint Comprehensive Plan of Action (JCPOA), is a "key strategic priority" for European, regional, and global security.
Tillerson said that he looked forward to working with European partners to address Iran's destabilizing regional activities that "cannot be ignored and cannot go unanswered." He mentioned the importance of holding Iran fully compliant with the deal, but did not give any indication of how the Trump administration was approaching key deadlines that are tied to the deal.
KEY DATES:
The Mogherini-Tillerson meeting came a week before the Joint Commission convenes for a regular quarterly meeting Dec. 13 in Vienna. Behrooz Kamalvandi, spokesman for the Atomic Energy Organization of Iran, said that the main point of the meeting is economic because banks and corporations are "afraid" of doing business with Iran because of U.S. actions.
The 60-day window for Congress to introduce fast tracked sanctions, which opened up as a result of the Oct. 13 announcement to withhold certification, will expire Dec. 13. There is no indication that such a bill will be introduced.
The next UN secretary-general's report on implementation of Resolution 2231, which endorsed the nuclear deal, is also due for submission to the Security Council Dec. 13.
In mid-January, the Trump administration will have to renew another set of sanctions waivers to meet U.S. commitments under the JCPOA. Around the same time, Trump will have to determine whether or not he will issue a certification to Congress tied to the nuclear deal that is required every 90 days by the Iran Nuclear Agreement Review Act (INARA).
It is unlikely that Trump will issue such a certification, given that he withheld the certification in October. At that time, Trump also threatened to leave the deal if he did not see progress on areas outside of the nuclear deal, such as Iran's ballistic missile activity and destabilizing regional activities.—KELSEY DAVENPORT, director for nonproliferation policy
---
EU Continues Nuclear Cooperation with Iran
Representatives from the EU and Iran met in Isfahan, Nov. 21-22 for the second EU-Iran high-Level Seminar on International Nuclear Cooperation. The first seminar was held earlier this year in Brussels. The aim of both meetings is to advance peaceful nuclear cooperation activities in Iran, as outlined in Annex III of the JCPOA.
Unlike other measures in the JCPOA, most activities recommended in Annex III are voluntary, and include a variety of activities to advance nuclear power, research, safety and security in Iran.
In a joint statement released after the meeting, the participants said they discussed the latest developments in nuclear governance, including nuclear safety, nuclear liability, and spent-fuel management. They agreed to hold a workshop on nuclear liability and insurance specifically in 2018.
The statement also noted the cooperative projects that were underway, including stress tests at the Bushehr reactor and a feasibility study on the establishment of a nuclear safety center in Iran.
The parties also agreed on a roadmap for cooperation on research and development activities, including Iran's participation in Horizon 2020 and the Euratom Research and Training Program. Another high-level seminar will be held in 2018.
Iran also met with Switzerland to in November to continue bilateral discussions on nuclear safety that began in 2016. At the Nov. 25 meeting in Iran, officials from the Swiss Federal Nuclear Safety Inspectorate and Iran's Center for Nuclear Safety announced that they would hold training courses and technical workshops on emergency nuclear situations in Iran next year.
---
Supreme Leader Backs Iranian Missile Limits
Iran's supreme leader, Ayatollah Ali Khamenei reiterated that Iran would not develop ballistic missiles with a range exceeding 2,000 kilometers. Iranian officials have made past statements to that effect, noting that the current focus is missile accuracy not range, but a statement by the Supreme Leader carries greater weight.
A June 2017 report by the U.S. Defense Intelligence Ballistic Missile Analysis Committee found that Iran's current ballistic missile inventory includes systems with a range of up to 2,000 kilometers, but did not discuss any missiles that exceed that range. The report did mention that Iran's space launch vehicles could provide a pathway to longer-range ballistic missiles, but many experts note that there are significant technological differences between space launch vehicles and ballistic missiles.
Iran's ballistic missiles are not covered by the 2015 multilateral nuclear deal known as the Joint Comprehensive Plan of Action, a point which Trump has repeatedly criticized. UN Security Council Resolution 2231, which endorsed the deal, called on Iran to refrain from ballistic missile testing on systems "designed to be capable" of delivering nuclear weapons.
Khamenei, however, said that Iran's ballistic missiles are non-negotiable and "not to be bargained for" after EU leaders said they are willing to work with the United States outside of the JCPOA to address the threat posed by Iran's ballistic missiles. For more information, see Kelsey Davenport article "Iran's Leader Sets Missile Range Limit" in this month's Arms Control Today.
---
Brookings Poll Shows Support for JCPOA
The Brookings Institution conducted a poll on American attitudes toward the Middle East, including toward the JCPOA. The results, released Dec. 1, found that 70 percent of Americans said that if the U.S. and Iran adhere to the terms of the agreement, the JCPOA will serve the national security interest of the United States. By party, the breakdown was 61 percent of Republicans and 79 percent of Democrats.
In total 55 percent of the respondents, agreed that if the U.S. and Iran adhere to the JCPOA, it will reduce the chance of Iran developing nuclear weapons. By party, 42 percent of Republicans and 70 percent of Democrats supported that statement.
There was less clarity on the question of approving or disapproving of Trump's action not to certify the JCPOA in October, with 35 percent approving, 37 percent disapproving, and 27 percent that did not know.
---
IAEA Report and Board of Governors Meeting
The IAEA's most recent quarterly report on Iran's nuclear activities point toward Tehran's compliance with the JCPOA. Amongst other details, the Nov. 13 report noted that Iran's stockpile of uranium enriched to 3.67 percent uranium-235 totaled 96.7 kilograms, well below the 300-kilogram limit, and its stockpile of heavy water was 114.4 metric tons, below the limit of 130 metric tons.
The report also noted that Iran provided the IAEA in an Oct. 29 letter with preliminary design information for a light-water critical reactor, which it proposes to build in the "near future" for research purposes, consistent with the nuclear agreement known as the Joint Comprehensive Plan of Action. Annex I of the accord notes that Iran will "rely on light water for its future nuclear power and research reactors," and Annex III says that the P5+1 countries (China, France, Germany, Russia, the United Kingdom, and the United States) "will facilitate Iran's acquisition of light water research and power reactors."
Amano, who visited Tehran Oct. 26, told the Board during its Nov. 23 meeting that the nuclear-related commitments are "being implemented," and that inspectors have "had access to all the locations that we needed to visit."
At the Board meeting, U.S. Chargé d'Affaires to International organizations in Vienna, Nicole Shampaine, noted that if questions or inconsistencies arise, the agency has authority to "request access to any relevant location in Iran, without distinction between military and civilian," which is standard under the additional protocol, to "resolve any questions about possible undeclared nuclear activities."
The U.S. representative also announced an additional $1 million pledge to the IAEA for monitoring and verification efforts in Iran, which "adds predictability to the IAEA's planning and budget."
---
No Mention of Iran Deal in Oil Report
The Trump administration removed a reference to the nuclear deal with Iran from the semiannual notice that the oil supply is strong enough to sustain legislative requirements that seek to reduce oil imports from Iran. The oil-supply certification is still required by the fiscal year 2012 National Defense Authorization Act, even though the sanctions, which require states to make significant reductions in Iranian oil purchases, are waived under the JCPOA.
Trump's first notification, issued in the spring, noted that the Iran policy review was ongoing and that the "United States is not pursuing efforts to reduce Iran's sales of crude oil at this time." The most recent notification, issued Nov. 16, did not contain any mention of the JPCOA, or U.S. intentions not to pursue reductions in Iran's oil sales.
The absence of such language is not a violation of the deal, but the waiver of sanctions requiring states to purchase less oil will be up for renewal in mid-January.
---
In Case You Missed It …
      Short interviews in the Tehran Times: