Update: April 29, 2019: Trump Directs Russia-Chinese Arms Control Effort
On April 25, senior administration officials told reporters that President Donald Trump had directed his administration to seek a new arms control agreement with Russia and China. One official told CNN that the agreement should included "all the weapons, all the warheads, and all the missiles." The officials criticized the 2010 New Strategic Arms Reduction Treaty (New START) for only limiting U.S. and Russian deployed strategic nuclear weapons. The goal of a new agreement with Russia is apparently to seek to capture tactical weapons. China, which is estimated to have no more than 300 nuclear weapons, has never been a party to an agreement that limits the number of types of nuclear weapons, largely due to it possessing a much smaller arsenal than the United States and Russia. Numerous questions remain about the new proposal, including what limits the administration would like to purse and what it would be willing to put on the table in return. Russian Deputy Foreign Minister Sergei Ryabkov "welcomed" the announcement and the chance to discuss U.S. "battlefield" or tactical weapons, but noted that further steps towards disarmament would need to involve the discussion of many factors, including missile defense, weapons in space, cyber weapons, and conventional arms.
---
Pompeo Discusses Expanding New START
Secretary of State Mike Pompeo told the Senate Foreign Relations Committee April 10 that the Trump administration is "at the very beginning of conversations about renewing" the 2010 New Strategic Arms Reduction Treaty (New START), adding that "If we can get the deal right, … if we can make sure that it fits 2021 and beyond, … we ought to get one."
By "at the very beginning of conversations," it was not clear if Pompeo was referring to conversations within the Trump administration about extending the treaty by up to five years, conversations with Russia, or both.
The Trump administration has said for months that it is in the early stages of formulating the U.S. position on an extension, noting that there is plenty of time given that the treaty doesn't expire until February 2021. The administration has said that several factors will impact a decision, including Russia's decision to manufacture compliance issues regarding U.S. implementation of the treaty, whether Russia would agree to limit the new strategic weapons it is developing, and Russia's behavior in other arms control agreements.
Pompeo appeared to add additional factors at the hearing. When pressed on what needs to be addressed to make "New START fit 2021 and beyond" by Sen. Jeff Merkley (D-Ore.), Pompeo talked about ensuring that the "verification regime fits the technology today" and "that we've got all of the parties that are relevant as a component" as well. When asked if he meant China, Pompeo responded affirmatively, noting that "it's certainly China that has large numbers."
According to estimates from the Federation of American Scientists, as of June 2018, the United States had 6,550 total nuclear warheads (retired, stockpiled, and deployed), Russia had 6,850, and China had 280. In 2012, then-commander of U.S. Strategic Command Gen. Kehler stated: "'I do not believe that China has hundreds or thousands more nuclear weapons than what the intelligence community has been saying, […] that the Chinese arsenal is in the range of several hundred' nuclear warheads."
Pompeo did not address the larger reported disparity in the size of the U.S. and Russian nuclear arsenals relative to the arsenal of China, whether the administration has begun discussions with China on including it in New START, how China might be included in the treaty, or which Chinese weapons would be limited if it were a party to the treaty.
Pompeo's testimony followed comments from President Donald Trump at the White House April 4 while sitting next to China's top economic adviser, Vice-Premier Liu He, on the need for the United States, Russia, and China to reduce the numbers of and spending on nuclear weapons. Trump said:
"Between Russia and China and us, we're all making hundreds of billions of dollars' worth of weapons, including nuclear [weapons], which is ridiculous …. We have to be the leader. I think it's much better if we all got together and we didn't make these weapons…. And those three countries, I think, can came (sic) together and stop the spending and spend on things that maybe are more productive toward long-term peace."
Kremlin spokesman Dmitry Peskov responded to Trump's remarks on a conference call with reporters April 5: "Any call in favor of disarmament deserves attention and high regard. It's very important that this call is not limited to declarations."—KINGSTON REIF, director for disarmament and threat reduction policy, and SHERVIN TAHERAN, research assistant
---
Senators Call for New START Extension
Twenty-four U.S. Senators released a letter April 12 urging President Donald Trump to extend New START by five years as allowed by the treaty. They noted New START's importance in providing limits "backed by an extensive and effective verification regime" as well as "breathing room to negotiate a follow-on arms control accord."
They cautioned that abandoning the treaty will "lead to an unstable strategic environment." They also pointed to the bipartisan policy of pursuing arms control across Republican and Democratic administrations. The letter was released on the week of the ninth anniversary of the signing of the treaty.
Russian Ambassador Reiterates New START Implementation Concerns
At the Arms Control Association's April 15 annual meeting, Russian Ambassador to the United States Anatoly Antonov reiterated that Russia is ready to extend New START for another five years but again raised Russia's concerns about U.S. conversion procedures to meet the New START limits and emphasized the need to discuss the issue in the Bilateral Consultative Commission (BCC). "The extension of the New START is not a simple technicality that could be resolved in a couple of weeks," he said. "Serious issues must be settled."
Amb. Antonov also addressed Russia's development of new strategic-range delivery systems not currently covered by New START. He said that limiting these systems would require "another round of negotiations" and an amendment to the treaty.
Russian President Vladimir Putin provided an update on the status of several of the new systems in remarks at the Kremlin April 11. Notably, Putin said, "The final tests involving the Sarmat intercontinental ballistic missile have been a success."
Bilateral Consultative Commission (BCC) Meets
The State Department April 12 released a two-sentence press release confirming the occurrence earlier in April of the 17th meeting of the BCC since New START entered into force in February 2011. The release provided few details about the meeting, which occurs twice a year, noting only that "The U.S. and Russian delegations continued the discussion of practical issues related to the implementation of the Treaty." With the treaty slated to expire in February 2021, only three more meetings of the BCC are scheduled.
---
U.S. Military Leaders Call for More Robust Dialogue
Several current and former U.S. military officials are calling for more dialogue with Russia on military and arms control issues.
In an April 14 Associated Press report, U.S. Army Gen. Curtis Scaparrotti, the top military commander in Europe, lamented the lack of communication. "During the Cold War, we understood each other's signals. We talked," he said. "I'm concerned that we don't know them as well today."
James Stavridis, a retired Navy admiral who was the top NATO commander in Europe from 2009 to 2013, said that the West must confront Russia where necessary, including on its interventions in Ukraine and Syria. But he argued for cooperation on multiple fronts, including the Arctic and arms control. "We are in danger of stumbling backward into a Cold War that is to no one's advantage," he said. "Without steady, political-level engagement between the defense establishments, the risk of a true new Cold War rises steadily."
Former Chairman of the Joint Chiefs of the Staff Adm. Mike Mullen noted at the Arms Control Association's annual meeting that "even in the darkest days of the Cold War we had lots of links with the Soviets." "We don't have them now," he added. "It's not even close. And when we're talking, we're not talking. We're talking past each other."
U.S. Reportedly Silent on Russian Proposal on Averting Nuclear War
According to an April 19 report by the Russian business daily newspaper, Kommersant, Russia sent a draft joint declaration to the United States in October 2018 stating that "nuclear war cannot be won and it must never be unleashed." According to the report, the United States did not respond to the proposal. When asked by Kommersant, U.S. Embassy in Russia spokesperson Andrea Kalan noted that the United States "remains committed" to arms control with "partners who responsibly fulfill their obligations" and is "ready to participate with Russia" in negotiations which satisfy those and other criteria. Though the exact timing of the transmission of the proposal is unclear, U.S. National Security Advisor John Bolton traveled to Moscow Oct. 21-23 to elaborate on Trump's Oct. 20 announcement on withdrawal from the 1987 Intermediate-Range Nuclear Forces (INF) Treaty.
The Kommersant report comes on the heels of a reported visit by the Russia lead for the U.S. National Security Council Fiona Hill in Moscow April 18, allegedly to visit Russian President Vladimir Putin's foreign affairs adviser. It is unclear what topics their meeting covered.
Abridged Arms Control Compliance Report Released
The U.S. Bureau of Arms Control, Verification, and Compliance at the Department of State recently released its annual "Adherence to and Compliance with Arms Control, Nonproliferation, and Disarmament Agreements and Commitments" report April 16, first as an editable Word Document, and then taken down and re-released as a PDF April 17.
However, the 16-page summary of the 2019 report notes that a "longer unclassified" version is forthcoming following a "full declassification review." The short-version of the 2019 report was light on detailing U.S.-Russia nuclear arms control issues, failing to mention the INF Treaty, and Russia's noncompliance with it, or New START, but did mention Russian noncompliance in several other realms, such as with the Chemical Weapons Convention, with the Plutonium Management and Disposition Agreement, and on conventional arms control.
The report put a major emphasis on Iran, which Reuters reported provoked a dispute between U.S. intelligence agencies and some State Department officials who were concerned that the document politicized and slanted assessments about Iran.
For comparison, the short 2019 report is available here and the 49-page 2018 report is available here.
---
FACT FILE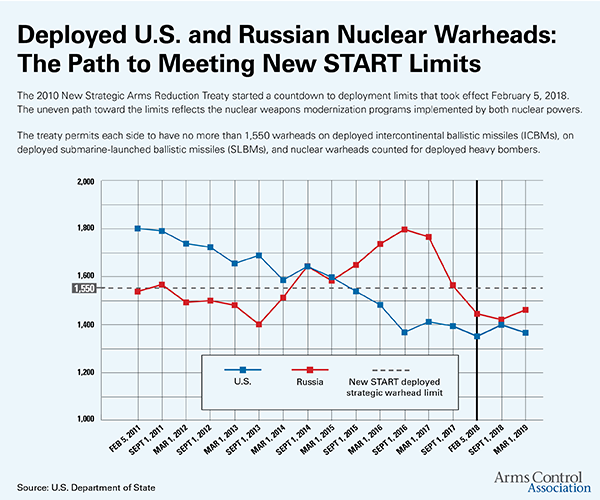 ---
| | |
| --- | --- |
| April 29-May 10 | Third Preparatory Committee Meeting for the 2020 Nonproliferation Treaty Review Conference, New York. |
| Aug. 2 | The date by which the United States will formally withdraw from the INF Treaty if the compliance dispute with Russia is not resolved. |
| December 2019 | NATO Heads of State and Government Meeting, London. |