Kim Calls for U.S. Actions to Advance Talks
North Korean leader Kim Jong Un said in his annual New Year's address that he is willing to meet U.S. President Donald Trump "anytime," but said that Pyongyang is waiting for Washington to take the next steps to advance negotiations on denuclearization and peace.
Kim said that if the United States responds to North Korea's "proactive, prior efforts with trustworthy measures and corresponding practical actions" it could lead to "more definite and epochal measures." The failure to make progress, however, may compel North Korea to "find a new way for defending the sovereignty of the country."
Kim did not spell out exactly which steps North Korea is looking for the United States to take, but in his New Year's address, he did call for a peace treaty to end the Korean War and an end to U.S.-South Korean joint military exercises.
After the June Singapore summit, Trump announced that the United States would suspend joint exercises and since then, certain exercises have been halted or modified. The United States and South Korea are also expected to modify their upcoming joint exercises scheduled for early 2019.
In the speech, Kim reiterated the commitments he said were made by North Korea in 2018 "that we would neither make and test nuclear weapons any longer nor use and proliferate them."
It is unclear what Kim means when he says North Korea will not "make" any additional nuclear weapons.
U.S. Secretary of State Mike Pompeo confirmed in July that North Korea continues to produce fissile materials, but it is not clear if the country is stockpiling those materials and/or building additional warheads.
Kim's speech was aired in South Korea and South Korea's Ministry of Unification said it welcomes North Korea's "willingness to continue its efforts toward complete denuclearization and settlement of permanent peace on the Korean Peninsula, as well as to expand and develop inter-Korean relations."
In addition to the speech, Kim appears to have sent letters to both South Korean President Moon Jae-in and Trump. Moon's office said Kim's letter reiterated his commitment to visit Seoul, which had initially been discussed for December 2018, and said progress on the inter-Korean talks "freed the Korean people from military tensions and the fear of war."
Trump did not disclose the contents of his letter, but described it as "great" and said he would like to meet with Kim again. He said the United States is not in "any rush" to get an agreement.
Moon said in a Jan. 10 press conference that he expects the second summit between Trump and Kim to be held soon. He said "both sides know what the other side wants" but because of mistrust, "they are insisting on the other side moving first."
Reportedly, U.S. and North Korean officials have met in Hanoi, Vietnam, in the past month, suggesting that it may be a possible venue for the second meeting between the two leaders.—ALICIA SANDERS-ZAKRE, research assistant, and KELSEY DAVENPORT, director for nonproliferation policy
---
Kim Meets with Chinese President Xi Jinping
North Korean leader Kim Jong Un traveled to Beijing Jan. 7-9 for his fourth summit with Chinese President Xi Jinping. Kim made the trip by train.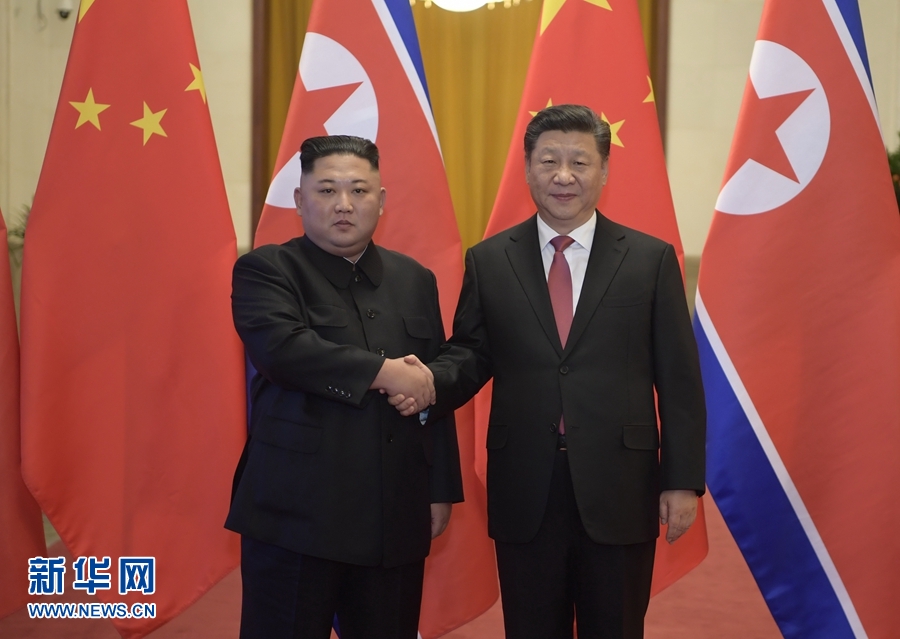 North Korean media outlets reported that Kim was accompanied by his wife and several officials, including Kim Yong Chol, who plays a prominent role in negotiations with the United States, and Foreign Minister Ri Yong Ho.
After Kim left Beijing, China's official news outlet Xinhua reported that Xi expressed support for a second summit between the United States and North Korea and his hope that the two sides can "meet in the middle." Xinhua also reported Kim said North Korea will make an effort to "achieve results that will be welcomed by the international community."
North Korea's Central News Agency (KCNA) reported Kim and Xi discussed "joint handling of the denuclearization negotiations process" and expanding ties between the two countries. Xi also accepted an invitation to visit North Korea "at a convenient time," and reportedly described North Korea's demands of the United States as "reasonable points of concern."
Experts suggest that North Korea is seeking to shore up support from China on its negotiating positions ahead of a Trump-Kim summit and that China is looking to ensure that it has influence over what comes out of the bilateral talks between the United States and North Korea.
---
North Korean Commentary Criticizes U.S. Approach to Negotiations
In two commentaries published by the Korean Central News Agency in December, North Korea reiterated its understanding of denuclearization and said that U.S. inaction is to blame for the diplomatic stalemate.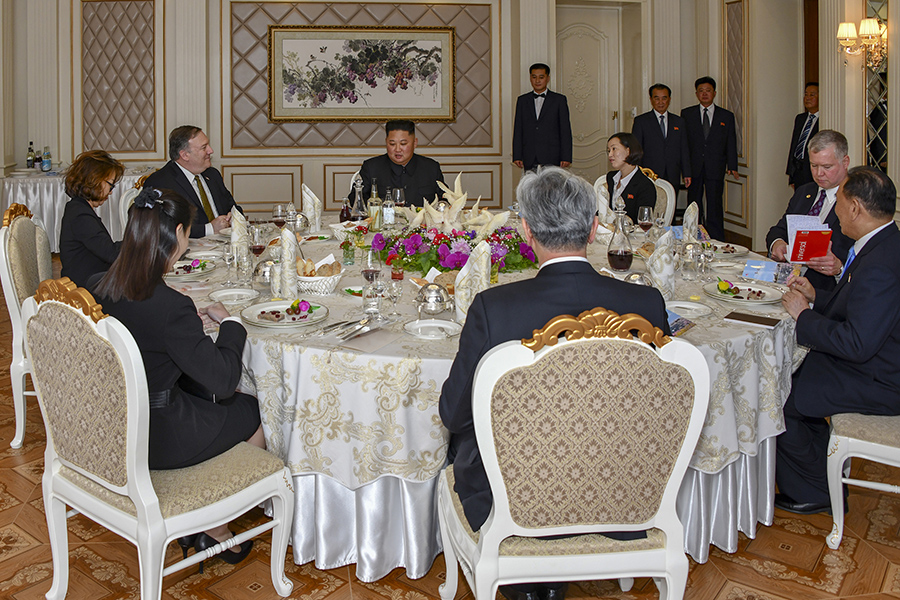 On Dec. 13, a commentary entitled "Time Will Awaken U.S. to Its Absurdity" rebuked the United States for failing to take forward steps to advance negotiations in response to North Korean actions, arguing that "the DPRK moves, but the U.S. does not move even an inch." The piece also criticized the Trump administration's policy to keep sanctions in place until denuclearization is completed and called for sanctions relief earlier in the process. "A way out for the U.S. is to take measures responding to those taken by the DPRK step by step to get rid of stagnation," the commentary reads.
Just a week later, another commentary discussed the North Korean definition of denuclearization and how it deviates from the U.S. interpretation of the term. "When we refer to the Korean peninsula, they include both the area of the DPRK and the area of south Korea where aggression troops including the nuclear weapons of the U.S. are deployed. When we refer to the denuclearization of the Korean peninsula, it, therefore, means removing all elements of nuclear threats from the areas of both the north and the south of Korea and also from surrounding areas from where the Korean peninsula is targeted."
As some analysts have observed, this definition does not differ substantially from one North Korea offered in July 2016 (see more below). Both statements reference U.S. nuclear weapons deployed in South Korea. Washington did deploy warheads in South Korea in 1958 but removed them in 1991.
In the Dec. 20 commentary, North Korea expressed alarm at recent U.S. statements about the term. "By replacing the denuclearization of the Korean peninsula with 'the denuclearization of north Korea,' the U.S. tries to cause the optical illusion of the people in their view of the DPRK-U.S. relations, and stop them from making a correct judgment."
---
United States Revises Humanitarian Aid Policy
The United States revised its policy on humanitarian assistance to North Korea according to a Jan. 11 report in NK News. The Trump administration announced last month that it would revisit its policy on North Korean humanitarian assistance after a U.S. senator and the UN Office for the Coordination of Humanitarian Affairs (OCHA) raised concerns about how sanctions are impeding humanitarian assistance projects in North Korea. Aid organizations working in North Korea also criticized the Trump administration for failing to allow critical humanitarian assistance into the country.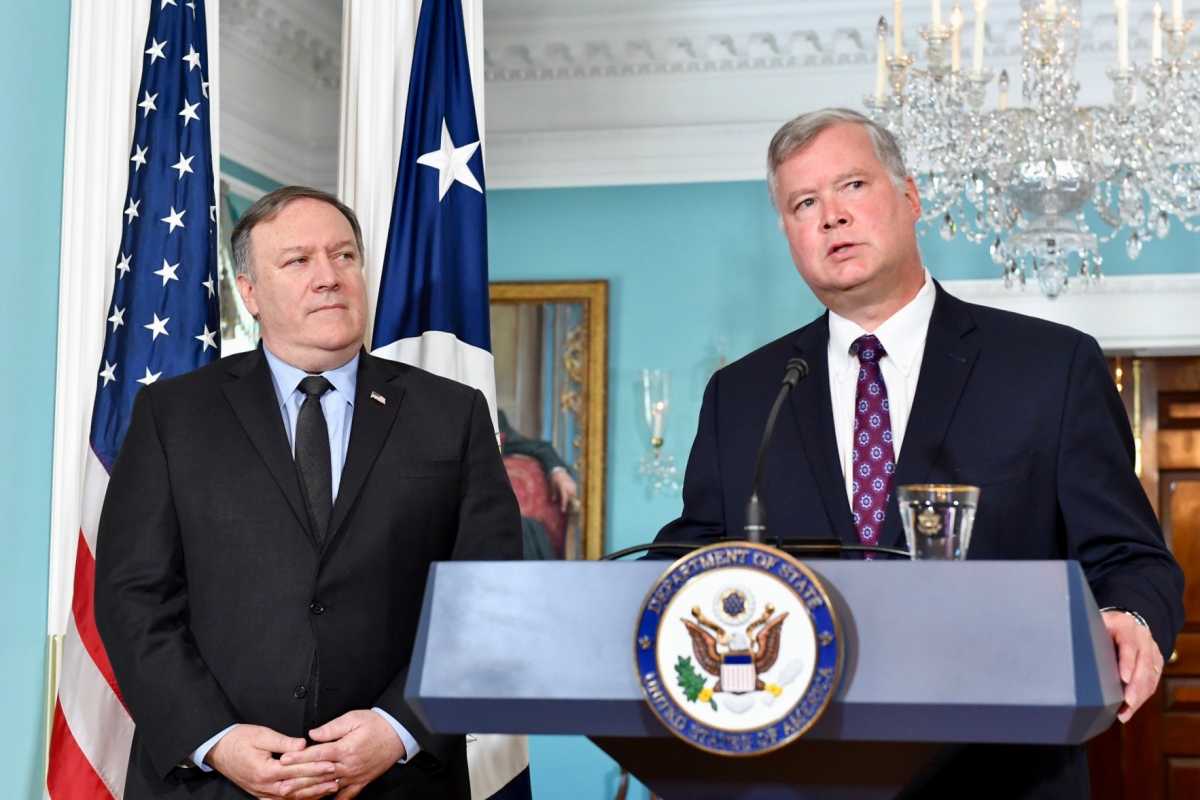 Special Representative for North Korea Stephen Biegun in remarks Dec. 19 pledged to review U.S. policy on humanitarian assistance to North Korea early in 2019. Beigun also stated he would review restrictions on American travel to North Korea to facilitate aid delivery, acknowledging that travel limitations "may" have impacted aid in the past.
Biegun delivered the remarks just before a U.S.-South Korean working group meeting in Seoul. The working group, chaired by Biegun and South Korean Special Representative for Korean Peninsula Peace and Security Affairs Lee Do-hoon first met Nov. 20 in Washington, D.C. and has been established to coordinate the two countries' efforts on North Korean denuclearization, peace on the Korean peninsula, implementation of sanctions and inter-Korean projects.
The revision followed several high-level calls for the United States to change its approach to humanitarian aid to Pyongyang.
In a Nov. 7 letter, Sen. Ed Markey (D-Mass.) wrote to President Trump to request clarification on the U.S. policy toward humanitarian aid to North Korea, highlighting the importance of aid to address dire humanitarian conditions in the country. Markey said that Congress "made clear its intent that humanitarian assistance should not be prohibited" when passing sanctions on North Korea and expressed concern that "the U.S. government has decided to curtail" nongovernmental groups engaged in humanitarian assistance work in North Korea.
An early December report from the OCHA reiterated the urgency of humanitarian aid, stating that $111 million in humanitarian funding to North Korea is needed to help six million people in 2019. The report concluded that, despite exemptions for humanitarian activities, sanctions have "unintentionally impacted humanitarian operations through disruption of the banking channel, breakdown in supply chains and delays in transporting vital goods into the country."
While the United States has reportedly revised its policies to help American aid groups deliver assistance to North Korea, it will not contribute to the funding OCHA requested. The State Department laid blame for the crisis with the North Korean regime, saying in an email to VOA Korea that "[t]he protracted humanitarian crisis faced by the people of North Korea is created solely by the [North Korean] regime, as it continues to use its own resources to finance its [weapons of mass destruction] program and military weapons rather than provide for the basic welfare of its citizens."
---
North and South Korea Break Ground on Railway
Following through on commitments made by President Moon Jae-in and Chairman Kim Jong Un in April, North and South Korea held a groundbreaking ceremony for a joint railway project Dec. 26. The groundbreaking ceremony, which took place in the North Korean border city Kaesong, included officials from both countries ceremonially connecting two railroad tracks from North and South Korea.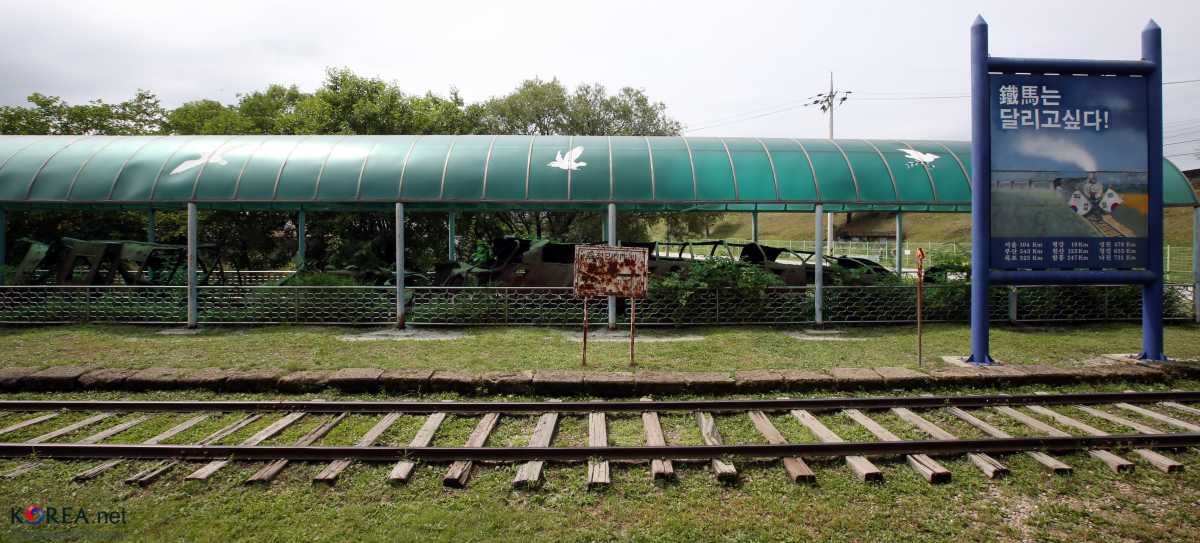 The ceremony followed a series of surveys of existing rail lines in eastern and western North Korea. The surveying started Nov. 30, when a South Korean inspection team crossed into North Korea. A second team conducted a 10-day inspection trip in North Korea beginning Dec. 8.
In the Panmunjom Declaration, agreed to by Kim and Moon at the April 2018 summit, the two sides agreed to pursue railway modernization between the two countries. Moon committed to begin the project by the end of 2018, but given hardline statements from the United States that no sanctions waivers would be granted until North Korea denuclearized, it was unclear if the project would move forward.
To facilitate the inspections, the United States and the UN Security Council granted limited sanctions waivers in late November allowing the teams and equipment to move across the military demarcation line.
A second set of UN waivers were issued Dec. 25 for the groundbreaking ceremony. The United States agreed during a U.S.-South Korea working group meeting Dec. 21 to allow the ceremony to go forward. Further work on the interconnected railway will require additional sanctions waivers that the United States appears unlikely to grant. Marc Knapper, acting deputy assistant secretary of state for Japan and South Korea, said in November that "concrete progress" on projects with North Korea "will not occur absent real progress on denuclearization."
---
Backgrounder: Defining Denuclearization
Among the goals agreed to by President Donald Trump and Chairman Kim Jong Un in their Singapore summit declaration was the pursuit of "denuclearization of the Korean peninsula." "Denuclearization" also has been defined repeatedly in the past by various statements and agreements between the United States, North Korea, and other parties.
U.S. Secretary of State Mike Pompeo testified to the Senate Foreign Relations Committee in July that the two countries did not agree on what constitutes "denuclearization of the Korean peninsula." Without a shared definition, defining the scope and goals of the negotiating process becomes more difficult.
U.S. policy dating back to the Six-Party Talks (that began in 2003) has been to call for the "complete, irreversible and verifiable dismantlement" of North Korea's nuclear programs or "CVID" in its abbreviated form. UN Security Council resolutions on North Korea use similar terminology.
North Korea's concept of "denuclearization," however, encompasses the entire Korean peninsula, instead of unilateral nuclear disarmament by North Korea. The Dec. 20 commentary in KCNA read:
"When we refer to the Korean peninsula, they include both the area of the DPRK and the area of south Korea where aggression troops including the nuclear weapons of the U.S. are deployed. When we refer to the denuclearization of the Korean peninsula, it, therefore, means removing all elements of nuclear threats from the areas of both the north and the south of Korea and also from surrounding areas from where the Korean peninsula is targeted. This should be clearly understood."
North Korea gave a similar definition of the denuclearization of the Korean peninsula in a July 2016 government spokesperson statement which outlined five key components: that the United States publicly disclose its nuclear weapons in South Korea; that nuclear weapons and their bases in South Korea be verifiably abolished; that a guarantee be made that "the United States will never again introduce the means of nuclear strike to the Korean Peninsula and its surrounding areas"; that a commitment be made not to threaten to use or use nuclear weapons against North Korea "under any circumstances"; and the United States must withdraw its forces, "which hold the right to use nuclear weapons," from South Korea.
The December 2018 formulation was generally consistent with this definition. Although, in 2018, as Robert Carlin observes, North Korea's definition of where the United States must remove its nuclear threat shifted slightly from "from the Korean peninsula and its surrounding areas" to "from surrounding areas from where the Korean peninsula is targeted."
In neither 2016 nor 2018 did North Korea provide much detail on the steps Pyongyang would take to denuclearize. The 2016 statement said that if the United States took the steps outlined by North Korea to remove U.S. nuclear forces in the region, "the DPRK will also take steps in response to it and a decisive breakthrough will be made in realizing the denuclearization of the Korean peninsula."
It is unclear if North Korea interprets denuclearization as applying to only its nuclear weapons program and will seek to retain a civil nuclear program. In the 1992 Joint Declaration of South and North Korea on the Denuclearization of the Korean peninsula, both states committed not to build nuclear weapons or receive them from a third-party country. The parties also committed not to pursue uranium enrichment or reprocessing, which can produce fissile material for nuclear weapons (North Korea currently enriches uranium and reprocesses plutonium), but the statement does not preclude civil nuclear power or research reactors.
The comprehensive record of how "denuclearization" has been used in past agreements and statements is well summarized by Joshua Pollack in a June article for Arms Control Wonk.
---
What We're Reading
Robert Carlin, "Hints for 2019: Kim Jong Un's New Year's Address," 38 North, Jan. 3
Time for a Modest Deal: How to Get U.S.-North Korean Talks Moving Forward, International Crisis Group, Dec. 17
Katherine H.S. Moon, "To Denuclearize N. Korea, Trump Should Think Small," Reuters, Jan. 3