Planned U.S.-North Korea Talks Postponed
U.S. Secretary of State Mike Pompeo and North Korean leader Kim Jong Un agreed at an Oct. 7 meeting in Pyongyang to form working groups and intensify talks on the Singapore summit's priorities but the subsequently scheduled meeting between Pompeo and his North Korean counterpart was postponed.
The meeting, originally slated for New York Nov. 8, will now take place "when our respective schedules permit," according to a Nov. 7 State Department press release.
The Trump administration initially said the talks were postponed due to Pompeo's schedule but after North Korea admitted to canceling the meeting U.S. Ambassador Nikki Haley said Nov. 8 Pyongyang was not ready for the meeting.
Initially, Pompeo's trip to North Korea in October appeared to indicate that negotiations were back on track after faltering over disagreements between Washington and Pyongyang on the next steps following the Singapore summit.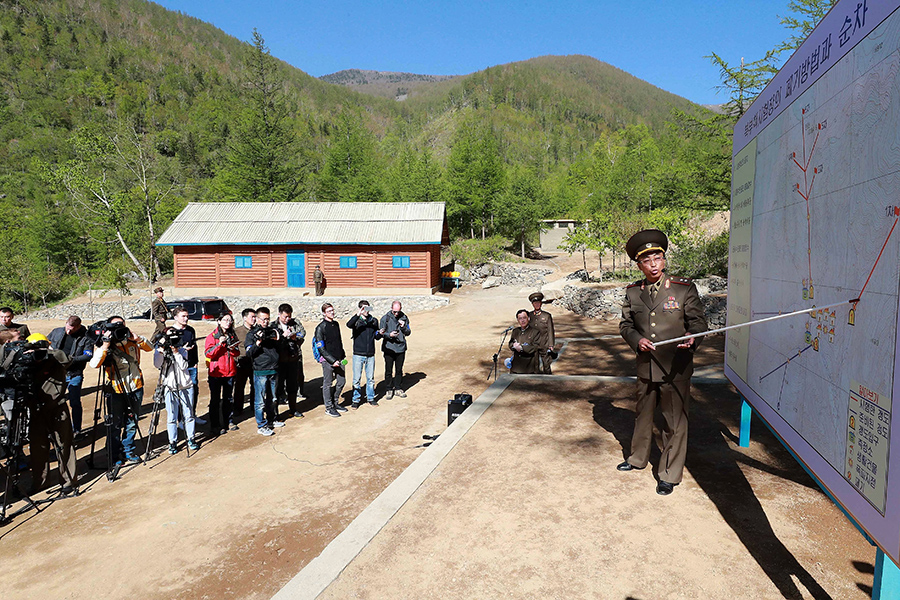 In addition to agreeing to intensify talks, State Department Spokesperson Heather Nauert said that Kim "invited inspectors to visit the Punggye-ri nuclear test site to confirm that it has been irreversibly dismantled," a commitment North Korea made at the third inter-Korean summit in September. Pompeo and Kim also discussed options for the location and date of a second summit between U.S. President Donald Trump and Kim.
North Korea's state-run Korean Central News Agency (KCNA) described Kim's meeting with Pompeo as "productive and wonderful" and said that the two discussed detailed "proposals for solving the denuclearization issue and matters of concern of both sides."
However, the disagreements over sequencing that led to the stalemate after the Singapore summit appear to have persisted.
Haley said Nov. 8 that it is up to North Korea to take the next step. North Korea has upped its criticism of the United States for refusing to lift any sanctions until denuclearization is complete, perhaps contributing to Pyongyang's decision to cancel the meeting. (See below for details.)

The United States and North Korea have provided few details about a second summit between Kim and Trump but Vice President Mike Pence told NBC Nov. 15 that the United States will not require a complete list of nuclear weapons and missile sites from North Korea prior to the meeting. Pence said "a verifiable plan" to disclose that information must be reached at the summit, which will not be held until 2019.
As talks remain stalled, North Korea continues to advance its nuclear and missile programs. A recent study by the Center for Strategic and International Studies highlighted that activities are continuing at a number of undeclared missile bases across North Korea.
North Korea's ongoing missile activities are unsurprising, given that Kim said in January 2018 that North Korea would focus on mass production of its nuclear and missile programs and has committed only to halt long-range flight testing.—ALICIA SANDERS-ZAKRE, research assistant, and KELSEY DAVENPORT, director for nonproliferation policy
---
Rift on Sanctions Stalls Negotiations
North Korea lashed out against the sanctions imposed on its country in recent statements published by the state-run news agency as the United States has held fast to its policy of maintaining economic pressure on Pyongyang. The stark divide between the two countries on sanctions relief has already contributed to a stall in denuclearization negotiations and threatens to continue to pose a considerable challenge for forward progress.
North Korean state news agency KCNA quoted North Korean leader Kim Jong Un Nov. 1 as saying that "vicious sanctions" imposed by "hostile forces" "stand in our way toward promotion of people's well-being and development." The next day, KCNA ran a lengthy commentary by Kwon Jong Gun, director of Pyongyang's Institute for American Studies of the Foreign Ministry and also director general of the Ministry's North American Affairs Department, criticizing U.S. pressure tactics toward North Korea.
"There is no justification for sanctions, and a summit of the century took place in Singapore in the wake of the active and preemptive measure of the DPRK," Kwon's statement reads. "The U.S. should not forget what it promised. The improvement of relations and sanctions are incompatible."
Kwon indicated that North Korean angry rhetoric on sanctions enforcement could translate into action that could derail negotiations. If the United States does not change its stand, Kwon warned, North Korea may revert to its past policy of "byungjin," or simultaneously developing its economy and nuclear forces instead of its current approach focusing solely on its economy. "Such a view has already begun to appear in the DPRK," he noted.
In late September the United States convened a UN Security Council foreign ministerial meeting on North Korea where U.S. Secretary of State Mike Pompeo called for vigorous enforcement of sanctions until the "fully, final, verified denuclearization" of North Korea. Pompeo reiterated at the U.S.-China Diplomatic and Security Dialogue Nov. 9 the importance of maintaining economic pressure on North Korea.
Despite U.S. opposition, North Korea's call for sanctions relief earlier in the talks process is gaining traction with China and Russia. (See below for details.) Additionally, South Korean President Moon Jae-in has begun calling for sanctions relief if North Korea makes substantial progress on denuclearization. (See below for details.)
---
North Korea, Russia, and China Meet in Moscow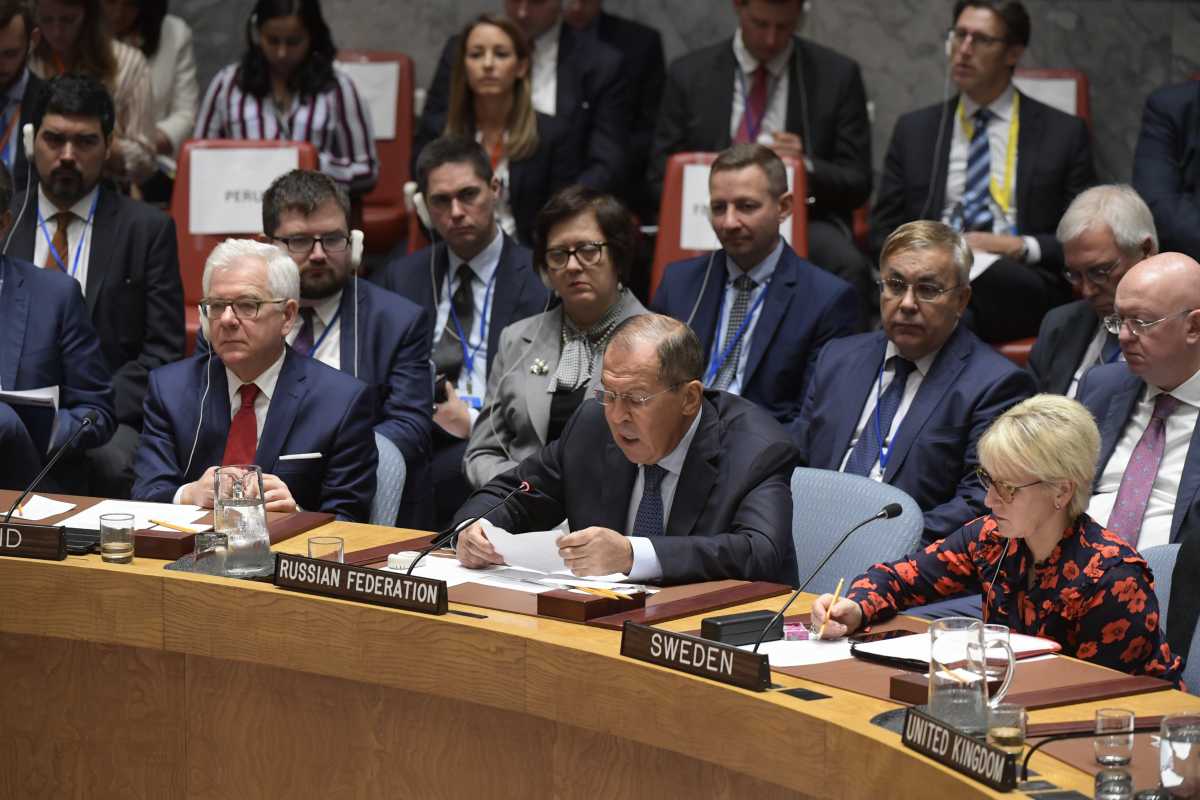 North Korea's Vice Foreign Minister Choe Son Hu traveled to Moscow Oct. 9 to meet with her Russian and Chinese counterparts.
The three states issued a trilateral statement at the end of the meeting emphasizing the importance of a "peaceful, political, and diplomatic" settlement to all issues, including denuclearization and building a peace regime on the Korean peninsula.
The statement also called for negotiations to proceed in a step-by-step process with reciprocal actions by each side and pushed back against the U.S. position that sanctions relief will not come until the end of the denuclearization process.
Building on statements from China and Russia at the UN Security Council in September that called for sanctions relief in recognition of steps taken by Pyongyang to date, the statement issued in Moscow noted that "the three parties reached a consensus on the need for the UNSC to activate the process of adjusting sanctions upon the DPRK in time." Russia has reportedly called for a closed-door Security Council meeting to discuss sanctions relief.
Additionally, the statement said that all three countries reiterated their "common stand against independent sanctions," likely referring to U.S. unilateral sanctions and highlighted the importance of "consolidating bilateral or multilateral" approaches.
The statement did not explicitly reference a return to the Six-Party Talks, which took place between 2003-2009 and included China, Russia, North Korea, the United States, South Korea, and Japan, but Beijing has specifically referenced that process as a path for moving forward, including at the September Security Council meeting on North Korea.
---
Moon Calls for Earlier Sanctions Relief
During a visit to five European countries Oct. 13-21, South Korean President Moon Jae-in distanced himself from the Trump administration's insistence that sanctions relief will not be granted until the end of the denuclearization process.
After an Oct. 15 meeting with French President Emmanuel Macron in Paris, Moon said that the international community can "encourage North Korea to speed up the process" of denuclearization. He also said that "if North Korea's denuclearization is judged to enter an irreversible phase, its denuclearization should be further facilitated by easing UN sanctions." Moon did not provide any detail on what would constitute an "irreversible" phase.
Moon reiterated that point Oct. 19 when he said that the Security Council is the appropriate forum for discussing easing sanctions and humanitarian assistance if North Korea takes the appropriate steps toward "irreversible" denuclearization.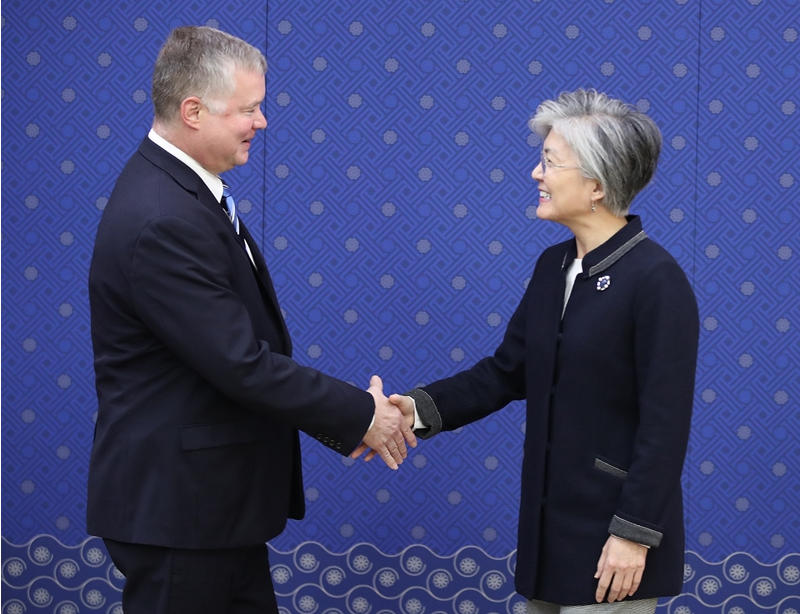 South Korea and the United States are also at odds over several projects Moon hopes to pursue as part of the inter-Korean summit process, particularly a highway and railway projects linking the two countries. North and South Korea agreed to hold a groundbreaking ceremony for projects by mid-December but pursuing them will require sanctions waivers.
South Korea's Minister of Reunification, Cho Myoung-gyon, admitted to lawmakers Oct. 29 that there are "slight differences" between the United States and South Korea over these projects and said that the Trump administration wants to review each proposal. He said it is not accurate to say that the United States opposes these projects and said that Seoul and Washington are working to resolve the differences.
The United States and South Korea agreed to form a working group Oct. 31 to enhance cooperation on a range of issues related to North Korea, including sanctions implementation and "inter-Korean cooperation that comply with the United Nations sanctions."
North Korea has criticized this working group as part of Washington's "heinous inclination to ruin" the inter-Korean dialogue process.
---
Inter-Korean Projects Planned
As U.S.-North Korean negotiations stall, progress on commitments made through inter-Korean dialogue continues. However, further implementation of inter-Korean economic cooperation projects may depend on sanctions waivers that the United States has not indicated it will grant.
North and South Korea agreed to a series of actions in the Pyongyang Joint Declaration and in an attached military annex on implementing the Panmunjom Declaration to promote inter-Korean cooperation and peace and de-escalation on the peninsula. Some are in motion and some are planned. These include:
North and South Korea and the UN Command finished removing weapons, ammunition, and soldiers manning guard posts from the Joint Security Area in Panmunjom Oct. 25 as agreed to in the military annex. The three parties verified the disarmament activities in the following two days.
Earlier, troops from the two Koreas finished demining the Joint Security Area. Work which began Oct. 1 to demine other areas of the Demilitarized Zone is ongoing.
North and South Korea then agreed to destroy 22 guard posts and to eliminate the first 11 by the end of November. The deadline to eliminate 11 posts as stated in the military annex is the end of the year.
Following high-level talks between South Korean Unification Minister Cho Myoung-gyon and his North Korean counterpart, Ri Son-won, the two Koreas agreed Oct. 15 to host a ground-breaking ceremony to modernize and connect their railways in late November or early December.
In late October the two Koreas held talks on to their decision to submit a joint bid to cohost the 2032 Summer Olympics and a North Korean art troup's performance in South Korea as agreed in the Pyongyang Declaration.
---
BACKGROUNDER
Yongbyon Nuclear Complex
North Korean leader Kim Jong Un's announcement following the September inter-Korean summit that Pyongyang would take additional steps—such as dismantling nuclear facilities at Yongbyon—should the United States take "corresponding measures in accordance with the spirit of the June 12 US-DPRK Joint Statement" sparked a conversation among experts about the significance of the facilities at Yongbyon and about what "corresponding measures" could entail.
While Yongbyon is well-known for its uranium enrichment plant and 5MWe reactor, there are a number of facilities on-site that merit attention, including a small research reactor (the IRT-2000 Nuclear Research Reactor), a radiochemical laboratory, an isotope production laboratory, and a new experimental 20-30 MWe light-water reactor, which is still under construction. The site also hosts an unfinished 50MWe reactor, multiple waste storage sites and was the site of high explosive tests between 1983 and 1991.
With Soviet assistance, North Korea began constructing the Yongbyon Nuclear Research Center in the 1960s. It finished building the IRT-2000 nuclear research reactor with Soviet cooperation in 1965 and started to build the 5MWe reactor in 1979, finishing in 1986. The 5MWe reactor has been shut down as part of past agreements with North Korea and restarted multiple times. The Radiochemical Laboratory is used to reprocess the spent fuel taken from the 5MWe reactor to produce weapons-grade plutonium.
In November 2010 North Korea unveiled a large uranium enrichment plant at Yongbyon to former U.S. officials and academics. The uranium enrichment plant contained approximately 2,000 gas centrifuges that were claimed to be operating and producing low-enriched uranium (LEU) for a light-water reactor (LWR). Satellite imagery indicates that the facility was expanded after 2010 and it may now house about double the original number of centrifuges.
The experimental light-water reactor (ELWR) is still under development but activity around the site increased significantly in 2017. North Korea claims the reactor is just for civilian energy production but spent fuel from the reactor could also be reprocessed for weapons-grade plutonium.
If an agreement were to be reached for North Korea to dismantle all of the nuclear facilities at Yongbyon, experts assess it would effectively end its weapons-grade plutonium production but would likely not end its uranium enrichment as it is believed that Pyongyang has built other covert uranium enrichment sites.
---
What We're Reading