By Melissa Hanham and Seiyeon Ji
September 2017
North Korea in July test-launched two intercontinental ballistic missiles (ICBMs) capable of reaching the U.S. mainland. Such long-range capability, coupled with nuclear warhead advances, has been considered a U.S. redline that could draw a U.S. military response.
North Korea's ICBMs
On July 5 and July 29 (local time), North Korea flight-tested a Hwasong-14 ICBM. This missile is a powerful two-stage rocket that was tested at a "lofted" trajectory, meaning it went nearly four times higher than across the earth.3 The benefit of this trajectory is that the missile did not overfly Japan. If this type of missile were launched at a more gradual trajectory toward the United States, one calculation places it as likely having a range of approximately 10,400 kilometers (6,500 miles), putting cities such as Chicago at risk. Taking account of the Earth's rotation, the range may extend to Boston and New York depending on various factors, including the weight of the missile payload.4
In addition to the Hwasong-14, at least two other ICBMs may be under development. In April, North Korea paraded several missiles systems that were purported ICBMs, including two canisterized systems. Very little can be determined about these systems through open sources because not even the missiles were visible. Although it is possible to dismiss them, these are likely design concepts that are intended for development in the future. In 2012, for example, North Korea revealed a version of the KN-08 ICBM with poor welding and other design flaws that some analysts found suspect,6 until the design became more apparent in subsequent parades.
Solid-Fueled Missiles
In February, North Korea tested a new land-based missile with a solid-fueled motor. This missile, known as the Pukguksong-2, is nearly identical to the submarine-launched ballistic missile (SLBM) known as the Pukguksong. It is carried in a canister to maintain an optimal environment for the rocket. A solid-fueled motor offers several advantages over many North Korean missiles with liquid-fueled engines.
Warhead and Re-entry Vehicle
In March 2016, North Korea showed off what it claimed was a nuclear warhead. Set alongside an untested KN-08 missile, the message was clear: North Korea is building an ICBM to deliver a nuclear warhead to the U.S. mainland. It is not possible to confirm that the round, silver object in front of Kim in a photograph was indeed a nuclear warhead. Some features seem credible while others seem baffling. The displayed object would certainly fit on a number of North Korean missiles from short range to long range. If this is indeed a warhead, it could mean that South Korea and Japan already face a nuclear threat from North Korea. On Aug. 8, sources in the U.S. intelligence community relayed their belief that North Korea has developed a warhead capable of fitting on a missile and may have as many as 60 of them.10
The Military Option
Along the spectrum of U.S. options, a military attack on North Korea is the most dangerous. Any aggressive military strategies confirm deep-rooted North Korean suspicions and will trigger a counterreaction endangering the lives of tens of thousands, if not hundreds of thousands, of South Koreans and the approximately 23,000 U.S. troops stationed there.12 Even putting aside weapons of mass destruction, North Korea is capable of using conventional artillery to shell Seoul, which is only 35 miles from the demilitarized zone. As Mattis said on May 28,
A conflict in North Korea would be probably the worst kind of fighting in most people's lifetimes…. The North Korean regime has hundreds of artillery cannons and rocket launchers within range of one of the most densely populated cities on Earth. . . . This regime is a threat to the region, to Japan and South Korea and in the event of war they would bring danger to China and to Russia as well. But the bottom line is it would be a catastrophic war if this turns into. . . combat if we're not able to resolve this situation through diplomatic means.13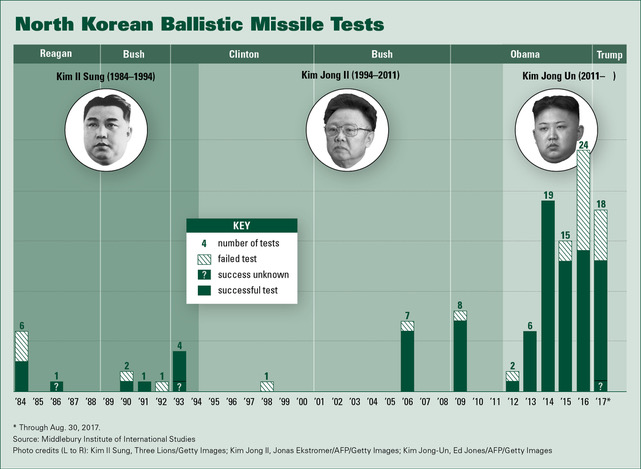 Negotiating With an Enemy
On the other end of the spectrum is diplomatic engagement, which has suffered repeated failure in the past. The 1994 Agreed Framework between the United States and North Korea sought to limit Pyongyang's nuclear activities, but broke down in 2002 due to U.S. intelligence about covert uranium-enrichment activities and the George W. Bush administration's opposition to the accord. The subsequent six-party talks' attempt to build a permanent peace regime in 2007 was a positive development, resulting in a denuclearization plan involving a 60-day deadline for Pyongyang to freeze its nuclear program in exchange for aid.18 Unfortunately, by the end of 2008, the North Korean regime had restarted its program and barred nuclear inspectors.19
The United States, South Korea, and Japan remain extremely skeptical of negotiating with Kim, who has been consolidating power and fortifying his cult of personality since the December 2011 death of his father, Kim Jong Il. In addition to being a reprehensible regime with profound human right violations, North Korea long has been a spoiler, holding negotiations hostage for petty reasons and failing to meet their commitments as a member of the United Nations. Yet, misunderstandings and offense have been made and received on all sides.
North Korea has left one small window open. Following the first Hwasong-14 missile test, KCNA reported that Kim "stressed that [North Korea] would neither put its nukes and ballistic rockets on the table of negotiations in any case nor flinch even an inch from the road of bolstering the nuclear force chosen by itself unless the U.S. hostile policy and nuclear threat to [North Korea] are definitely terminated."20 Even North Korea's August statement about launching intermediate-range missiles to splash down off the coast of Guam was left open-ended based on the behavior of the United States.
---
1. "Kim Jong Un Inspects KPA Strategic Force Command," KCNA, August 15, 2017.
2. U.S. Department of Defense Press Operations, "Department of Defense Press Briefing by Secretary Mattis, General Dunford and Special Envoy McGurk on the Campaign to Defeat ISIS in the Pentagon Press Briefing Room," May 19, 2017, https://www.defense.gov/News/Transcripts/Transcript-View/Article/1188225/department-of-defense-press-briefing-by-­secretary-mattis-general-dunford-and-sp/.
3. Ankit Panda, "North Korea Just Tested a Missile That Could Likely Reach Washington DC With a Nuclear Weapon," The Diplomat, July 29, 2017, http://thediplomat.com/2017/07/north-korea-just-tested-a-missile-that-could-likely-reach-washington-dc-with-a-nuclear-weapon/.
4. David Wright, "North Korean ICBM Appears Able to Reach Major U.S. Cities," All Things Nuclear, July 28, 2017, http://allthingsnuclear.org/dwright/new-north-korean-icbm.
5. "Kim Jong Un Guides Second Test-fire of ICBM Hwasong-14," KCNA, July 29, 2017.
6. Markus Schiller and Robert H. Schmucker, "A Dog and Pony Show," Arms Control Wonk, April 18, 2012, http://www.armscontrolwonk.com/files/2012/04/KN-08_Analysis_Schiller_Schmucker.pdf.
7. Ankit Panda and Vipin Narang, "North Korea's ICBM: A New Missile and a New Era," The Diplomat, July 7, 2017, http://thediplomat.com/2017/07/north-koreas-icbm-a-new-missile-and-a-new-era/.
8. John Barry, "The Defense Secretary's Exit Interview," Newsweek, June 21, 2011.
9. Catherine Dill, "Video Analysis of DPRK SLBM Footage," Arms Control Wonk, January 12, 2016, http://www.armscontrolwonk.com/archive/1200759/video-analysis-of-dprk-slbm-footage/.
10. Joby Warrick et al., "North Korea Now Making Missile-Ready Weapons, U.S. Analysts Say," The Washington Post, August 8, 2017. See Ankit Panda, "U.S. Intelligence: North Korea May Already Be Annually Accruing Enough Fissile Material for 12 Nuclear Weapons," The Diplomat, August 9, 2017, http://thediplomat.com/2017/08/us-intelligence-north-korea-may-already-be-annually-accruing-enough-fissile-material-for-12-nuclear-weapons/.
11. Ankit Panda, "U.S. Intelligence: North Korea's ICBM Reentry Vehicles Are Likely Good Enough to Hit the Continental U.S.," The Diplomat, August 12, 2017, http://thediplomat.com/2017/08/us-intelligence-north-koreas-icbm-reentry-vehicles-are-likely-good-enough-to-hit-the-continental-us/.
12. "Counts of Active Duty and Reserve Service Members and APF Civilians by Location Country, Personnel Category, Service and Component," Defense Manpower Data Center, February 27, 2017.
13. "War With North Korea Would Be 'Catastrophic,' Defense Secretary Mattis Says," CBS News, May 28, 2017.
14. Jeffrey Lewis, "North Korea Is Practicing for Nuclear War," Foreign Policy, March 9, 2017, http://foreignpolicy.com/2017/03/09/north-korea-is-practicing-for-nuclear-war/.
15. Don Oberdorfer, The Two Koreas: A Contemporary History (New York: Basic Books, 1997).
16. Bridget Coggins, "Refugees, Internal Displacement, and the Future of the Korean Peninsula," Beyond Parallel, February 2, 2017.
17. Na Jeong-ju, "3 Million NK Refugees Expected in Crisis: BOK," Korea Times, January 26, 2007.
18. The Six-Party Talks at a Glance," Arms Control Association, July 2017.
20. "Kim Jong Un Supervises Test-Launch of Inter-Continental Ballistic Rocket Hwasong-14," KCNA, July 5, 2017.
21. "DPRK's Bolstering of Nuclear Force Hailed by Swiss Organizations," KCNA, December 1, 2016.
22. "Moon Says Reducing Military Drills Not an Option, at Least for Now," Yonhap News Agency, June 29, 2017.
23. Office of the Press Secretary, The White House, "Remarks by President Bush and President Kim Dae-jung of South Korea," March 7, 2001.
24. Bruce Klingner, "Obama's Evolving North Korean Policy," SERI Quarterly Vol. 5, No. 3 (2012): 111.
25. Ri Hyon Do, "DPRK's Nuclear Deterrence Is Treasured Sword of Nation." Rodong Sinmun, June 29, 2017.
26. Kim Sung Gol, "Just Is DPRK's Access to Nuclear Deterrent," Rodong Sinmun, May 2, 2017.
27. Steve Fyffe, "Hecker Assesses North Korean Hydrogen Bomb Claims," Bulletin of the Atomic Scientists, January 7, 2016, http://thebulletin.org/hecker-assesses-north-korean-hydrogen-bomb-claims9046.
28. Both space rockets and missiles to avoid the confusion of the so-called Leap Day Deal in 2012. See Ankit Panda, "A Great Leap to Nowhere: Remembering the U.S.-North Korea 'Leap Day' Deal," The Diplomat, February 29, 2016.
---