November 2019
By Julia Masterson
North Korea threatened to resume nuclear and intercontinental ballistic missile (ICBM) testing if the United States does not change its approach to negotiations by the end of the year, Pyongyang's chief negotiator said after October talks with U.S. officials.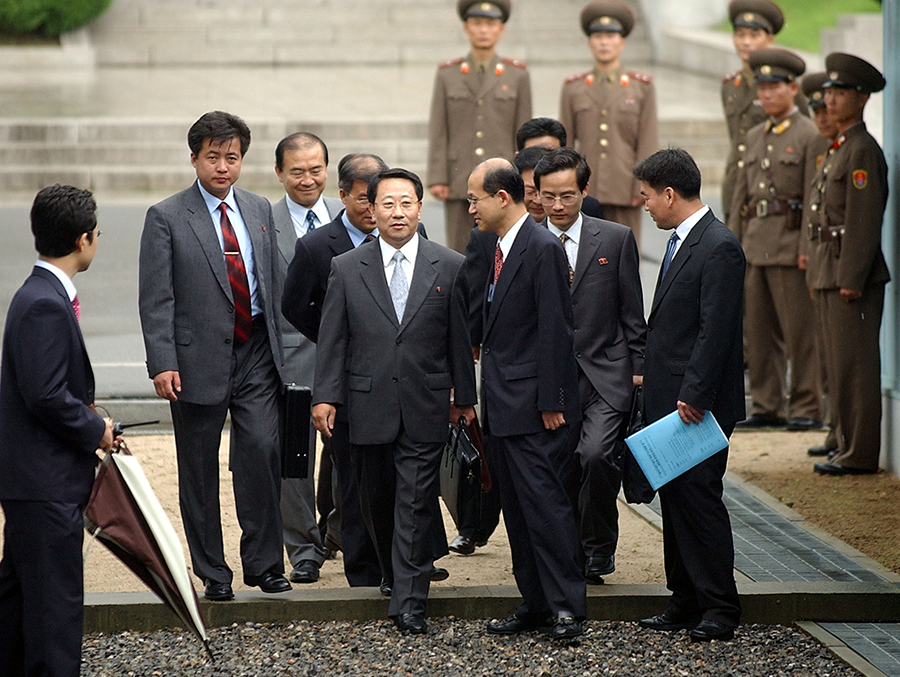 U.S. and North Korean negotiators met on Oct. 4–5 in Stockholm for the first time in seven months to resume discussions on denuclearization and peace-building on the Korean peninsula.
The U.S. State Department described the meeting as "good" in an Oct. 5 statement, but North Korea's lead negotiator, Kim Myong Gil, said the talks were "sickening." He said the U.S. came with "empty-handed" proposals that "greatly disappointed [the North Korean delegation] and sapped our appetite for negotiations."
Kim said the U.S. position demonstrated the United States' unwillingness to "solve the issue" and cautioned of the "terrible incident" that would result from the failure of the United States to adjust its position ahead of any future talks.
"Whether our discontinuation of nuclear and ICBM test fire will resume or not totally depends on the U.S. attitude," Kim warned.
North Korean leader Kim Jong Un declared a voluntary moratorium on nuclear and long-range ballistic missile testing in April 2018.
But North Korea has consistently expressed frustration with the U.S. proposals to achieve the goals of denuclearization and peace-building on the peninsula agreed to by Kim Jong Un and U.S. President Donald Trump at their first summit meeting, in Singapore in June 2018.
The North Korean leader warned in April 2019 that the United States must change its negotiating approach to one that is favorable to both sides before the end of the year or the "prospects for solving a problem will be bleak and very dangerous." (See ACT, May 2019.)
In September, North Korean First Vice Minister Choe Son Hui invited working-level talks, but cautioned that Washington's proposed "calculation method" would need shared approval by Pyongyang before future dialogue on North Korea's nuclear weapons program. (See ACT, October 2019.)
Ahead of the Oct. 4–5 meeting, the Trump administration signaled that it was considering a new approach to negotiations.
Trump described the U.S. approach to the negotiations in similar terms, saying on Sept. 14 that "a new method would be very good."
On Sept. 20, responding to Washington's apparent shift in negotiating posture, lead negotiator Kim voiced optimism that the United States could propose the "right calculation method" and praised Trump for taking a more flexible approach.
In keeping with North Korea's insistence on a step-by-step approach, Kim said that North Korea and the United States should "solve feasible matters first, one by one in stages, while building confidence in each other." He added that a new method of diplomacy is the "best option."
The State Department announced in an Oct. 5 press release that Washington offered proposals that would allow for the United States and North Korea to make progress toward achieving goals set at the 2018 Singapore summit.
Vox reported on Oct. 2 that the U.S. delegation would propose waiving UN sectoral sanctions on textile and coal exports for three years in exchange for North Korea's verifiable closing of the Yongbyon nuclear facility and one other measure, likely the cessation of uranium enrichment.
It is not clear whether this proposal was formally discussed in Stockholm, but it would represent a shift from the Trump administration's prior position that sanctions relief would not be granted until denuclearization was complete.
U.S. negotiators accepted a Swedish offer to continue talks in two weeks, but North Korea appeared to reject the proposed time frame for further discussions. "The U.S. has made almost no method of calculation for around 100 days since the [U.S.-North Korea] meeting in Panmunjom, do you think they can make it within two weeks?" Kim asked on Oct. 6.
A North Korean Foreign Ministry spokesperson said that if the United States does not change its negotiation stance, "the dealings between the DPRK and the U.S. might immediately come to an end."
State-run newspapers showed pictures on Oct. 16 of the North Korean leader riding a white horse to the top of Mount Paektu, a sacred site, and emphasized the "mighty power and status" of North Korea. The statement said that "there will be a great operation to strike the world with wonder again," and accompanying editorials emphasized North Korea's self-reliance and noted that visits to Mount Paektu always preceded new strategic thinking.
North Korea Tests New SLBM
North Korea flight-tested a new submarine-launched ballistic missile (SLBM) on Oct. 2, illustrating Pyongyang's continued interest in pursuing a sea-based nuclear deterrent.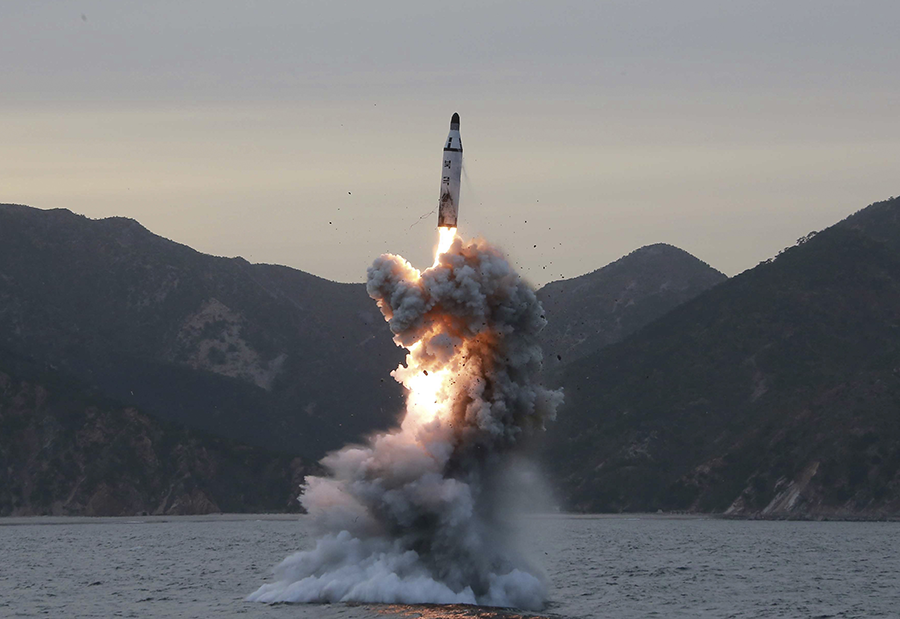 The SLBM, known as the Pukguksong-3, is a two-stage, solid-fueled system and was likely launched from a submerged barge off the east coast of North Korea in Yonghung Bay.
A statement from North Korea's Academy of Defense Science, as reported by the state-run Korean Central News Agency (KCNA), described the test as a success and said it "scientifically and technically confirmed" the missile's key features. The Oct. 3 statement said the launch has "great significance" and bolsters North Korea's "military muscle for self-defense."
The missile was launched on a lofted trajectory and splashed down in Japan's economic exclusion zone. The statement said the test was designed to have "no adverse impact" on the security of other states.
According to David Wright, a missile expert at the Union of Concerned Scientists, the Pukguksong-3 would have a range of about 1,900 kilometers if flown on a standard trajectory. This range falls below the voluntary moratorium on long-range ballistic missile launches announced by North Korean leader Kim Jong Un in April 2018, but the missile launch still violates UN Security Council resolutions prohibiting missile activities. (See ACT, May 2019.)
The U.S. State Department responded to the test by urging North Korea to refrain from provocations, saying in an Oct. 2 statement that the Trump administration was still committed to negotiations on denuclearization and peace-building in the region.
European members of the UN Security Council described the test as a "clear violation" of council resolutions in an Oct. 8 statement and said it was a provocation that undermines regional security.
North Korea last tested an SLBM, the Pukguksong-1, in 2016. That missile has an estimated range of 1,200 kilometers. Three of the six tests six tests of the Pukgukson-1 appear to have been successful. Experts believe that the sole test conducted from a ballistic missile submarine damaged the vessel.
North Korea is continuing construction on a new Sinpo-class ballistic missile submarine at its Sinpo shipyard. According to satellite imagery examined by the independent research organization 38 North in September, Pyongyang may be preparing to test the ejection system for missile launches.
The Sinpo-class submarine is believed to be more advanced than North Korea's ballistic missile-capable Gorae-class submarine, which was put on display in 2015 but is not believed to be operational.—KELSEY DAVENPORT